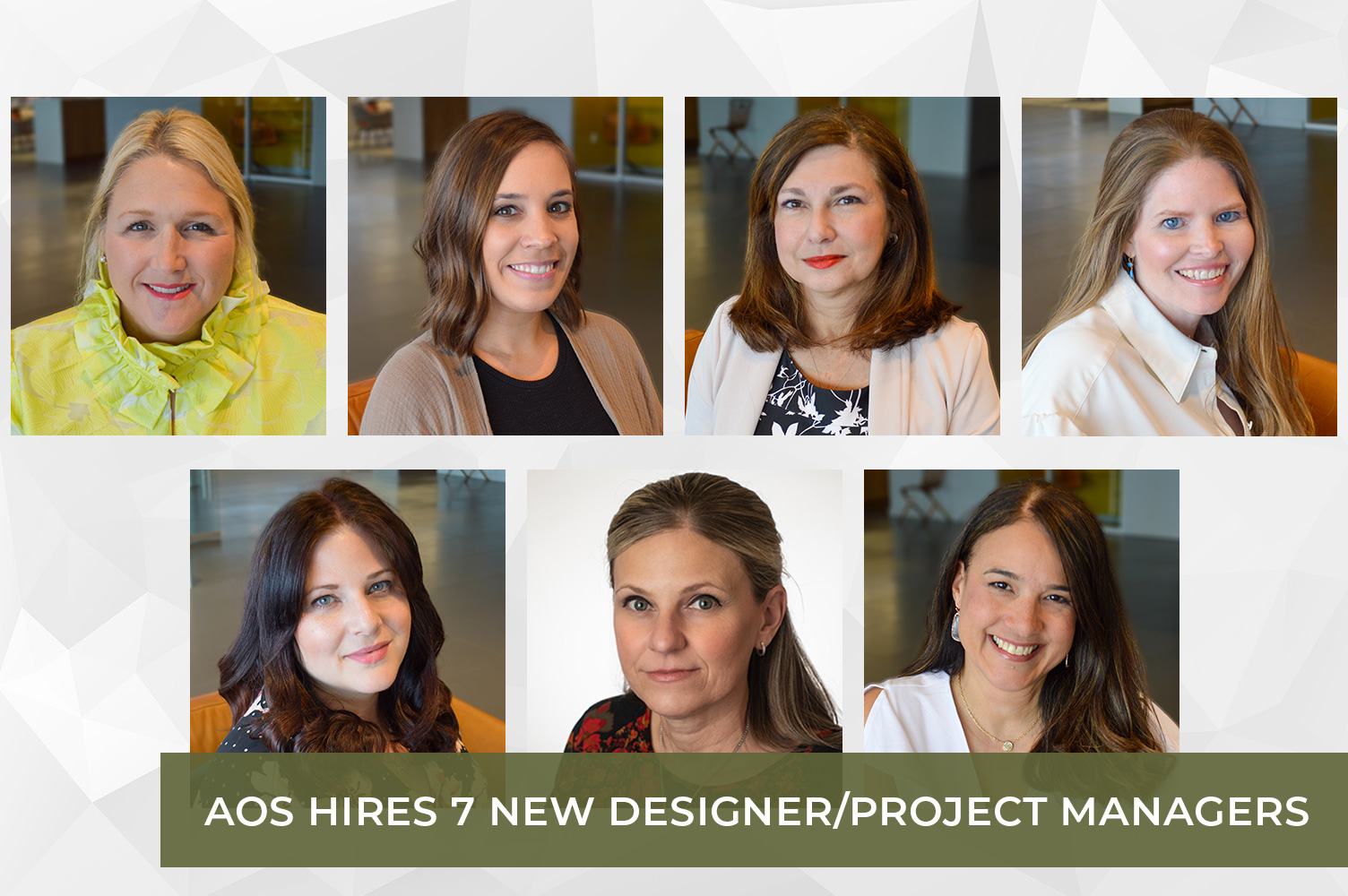 21 Jun

AOS Welcomes 7 New Designer/Project Managers

AOS Interior Environments is thrilled to announce that the company has added seven new experienced Designer/Project Managers to the company's Contract Furniture Division. In each of their design-assist roles, they will closely collaborate with the architecture and design community to source precise solutions carefully-attuned to each client's mission.

With a combined experience of over 155 years in the commercial furniture industry, Alecia Mancuso, Alison Favaloro, Bobette Lutz, Elizabeth Laborde, Morgan Doescher, Shannon Rhodes, and Veronica Douget will significantly enhance AOS' ability to service its clients and elevate the FF&E experience at all levels. This group rounds out AOS' team of 89 full-time professionals serving the greater New Orleans, Northshore and Baton Rouge areas.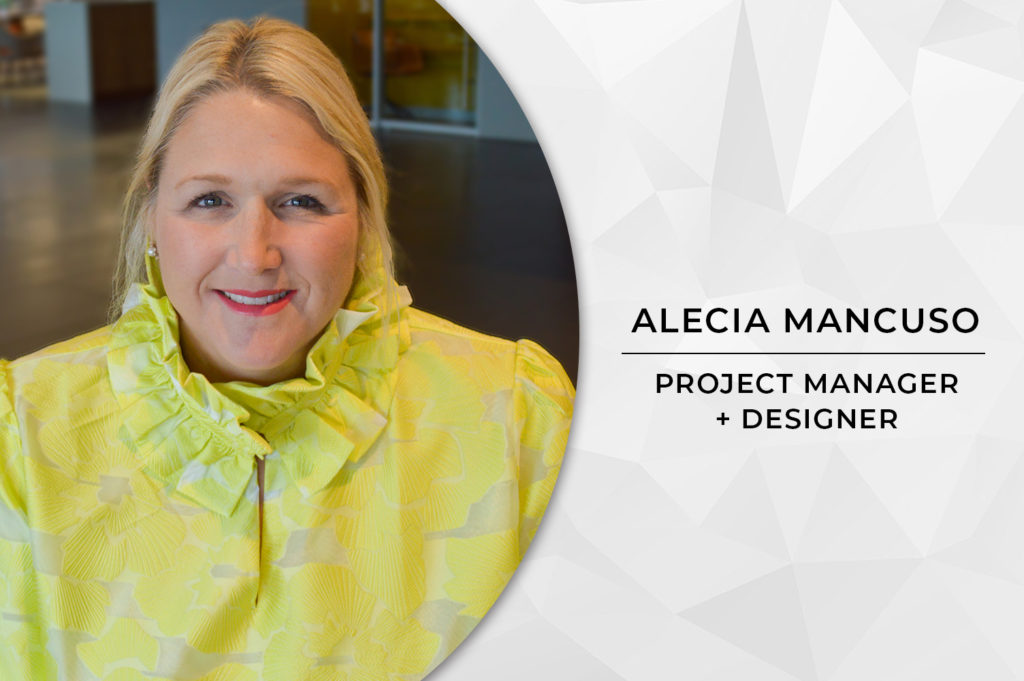 Alecia Mancuso, Designer/Project Manager, Contract Furniture
Alecia Mancuso brings 21 years of commercial design experience to AOS. She graduated from Louisiana State University (LSU) with a dual degree in Political Science and Psychology, which provided her with a unique perspective on human behavior and social dynamics. After completing her undergraduate studies, Alecia pursued her passions and obtained an Associate's Degree in Design from Delgado Community College. This additional education equipped her with the technical skills and creative knowledge necessary to excel in the field.
As a Designer/Project Manager, she possesses a keen understanding of her clients' needs and technical product knowledge. Alecia enjoys diving into the individual drivers and challenges of each project to problem solve and find unique, custom solutions that deliver a rewarding client experience. She has led successful projects at a range of scales and sectors, including corporate and commercial, higher education and government. A few include Our Lady of the Lake (OLOL), OLOL Children's Hospital, Baton Rouge General, Blue Cross Blue Shield of Louisiana, FranU and Turner Industries. Alecia proudly calls Baton Rouge home and will be based in AOS' Showroom in One American Place to support the company's growing work around the region. She is impressed with how AOS has expanded since her time her at the company and looks forward to more opportunities to grow professionally.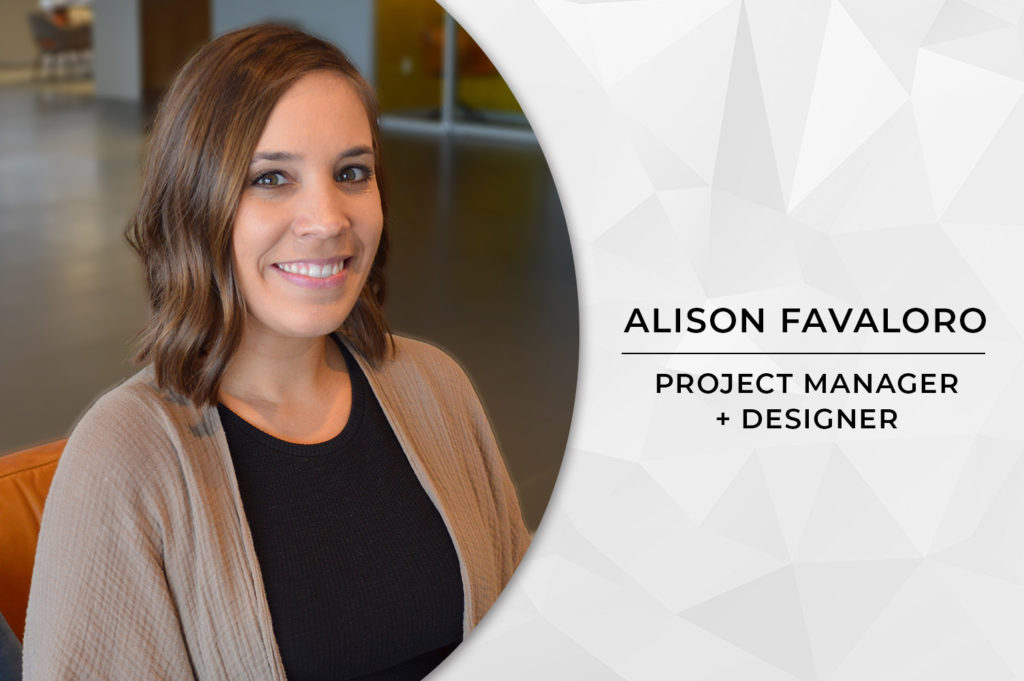 Alison Favaloro, Designer/Project Manager, Contract Furniture
From Mandeville, Alison Favaloro graduated from LSU with a degree in Interior Design in 2013. After a summer internship at AOS, she began working at the company full-time after graduation. She returns to AOS with 10 years of experience in the commercial dealer and design industry. While Alison has previous experience with GSA and education clients, she is now in the healthcare sector, working closely with Ochsner Health as an extension of its Facilities team.
As a Designer/Project Manager, Alison helps create healthcare environments that elevate the patient, caregiver, and guest experience through her holistic and collaborative approach. She works to creatively solve complex challenges while sourcing unique solutions that bridge form, function and financials. In the face of accelerating change, Alison works hard to deliver an exceptional level of support for her clients and a final outcome that not only meets performance but aesthetic goals—whether it is a single waiting room or an entire healthcare facility.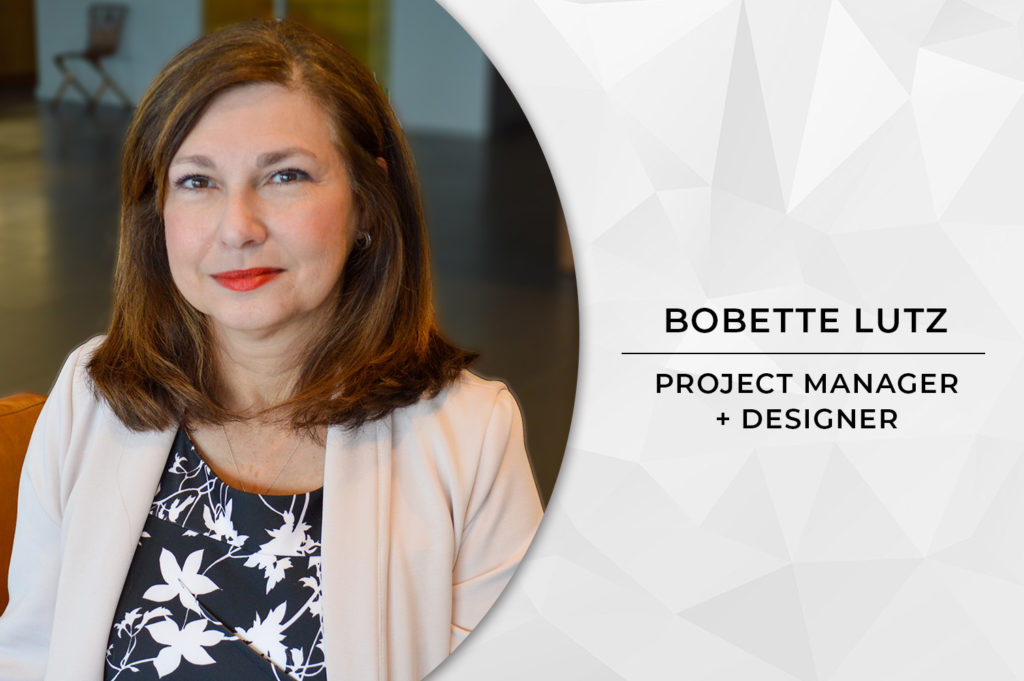 Bobette Lutz, Designer/Project Manager, Contract Furniture
Drawing on 34 years been of experience in the commercial design industry, Bobette Lutz has a background in designing, planning, and delivering complex healthcare, government, corporate, and higher education facilities across Louisiana. A graduate of LSU's School of Interior Design, she worked for Herman Miller as healthcare designer before joining the dealership side of the AEC industry. Her expansive product knowledge allows her to create tailored solutions that optimize her clients' investments. Her experience includes Children's Hospital, VA Medical Center, University Medical Center, Entergy, Barksdale Air Force Base, Fort Baker and Louisiana Tech.
As a Designer/Project Manager, Bobette is excited by the latest products and innovations shaping the built environment. She believes design presents a sincere opportunity to authentically engage and connect with people and that meaningful spaces can be a powerful factor in one's health, healing, and well-being—especially in healthcare. Whether it's veterans, patients, or students, she enjoys contributing to the diverse missions of her clients.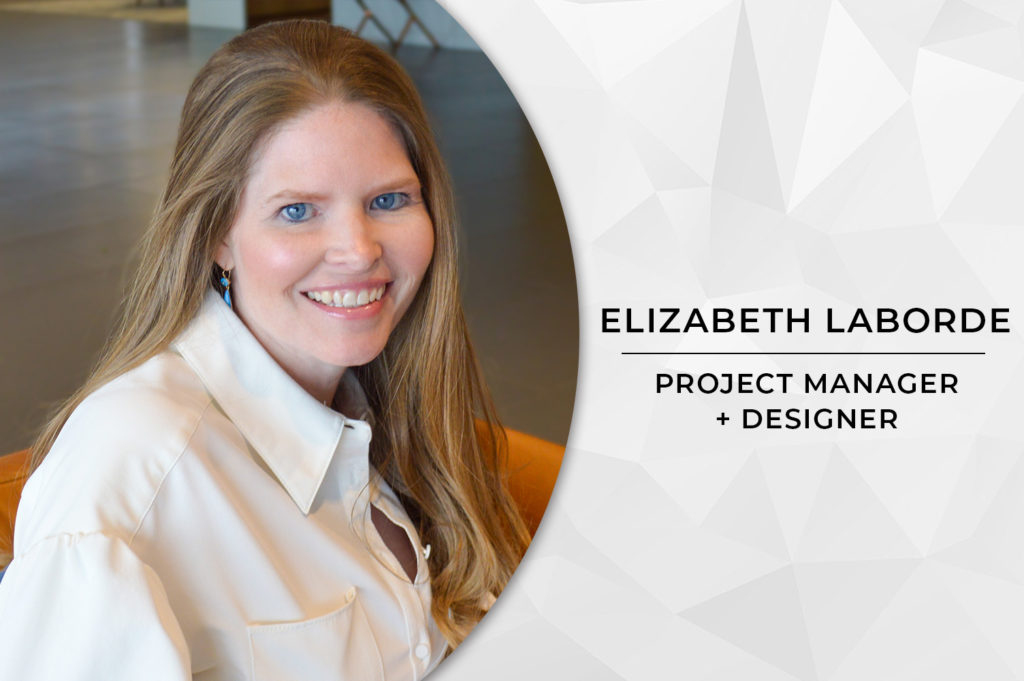 Elizabeth Laborde, Designer/Project Manager, Contract Furniture
With a distinctive design sense and attention to detail, Elizabeth Laborde undertakes each project with a personalized and thoughtful approach. As a Designer/Project Manager, she brings over 20 years of experience in commercial furniture dealerships to AOS. She earned her degree in Interior Design at SCAD in Savannah, GA before pursuing a Master of Architecture at LSU. A licensed interior designer and a Herman Miller higher education specialist, she has developed a wealth of applied knowledge and strategies surrounding how to incorporate brand identity and corporate culture into design and planning for the future of the workplace. 
Elizabeth is a member of AOS' Baton Rouge team and supports the company's growing work throughout the region. She has worked extensively in a variety of interiors, especially in higher education and commercial markets. A couple of her past projects include the renovation of LSU Patrick Taylor Hall, LSU Foundation Building, CF Industries, and Pelican State Credit Union, which was the first WELL certified building in Louisiana. Elizabeth is excited by the constant change and evolving nature of the AEC industry—no day is ever the same.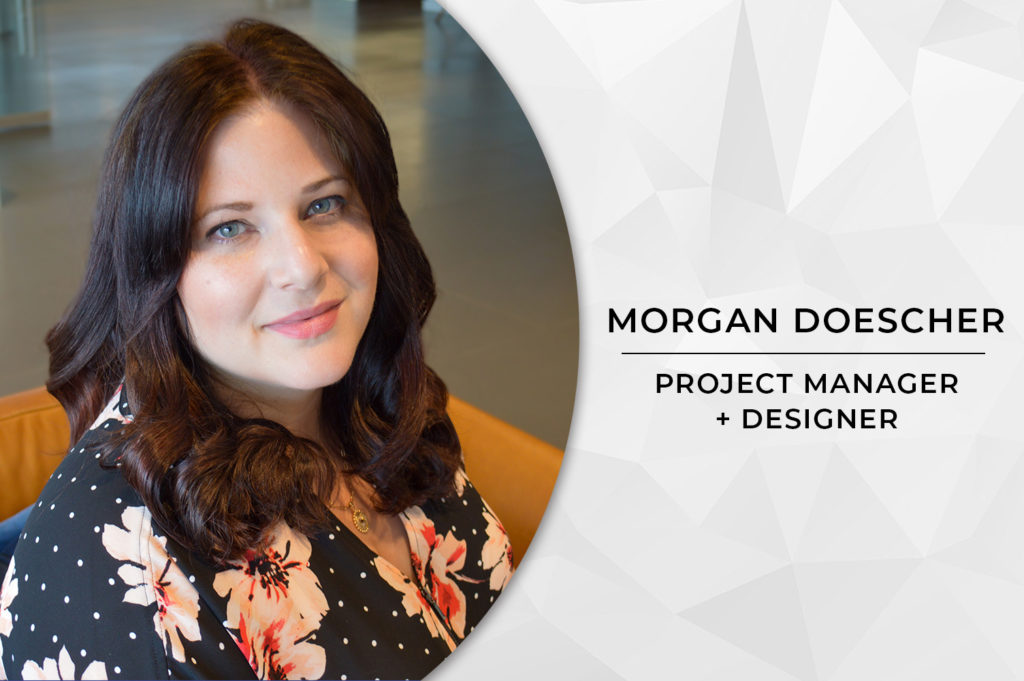 Morgan Doescher, Designer/Project Manager, Contract Furniture
As a young girl, Morgan loved to play with puzzles and grew up with an enthusiasm for art. She enjoyed putting things together to create a harmonious design and exploring how people can shape the physical world around them. In high school, she expanded her skills by studying visual arts at NOCCA. Morgan combined her passions in college by pursuing a degree in interior design. The A&D industry allows her to weave together her passions for art and design while incorporating her interests in cultural anthropology.
A dynamic Designer/Project Manager and problem-solver, Morgan Doescher is eager to embrace a challenge and jump into complex projects with her hands-on approach. She graduated from LSU's School of Interior Design and has worked in the AEC industry for the past 18 years at commercial furniture dealerships. A licensed interior designer and certified LEED Green Associate, Morgan is an advocate for sustainable practices in the built environment and works to improve the health of our planet and communities through design.
Morgan's work spans across higher education, commercial, and government sectors. A few of her previous projects include Children's Hospital, LSU, University of Louisiana Monroe, Louisiana Tech University, Southeastern Louisiana University, Pelican State Credit Union, and various state agencies. A resident of Denham Springs, Morgan is a member of AOS' Baton Rouge team and supports the company's growing work around the region.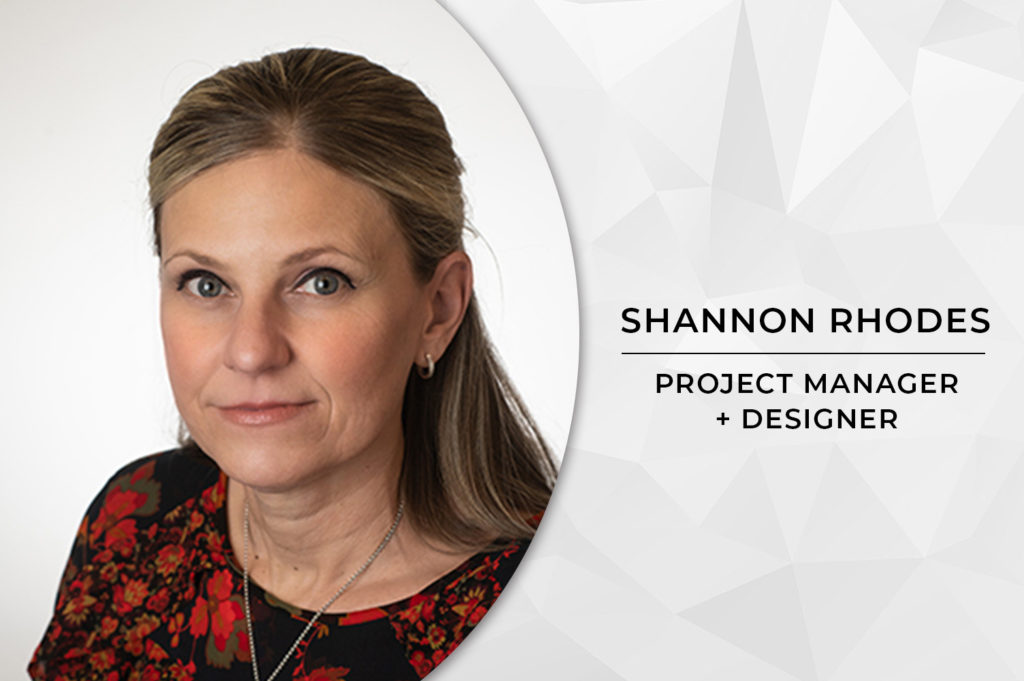 Shannon Rhodes, Designer/Project Manager, Contract Furniture
Spanning 22 years in the architecture and design industry, Shannon Rhodes has a penchant for balancing utility and aesthetics. Her design focus remains on people and how to improve the lives of those who occupy the buildings. Born in Oregon, she has lived in the northwestern United States and Louisiana before landing in Texas. A resident of Katy, TX, Shannon supports AOS' Contract Furniture Division in Louisiana as a Designer/Project Manager. She began her career after earning her Associate of Applied Arts degree in Interior Design from The Art Institute of Seattle.
Working for commercial furniture dealerships, Shannon spent her first 10 years with GSA clients, such as Lackland Airforce Base and Brook Army Medical Hospital, before transitioning to the healthcare sector for the past 12 years. A few of her expansive healthcare projects include Ochsner West Metairie Complex, Ochsner Medical Complex at the Grove in Baton Rouge, and Humana Plus 65. She has also worked extensively with Entergy on their New Orleans Headquarters, Entergy Echelon in MS, and Entergy Lakefront North  in TX. In her daily work, Shannon enjoys collaborating with customers to define their specific needs and produce thoughtful design solutions that help companies create the best possible working environments for their people.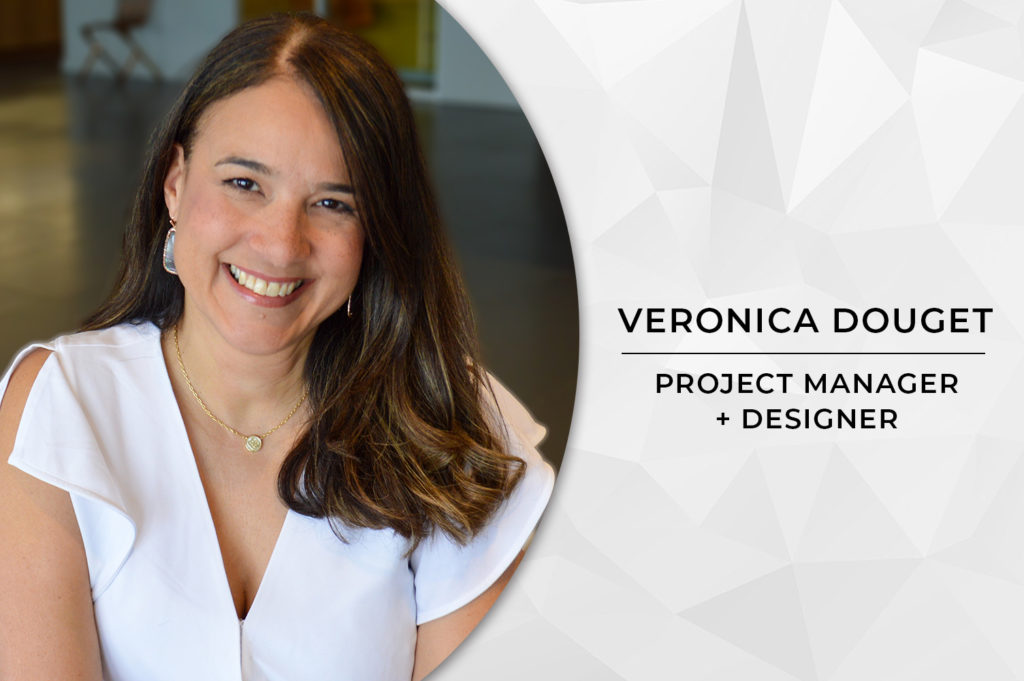 Veronica Douget, Designer/Project Manager, Contract Furniture
A knack for process, organization, and design in the built environment, Veronica Douget has worked in the AEC industry for the past 30 years. Born in Puerto Rico, she studied architecture for three years at the University of Puerto Rico before transferring to LSU and pursing a degree in Interior Design. She began her career at Steinmetz and Associates and has also worked extensively in historic preservation/renovation before joining a commercial furniture dealer. A licensed interior designer and Herman Miller healthcare product specialist, Veronica is eager to share her expertise and understands projects from various viewpoints.
As a Designer/Project Manager, she collaborates closely with the Ochsner Health Facilities team, working with a wide variety of stakeholders, designers, managers, and end-users, to create spaces that are both productive and inviting. Living in New Orleans, Veronica has worked with leading, local healthcare institutions across the region, including OLOL, Slidell Memorial, St. Tammany Hospital, and Humana Health Partner. She is familiar with the challenges and demands healthcare providers are facing and strives to be an integral resource and a direct extension of her clients' team. Passionate about the effect design has on individuals, Veronica enjoys her work's close relationship to patient care and how well-designed interiors can make people feel better and heal faster.