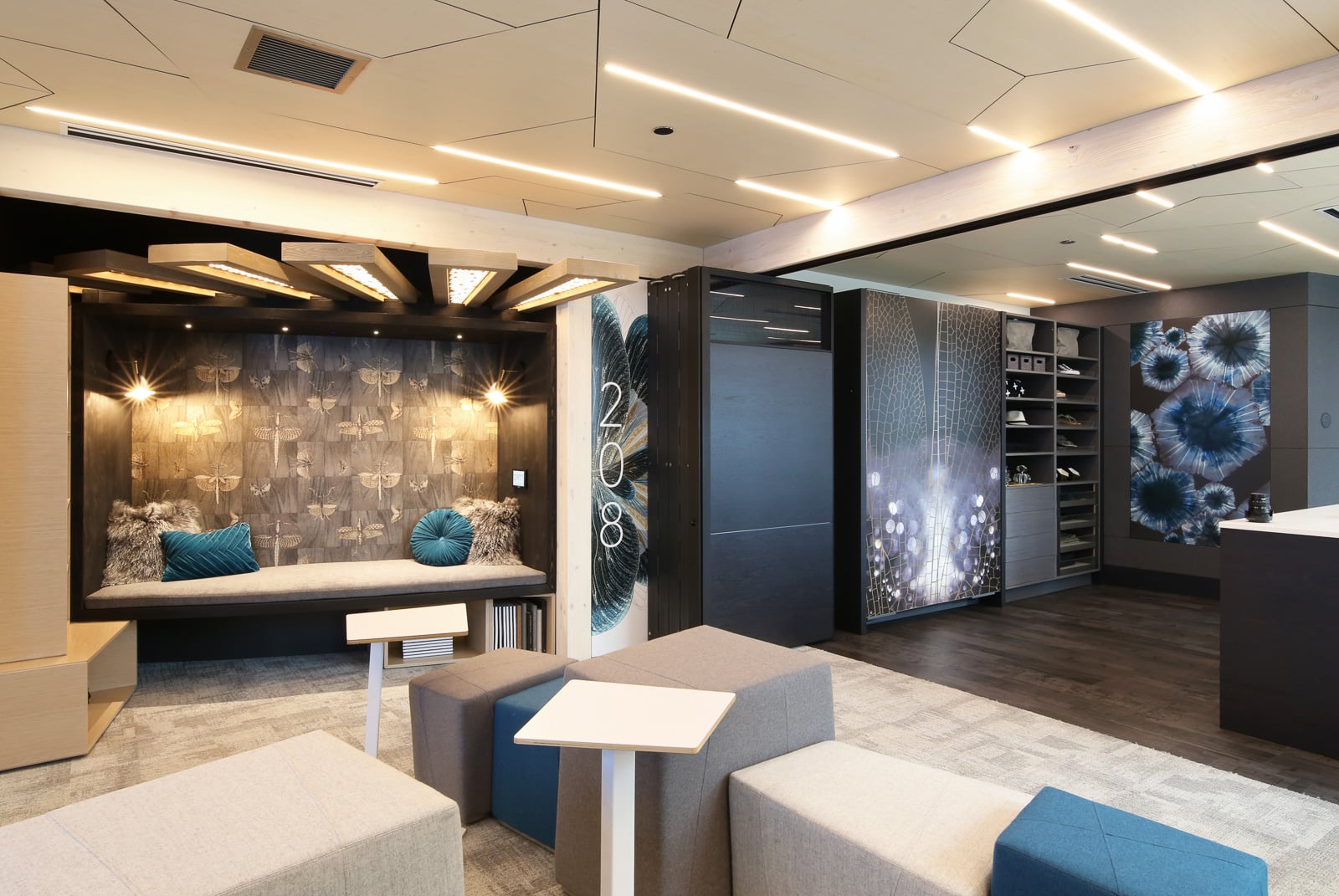 26 Jun

DIRTT Connext 2019: The Future Is Designed By You
Every June at Connext, DIRTT showcases their latest innovations in the world of interior construction at their Chicago Green Learning Center (GLC). Through embedded technology, millwork, bespoke ceilings, acoustics and more, DIRTT pushes the boundaries to create truly one of a kind spaces. Explore what it means to design a physical space ready to respond to whatever the future brings. Because we all know the future comes in bits and bites and when we can adapt to those small things, we can confidently take on the big things.
A New Wave of Spaces Support Today's (And Tomorrow's) Workforce
As new generations take over the workforce, they bring a new set of needs, work styles and preferences. The workforce has always been a competitive market, but that's being amplified by those seeking more personal connections while exploring an array of experiences. That puts huge pressure on organizations to maintain their bottom line. How can they adapt? One way is through adaptive environments.
Variety Is the Spice of Life
Employees increasingly want engaging and interactive experiences. They also want to feel empowered to make their own decisions. How does this translate into design? Variety is key. Giving team members a choice of independent and collaborative spaces empowers them to take control of their work. They thrive in untethered spaces that allow for increased flexibility of movement. When it comes to variety, it's important to consider function and capacity. Think about a mix of open lounge areas, collaboration hubs, meeting rooms and outdoor green spaces.
Fostering Human Connection
While technology continues to play an increasing role in our lives, companies still care a lot about relationships. People are social beings by nature and still want to work together in teams and prefer actual face-time to tackle challenges and share ideas, promoting collaborative environments.
Sticky Spaces
The term "sticky spaces" refers to the goal of creating a place that people want to stay in. This is especially important in common areas. How do you do that? Making these areas social is important, but there are other ways, too.
Think about food and beverage options like cafes with places to sit. Resources like printing. Comfortable seating arrangements. Meeting rooms with integrated technology. Natural light to have a connection to the outside world. All these factors make the space comfortable and convenient that employees want to spend a lot of time in. This also translates to better peer relationships and productivity because employees enjoy their environment.
Really want to make your space sticky? Ride the wave of residential and hospitality design. Bring warmth and comfort into commercial spaces through cozy seating nooks, DIRTT Timber to add warmth, DIRTT millwork to create entertainment centers for coffee breaks or happy hour, a Breathe® living wall to add all the benefits of biophilic design. Once team members are comfortable and settled into a space, they destress and can attend to the work at hand.
Offices That Wow
First impressions matter. And we've noticed it's on the top of clients' minds. More and more, organizations are revamping their workplaces to show off their culture and project a welcoming environment. It's all about attracting and retaining talent. High-tech spaces and graphics can help project the organization's sense of community and purpose.
Flexibility Is King
In a world of constant change, it's important that the built environment can stay relevant over time. In the future, there's always going to be new kids – and technology – on the block. That's why building flexibility in spaces is critical. Technology is a huge piece of the puzzle and it changes in the blink of an eye. As spaces look to the future, they have to be ready to evolve with those changes.
How can we adapt to advancements in technology, diverse user needs and increasing team members? By building for generations to come with smarter, more flexible construction. A modular approach means upgrades like modifying room sizes, swapping out tech or adding in electrical outlets. DIRTT also makes interior upgrades fast. Get a refreshed space without disrupting staff and neighboring companies. The ability to continuously improve your space while encouraging creativity and innovation are essential for a truly flexible future.
Shaping the Physical Landscape of Education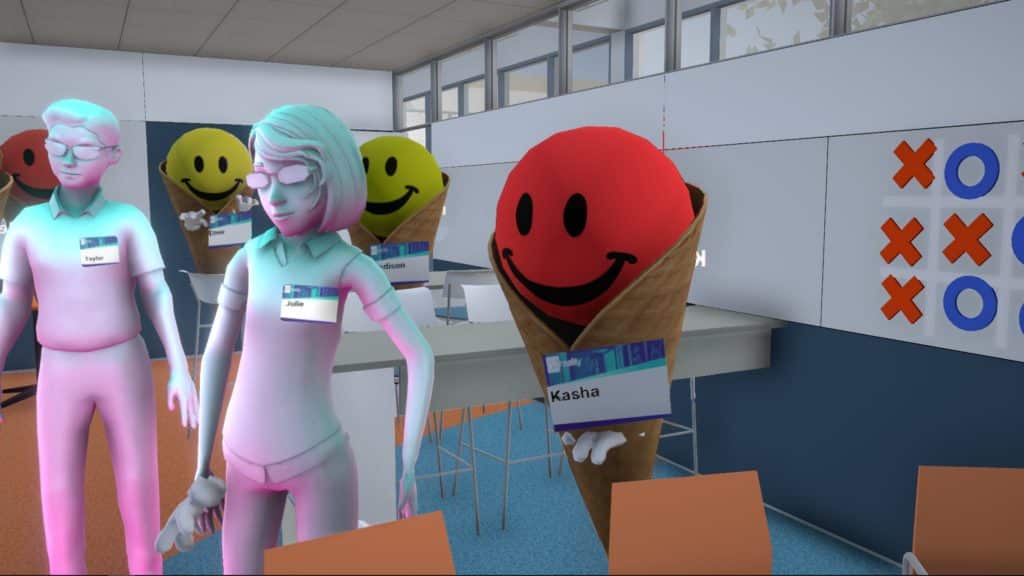 During Connext 2019, DIRTT demonstrated a variety of higher ed spaces using ICEreality. In a fully-immersive experience in virtual reality, participants walked through a full-size college building as if it was already built. The virtual mockup curated a mix of meeting spaces, high-top tables, workstations, writable surfaces and integrated technology.
This year at Connext, DIRTT raised the bar again with a new version of ICEreality to help you further design with confidence. With this software, key decision makers can collaborate within the file no matter their locations, make changes to the design and get instant pricing. Achieve total certainty about your future space – both the end design and total cost of your interior construction down to the penny. DIRTT's technology does all this and more.
Explore more completed DIRTT education projects here.
New Innovations
Until now, DIRTT walls measured 4 inches face-to-face. However, this year, we previewed their new 2″ and 6″ walls. It may sound ordinary, but trust us, this wall is ready to revolutionize.
Spoiler alert: DIRTT's new 6″ wall gives you three inches of clear space inside. That's two inches more than the 4-inch wall. What can you do with an extra two inches? Turns out, a lot.
DIRTT developed the wall with one of their healthcare clients that needed to pack their facility with functionality. Patient rooms need power, medical gas and plumbing. That's a lot to fit in a little space. In some cases, they couldn't fit all three at the same time. By adding those 2 inches, rooms could be designed without having to worry about running out of space in the wall cavity. Now power, medical gas and plumbing can service both sides of the wall. Fewer limitations. Improved functionality. Faster install times. It's a triple win.
But healthcare isn't the only place where the 6″ wall stands up. As imbedded technology becomes more popular, this wall opens up possibilities. Monitors that were too deep to fit in a four-inch wall can now integrate easily. The extra space gives you more choice. More robust technology. Back-to-back interactive walls. Why put limits on your imagination?
Maybe you're more concerned with what passes through the wall than what's on it. Yup, we're talking about acoustics. If speech privacy is your jam, that extra space is what you want. DIRTT's recycled denim insulation and the air gap work together to reduce noise transfer.
Whatever you're looking to do with the 6″ wall, compatibility won't be an issue. Even though it's bigger, the connections are the same. It talks to all the other DIRTT parts, integrating seamlessly into your environment. And in classic DIRTT style, if you ever need to get back into the wall to tweak your plumbing or power, it's still as easy as it ever was.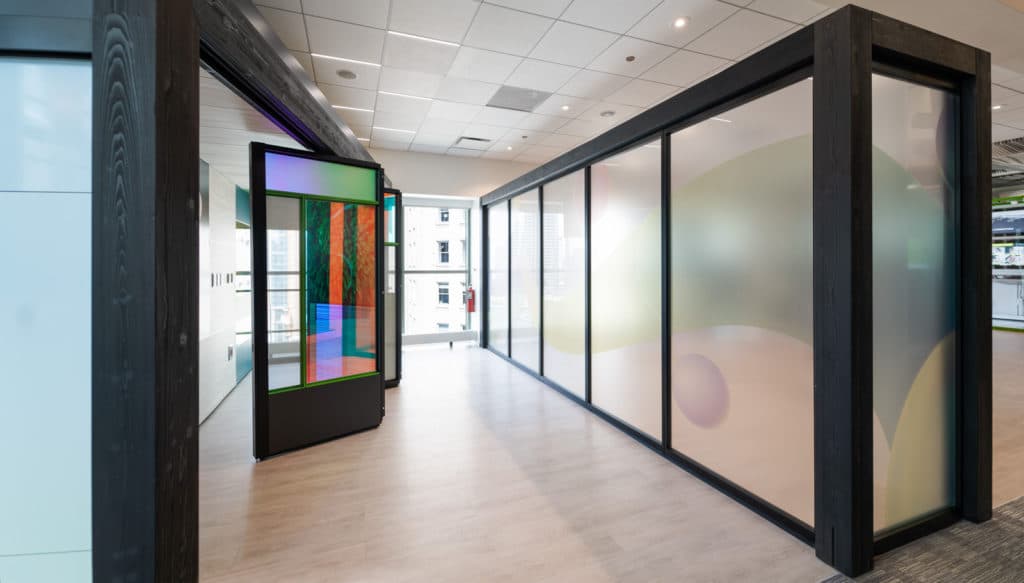 DIRTT innovation also delivered a high performance, ultra-slim glass wall with Inspire™. One of the latest additions to its collection of custom prefab solutions is able to do more with less. The 2-inch glass wall DIRTT calls Inspire™ has just been unveiled at DIRTT Connext. It's extraordinarily slim and highly responsive.
Even though it's about half as thick as previous DIRTT walls, it plays well with the rest of your space; connecting seamlessly with DIRTT's 4-inch wall system. It's all thanks to adaptive corners and in-line components. Inspire has the performance and a non-generational approach that DIRTT was built on.
Sources
DIRTT, "A new wave of higher ed spaces to support today's students." Published June 11, 2019. Accessed June 25, 2019, https://www.dirtt.net/news/2019-a-new-wave-of-higher-ed-spaces-to-support-todays-students/
DIRTT, "Design to Inspire™." Published June 11, 2019. Accessed June 25, 2019. https://www.dirtt.net/news/2019-design-to-inspire/
DIRTT, "Inches go the mile." Published June 10, 2019." Accessed June 25, 2019. https://www.dirtt.net/news/2019-inches-go-the-mile/