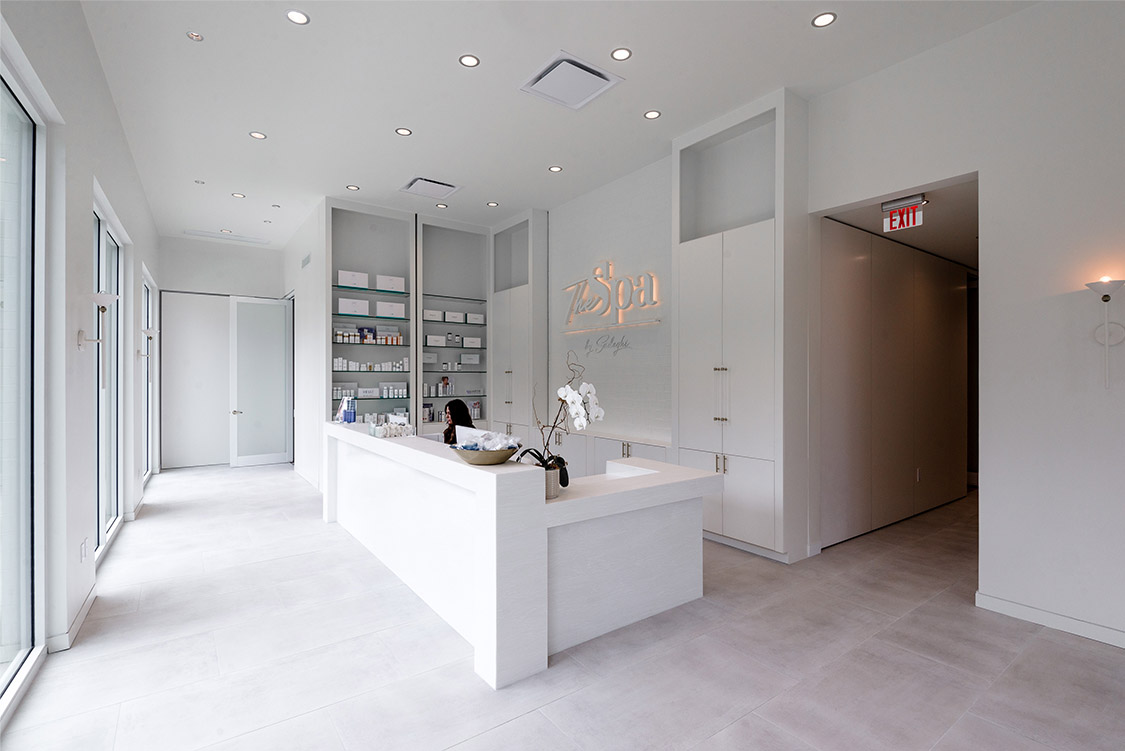 30 Mar

Sadeghi Case Study: Setting a New Standard for Prefab Construction

StudioWTA, Gibbs and AOS teamed up for a design/build collaboration that uses cutting-edge methods and materials to create a premium patient experience in record time and sets a new standard for prefab construction in New Orleans with a mixed-use surgery center.
As the unique character of Gulf Coast communities continues to be threatened by stronger and more frequent storms, building durability and construction speed are becoming more vital than ever. Now open in Metairie, Louisiana, the Sadeghi Center for Plastic Surgery is a case study on how thoughtful planning and new technologies make it possible to build enduring structures in less time without sacrificing high-quality design.
"The Surgery Center shows the promise and importance of strong partnerships in the future of New Orleans. It's a perfect union of what we do at studioWTA—modern, contextual architecture—and what Gibbs does—combining technical and logistical expertise to innovate in construction."

Julie A. Babin, partner StudioWTA
The new Surgery Center is a streamlined, modern interpretation of the low-slung commercial buildings lining an active stretch of Metairie Road. Clad in white stucco and brick, the 10,000 square-foot facility extends the vibrant commercial corridor with space for a public cafe alongside its two distinctive patient experiences: the Spa by Sadeghi, a full MedSpa for minor outpatient cosmetic treatments, and the Surgery Center for more intensive procedures. The street facing Spa features a commercial-style entry and large, inviting storefront windows, while the more private Surgery Center at the back of the building welcomes patients into a generous double-height lobby lit by clerestory windows.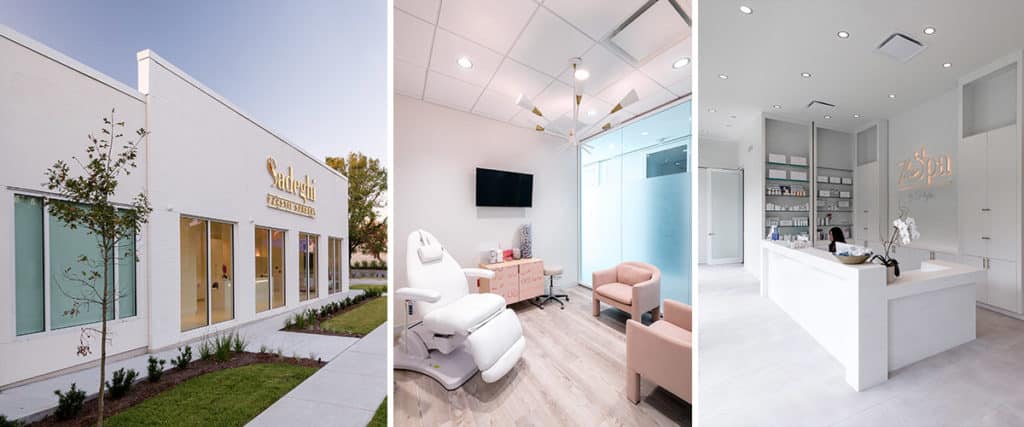 Well-designed to foster well-being
Previously, Dr. Sadeghi was renting out shared facilities in several different locations. The new Center simplifies his business and gives him more control over the patient experience. It was a truly collaborative undertaking. Before the contract was even signed, the client, architect, and the contractor began working in close coordination, considering the building's design and construction holistically to reduce inefficiencies. StudioWTA and Gibbs worked together to develop an efficient plan, placing patient suites for the MedSpa and surgery center around a shared core of support spaces—including offices, exam rooms, and specialized rooms such as decontamination rooms and sterile storage.
Studies have shown that well-designed spaces can make a substantial positive impact on patient health and wellness. Doctor Sadeghi chose studioWTA especially to create an environment that fosters a sense of relaxation and well-being while offering an elevated experience. The firm leveraged its extensive expertise in designing and planning commercial interiors and modern residential architecture to help make patients feel at ease and make it easier for the Center's staff to do their jobs without disrupting patients in the waiting or recovery areas.
Soft, natural light infuses both spaces to create a calming environment, and high quality, medical grade white finishes and translucent panels help bring that light deep into the Center's patient spaces. Rather than feeling cold and clinical, the facilities effectively convey a sense of sophistication that resonates with Dr. Sadeghi's clients and distinguishes the doctor from his competitors.
"We are constantly getting compliments on the design of the building. The clinic and the medi-spa have been a remarkable experience for our patients, who appreciate the state-of-the-art facility and high-end amenities. And it's made for a smoother workflow for the staff in our high-volume practice."

Ali Sadeghi MD FACS, Sadeghi Center for Plastic Surgery
It was critical for the Sadeghi that their new building be a contemporary and inviting addition to the neighborhood. But it was also essential to get it done fast. Gibbs Construction's unique insight and proprietary manufacturing system made it possible to meet an aggressive construction schedule. Dr. Sadeghi, StudioWTA, and Gibbs achieved this elegant design using an almost entirely prefabricated system that dramatically reduced the construction timeline, improved on-site efficiency, and radically reduced construction waste.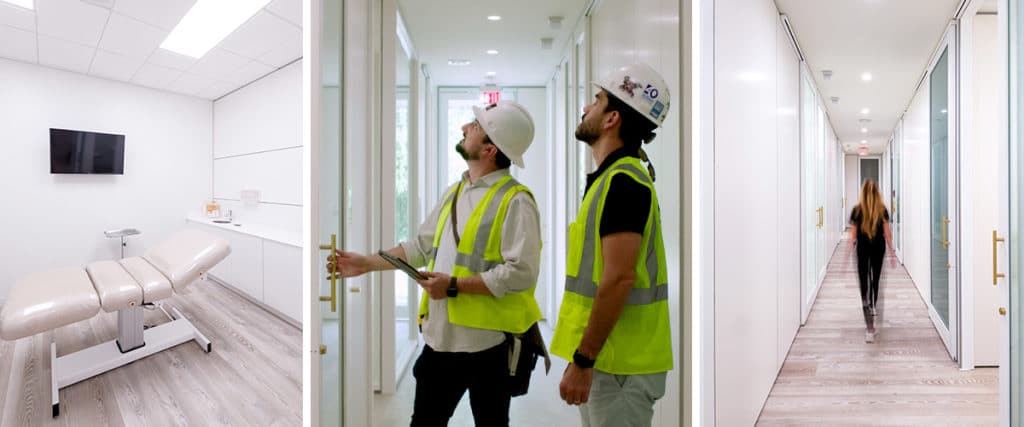 Prefabrication: the future of construction in New Orleans
Despite setbacks caused by Hurricane Ida and the complicated logistics of working through a global pandemic, the team was able to keep the project on track by pre-manufacturing many of the essential building systems offsite. The structural walls are built using Gibbs Construction's proprietary Light Gauge System (LGS). Gibbs began manufacturing the system locally in 2019 using CNC machines and BIM technology to "print" structural studs that can be assembled into wall panels or trusses. The structural panels aren't just made in New Orleans; they're made for New Orleans – they don't rot, mold, or attract termites, and can withstand the extremes of the local climate.
Moving inward, StudioWTA partnered with AOS Interior Environments and DIRTT manufactured construction to provide a world class interior that met the quality design and accelerated schedule goals. Utilizing DIRTT's revolutionary ICE software, the architect's vision was clearly communicated directly to the factory and executed flawlessly on site.
"The collaboration between the entire Design/Build team early in the process was key to the success of this project. This space eloquently blends cutting-edge technologies and construction methods to achieve high end, modern design. Pre-fab is not only fast, it can be beautiful!"

Rebecca Cooley, AOS Interior Environments
Precision manufacturing ensured a tighter fit and high-quality, easy-to-clean finishes that protect patients, staff, and visitors. Thermofoil wrapped millwork provided a silky-smooth look and enhanced the antimicrobial qualities of each surface. Factory installed pre-wired electrical outlets and conduit for switches helped to significantly reduce onsite clutter and installation time. Combined with the use of prefabricated HVAC racks that included nearly all necessary building infrastructure, these panel systems helped keep the project on schedule despite pandemic-related shutdowns and natural disasters.
While the entire interior in the end, looks like traditional construction it acts far more agile. Accessible wall cavities make it easy to change or incorporate the latest medical technologies and equipment. DIRTT's clean, quiet construction method allows Sadeghi to make space reconfigurations in the future with little to no downtime or disruption to the patient experience. Flexibility was key in creating a state-of-the-art environment that will adapt as the practice continues to evolve.
"This extremely specialized design-build project…is pound for pound, one of the most prefabricated custom commercial structures in the greater New Orleans area. It has set the standard for structural wall and interior partition prefabrication."

Jeff Stolier, Gibbs Construction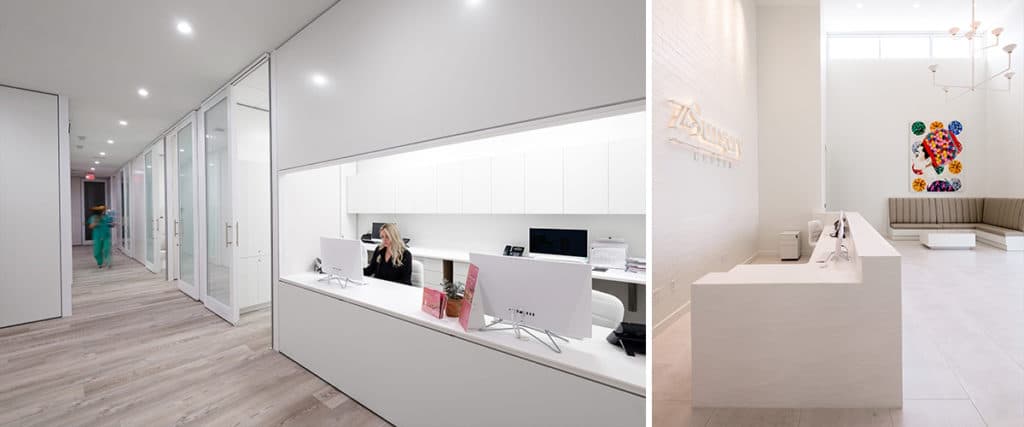 A more sustainable building for a more resilient city
Prefabricated construction isn't only fast and convenient; it can be a much more sustainable option than traditional construction methods. The LGS, for example, produces 2% recyclable waste – compared to 15-20% waste generated by conventional wood and metal framing. They also use less material, reduce the likelihood of costly mistakes, and produce less carbon by requiring fewer trips back and forth to the site.
The investment in pre-manufacturing capabilities by these New Orleans-based companies is a part of a growing effort by the building industry to reduce the waste associated with building construction and adopt holistic, sustainable building practices. Rather than just measure sustainability with an isolated snapshot of its energy consumption, this more sustainable approach starts with the project's construction, considering its embodied carbon, and extends through its entire lifecycle.
Thanks to Dr. Sadeghi's drive, studioWTA's design, the innovations from AOS and Gibbs, and a singular vision shared by all, the design team was able to overcome multiple obstacles to complete the new Sadeghi Center for Plastic Surgery on time and on budget. Perhaps most importantly, the building shows the people of New Orleans how new technologies and good design can create healthier, safer, and longer-lasting buildings that will make the city more resilient. It's not just a model for the modern medical facility; it's a model for modern building in New Orleans.
Sustainability Statistics
Manufactured construction is revolutionizing the construction industry. And the industry needs a good revolution. The material waste, energy use, and carbon footprint of constructing buildings are just some of the things that make the industry in deep need of a reset. Many people spend over 90% of their life indoors so it's important to create healthy, sustainable spaces that not only benefit people but also the planet. High-performing materials that meet stringent structural and environmental criteria, recyclable and reusable packaging materials, and the reduction of raw materials can all contribute to a sustainable future. Let's breakdown how Sadeghi Center for Plastic Surgery delivers on sustainable design.
5,327 pounds of drywall waste prevented from entering the landfill
55 pounds of paint-based VOCs + 9 pounds of drywall mud tape-based VOCs prevented from off gassing
73% recycled content in wall solution
43% recycled content in casework solution
2% bio-based content in wall solutions
416 pairs of recycled denim jeans in wall insulation
53% less CO2e than conventional fiberglass insulation
Project Team
Architecture: studioWTA
Construction: Gibbs Construction
Landscape: Rotolo Consultants, Inc.
Structural + Civil Engineering: Morphy Makofsky, Inc.
Electrical Engineering: Northside Electrical
Mechanical, Plumbing + Fire Protection: Pontchartrain Mechanical
Manufactured Interior Construction: AOS Interior Environments + DIRTT
Signage: ASI Signage
Photography: Michael Mantese and Michael Palumbo