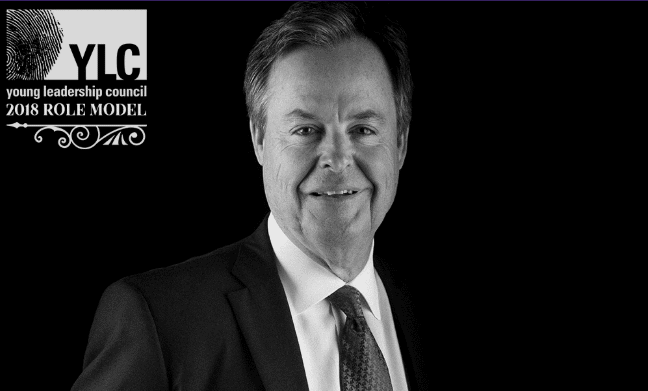 10 Sep

2018 YLC Role Model Class: Shelby Russ

AOS is proud to announce that our President + CEO Shelby E. Russ, Jr. has been honored by the Young Leadership Council (YLC) as a 2018 YLC Role Model. The class is comprised of 15 business, community and civic leaders who have left their mark on the Greater New Orleans area. This year is particularly special to AOS not only due to Shelby's recognition, but also because our Marketing Director and YLC Board Member Caroline Hayes is co-chairing the YLC Role Model Gala with fellow board member Kevin Ferguson. Due to all their hard work and dedication, the spectacular black-tie event spotlights the recipients and their accomplishments. Mark Romig is the MC, followed by an evening of dinner, dancing and live entertainment. As one of YLC's largest events, the Role Model Gala benefits YLC's wide array of community service projects, which are designed to improve the quality of life in the Greater New Orleans area and to foster leadership skills in young professionals.
32 Years of Honoring New Orleans's Outstanding Leaders
Annually since 1986, the Young Leadership Council selects a class of outstanding New Orleanians who serve as Role Models by actively contributing to the betterment of the Greater New Orleans region. These individuals are an inspiration to YLC's young professional members and to the community at large. We will honor them at the 32nd Annual YLC Role Model Awards Gala on Saturday, September 8th at 7 pm at the Orpheum Theater.
Each year's group of honorees is selected by a committee including members of the YLC Board of Directors and past YLC Role Model Award recipients. Individuals are selected based on significant contributions to their field of work, to their community, and to New Orleans as a whole. Notably, a person can only receive the honor of YLC Role Model once in his or her lifetime.
In June, YLC hosted a Role Models Meet and Greet at Ralph's on the Park to introduce the 2018 class to each other and the YLC board of directors, but we would like to the opportunity to further share what makes Shelby an influential leader in the community.
About Shelby E. Russ, Jr.
Shelby Russ is the President and CEO of AOS Interior Environments. His profound understanding of the critical relationship between space and human needs is a reflection of his 39 years of industry experience and close ties to the architectural and design community.
Shelby's vision of serving the industry with honesty, integrity, and putting relationships first is the foundation of AOS company culture. Under his leadership, AOS thrives and is the largest provider of commercial furniture, manufactured construction, and storage solutions across the region, supporting 94 full-time employees in Baton Rouge, Shreveport, and Jackson, Mississippi. Each year, his team successfully executes more than 400 projects over a million square feet across 10 states.
Shelby applies his forward-thinking business ideals towards building a better community. AOS contributes more than $250,000 annually to the arts and culture of New Orleans through in-kind gifts and donations. Recently, the company proudly served as the Title Sponsor for Young Leadership Council's 2018 Wednesday at the Square season.
Shelby serves on the New Orleans Architecture Foundation Board (NOAF), working to enhance public appreciation of New Orleans' unique architectural history. He is the former Chair of the Young Presidents Organization (YPO Gold), and continues to contribute to numerous industry advisory councils. Shelby served on the Board of Directors for Young Aspirations Young Artists (YAYA) for more than 10 years, an organization that empowers artistically-talented youth to be professionally self-sufficient. As YAYA Board President, he played an integral role in leading the organization's capital campaign to build the YAYA Arts Center, which currently stands on LaSalle Street as a resource for talented New Orleans youth.
We are truly honored to work every day with Shelby as our role model, leading  our team with such commitment, generosity and distinction, furthering not only our company but the New Orleans community.
Meet the 2018 YLC Role Model Class
Congratulations to this year's entire Role Model Class! We are thankful for their continued dedication to the Greater New Orleans area and look forward to celebrating them tomorrow night!
Patrick L. Anderson – 100 Black Men of Metro New Orleans
Dottie Belletto – New Orleans Convention Company, Inc. (NOCCI)
Simone Crouere – Demo Diva
Matt Schwartz – The Domain Companies
Steve Gleason – Team Gleason
Scott Hutcheson – City of New Orleans (formerly)
Yvette M. Jones – The Jones Group of New Orleans
Leroy Prout – HRI Properties
Christopher Reade – LookFar
Shelby E. Russ, Jr. – AOS Interior Environments
Stephen Stumpf – Durr Heavy Construction, L.L.C.
Suzanne C. Thomas – Hancock Whitney Bank
Erica J. Washington, MPH – Louisiana Department of Health
Edward Womac Jr. – Womac Law Firm
Paris Woods, EdM – College Beyond
Photo credit:  Gigsy Photography