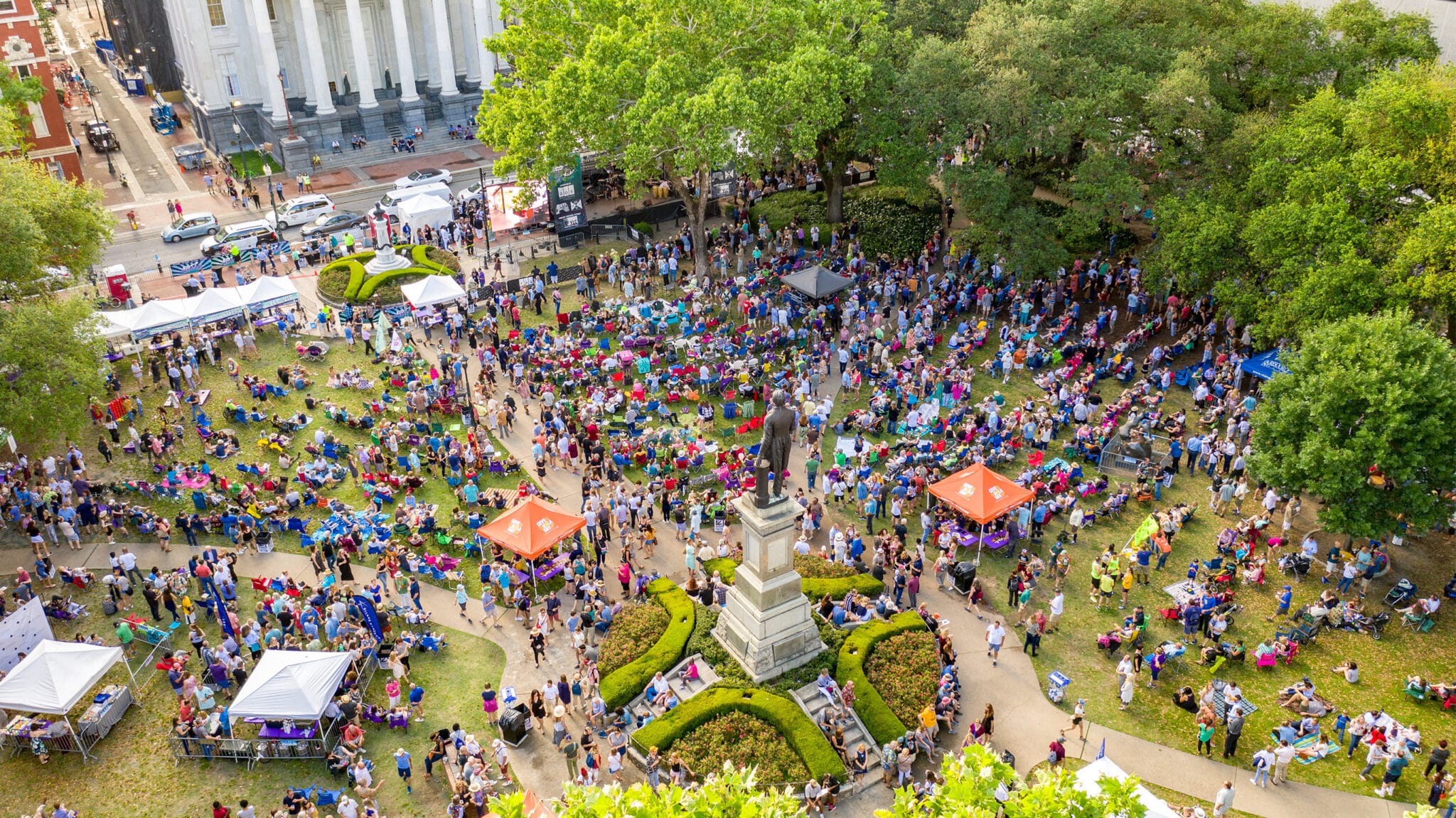 12 Feb

2020 YLC Wednesday at the Square Lineup

Young Leadership Council (YLC) has announced the lineup for its annual YLC Wednesday at the Square concerts. The series begins Wednesday, March 11 at 5 p.m. featuring a headlining performance by Flow Tribe with Dave Jordan and the NIA opening.

As the Title Sponsor for the 2020 Wednesday at the Square season, we're excited to present the official lineup!
2020 YLC Wednesday at the Square Lineup
March 11: Flow Tribe with Dave Jordan and the NIA
March 18: Tab Benoit with The New Orleans Johnny's
March 25: Marc Broussard with Erica Falls
April 1: GALACTIC featuring Anjelika Jelly Joseph with The Quickening
April 8: Anders Osborne with Daria and the Hip Drops
April 15: Andrew Duhon with Alexis and the Samurai
April 22: Big Sam's Funky Nation with NOBABE
April 29: Shamarr Allen with Little Freddie King
May 6: Partners-N-Crime+ The Big Easy Bounce Band with Robin Barnes
May 13: Lost Bayou Ramblers with Margie Perez
"YLC Wednesday at the Square has become a beloved spring-time tradition for many New Orleanians and locals-at-heart. Our regulars may be surprised to learn the concert series is produced by a committee of dedicated young professional volunteers and that it takes more than one-hundred volunteers to run the concert each week," said Stephanie Powell, Executive Director of Young Leadership Council. "The series' is YLC's largest fundraiser, with proceeds directly supporting our leadership development efforts and nine volunteer-led community service projects. We are so thankful for the continued support from our partners like AOS Interior Environments."

YLC Wednesday at the Square features well-known and critically-acclaimed musical acts hailing from the New Orleans area and broader region. Headliners will include Flow Tribe, Lost Bayou Ramblers, Marc Broussard, Big Sam's Funky Nation and many others. We are excited to announce that after 10 years, GALACTIC featuring Anjelika Jelly Joseph returns to the YLC Wednesday at the Square stage! The concerts will take place every Wednesday from 5 to 8 p.m., March 11 through May 13 in downtown New Orleans at Lafayette Square (between Camp Street and St. Charles Avenue, directly across from Gallier Hall).

AOS Interior Environments, a New Orleans-based commercial interiors company, is returning for the third year as the 2020 Title Sponsor for YLC Wednesday at the Square. AOS is the largest provider of manufactured interior construction, commercial furnishings, and specialized storage in Louisiana and Mississippi, and has served the region for more than 43 years.

"YLC continues to blow us away with the caliber of talent and quality of production they bring to the Square each Spring," said Shelby Russ, President and CEO of AOS Interior Environments. "We are lucky to have this organization in our community and are honored to support the good times, great music, and remarkable work that they do."
*Headliner performs from 6:30 – 8 p.m. Opening act from 5 – 6 p.m.
** Wednesday, May 20, May 27, and June 3 are reserved as rain dates.
In the coming weeks, YLC will announce the food and artist village vendors who are integral to YLC Wednesday at the Square. Stay tuned to www.ylcnola.org and YLC's social media channels for the latest updates.
The YLC Wednesday at the Square concert series is free and open to the public. Proceeds from food and beverage sales benefit YLC's community service projects which are designed to improve the quality of life in New Orleans and to foster leadership skills in young professionals. YLC is proud to contribute to a thriving Central Business District economy while uniting music lovers from across the Greater New Orleans Region.

The 2020 YLC Wednesday at the Square Committee is led by co-chairs and YLC Board Members Garlan White and Lena McCloskey. Committee volunteers include Nicole Harvey, Matthew Treuting, Dan Jatres, Katherine Hammer, Emily Rebert, Marina Brazhnikova, Corey Kiper, Amanda Reese, Brittany Whitsell, and Zachary Addison. YLC would also like to thank partners White Oak Productions, River Parish Disposal, Propaganda, Party Rentals Delivered, Downtown Development District, Lafayette Square Conservancy, Center Staging, and F.E.S.S. Security. In addition to the generous support from A.O.S. Interior Environments, the concert series would not be possible without support from Presenting Sponsors, Abita Brewing Company, Sazerac, Wheatley Vodka, Buffalo Trace and Robert Mondavi Winery.
Each year YLC engages hundreds of volunteers to produce the YLC Wednesday at the Square concert series. Volunteers work ticket and beer booths, survey attendees, and ensure the success of this beloved event. YLC accepts individual and corporate volunteers each season, allowing businesses to "adopt" a beer or ticket booth. Those interested in volunteering for the 2020 concert series can contact Ashley Robison at ashley@ylcnola.org.
Single and multiple-concert sponsorships for the 2020 series, as well as video screen advertising, are available. For more information about sponsorship and advertising opportunities, including private hospitality tents, contact Liz Waller at liz@ylcnola.org.
For more information about YLC and YLC Wednesday at the Square, visit www.ylcnola.org. Engage with YLC Wednesday at the Square on Facebook, Instagram, and Twitter at @ylcwats.
About Young Leadership Council
Young Leadership Council is a nonprofit, nonpartisan, civic organization that develops young professionals into leaders through community projects. Through volunteer-led community service projects, YLC recruits and retains young professionals to New Orleans, and creates a positive impact on quality of life in the region. Building on the organization's 34-year legacy of leadership and service, YLC members logged more than 11,000 community service hours in 2019. Learn more about YLC at www.ylcnola.org