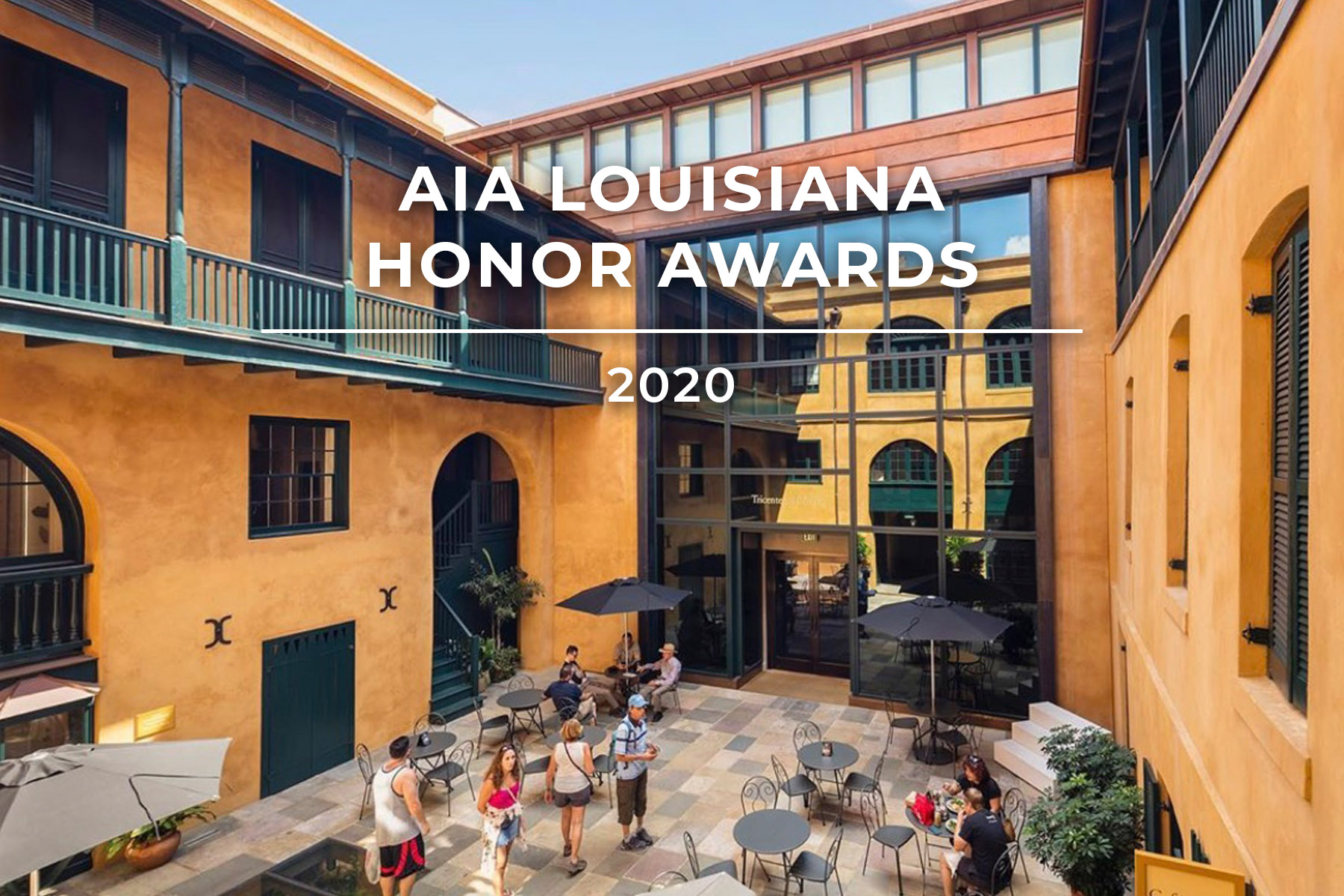 25 Sep

AIA Louisiana Honor Awards 2020

Congratulations to all of the winners of the 2020 AIA Louisiana Honor Awards, including Lee Ledbetter & Associates, Adamick Architecture, Colectivo, Eskew Dumez Ripple, Hoffpauir Studio, LLC, Trahan Architects, Waggonner & Ball, and Wisznia | Architecture + Development! This year's ceremony took place virtually on Thursday, September 24th as part of the AIA Louisiana Conference on Architecture. While we missed seeing everyone in person, we were delighted that the design community could still come together and recognize exceptional work across the state.

We'd like to extend a special congratulations an thank you to Waggonner & Ball and Wisznia | Architecture + Development for partnering with us on such outstanding projects.
The Historic New Orleans Collection: Seignouret-Brulatour House and Tricentennial Wing
Award of Merit
Designed by Waggonner & Ball, the Historic New Orleans Collection's Seignouret-Brulator House and Tricentennial Wing blends together old and new by bringing new life to original features, preserving a well-known courtyard, and carefully adding a new exhibition wing. Located within the heart of the Vieux Carre on Royal Street, the Seignouret-Brualtor House dates back to 1816. While it was once home to wine importers, furniture craftsman and the state's first television station, it now houses the Collection's welcome center, gift shop, offices, café and a permanent exhibit on French Quarter history. Behind its storied walls lies Brulator Court and a new contemporary exhibition building within the interior of the block for rotating exhibits. While preservation was an important goal, sustainability was just as important. The project earned LEED Silver certification, and the building is the first to be certified in the French Quarter. As the jury noted, "The project provides a thoughtful model of sustainability, restoration, and building within the historical context of the French Quarter." Together the restoration and addition of the Tricentennial Wing double the exhibition space and allow for the Collection to accommodate more permanent and traveling exhibits, expanding their mission to preserve the history and culture of New Orleans and the Gulf Coast. Photos by Jeff Goldberg | Courtesy of Waggonner & Ball.
Award of Merit
The Garage, a new mixed-use development on Carondelet Street in downtown New Orleans, steers a former car dealership into a new era. Restored and developed by Wisznia Architecture + Development, the building is now home to over 60 residential units with 20,000 sf of commercial space on the ground floor. Continuing the spirit of exploration and innovation, The Garage takes contemporary living to the next level. Originally built in 1951, the building's historic roots as Stephen's Garage drove the design. While curated photography, artifacts and other elements nod to the building's past, Wisznia partnered with AOS to provide classic, mid-century modern furniture for the model units. Learn more about the project here.
Click here to watch the full 2020 awards ceremony!