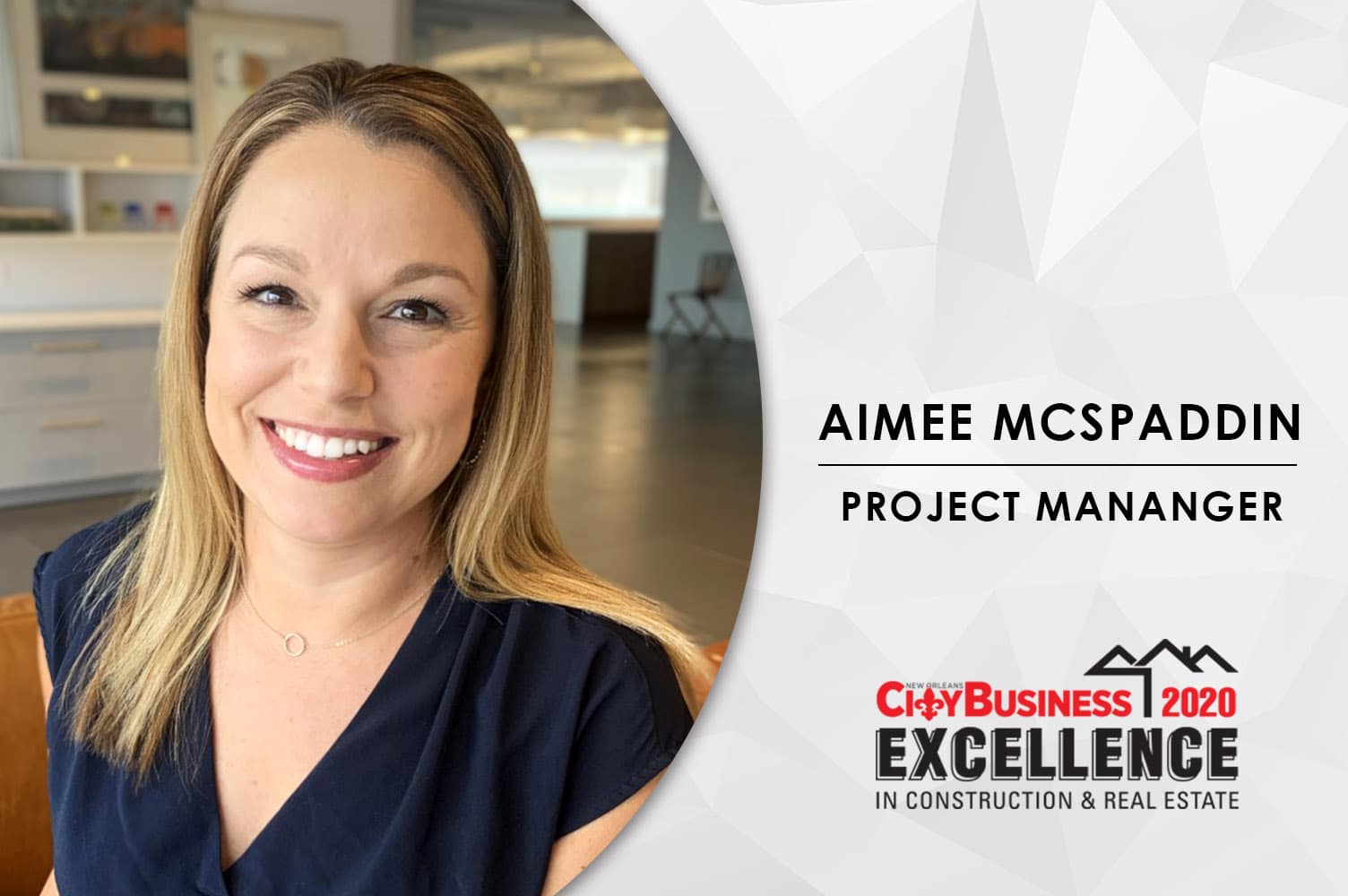 23 Jun

Aimee McSpaddin Named CityBusiness Excellence in Construction & Real Estate Honoree

AOS is thrilled to share that Aimee McSpaddin has been selected to the 2020 New Orleans CityBusiness Excellence in Construction & Real Estate Class, which recognizes professionals who have led the way in the areas of investment, jobs created and potential impact in the New Orleans area.

As design-assist Project Manager, Aimee closely collaborates with contractors, architects, interior designers and other trades on a daily basis. Her fast-paced, hands-on and problem-solving approach results in precise solutions carefully attuned to each of her client's needs. The industry we are a part of is a challenging culture. Projects require collaboration from multiple stakeholders, consultants and professionals. In order to succeed, transparency, respect and efficiency is key.

Aimee epitomizes this approach and such a noble effort is highlighted even further by her impressive array of projects completed in her tenure with AOS. None more astounding than her recent management of a 220,000 SQ FT renovation in the Hancock Whitney Tower. Aimee quickly became seen as an extension of the client's internal construction team, coordinating daily with the General contractor, hundreds of sub-contractors. In large part to her diligent management, the client shaved an entire year off of the construction timeline without compromising on the design. Aimee is also one of our unsung heroes when it comes to environmental leadership. In 2019 alone, her projects diverted over 143,023 lbs of drywall waste and 1,110 lbs of carpet waste from Louisiana landfills.
As the most tenured Designer/Project Manager on the AOS Manufactured Interior Construction Team, Aimee is at the cornerstone of the division and has been working at AOS for 14 years. She was the first of a rapidly growing team of 14 full-time Designers, Project Managers and Installers. She has successful executed projects for clients ranging from start-ups to Fortune 500 companies across a multitude of industries including commercial, healthcare, education, retail and government environments. Her exceptional project execution has been recognized as one of the top project managers in the nation four years in a row by our manufacturing partner DIRTT.
Congratulations to the entire 2020 class! AOS is honored to work with so many exceptional partners and clients who are committed to improving the industry and give us opportunities to work on such outstanding projects. Click here to view the full list of honorees.