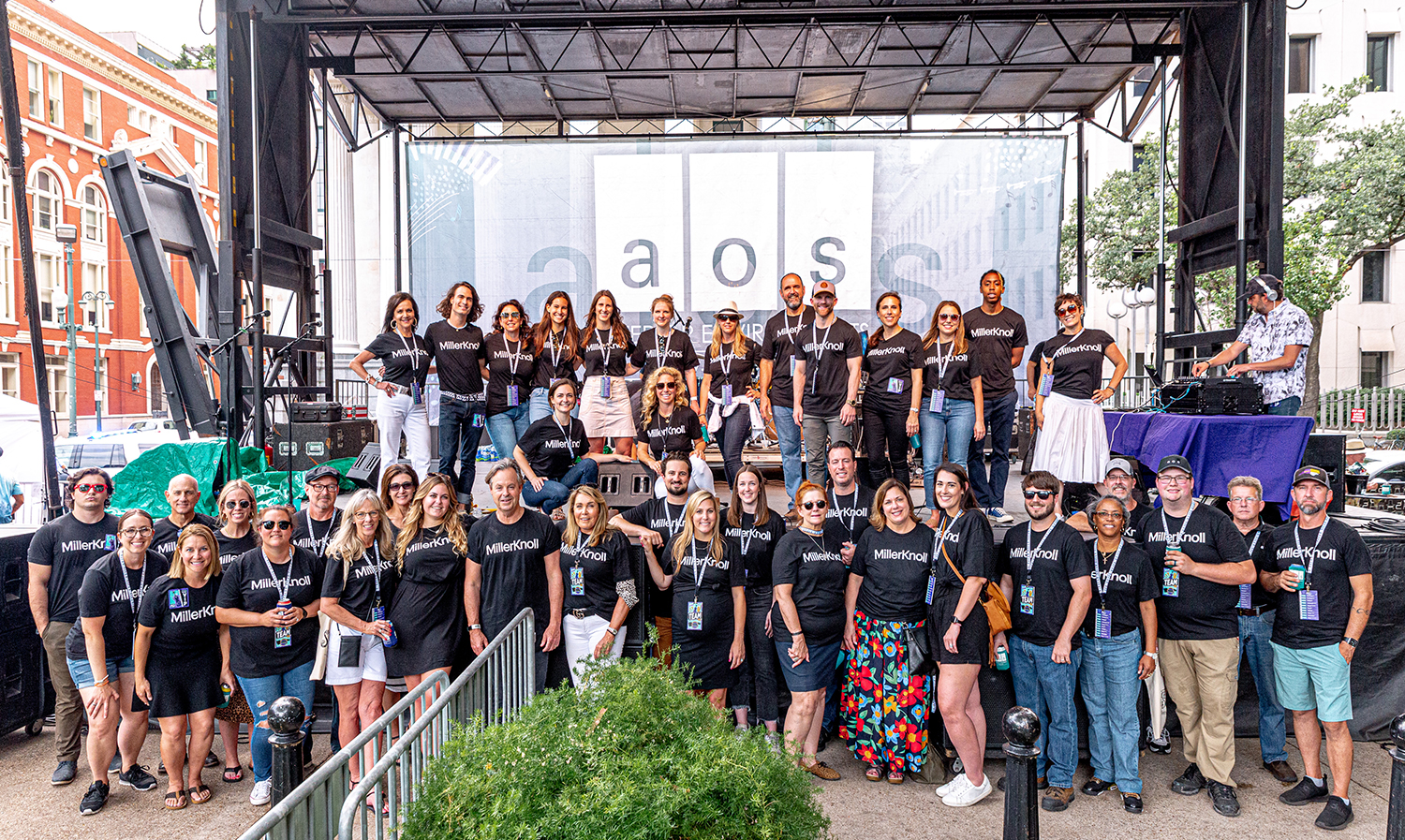 01 Jul

AOS' 46th Anniversary: Toasting to a New Chapter

June kicked off an exciting time at AOS! Not only did it mark the company's 46th anniversary but the beginning of AOS as a MillerKnoll dealer, which expands our offerings to include design icon and pioneer, Herman Miller and its legacy of brands. On June 1st, our team raised a glass during YLC Wednesday at the Square to celebrate the exciting announcement with our clients, family and friends.

Since the beginning, AOS has been committed to developing strong, lasting relationships and sourcing unique custom solutions for our clients. Gene Russ founded AOS in 1976 as a specialty firm that designed and installed filing and storage systems. When Shelby took the helm from his father as President and CEO, he set his sights on diversifying AOS' solutions and services to include commercial furnishings, warehousing installation and manufactured interior construction. In 1992, AOS became the exclusive Knoll dealer in the Greater New Orleans area. Then in 2006, we established our manufactured interior construction division, expanding our exclusive DIRTT Distribution partnership in Louisiana.

Over the last 46 years, AOS has grown into the largest design-assist FF&E (furniture, fixtures and equipment) contractor in Louisiana and Mississippi. With over 300 manufacturer partners, AOS continues to be a go-to resource and seek out the most innovative, flexible, customizable, and sustainable solutions across all of our divisions. As a trusted partner, problem solving is what we do best. We are honored to serve our clients and the design communities across Louisiana and Mississippi. Of course, none of this would be possible without our world-class, award winning team. We thank them for their continued excellence, professionalism, quality service and collaborative spirit.

As we celebrate AOS' 46th anniversary, take a look down memory lane with us to see what was happening in the world of design, Herman Miller and Knoll in 1976.
The Design of Herman Miller by Ralph Caplan is published by the Whitney Library of Design.

At the time, The Design of Herman Miller presented the most up-to-date compilation available of the design efforts and results from Herman Miller since its foundation, reflecting its most recent work, activities and products. It went beyond simply cataloguing the work of the famous design team and showed the design-related attitudes of Herman Miller and provided examples of the benefits of creative thinking and problem-solving.
While the book is currently out of print, here are few suggestions to fill your summer reading or inspire your next project:
Designed by Warren Platner, the restaurant Windows to the World opens in NYC.

Located on the 107th floor of the North Tower in the World Trade Center in New York City, Windows on the World opened to the public with grandeur and much acclaim in May 1976. It quickly became known for its delicious food, breathtaking views and opulent design. As Architectural Record wrote in a 1977 article, "It is easier to get a ticket to Chorus Line than a dinner reservation . . . Windows on the World is, in a word, masterful."
Since the restaurant occupies the entire floor—one-acre of space—Warren Platner Associates Architects designed it to include several smaller, intimate areas through various tiered levels, a variety of enclosures and extraordinary attention to detail. Each seat at a table was a special place. Regarding the furnishings, Platner's wire seating designs from 1966 with Knoll add a glint of metallic luxury to his interiors for the restaurant. As seen above, the Platner Side Table and the Platner Easy Chair are featured in the reception area and the West Parlor. The design firm worked with restaurateur Joe Baum and with celebrated graphic designer Milton Glaser on the logo, menus, china patterns and other graphics. You may also recognize Glaser as the designer for the famous "I Love NY" logo.
Dive Deeper > Click here to read the story, "Windows on the World," published in Architectural Record in May 1977.
Herman Miller introduces the Ergon chair, the world's first ergonomic chair.

Designed by Bill Stumpf, the Ergon chair revolutionized task chairs and began a new era of seating—one shaped by science, design, and ergonomic experts. It featured a foam-filled seat and back, spine support, gas-lift levers to adjust height and tilt, and five-star legs with easy-glide castors. He created a chair that responded to users' postures and movements, delivering enduring comfort with a human-centered design approach.
Stumpf spent 10 years researching how people sit while they work. He used time-lapse photography to document office workers' daily movements and met with orthopedic surgeons and cardiovascular specialists to better understand the effect on people's health. In 1974, Herman Miller commissioned him to apply his research to a new design for task seating.
For Stumpf—and Herman Miller—the Ergon chair validated a rigorous, technical, research-based approach to product design that became standard practice, and eventually led to some of the most successful chairs of all time, including the Aeron.
Dive Deeper > Click here to read the story "Creatures of Comfort" in Herman Miller's WHY magazine and learn more about Stumpf's criteria for comfort and ergonomic performance.
Massimo Vignelli rejoins Knoll and introduces the Knoll Tabloid.

After rejoining Knoll in 1976, graphic designer Massimo Vignelli initiated an innovative new marketing strategy to differentiate Knoll from other players in the industry, who had by now also adopted a clean, modern aesthetic.
His Knoll Tabloids were the opposite of the slick, glossy brochures he had been designing for the company earlier. These publications, printed on humble newsprint, provided content focused on a single product or category, and were made available to the trade in runs of 20,000-40,000 copies. Seven tabloids were produced, printed by a newspaper plant to Vignelli's exacting graphic specifications. The tabloids represented a unique, approachable means to deliver in-depth information about Knoll's products and designers, as well as its point of view on design. You may also recognize Vignelli for his work on the New York City subway map, designed for the Transit Authority.
Dive Deeper > Click here to learn more about Massimo Vignelli and his work in his interview with Designculture.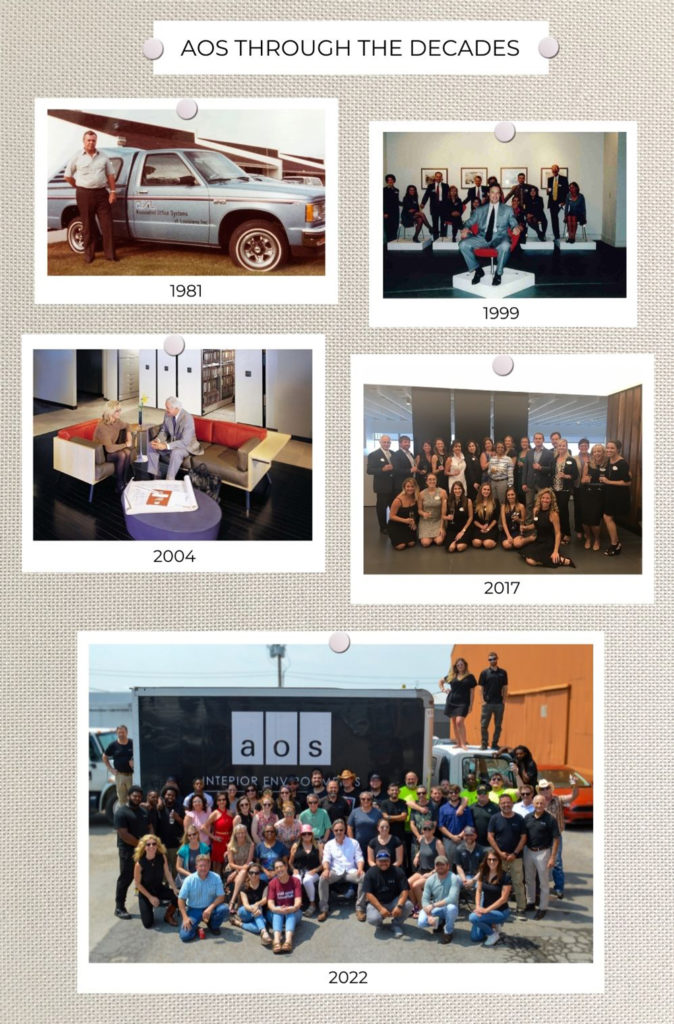 Further Reading
Architectural Record. "Windows of the World." Published 1976.
Design Is One. "Archive: Vignelli."
Graphic Design Archives. "Herman Miller."
Herman Miller. "Books By and About Us."
Herman Miller. "Creatures of Comfort."
Moran, Joe. Financial Times Magazine. "Bill Stumpf invents the modern swivel chair, 1976." Published October 10, 2008.
Ransmeier, Leon. "Early Ergonomics: Designer Bill Stumpf and the Science of Sitting." Pin-Up Magazine.
The Wayne State University Libraries Digital Collections. "Herman Miller."