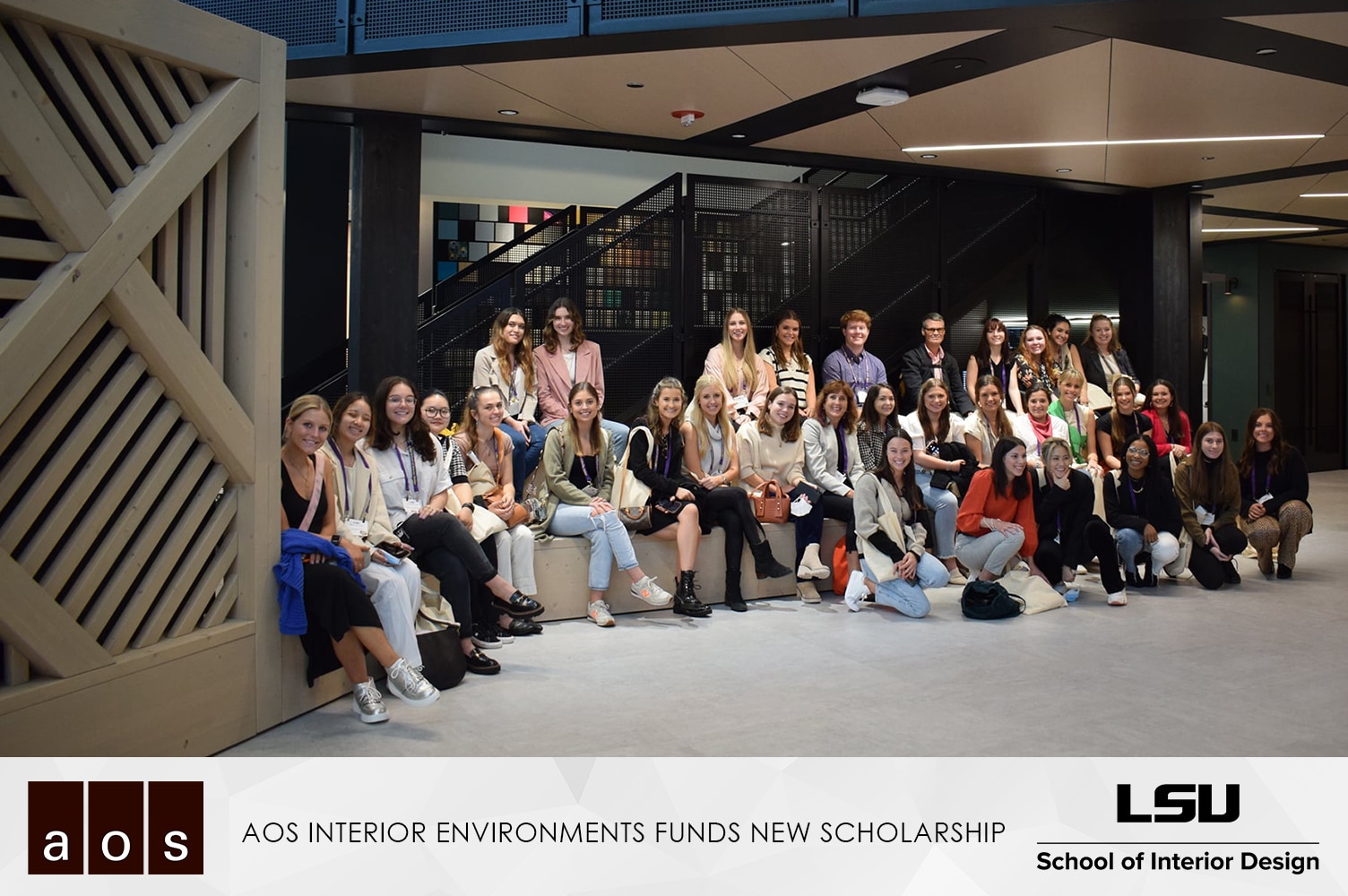 31 Mar

AOS Funds a New $40,000 Scholarship for the LSU School of Interior Design

In support of fostering more diversity within the Architecture and Interior Design industry, AOS Interior Environments has underwritten a new $40,000 scholarship for the LSU School of Interior Design to encourage enrollment, increase retention and provide financial assistance to students from under-represented groups.

The AOS Interior Environments Scholarship will play an important role in developing the student body of the LSU College of Art and Design, and the University. Being a full-time interior design student is a substantial commitment with rigorous coursework and intensive studio time. The AOS Scholarship will provide financial support to ensure that students can focus on their creativity and aspirations without financial constraints to fund projects, supplies and school.
"Providing financial assistance for students in the School of Interior Design is critical for recruiting, student success, and enhancing diversity among our students. We are so grateful for AOS and their vision and commitment to creating greater opportunities for our students. These funds will have a significant impact on so many of our students for many years."

Marsha Cuddeback, Director of the LSU School of Interior Design
Of the 180 LSU Interior Design undergraduates, roughly 110 qualify for financial assistance. However, scholarship support for Interior Design students only covered 12 people last year—just 8% of the school's student body. The AOS Scholarship will double the amount of funds allocated to the Interior Design program and is the only scholarship of its type in Louisiana. AOS and the LSU College of Art & Design hope this exciting, new scholarship will encourage other generous LSU supporters to give to the Interior Design program.
This contribution is part of AOS' larger mission to help diversify the architecture and design community and give under-represented minorities more exposure and access to the industry.
"Design is inherently centered on people. It has the power to make a positive difference, create social good, and improve the quality in which people live, work, play and heal. However, the interior design profession has a diversity problem. It's 84% white. This lack of representation is not reflective of the communities and people it often serves. We believe diversity drives talent and innovation. By weaving more voices and perspectives from under-represented ethnicities, not only can the industry create more professional equitability and opportunities but propel everyone forward through new ideas."

Shelby Russ, AOS President and CEO
Since inception, AOS has been a supporter of the National Organization of Minority Architects (NOMA) and their Project Pipeline program, which teaches high school students how they can affect change in their community through architecture and design. They are also patrons of Young Artists Young Aspirations, Inc. (YAYA) and helped the organization fund the YAYA Arts Center, which centralized and expanded their programming as the non-profit works to empower young creatives through arts and entrepreneurship and make arts education more accessible.
"Encouraging interest in the Architecture and Design field begins long before students are considering college programs. To diversify the industry, we must help develop a pipeline of talent that is inclusive and enables people to achieve their highest potential. Leadership in design and construction requires collaboration. We are inspired by the talent and pursuit of design excellence from LSU's School of Interior Design and hope this gift will be the first of many the school receives to enhance the intellectual environment, broaden diversity, and build a brighter, more equitable future."

Eve Arnold, AOS Team Development Manager
AOS has close ties with LSU, particularly the School of Interior Design. The company proudly employs 19 alumni of LSU—11 of which are graduates of the College of Art & Design—and they have been a member of the LSU 100: Fastest Growing Tiger Businesses. AOS also has a growing internship program, in which interior design students can work at AOS' Baton Rouge or New Orleans showrooms and gain experience in commercial design projects, collaborate with clients, and be part of an award-winning team.
How to Apply
If you are currently a student within LSU's School of Interior Design, please click here to apply.
How to Support
If you would like to make a donation towards the AOS scholarship, you can write a check to the LSU Foundation at 3796 Nicholson Drive, Baton Rouge, LA 70802 and include "AOS Scholarship" in the memo line.
If you would prefer to give online, please visit this link, and click "Select Fund." Scroll to the bottom, select "Other" and write "AOS Scholarship" in the gift comments.
Featured Image
Courtesy of the LSU College of Art & Design. LSU Interior Design students visit the DIRTT Experience Center in Chicago on their 2021 summer field trip.