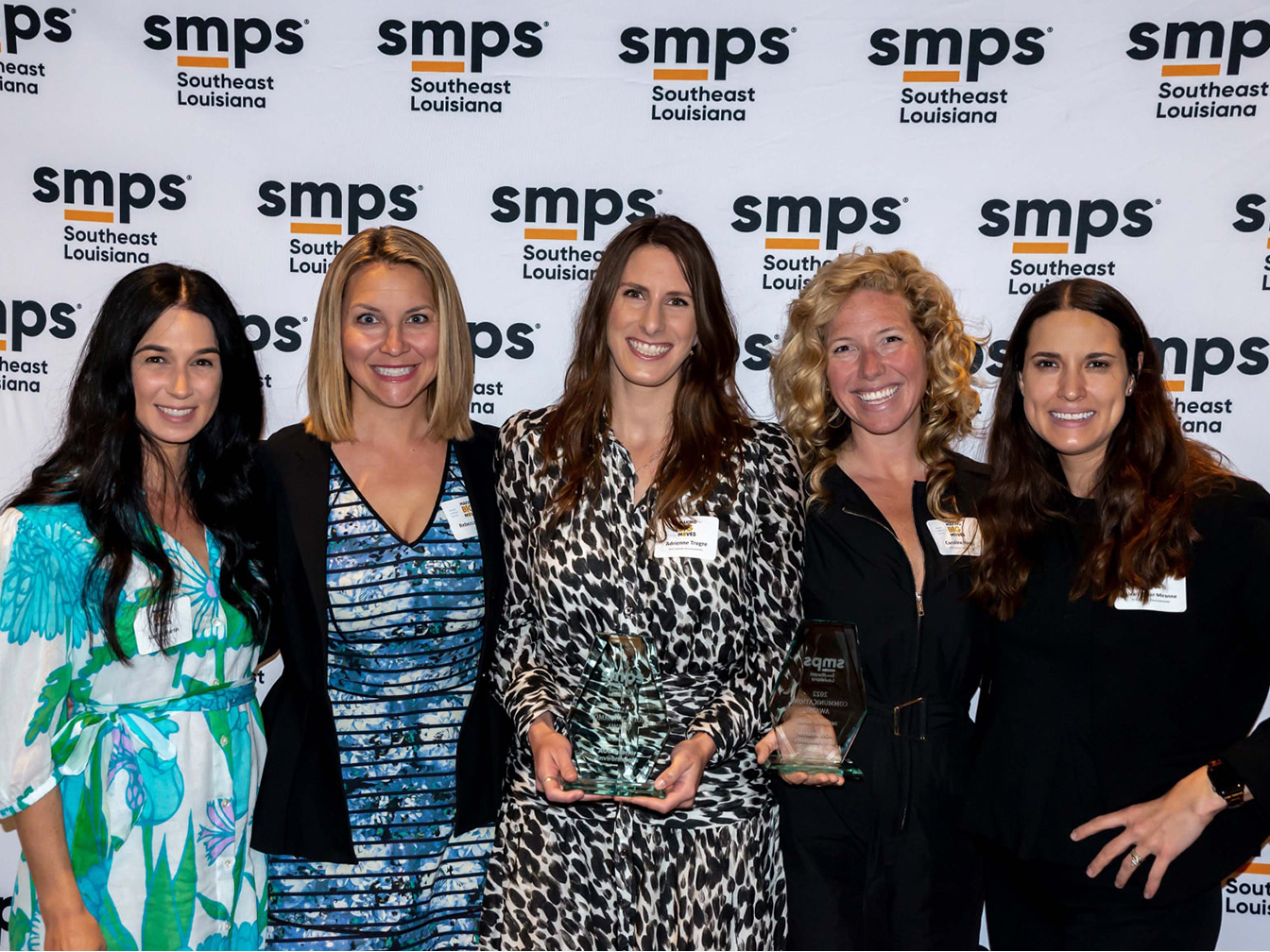 07 May

AOS' Marketing Team Wins Two SMPS SeLA Communication Awards

We're thrilled to share that AOS won two awards at the 2022 SMPS SeLA Making Big Moves Workshop and Chapter Awards in the "Miscellaneous" category for a special event Design at HeART and in the "Website" category for the AOS Warehouse Shop. Held on April 27, 2022 at Metairie Country Club, the annual event celebrates and honors exemplary achievements in communications, marketing, and professional development in the built environment.

We would like to recognize the following team members for their hard work, insightful knowledge and creativity that they dedicated to these projects:
Caroline Hayes, VP of Marketing
Adrienne Tregre, Marketing Manager
Allie DeLee, Showroom Manager
Matthew Popiwchak, Logistics/Inventory Manager
Eve Arnold, Team Development Manager
Rebecca Cooley, VP Manufactured Interior Construction
Laurie Martin, Knoll Louisiana Market Development Executive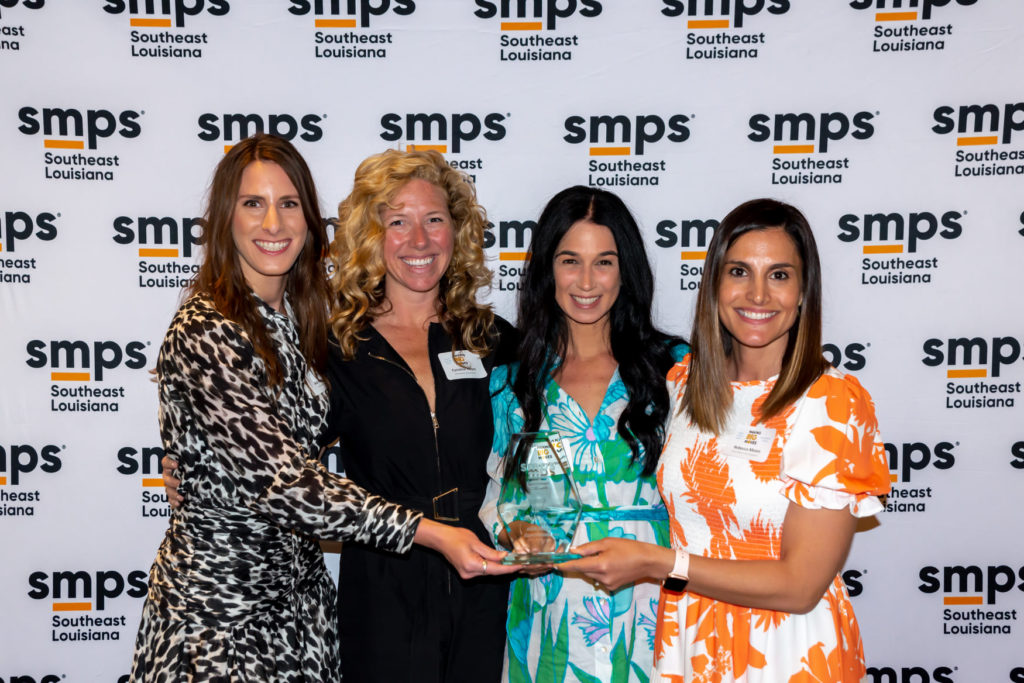 Special Event: Design at HeART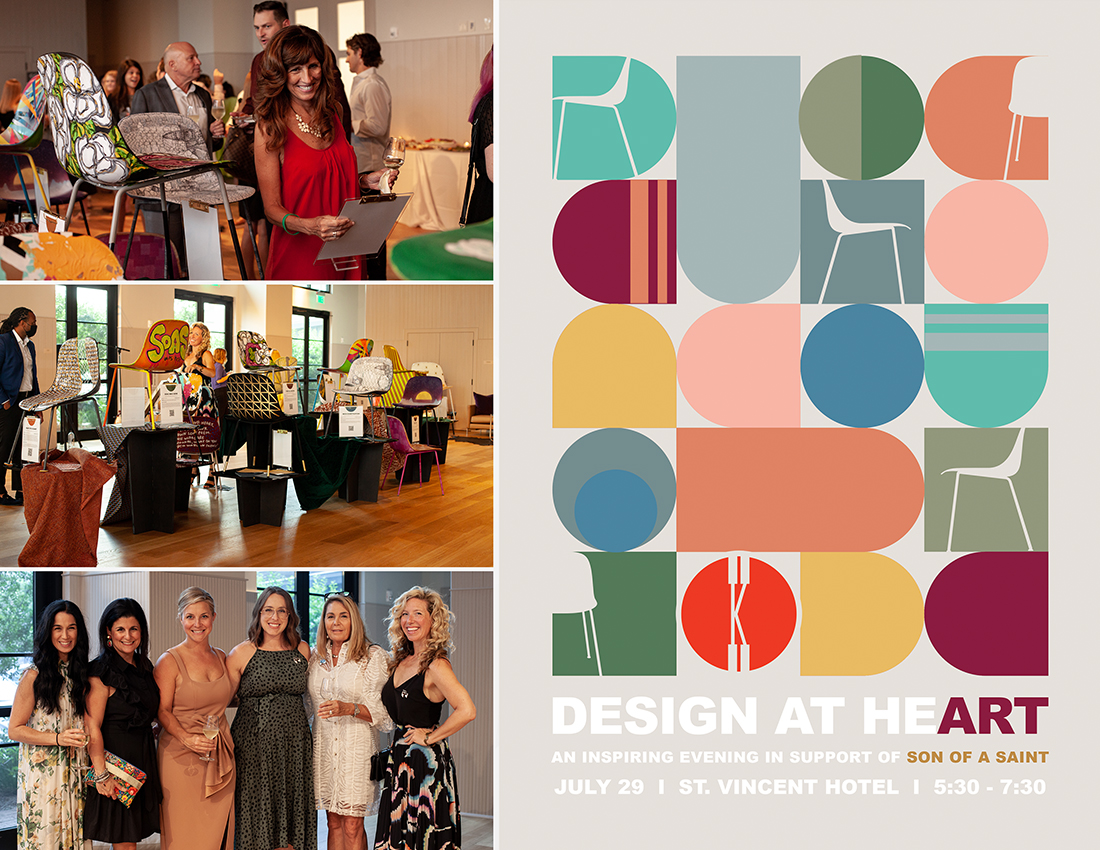 As a business operating in New Orleans for over 45 years, we at AOS Interior Environments believe it is our corporate and social responsibility to give back to our city. We have always believed in the power of community and design and actively look for ways in which we can harness the creative energy of our industry to further social progress, create opportunities for the advancement of under-represented minorities, and work towards the greater good.
Growing up without a father is a challenge facing thousands of boys in New Orleans. For too many of them, the challenge will prove overwhelming. Son of a Saint (SOAS) exists for these boys, providing mentorship, education, recreation, camaraderie, cultural enrichment, and emotional support while helping to fill the void for dozens of fatherless young men in New Orleans. Due to the increasing need for their services, SOAS purchased a 12,000 sq. ft-building in March of 2020 to be their official headquarters and grow their physical footprint. The building will serve as the center of programming and a true home for the SOAS family. Just as they were embarking on their capital campaign, A Home for Our Boys, COVID-19 was sweeping the globe. The pandemic further exposed racial injustices across the United States and in local communities, and SOAS' mission became even greater and more necessary.
When Son of a Saint engaged AOS + Knoll, they had just begun the furnishings phase of their capital campaign. Our team knew that we could help, and together we came up with the idea for Design at HeART, a night celebrating design, artistry and culture while giving back to our community. We invited 14 local designers and artists to decorate Muuto Fiber Chairs that would be auctioned during the event. All the money raised went directly to SOAS' capital campaign to create a safe, warm, and welcoming space for generations of mentees to come.
Design at HeART was a landmark success during a critical time. We were able to raise $7,775 for Son of a Saint's new headquarters during a 3-hour event and with 17 auction items. We received an outpouring of excitement and enthusiasm from the attendees, artists and social media followers.
We'd also like to recognize and congratulate Trapolin-Peer Architects, who was awarded Community Service Project of the Year for their work on Son of a Saint's new headquarters.
Website: AOS Warehouse Shop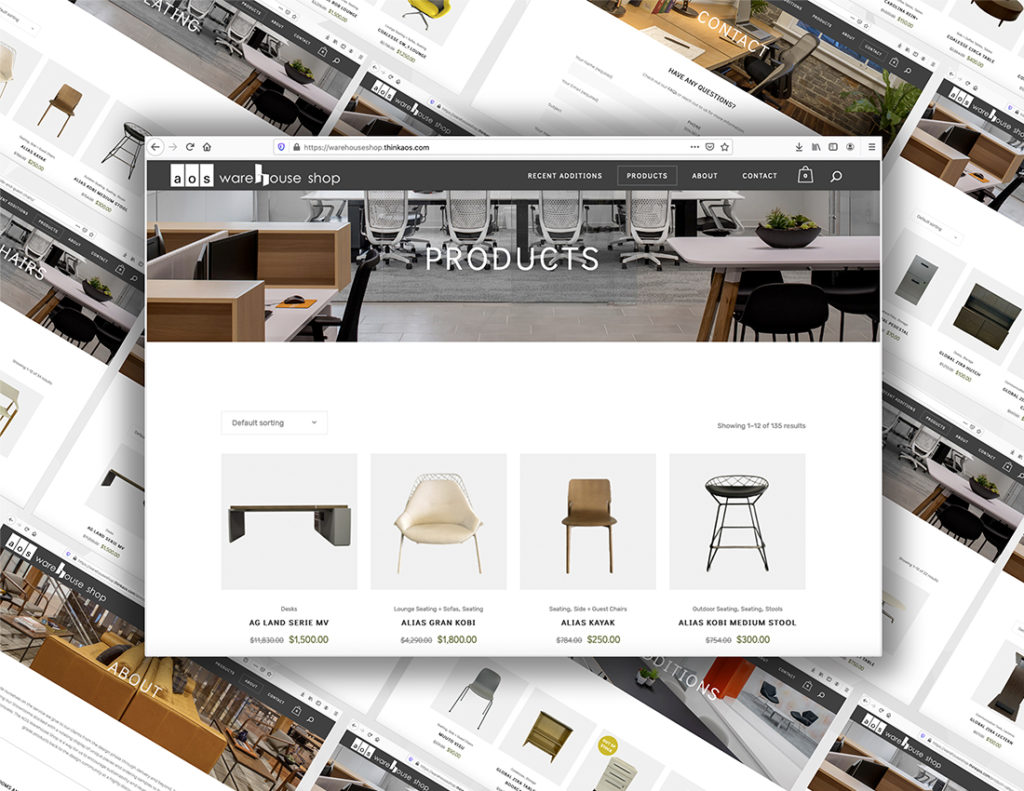 We pride ourselves on the service we give to our clients from the design phase through delivery and beyond. That means always keeping our Showrooms stocked with a rotating display of unique pieces and ordering samples to help with the decision making process. The AOS Warehouse Shop is a way for us to encourage sustainability and reuse by offering these contract-grade products back to the design community at a highly discounted rate.
Our Marketing team chose to design, build, manage, and maintain the AOS Warehouse Shop website entirely in-house with just five employees—three Marketing team members; one of our accountants, Shane Gorrondona; and our Logistics/Inventory Manager, Matthew Popiwchak. This approach gave us full control of the schedule, authenticity to our brand, and future flexibility of the site. The entire process took 3.5 months from concept to roll-out.
To date, we have listed 299 unique products on the Warehouse Shop. 98+ total products have been loaned to clients on a temporary basis while 1,167 total products have been saved from landfills, thus reaching our sustainability goals.
Sadeghi Center for Plastic Surgery Case Study
Gibbs, AOS + studioWTA's case study on Sadeghi Center for Plastic Surgery also earned First Runner Up in the "Social Campaign" category. As a collaborative effort between the design-build team, We'd also like to thank video production company Fat Happy Media for their work on the filming and editing.
As the unique character of Gulf Coast communities continues to be threatened by stronger and more frequent storms, building durability and construction speed are becoming more vital than ever. The first of its kind in Louisiana, the Sadeghi Center for Plastic Surgery is a study in how thoughtful planning and new technologies make it possible to build enduring structures in less time without sacrificing high-quality design.
Hear directly from the Architect, Design-Builder, and Manufactured Construction team that set aside traditional roles and conventional construction practices to overcome an aggressive schedule, tight urban site, restrictive budget, and hurricane delays. Collaborating before the contract was even signed this strategic partnership took a truly holistic approach to planning and execution. The result was a contemporary and inviting addition to the neighborhood encapsulating a state-of-the-art surgery center, sophisticated Medspa, offices, and retail space. Most importantly, the building shows the people of New Orleans how new technologies and good design can create healthier, safer, and longer-lasting buildings that will make the city more resilient. It's not just a model for the modern medical facility; it's a model for modern building in New Orleans.
Walk away from this case study with a fresh perspective on building out project teams; an introduction to cutting edge manufactured construction solutions; deployable strategies for minimizing construction timelines, improve on-site efficiency, and radically reduce waste.