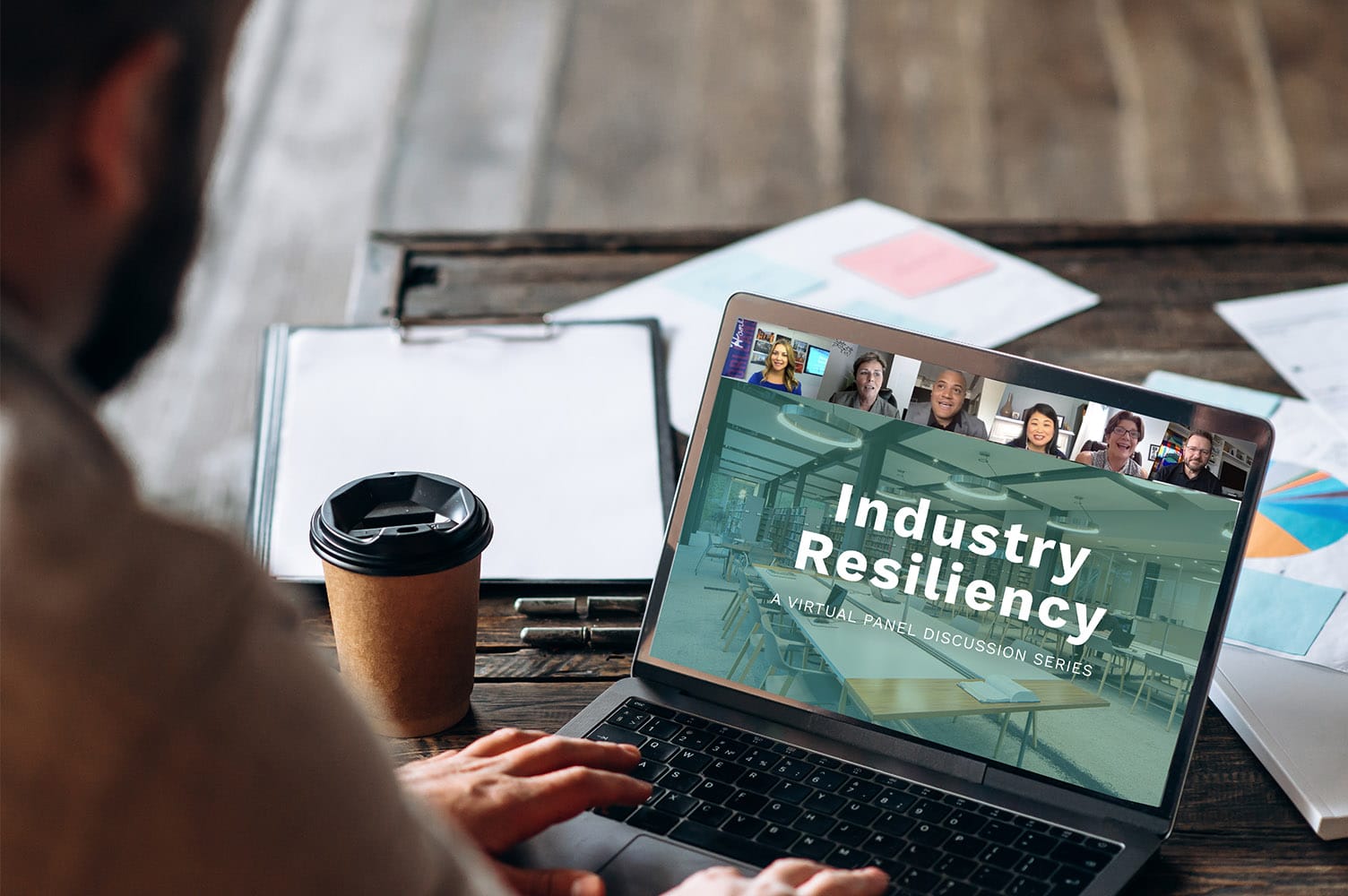 23 Jul

AOS Wins SMPS Communication Award for Virtual Panel Discussion Series

We're thrilled to share that AOS won a Communications Award in the Miscellaneous category for ""Industry Resiliency: A Virtual Panel Discussion Series" at the 2021 SMPS SeLA Making Big Moves Workshop and Chapter Awards. Held on July 14, 2021 at the Sheraton Hotel, the annual event celebrates and honors exemplary achievements in communications, marketing, and professional development in the built environment.

We would like to recognize the following team members for their hard work, insightful knowledge and creativity that they dedicated to this virtual panel discussion series:
Caroline Hayes, VP Marketing
Rebecca Cooley, VP Manufactured Interior Construction
Alexis Miranne, Business Development | MIC + Workplace Research
Adrienne Tregre, Marketing Manager
Alexandra DeLee, Showroom Manager
Eve Arnold, Team Development Manager
Shelby Russ, President + CEO
Suzanne Dumez, Business Development
ABOUT THE VIRTUAL SERIES
In the beginning of 2020, the COVID-19 pandemic was spreading to nearly every corner of the world, and by March, Stay at Home Orders were issued around the country to combat its reach. Businesses were forced to quickly adopt remote work, pivot their services to remain open or shutter their doors. Every industry was affected in both unique and collective ways. During this time, there were a lot of questions but not a lot of answers. What materials prevented the spread of COVID-19? When would it be safe for people to return to restaurants, offices and schools? How could we adapt our physical spaces to meet new protocols? The pandemic shed light on the fact that our businesses, institutions and communities should be resilient all the time, not just when responding to a crisis. Relevant, responsive, and useful strategies must be enacted moving forward. How will companies and organizations emerge smarter in response to the pandemic?

We were faced with the challenge of how to maintain personal connections when we were physically disconnected. This sparked the idea for a series of Industry Discussions focused on resiliency across six market sectors—Workplace; Hospitality; Arts, Music and Entertainment; Education; Healthcare and Nonprofit. The free, virtual panels featured five local leaders and discussed short- and long-term strategies for creating resilient businesses and healthy, flexible interior spaces.
Watch the Full Series
We recorded each virtual panel discussion and published the videos to our YouTube channel. Watch the entire series below to hear from regional experts and learn about what we can do together to build resilient, future-minded industries and support our region's growth beyond 2020.
Recent events have shed light on the fact that spaces should be resilient all the time, not just when responding to a crisis. Relevant, responsive and useful spaces should be fluid, simple to adapt, cause minimal disruption to your people and business and change with circumstances. This virtual panel discussion features five local AEC industry leaders who share their insights and perspectives on returning to work post-COVID-19. We talked to each of them about their internal workplace planning, evolving client needs, and how the future of design and construction is challenged to address the rapidly changing workplace.
Featuring:
Mike Siegel – Corporate Realty
Melissa Tokar – Baker Donelson
Steve Dumez – EskewDumezRipple
Greg LaCour – Louisiana State University
Riley Kennedy – Woodward Design+Build
Original Air Date: Friday, May 15, 2020
Hospitality is at the heart of the City of New Orleans. Residents and tourists alike flock to our storied streets for world renowned food, spirits and culture. But as we move into new phases of the pandemic, the future looks precarious for the hospitality sector. For many of our beloved bars, restaurants and hotels it's not just a question of when they will be able to open back up but if they will open at all. And for those that do, how will they look, feel, and adapt? This discussion addresses internal workplace planning, evolving client experiences and needs, and how the hospitality industry will address rapidly changing dynamics.
Featuring:
Caroline Farouki – Farouki Farouki
Brian Englehart – Maison de la Luz
Steve Pettus – Dickie Brennan & Co.
Patrick Schindler – Felicity Property Co.
Michael Sawaya – New Orleans Ernest N. Morial Convention Center
Original Air Date: Friday, June 19, 2020
As the pandemic continues to spread, organizers have canceled tours and festivals through the end of 2020. Beloved galleries and cultural institutions have been forced to close their doors to fight the spread of the disease. Known world-wide for the abundant of cultural wealth and the creativity of its community, it is often said that New Orleans' greatest natural resources are its artists. In the discussion, we take a look at a creative industry in flux—and see where the future may lie for music, arts and entertainment post-pandemic.
Featuring:
Donna Santiago – Hypersoul, LLC
Tara Hernandez – JCH Properties+
Reid Wick – The Recording Academy
Alphonse Smith – Arts Council New Orleans
Bryan Bailey – Contemporary Arts Center + Civic Theatre
Original Air Date: Friday, July 17, 2020
The pandemic has had an undeniable impact on educational institutions. As the school semester begins, faculty, staff, students and parents are all facing remote learning, new policies, and adjusted start dates. Creative solutions for student engagement and development have become more important than ever in shaping the minds of our future, including adjustments to physical learning environments. But how will campuses look, feel and adapt? In the discussion, we dig into the challenges our institutions are facing and explore short and long tern strategies for designing safe learning environments amidst a global health crisis.
Featuring:
Ralph Johnson – Dillard University
Gregory LaCour – Louisiana State University
David Waggonner, FAIA – Waggonner & Ball
Dr. John Nicklow – University of New Orleans
Dr. Kristine Strickland – Fletcher Technical Community College
Original Air Date: Friday, August 21, 2020
Over the last several months, the healthcare industry has been at the frontlines of the pandemic, striving to provide the best care possible while making quick decisions, adapting to new roles and testing new treatments. It's required them to creatively solve challenges and rethink how services can be delivered. To meet immediate surges, they have repurposed existing facilities, created alternate care sites and adopted tele-health. But how will healthcare environments look, feel and adapt going forward? This discussion addresses how to create patient-centered experiences and design with the public health in mind.
Featuring:
Dina Salvaggio, RN – Jacobs
Darren Rozas – Rozas Ward Architects
Brandon Kristol – Children's Hospital New Orleans
Jacob Corbell – Cardiovascular Institute of the South
Marianne Graffam – Sizeler Thompson Brown Architects
Original Air Date: Friday, September 18, 2020
In the wake of COVID-19, nonprofits have had to cancel crucial fundraisers, shift programming, reimagine events and creatively engage supporters to continue their missions. While donations have decreased, their services and impact on local communities are more important than ever. Nonprofits have risen to the challenge with even tighter budgets, reduced staff and volunteers, and new strategies to fulfill immediate needs while using this time as an opportunity to refocus their purpose. This virtual panel addresses short and long term strategies for responding to community needs, maximizing impact, and serving a steadfast mission.
Featuring:
Elise Gallinot Goldman – KID smART
Bivian "Sonny" Lee III – Son of a Saint
Julia Bland – Louisiana Children's Museum
Kevin Ferguson – Young Leadership Council
Daniel Hammer – The Historic New Orleans Collection
Original Air Date: Friday, October 16, 2020