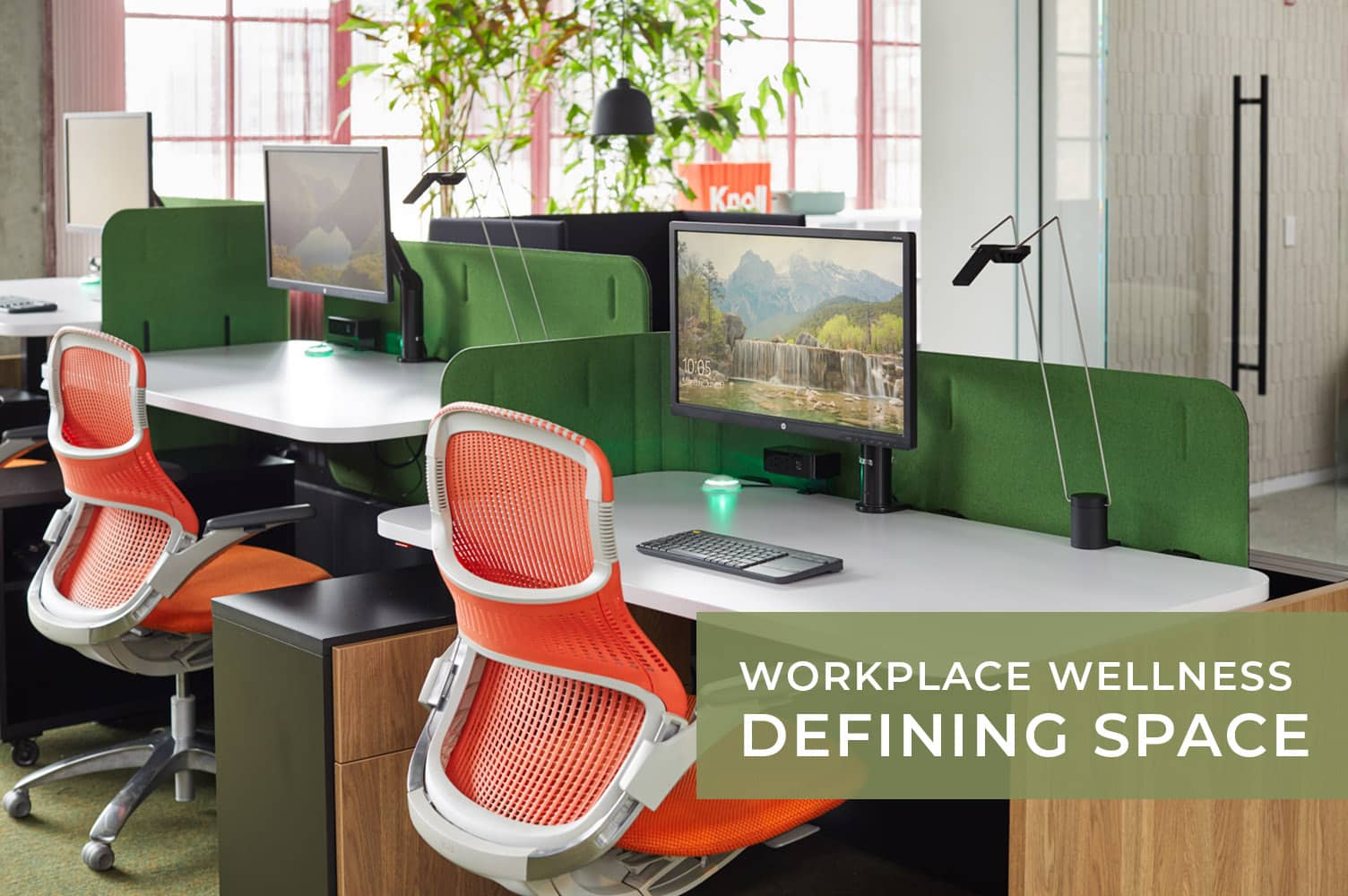 01 Jul

Defining Space: Wellness Solutions for Now + What's Next

As employees return to the office, a retrofitted and redesigned workplace will play a pivotal role in providing safe environments that enable productive work and allows individuals to be separate but together. Employers will need to grapple with occupancy limitations, building functions, cleaning protocols and foot traffic to offer a workplace that supports a healthy environment. Organizations are also working to balance communicating new policies and procedures while providing their employees the freedom to work safely and maintain the choice and flexibility that we have all come to value in the workplace.

As a design-assist partner, AOS collaborates with the design community and clients to create workplaces that reflect their business objectives and workstyles. We understand that every workplace is different with respect to privacy and enclosure needs, and offer a range of heights, sizes and options for enclosure to meet your organizations evolving requirements. Whatever your approach to planning may be, a variety of product solutions can help create a workplace that enable employees to feel safe and comfortable, remain healthy at work and can focus on what they do best.

A key strategy to social distancing practices is space delineation, which uses vertical and horizontal planes of color and material to define space. Space delineation also brings visual privacy, acoustic sensibility, and peace of mind to your environment, which helps manage productivity and personal boundaries. They can also provide additional functionality, such as tackable and writable workspaces.

While there is no single "best" approach, our broad range of product solutions can help companies adapt their spaces and create resilient environments for now, near, and next.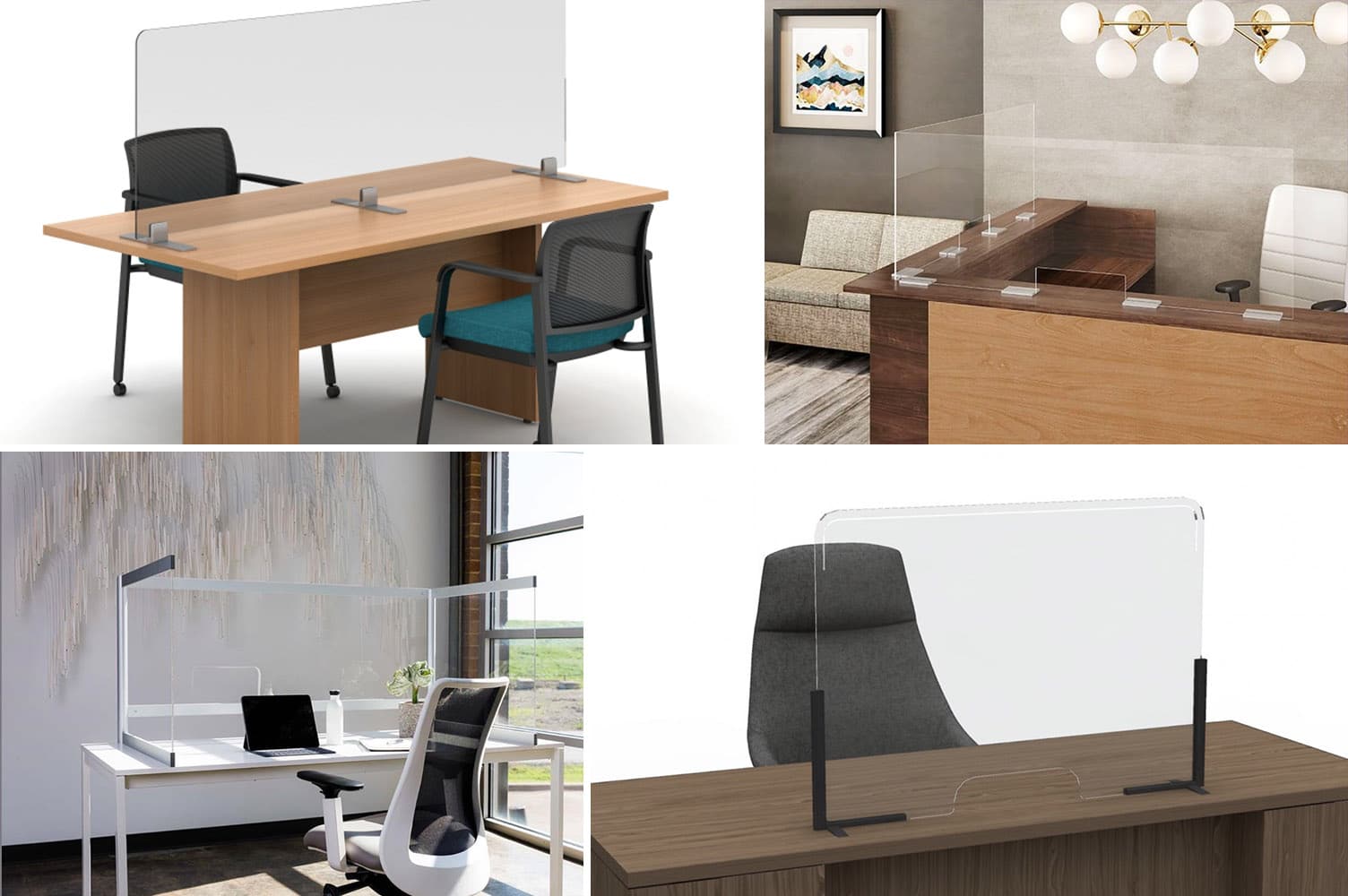 Counter Shields
In today's world, interiors need to help people feel safe and protected. Quickly and securely separate space in any environment, including reception, retail, airports and healthcare, with acrylic counter shields. Plexiglass can stand up to harsh cleaners to ensure a sanitary environment for all customers and workers. Created with a clear resin screen, counter shields allow for transparency and can be specified to meet users' needs, such as easy pass-thru windows, framed or frameless.
Lines Leading the Way: Loftwall Counter Shield, OFS Worksurface Reception Screen, AIS Clear Screens, Indiana Furniture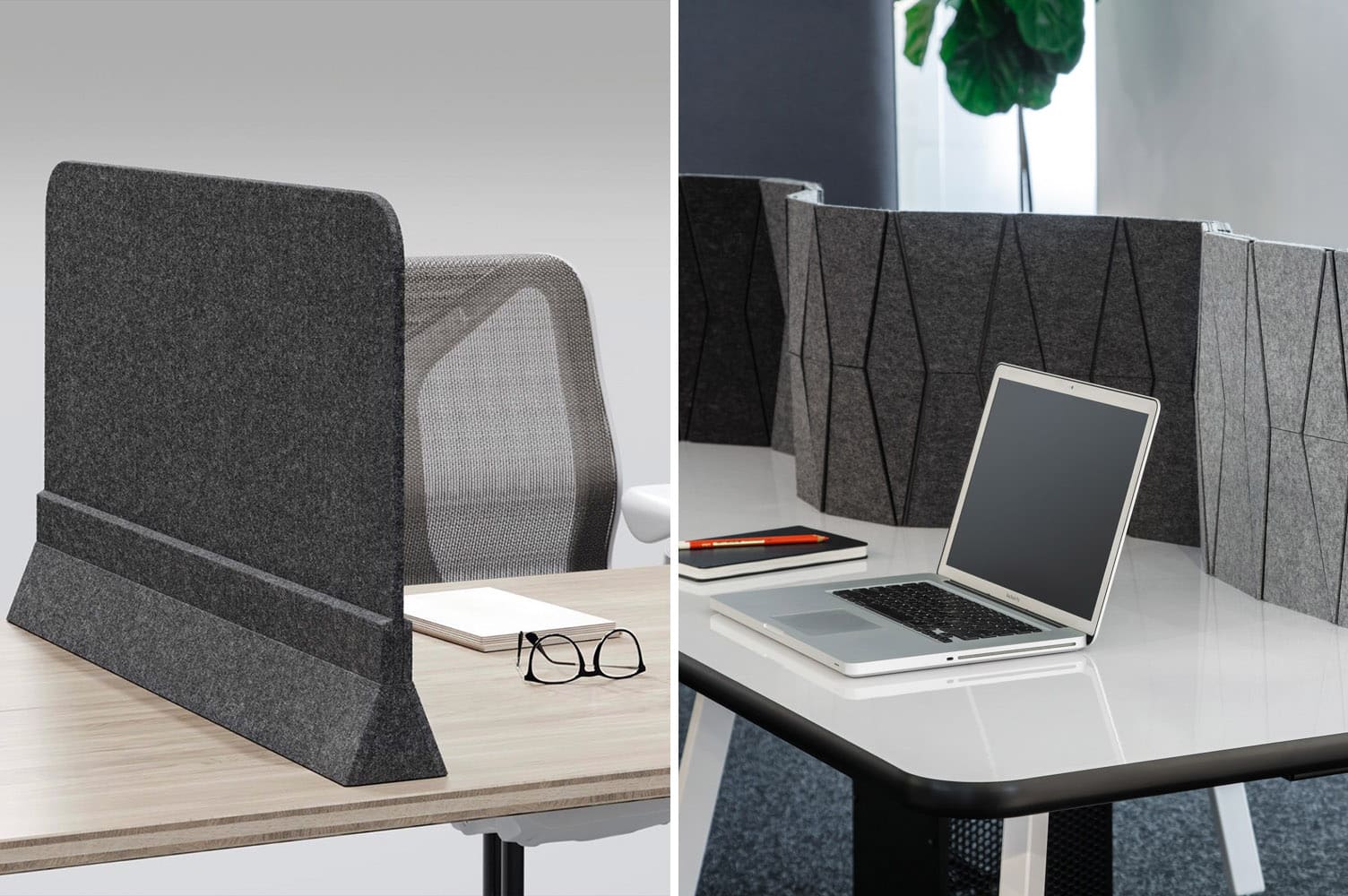 Personal Screens
The most flexible screen option, personal screens are freestanding dividers that sit on top of existing work surfaces and can be easily reshaped. They are a quick way to add enclosure to spaces around the workplace, including height-adjustable tables or shared spaces, and offer users privacy and separation. Personal screens are usually small and portable since they do not physically attach to the work surface. These single or three-sided screens can separate users from distractions and provide peace of mind.
Lines Leading the Way: TURF Solo, TURF Wrap, Knoll Pop Up™ Desktop, FilzFelt Just Fold It, Hightower Focus Screen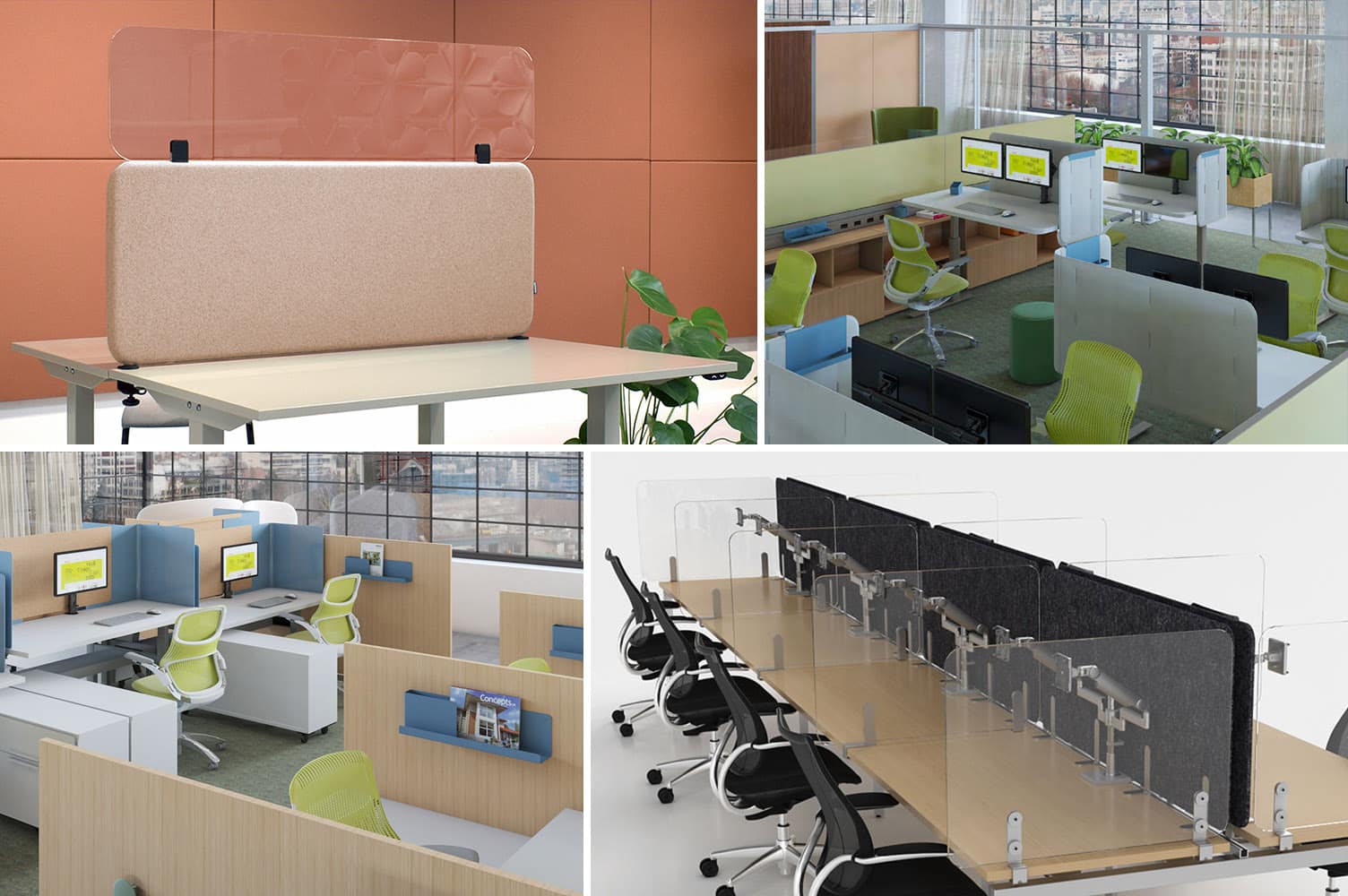 Workstation Screens + Panels
Workstation screens and panels are available in a variety of materials and sizes to fit your company's needs. Completely customizable, they are highly durable over the course of time and help promote employee safety, health and well-being.
PET felt and foam screens balance visual and acoustical privacy as well as personal protection in collaborative open-office desking applications. Available as an accessory to existing dividers or new orders, acrylic screens also help meet the demands of social distancing in today's ever-evolving environment and allow ample light to filter through. Choose from a range of colors to express your branding and design goals whether they are subtle and subdued to bold and proud.
Screen Surrounds
Screen surrounds provide enclosure on the back and sides of the work surface to deliver the greatest level of separation and privacy. Depending on the application, surrounds provide varied levels of enclosure above and below the work surface.
Back Screens
Back screens attach to the work surface to provide privacy along the back edge of the desk or table. They can also be paired with complementing side screens to create a partial- or full-surround.
Side Screens
Side screens, sometimes referred to as intermediate screens, attach to the work surface and are designed to provide separation between side-to-side users. Side screens usually sit on top of the work surface making them an easy addition, although some side screens mount to the side and add to the overall width of the work surface. When paired with complementing back screens, side screens can create screen surrounds.
Lines Leading the Way: Knoll Antenna, Knoll k. screen, Unika Vaev Softline Table Screen, Humanscale Separation Panels & Desk Dividers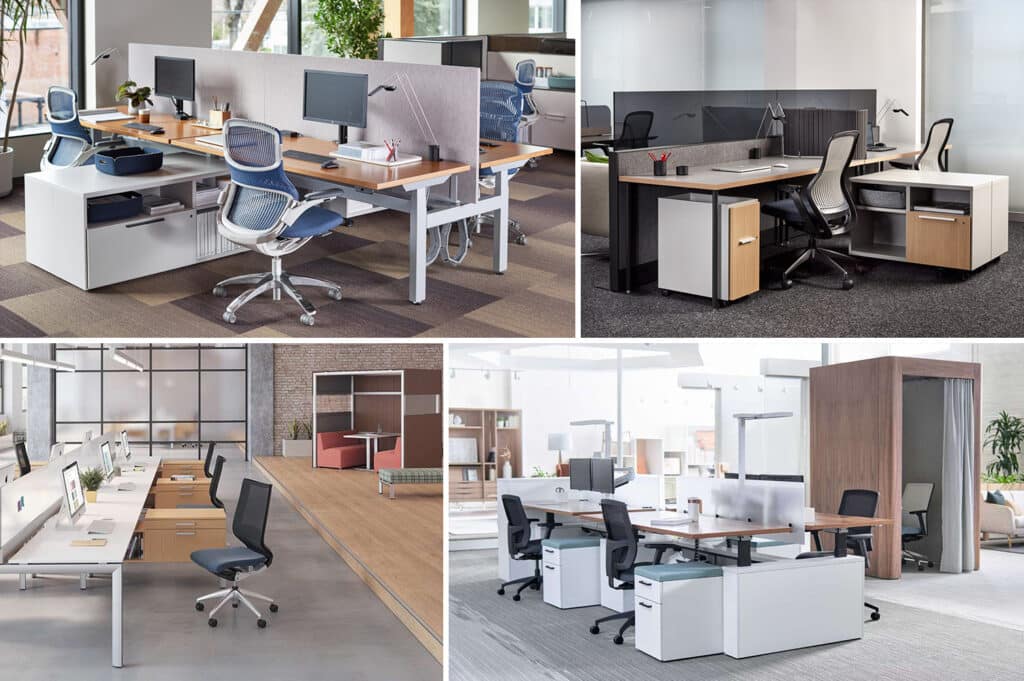 Workstation Storage
Create perpendicular separation at workstations and open-plan offices by adding storage or gallery panels. Lockers, pedestals, credenzas, towers and work surface stackers can be tailored to individual needs and provide additional personal space. Offered in a variety of configurations, including all-open, fully enclosed, or a blended solution of open and door/drawer configurations, these solutions can provide a balance of accessible and secure storage.
Lines Leading the Way: Knoll Anchor, Knoll Dividends Horizon, Knoll Antenna, OFS Staks, OFS re: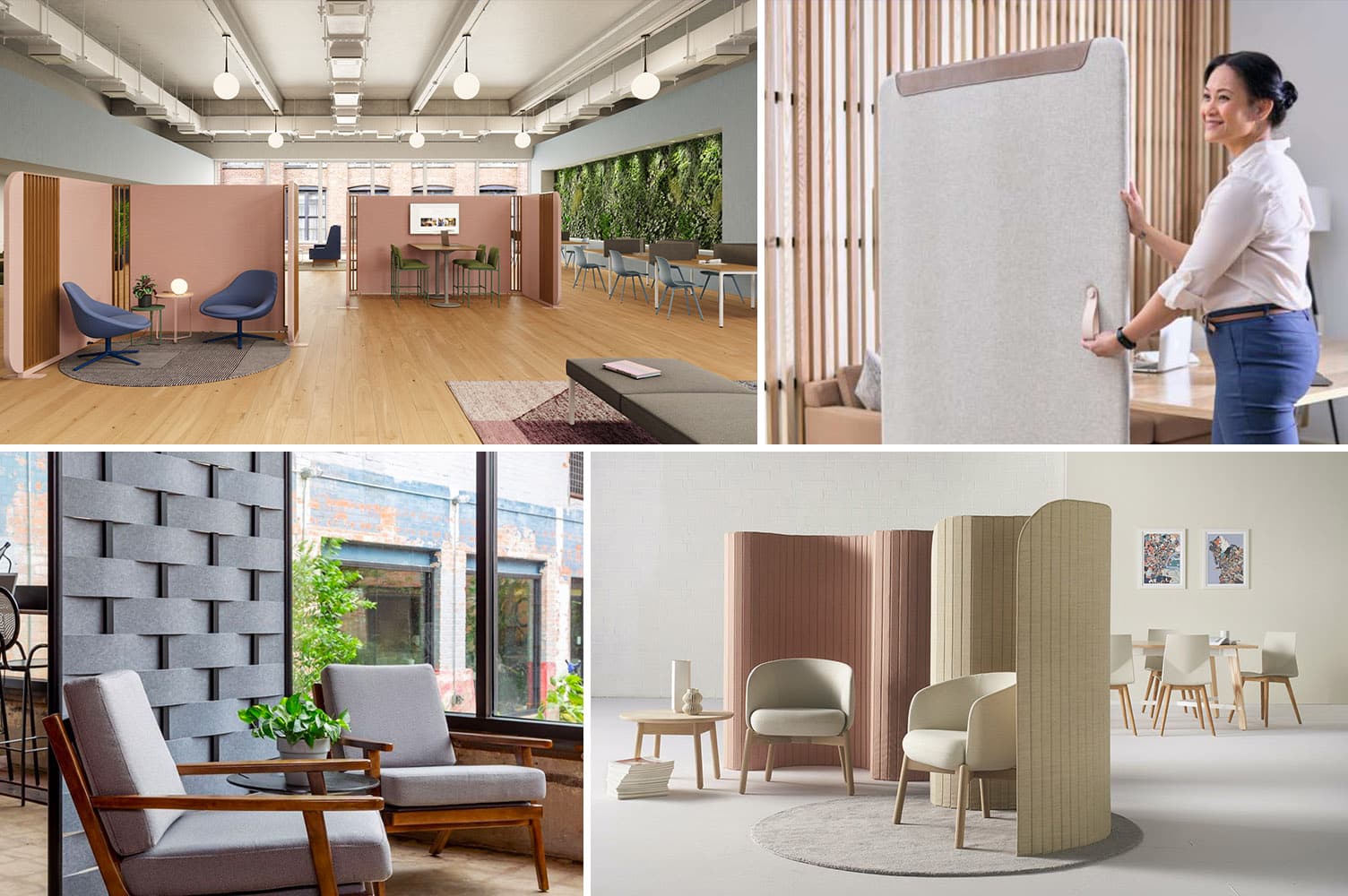 Floor Screens
Textile space dividers, mobile partitions and panel system screens are flexible solutions that support partially to fully enclosed spaces with optional integrated power for solo and group activities. They help delineate space, reduce visual distractions and noise, and direct traffic circulation. Light-weight and mobile designs make partitions easy to move when you need to create a new configuration on the fly.
Lines Leading the Way: Knoll Rockwell Unscripted® Puffy Screen, Knoll Rockwell Unscripted® Telly™ Screen, FilzFelt Hanging Panels, Stylex Still Screens, Loftwall Weave, Hightower Focus Screen, OFS Heya Screen, Unika Vaev Softline Floor Screen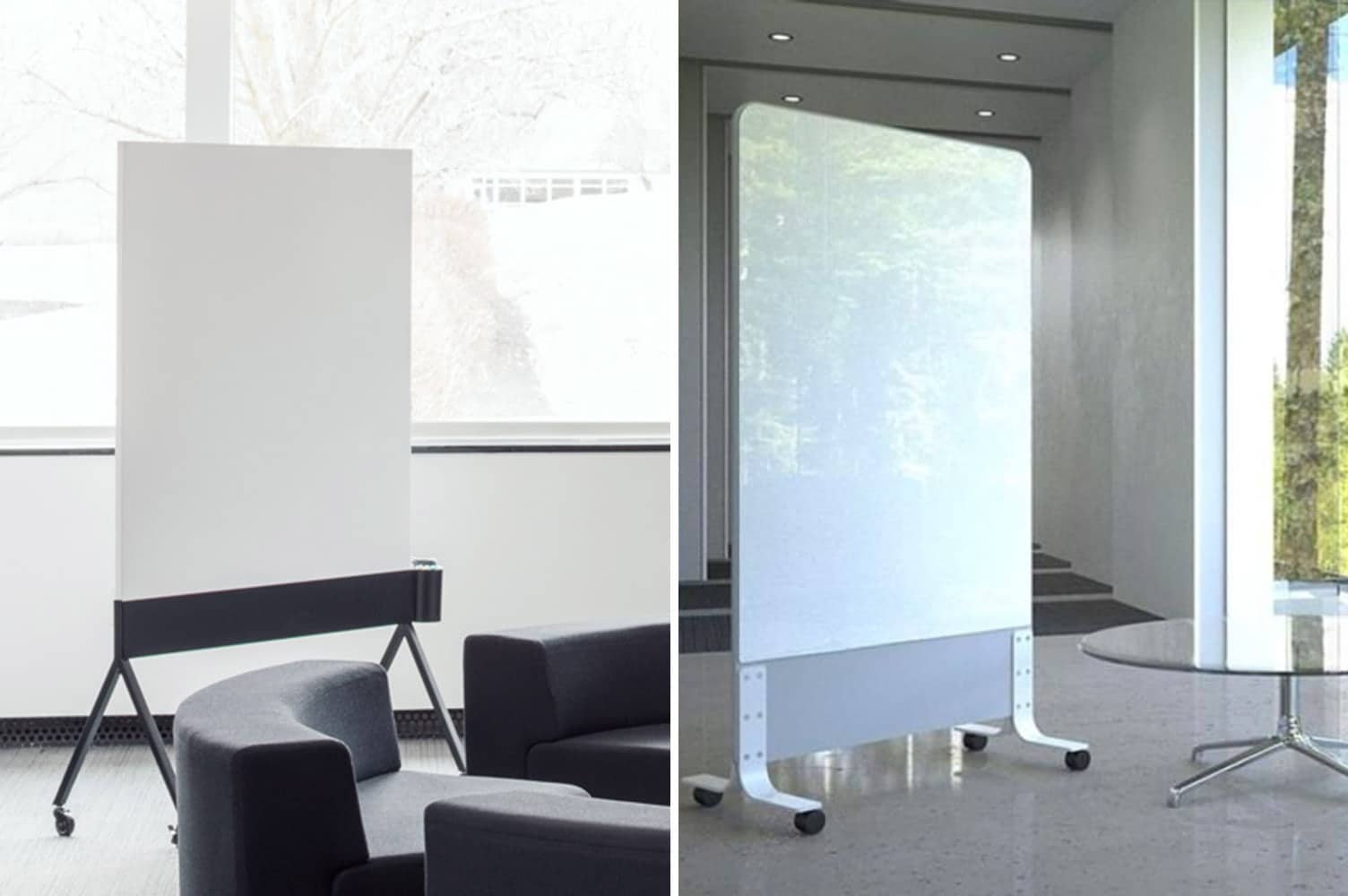 Markerboards
Markerboards are the canvas for your best ideas. They offer the chance for collaboration among team members and a designated space to brainstorm, and share ideas with your team. Markerboards also fit into any space while defining boundaries within an open plan.
Lines Leading the Way: Knoll Scribe Mobile Markerboard, Clarus go! Mobile™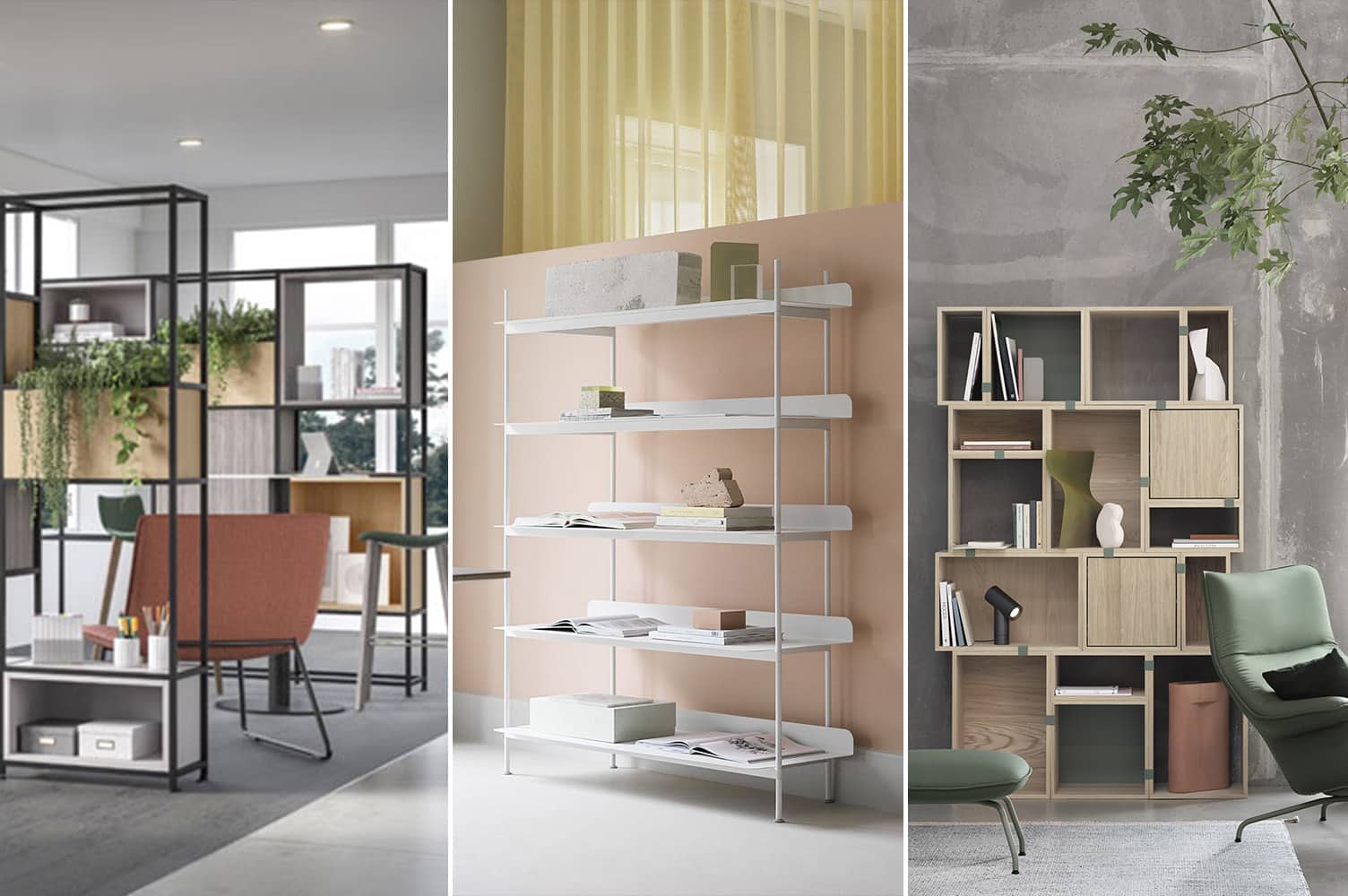 Storage Systems
Minimal, functional, and endlessly customizable, shelving systems are a unique way to establish space division while displaying company culture. Built to fit the users' needs and space, they can vary in size and either be freestanding or wall mounted. Choose from open tops, open fronts, or pass-through abilities along with trays and shelves. From cozy and welcoming nooks to productive and highly functional spaces, shelving systems are a versatile option that can be arranged and rearranged for the exact configuration that you'd like.
Lines Leading the Way: National Lochlyn, Muuto Compile Shelving System, Muuto Stacked Storage System, Knoll Rockwell Unscripted® Modular Storage, Hightower Dry Slim Shelving System, OFS Vide, OFS Hitch, OFS Rowen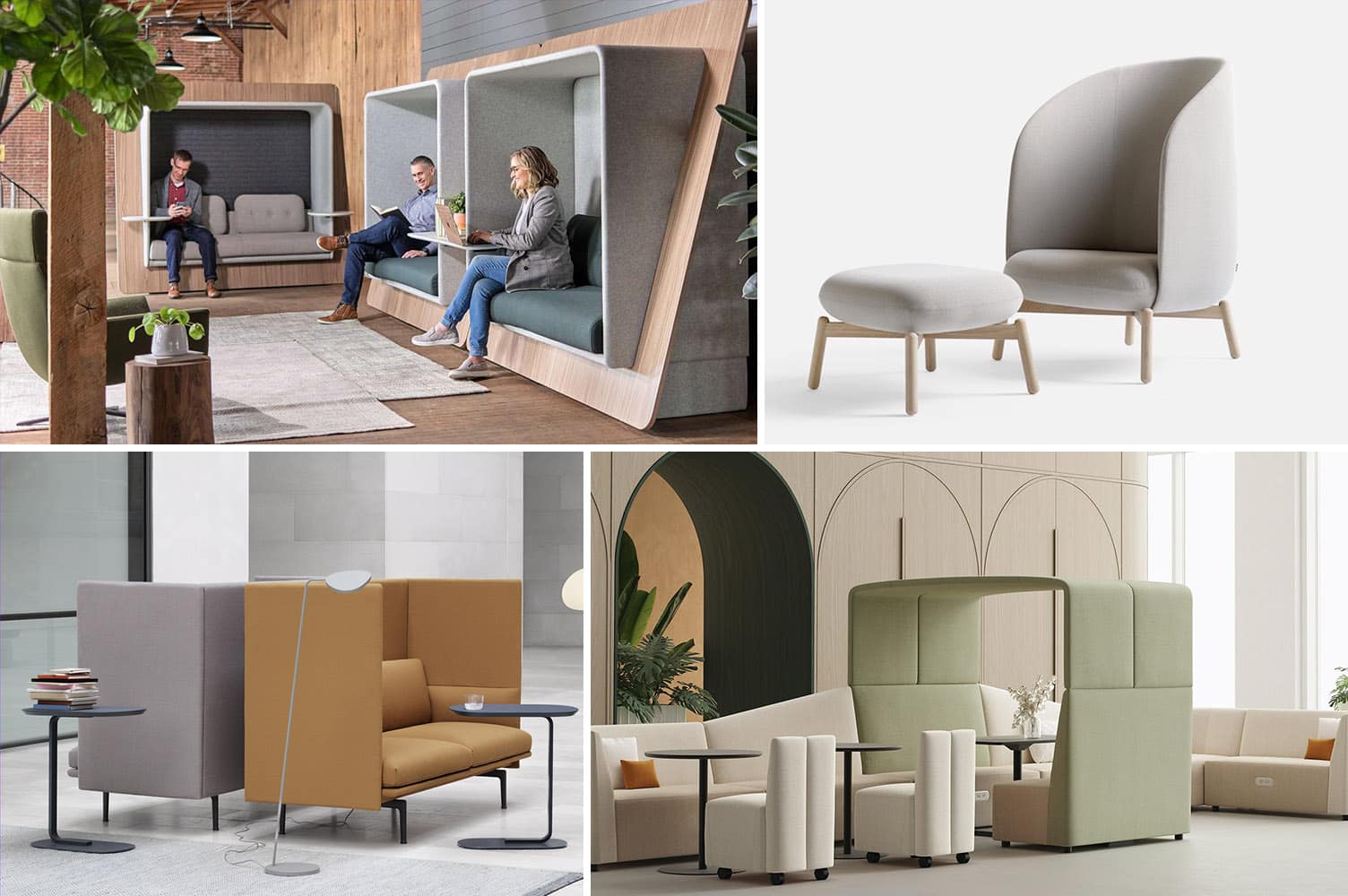 Highback Lounge Seating
Nooks, alcoves, corridors, and enclaves give employees a quiet place to escape to. Whether you're working solo or in the company of others, a little privacy can do a lot of good. Highback lounge seating creates an intimate space within a public room, and its high screens keep thoughts in and distractions out. In addition, comfort and visual softness allow these small areas to blend seamlessly into the office while still providing the closeness and privacy people need to really focus.
For individuals, it creates a shelter place to think and breathe and enables focused or confidential work. For small groups, highback lounge seating provides an alternative setting away from the traditional conference room that can lead to collaboration and connection. Soft, deep seats and clean, refined lines make it an ideal fit in any open-plan space, hospitality setting, workplace, education facility or public area.
Lines Leading the Way: Muuto Outline Highback Sofa, Knoll Rockwell Unscripted® High Back Lounge, OFS Heya, Coalesse Lagunitas, Hightower Nest Easy, Hightower FourLikesTM
Manufactured Interior Construction
Constructing space for today shouldn't require predicting the future. We believe spaces should be resilient all the time, not just when responding to a crisis. Relevant and useful space should be fluid, simple to adapt, cause minimal disruption to your people and business, and change with circumstances.
Interior construction has all the tools it needs to be proactive instead of reactive. The manufactured approach to building improves safety, speeds up construction, and creates future-ready spaces. Seamless, easy-to-clean surfaces can prevent the spread of germs while supports design aesthetics. For example, a millwork cabinet wrapped in Thermofoil keeps germs on the outside and is easy to wipe down. For those looking for versatility, interior construction can accommodate unlimited custom solutions, such as integrated technology, doors, markerboards and more.
In addition, clients are also left with interiors that can easily adapt to support changing needs. Incorporating a folding wall offers unprecedented space flexibility. It looks like a regular wall, but easily collapses, turning large spaces into more intimate areas. Companies can also rapidly adapt existing floorplans by adjusting room sizes, repurposing a flex space, or reconfiguring an entire office. These future-proof solutions allow you to make quick changes, which can alleviate fear, help employees feel safe at work and support sustainability goals.
Lines Leading the Way: DIRTT
Sources + Further Reading
Top 10 Workplace Themes Post-COVID-19
The New York Times – What Will Tomorrow's Workplace Bring? More Elbow Room, for Starters
DIRTT – Three Low-Risk Ways to Construct Spaces That Are Resilient by Design
Knoll – Workstation Enclosure and Space Delineation
Knoll – Workplace Planning for Individuals and Teams: Focus on Workstations and Private Offices
Knoll – Workplace Planning for Individuals and Teams: Focus on Shared Spaces