28 Aug

Depths of Design: IIDA Delta Regional Chapter IDEA Awards 2019

On Saturday, August 17, 2019, the design community gathered at the IIDA Delta Regional Chapter IDEA Awards to celebrate design excellence across Louisiana, Mississippi and Arkansas. This year AOS Interior Environments + Knoll were co-Title Sponsors of the gala, which was held at The Arbor Room in City Park. This year's theme "Depths of Design" celebrated the built environment's connection to nature. As interior designers graced the stage to receive their awards, it was an impactful moment to learn how they used design to positively impact the health and wellbeing of people's lives, advocate for sustainable interiors, and enhance business value.

Before the awards program began, Shelby Russ, Jr., AOS President/CEO, and Laurie Pierce Martin, Louisiana Business Development Manager for Knoll, took the stage to not only to recognize our community but pay tribute to design icon Florence Knoll Bassett, who passed away in January at the age of 101 years old. A guiding light and design pioneer, she revolutionized the way we work with her concept of the "total design" approach and foraged a path for many women today.

We extend a huge thank you not only to the hard working chapter that put this event together but to the entire design community for their dedication to design excellence across the Delta region. Congratulations to all of the 2019 IDEA winners, including Adler Design Build LLC, CDI Solutions, Coleman Partners Architects LLC, EskewDumezRipple, GHC Architects, Mathes Brierre Architects, NANO LLC, Perkins + Will, Steinmetz & Associates, Tipton Associates APAC, VergesRome Architects, and WHLC Architecture.

We'd especially like to recognize a few of our clients, who we were honored to partner with on these award-winning projects.
Louisiana Associated General Contractors
Award of Excellence – Corporate Small
Located in heart of downtown Baton Rouge, the Louisiana Associated General Contractors (AGC) entrusted GHC Architects to revitalize their single story office building. An interior demolition provided GHC Architects with a blank slate to reorganize and design an engaging space while keeping the character of the original 1960s structure, which was renovated and expanded during the '80s. Completed in 2018, the 6,480-square feet facility boasts a contemporary design that fosters community and reflects Louisiana AGC's brand and values. The floorplan features offices, common spaces, courtyard, break room, flex meeting space and large classroom for training and teleconferences. As the voice of the construction, Louisiana AGC promotes skill, responsibility and integrity among members, representing nearly 700 general contractors, subcontractors, suppliers and service firms throughout the state.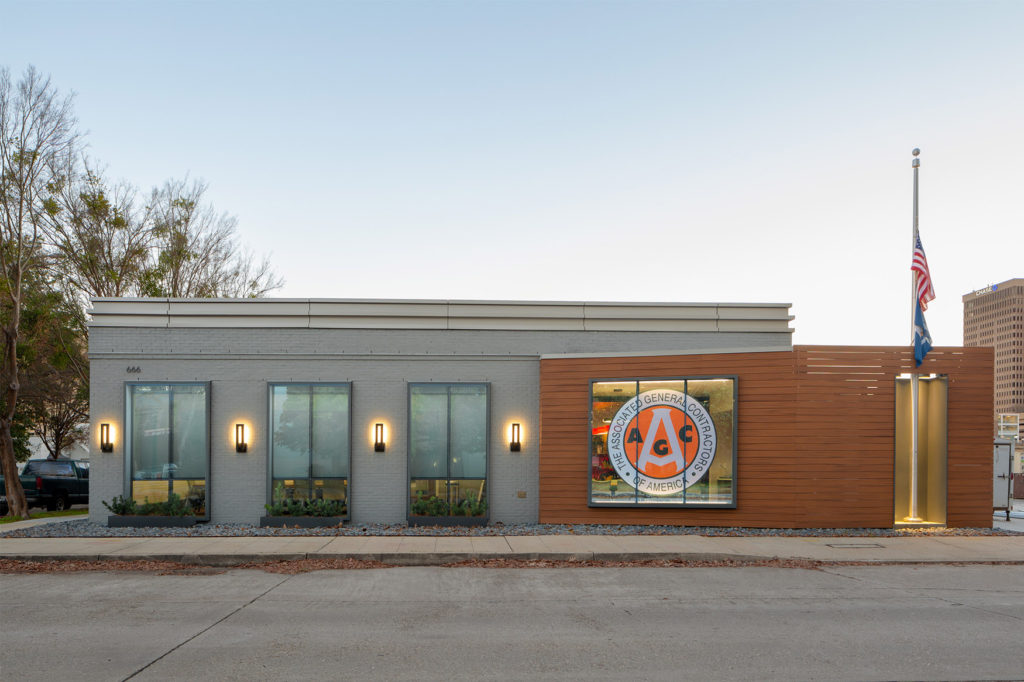 Award of Excellence – Corporate Large
The renovation and expansion resulted in a total transformation of a 1950s building in downtown Baton Rouge and is once again a modern home for the Baton Rouge Area Chamber (BRAC). Through a spacious lobby and atrium, various workstations and collaborative meeting areas, the Center provides an inspiring and contemporary environment for employees, board members and local businesses to connect and foster economic development. Learn more about the project here.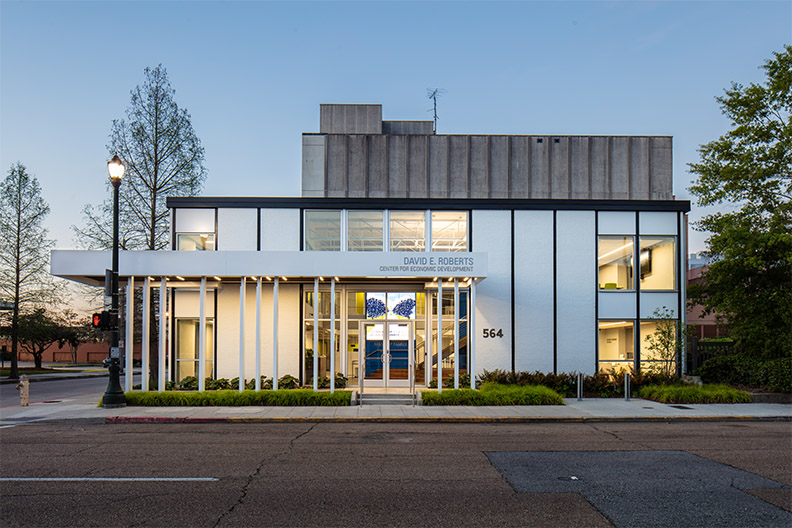 Hancock Whitney Headquarters
Award of Recognition – Corporate Large
In 2019, Hancock Whitney relocated its offices from a historic complex that the bank occupied for more than 100 years to its new headquarters in downtown New Orleans. Occupying nine-and-a-half floors of Louisiana's tallest office building, which is now called Hancock Whitney Center, the move marks a significant moment in the company's history. Designed by Mathes Brierre Architects, the bank branch and financial center is a scalable space that can be adapted to the company's future needs, provides modern accommodations and showcases Hancock Whitney's services.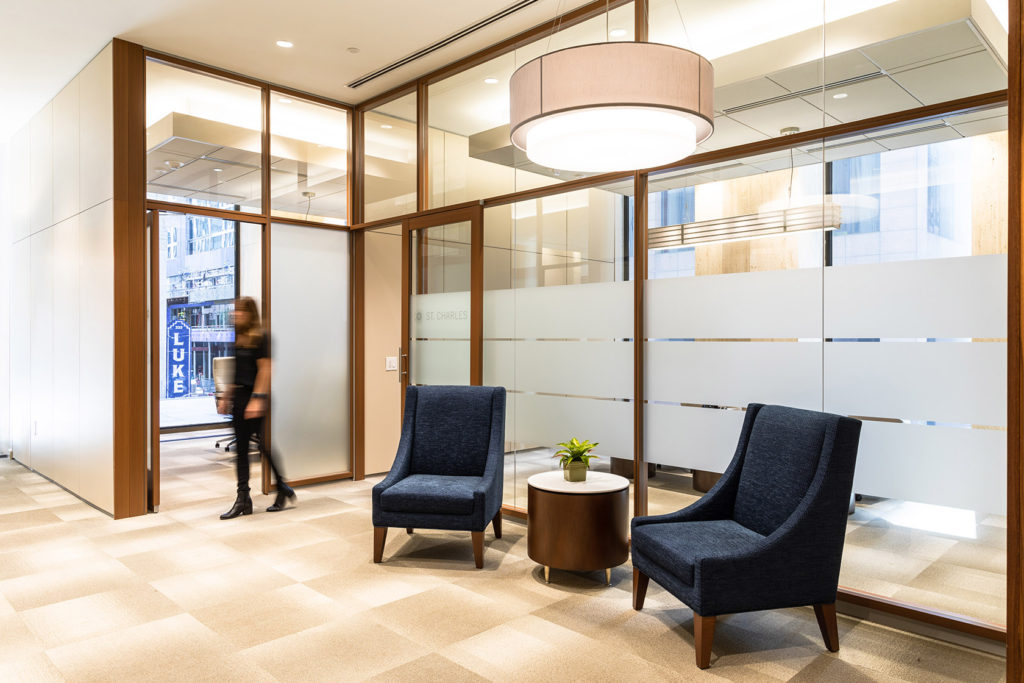 Award of Recognition – Corporate Large
When Palmisano outgrew their downtown offices, they entrusted EskewDumezRipple (EDR) to design a new office building along the riverfront on Tchoupitoulas Street. Situated in an industrial stretch of the neighborhood, its headquarters reflect its community, industry and, most importantly, its company. EDR's design takes on the personality of the company, creating a fun and constructive work environment. Having previously worked on Palmisano's CBD offices, AOS was familiar with the company's needs and provided furniture that supports the company's programming. Learn more about the project here.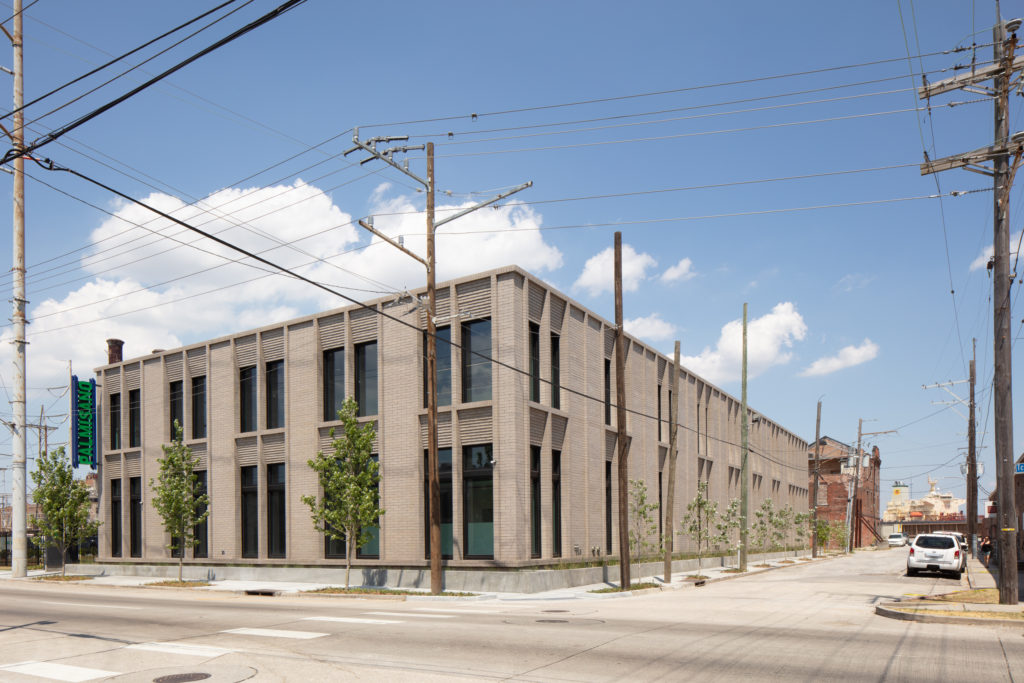 Award of Recognition – Corporate Large
In 2018, LOPA moved its operations from two locations in Metairie to new building in Covington, creating the LOPA Donor Care Center. Designed by Ritter Maher Architects and CDI Solutions, the new three-story, 66,000-square feet facility not only provides a centralized location for its employees and an organ and tissue recovery center but also serves as the organization's state headquarters. Its spacious location and approximately $14 million facility gave LOPA the opportunity to change how they conduct business through on-site operating and procedure rooms and a modern work environment for employees. Learn more about the project here.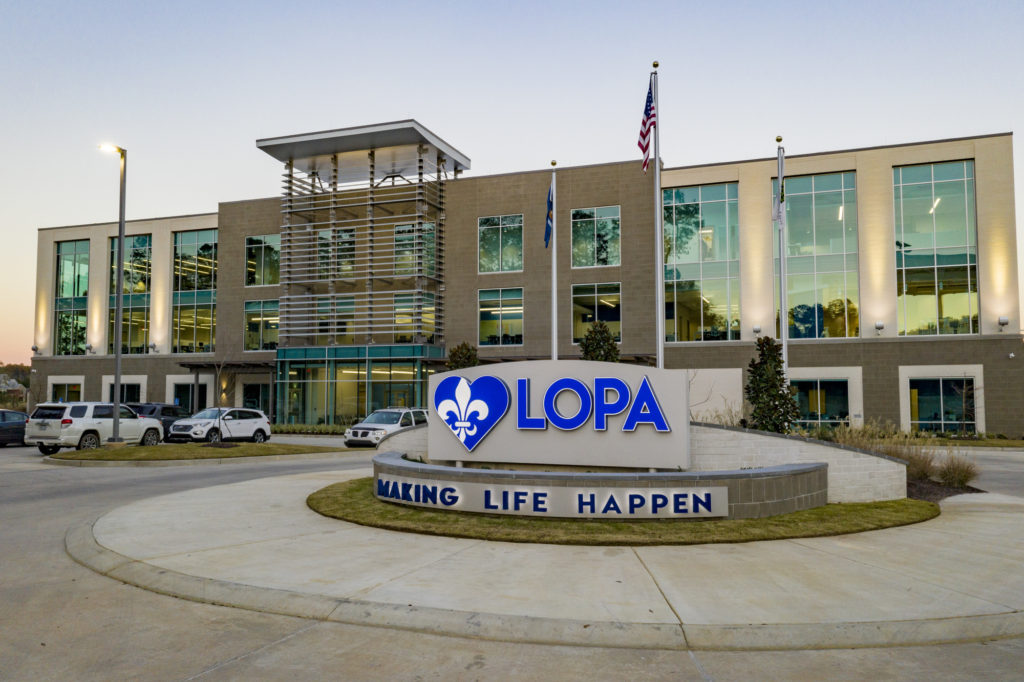 Award of Recognition – Government/Institutional
Home to the LSU College of Engineering and a hub of innovation, the state-of-the-art facility stems from the theme "Engineering on Display" and supports 21st century learning, providing students and faculty with a variety of spaces for collaboration and independent work so they can choose how they prefer to learn, gather and work. Learn more about the project here.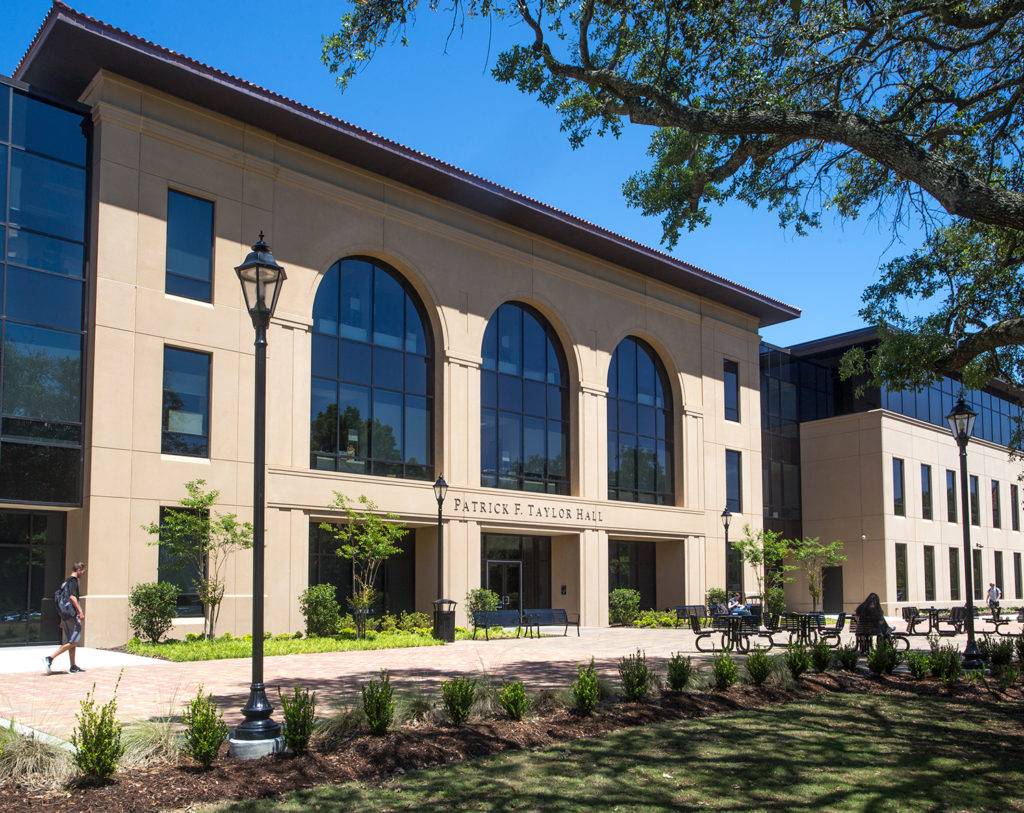 Event Photo Credit (Top Photo): Allie Catalonotto