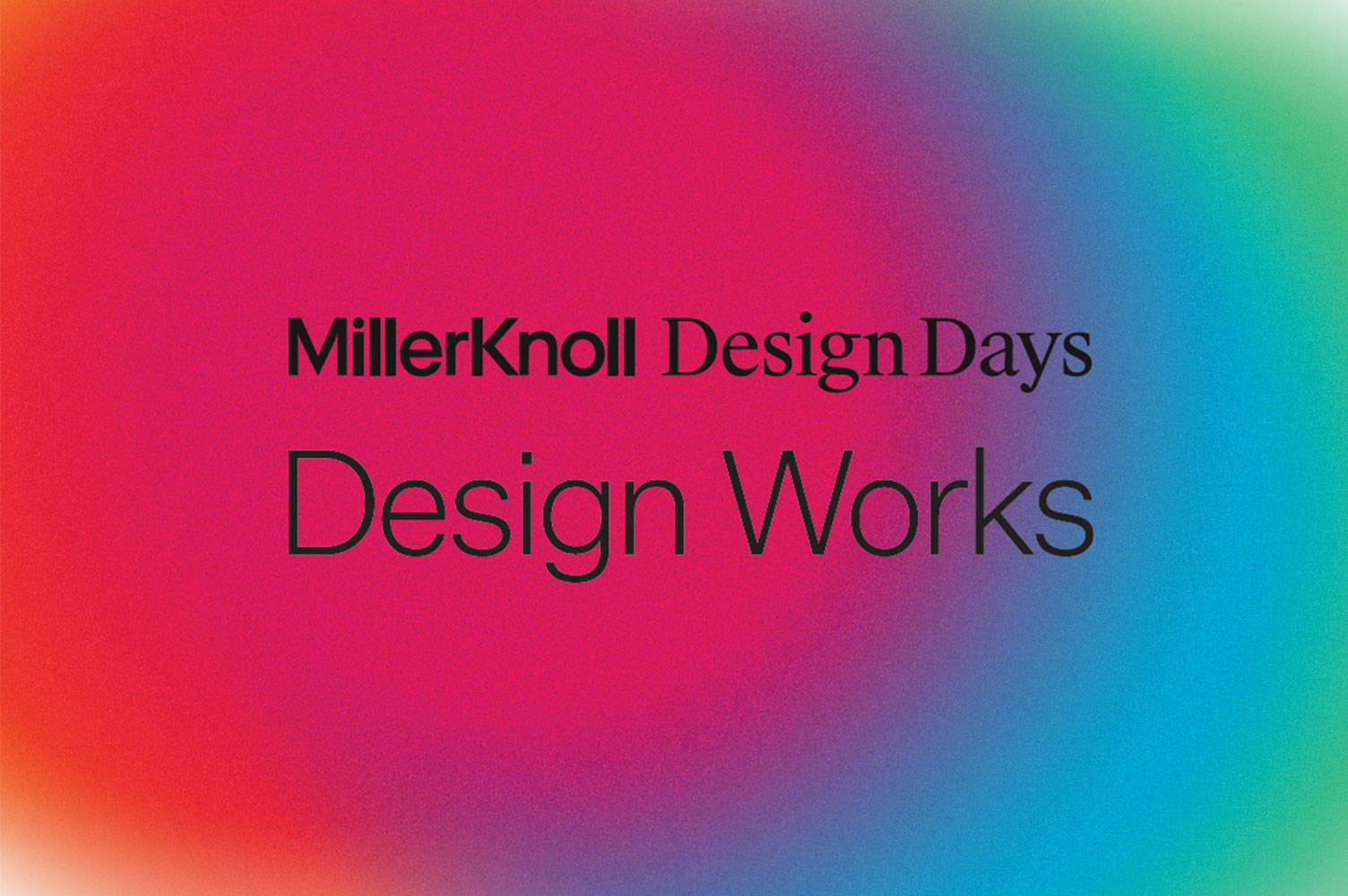 09 Aug

Design Works: MillerKnoll Design Days 2023

From June 12-14, 2023 in Chicago's Fulton Market district, MillerKnoll showcased the new and powerful ways that they are putting design to work for you. As one of the early anchor tenants, MillerKnoll has helped shape Fulton Market into a premier design destination, taking the lead in creating the "Neighborhood of Brands," a group of more than twenty-five design-led companies with showrooms and trade spaces in the Fulton Market area of Chicago. MillerKnoll's collective of brands went all out to show how design works today and created a variety of spaces that celebrate the pivotal role that design plays in helping organizations respond to change. In addition to 30 new products and product line extensions, the company hosted many engaging events and exhibits to solve relevant questions around the future of work and home.
HIGHLIGHT REEL
Get Inspired
Watch MillerKnoll's highlight reel below to relive the experience.
VIRTUAL TOURS
Take an interactive walk-through
Today, MillerKnoll's collective of brands comes together with over 70,000 combined square feet of showroom and retail space across their locations at 811 and 1100 West Fulton Market. Walk the showrooms as if you were there! Experience all seven floors of the MillerKnoll Design Days in stunning 3D. Explore the Knoll Showroom here and the Herman Miller Showroom here.
BRAND HIGHLIGHTS
THE BUZZ FROM THE COLLECTIVE
From 100 years of the Herman Miller brand to a bold, new experience at Knoll, MillerKnoll has a lot to celebrate this year! Check out a few of the exciting highlights below.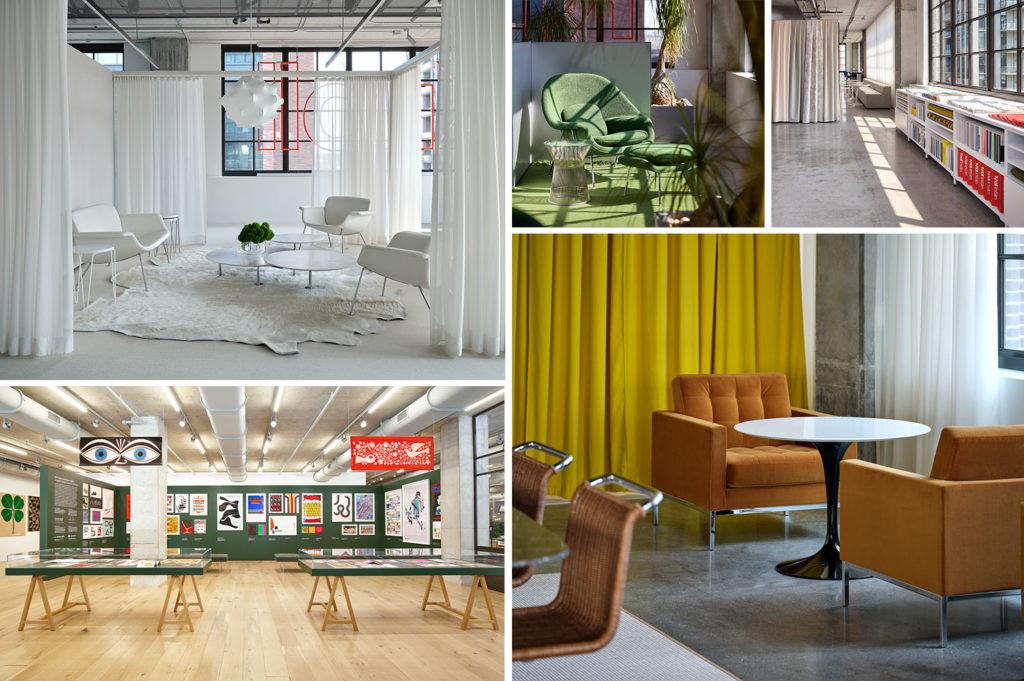 This year marks a century of Herman Miller. In 1923, founder D.J. De Pree purchased the Michigan Star Furniture Company with the help of his father-in-law, who was named (you guessed it!) Herman Miller. Once a producer of traditional bedroom suites, the company under De Pree's leadership took a risk in going modern. In the decades that followed, a host of design pioneers became collaborators—Rohde, Nelson, the Eameses, Girard, and Noguchi, among others—with the company Herman Miller influencing both the design industry and culture-at-large. For 100 years, Herman Miller has been synonymous with quality—from products and processes to buildings and people.
This year Knoll debuted a re-imagined showroom design with a remastered approach to color, material and finish. Creative collaboration has been an integral part of the Knoll DNA since the start. Designer Salem van der Swaagh, in collaboration with SVP of Design Jonathan Olivares, layered varieties of materials in monochromatic families—a textural experience that feels inviting and immersive—to create an optimistic vision for the contemporary workplace. Conceptually, van der Swaagh's palette celebrates the idea of doing more with less. As all colors in the spectrum are rooted in three primary hues, exceptional possibilities come from well-applied fundamentals. This is a space for a designer's imagination. As Olivares notes, "Knoll furnishings are not complete until a designer considers their relationship to an interior, and chooses their color, material, finish, and in many cases their configuration."
Revolutionary in 1948 and resonant as ever today, the Womb defied the era's conventions of what a chair could be. Designed for Florence Knoll by Eero Saarinen, the Womb Chair sparked from Florence's feminist instinct and Eero's exploration into materials and construction that allowed its organic form. Today, after 75 years in workplaces, homes, and the cultural zeitgeist, the Womb Chair persists as a ubiquitous beacon of comfort and icon of modern design.
NEW INTRODUCTIONS
SEE WHAT'S NEW
Design works when it inspires, when it brings people together, when it moves us forward. Take a look at some of the newest product introductions and expansions as MillerKnoll looks ahead to putting design to work for you.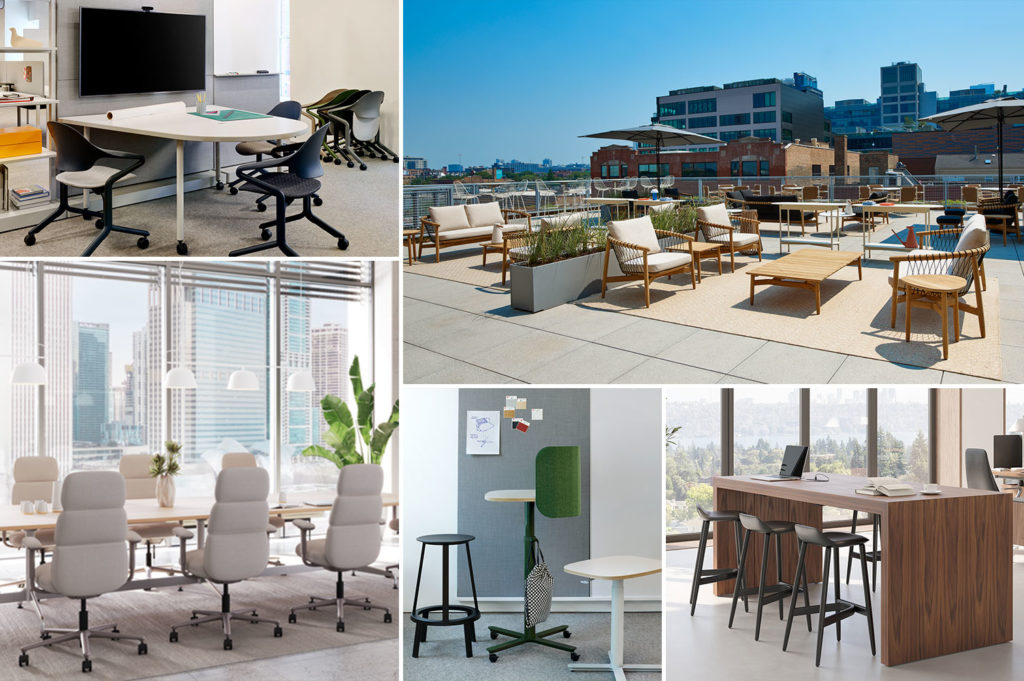 Designed by Naoto Fukasawa, the Ascari Chair provides ergonomic performance in an upholstered form that's as beautiful as it is comfortable.
Anywhere can be your perfect workspace with a desk that moves with you. Height-adjustable, with an intentionally compact and lightweight design, the Passport Work Table is just right for the moments you need it. With its simple, intuitive lever, you can smoothly adjust your surface, allowing you flexibility between sitting and standing.
Designed by Stefan Diez and a 2023 MetropolisLikes award-winner, Fuld has a clean, crisp deign that re-imagines seating that nests. As Herman Miller's first foray into nesting chairs, Fuld sets a new reference point for this type of space-saving chair.
Geiger's first outdoor furniture collection brings the distinctive cording and woodcraft of the original EOOS designs to open-air settings. The Crosshatch Lounge Chair and Ottoman, along with the Crosshatch Settee, have been redesigned with new materials, such as teak and Sunbrella fabrics, and are now joined by a coffee table and side table to comprise Geiger's first outdoor furniture offering. Like its indoor predecessor, the Crosshatch Outdoor Collection is designed with parachute cords, a material common to other industries (though typically not used in furniture), which create a lattice held taut to support the gracefully curved teak frame and envelop you like a nest as you sit.
The JD Waterfall Table is a powered meeting table designed for impromptu meetings and casual collaborations that happen in open spaces. Available in two active-posture heights, it invites and supports conversations that begin spontaneously then turn substantive. With exquisite wood finishing and miter-fold construction that highlights the woodgrain as it "flows" over the table's edges, this is a table that speaks to beauty's ability to inspire.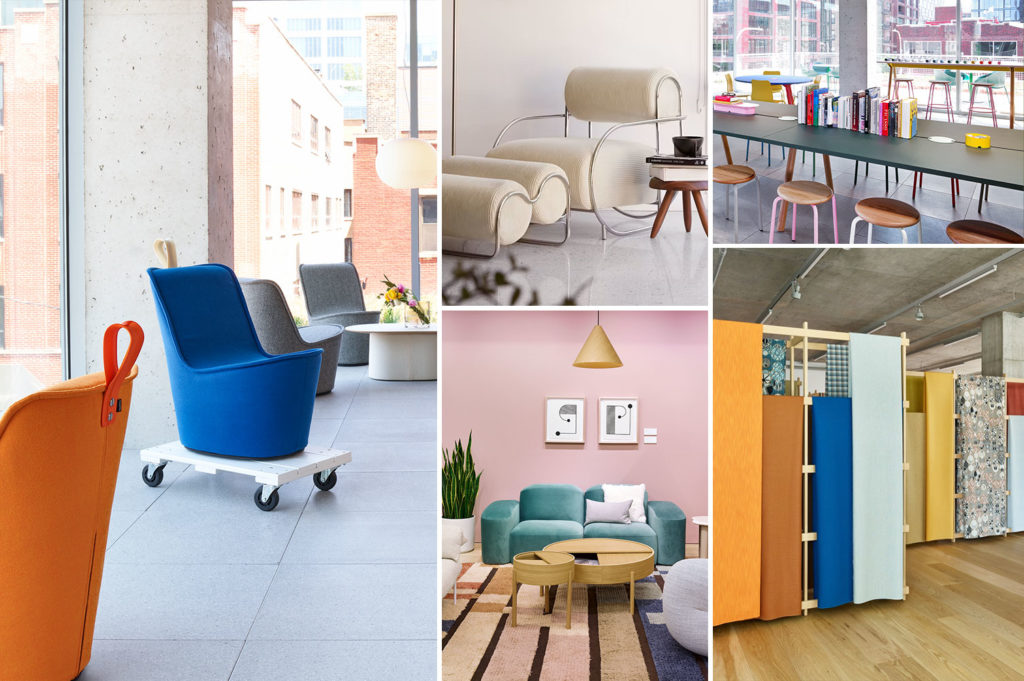 The Pippin Chair is a welcome addition to the world of flexible furniture, combining comfort, style and mobility. This agile lounge chair is primed for play; soft-edged, solid and creating a sense of cupped support. This low-slung chair brings people together for inspiring conversations and contributions. Pippin is compact, making it the perfect choice for flexible and collaborative spaces of all sizes. It sits on wheels and is deliberately free from arms, making it easy to move, twist and turn with its convenient strap handle.
NaughtOne is taking their sustainability initiatives further with the launch of Pippin, whose construction is glue and staple free. Pippin comes with a tailored, zip-on, zip-off cover that gives the chair its sophisticated personality. The removable cover can be easily replaced should it get damaged or stained, without needing to replace the entire chair.
Designed for NaughtOne by John Tree, the Morse Table System does more with less. Designed to be anything but prescriptive and to run at endless length, this dexterous table offers seemingly infinite possibilities when it comes to tabletop accessories and color, adding interest to any space. Morse, which is named for its series of unique accessories that resemble dots and dashes, is a resourceful table that empowers flexibility through simplicity. This powered meeting table, designed for open spaces, offers two heights for functionality and exquisite wood finishing for aesthetics.
John Tree says, "The Morse Table System isn't a family of tables; it's a solution that can provide any type of table you want at multiple heights, in the style of your choice." He goes on to say, "The range of tops, legs and structural elements can really cater to any situation, at any scale, and in any context." Morse can be specified with a choice of 23 tabletop colors, 17 leg finishes and optional accessories. Fun, yet high functioning, the Morse table combines technical brilliance with the potential for personal expression through form, color and accessories.
In June, Maharam previewed over 20 new and recent textiles at its Chicago showroom to coincide with Design Days. The presentation featured upcoming products by the design studio and collaborations with Paul Smith and Jacob Hashimoto, a New York–based artist and Maharam Digital Projects collaborator whose first woven upholsteries will launch in January 2024.
Using a material vocabulary of light wood and metal, Maharam and architect Neil Logan have established a clean, minimalist language that creates versatile gallery-like space to present textiles to their best advantage. The new textiles will be presented on Logan's architectural installation Frame Structures, an understated basswood framework over which textiles can be hung, layered, and arranged.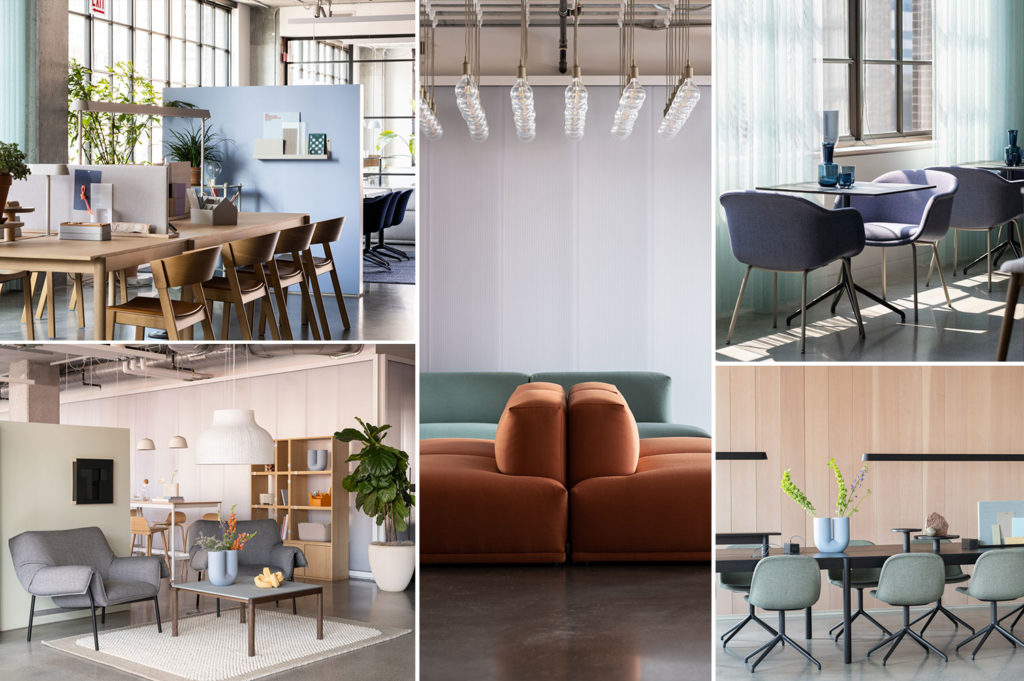 With a generous shape, the Wrap Lounge Chair offers a deep comfort with a strong sense of character. Wrap is a soft chair with a blanket-like textile wrapped around its shell and is supported by a light steel frame, creating a contrasting image of airy lightness.
With 36 variants spanning across various finishes and sizes, the Couple Coffee Table is Couple Coffee Table is made using FSC™️-certified wood (FSC-C028824) and ceramic stoneware.
The Fiber Conference Chair is now available in new bases, including a a Swivel Base, Swivel Base with Castors, Swivel Base with Return, Swivel Base with Return and Tilt and a Wood Base. The interior shell of the Fiber Conference Armchair is also made of 100% recycled plastic—while its spacious seat and embracing curves are fully upholstered to provide maximum comfort.
These Muuto favorites are now made with 80 percent recycled plastic—an innovative composite of recycled plastic (minimum 80% is recycled) and FSC™️ (FSC-C028824) certified wood fibers specially developed for the the Fiber Chair series. Up to 25 % of composite consists of wood fibers, which gives the shell a uniquely deep surface and soft, matte touch. Though invisible to the eye when viewed from afar, the natural details of the wood fibers are revealed when viewing the design up-close.
The Linear System Series brings a fresh perspective to the evolving needs of the modern workplace and is now available in a new finish with additional accessory and lighting options. Designed by Thomas Bentzen, the Linear System can be tailored to your exact needs through reconfigurable tables, lighting, screens and trays alongside its custom integrated power solution. Through multiple accessories and lighting, the design can create intimate smaller spaces in larger rooms for both solo-working and collaborative sessions. Adapt the table series to the aesthetic and functional needs of your space, whether it's an open workplace, a meeting area, a co-working space, or a modern library.