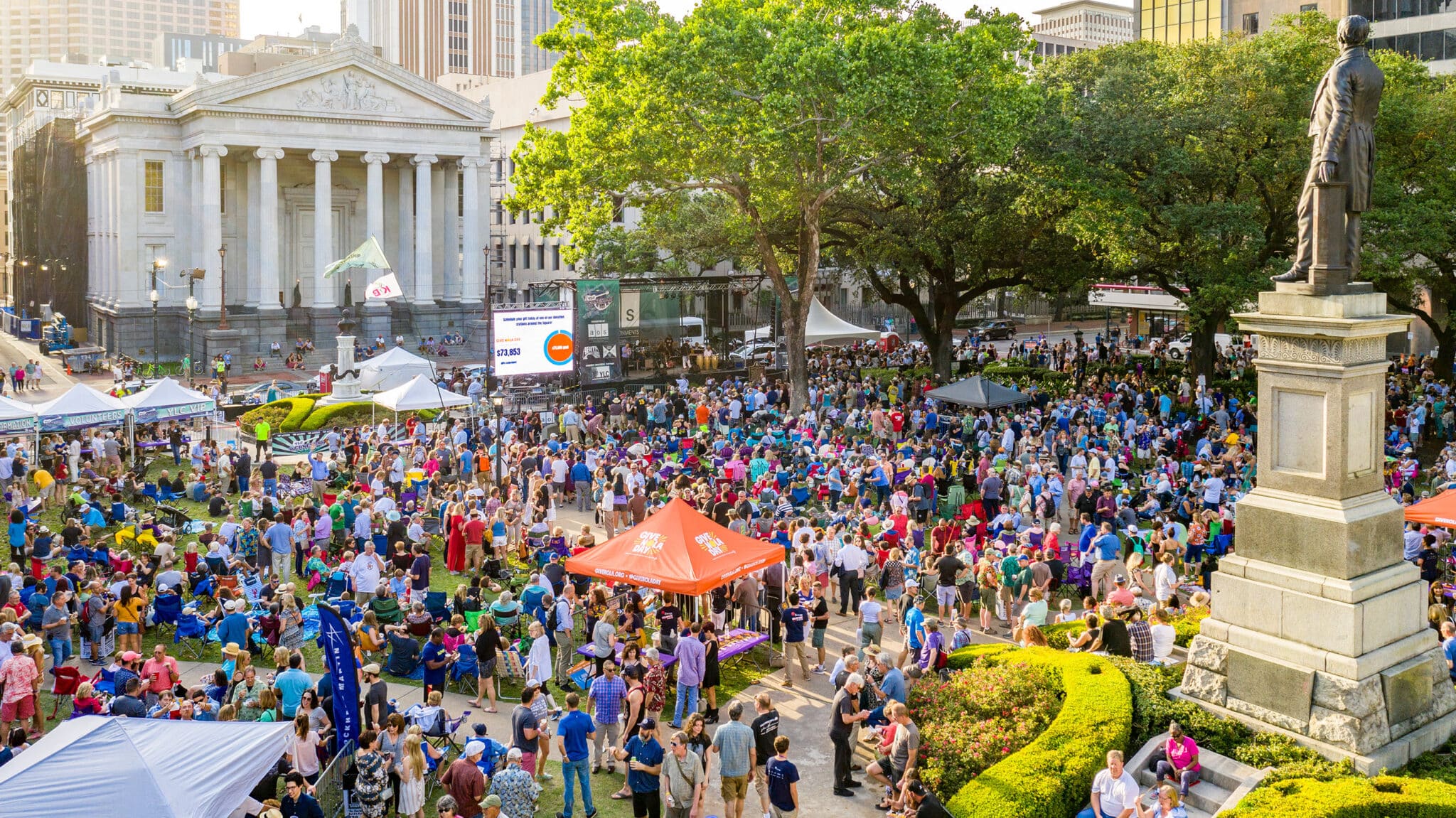 31 May

Encore! Encore! AOS Returns as the 2020 Title Sponsor of YLC Wednesday at the Square

Young Leadership Council (YLC) has announced its third-year partnership with AOS Interior Environments as the concert series' 2020 Title Sponsor. AOS is the largest design-assist provider of commercial furnishings, manufactured interior construction, storage solutions and installation and service in Louisiana and Mississippi, and has been serving the region for more than 43 years.
Thank you to our friends at Studio CICADA for taking aerial photography during the 2019 concert season.
"Our team is delighted to announce our third-year as the Title Sponsor of YLC Wednesday at The Square! It is an honor to partner—and groove with—such an enthusiastic and inspiring young professional community," said Shelby Russ, President and CEO of AOS Interior Environments. "By committing to organizations like YLC, we have the chance to make a profound impact on this remarkable place we get to call home. We hope everyone can join us in this mission by rocking out all season long!"
"As any non-profit our business leader knows, sustained partnerships are transformative for organizations," said Stephanie Powell, YLC Executive Director. "I am incredibly grateful to Shelby and the entire AOS team for their continued investment in, and support of, YLC's Wednesday at the Square concerts and of our mission to develop young professional leadership through community service. Because of AOS' generosity, we have grown our successes and deepened our impact in the community."
YLC recently completed its 2019 Wednesday at the Square concert series, which began on March 20 and ended May 22. The season has featured well-known artists, including Irma Thomas, Eric Lindell, Kermit Ruffins, Marc Broussard, Deacon John, Cyril Neville's Swampfunk, Kristin Diable & The City, Big Sam's Funky Nation, Flow Tribe, Mia Borders, Billy Iuso and more.
The YLC Wednesday at the Square concert series is free and open to the public. Proceeds from food and drink sales at each concert benefit YLC's community service projects and leadership development programs, which are designed to improve the quality of life in the Greater New Orleans area and foster leadership skills in young professionals.
Information about YLC Wednesday at the Square and YLC's community service projects is available at www.ylcnola.org, as well as on Facebook @WednesdayattheSquare and on Twitter and Instagram at @ylcwats. Single-concert and multiple-concert sponsorships for the 2020 series are available, including video screen advertising opportunities. To learn more about sponsoring YLC Wednesday at the Square, contact Liz Waller, Events and Sponsorship Manager, at liz@ylcnola.org.
Young Leadership Council is a nonprofit, nonpartisan, civic organization created to develop leadership through community service. Through volunteer-led community projects, YLC recruits and retains young professionals to New Orleans, creating a positive impact on the quality of life in the region. The oldest, independent young professionals' organization in the country, YLC has supported the New Orleans area since 1986.