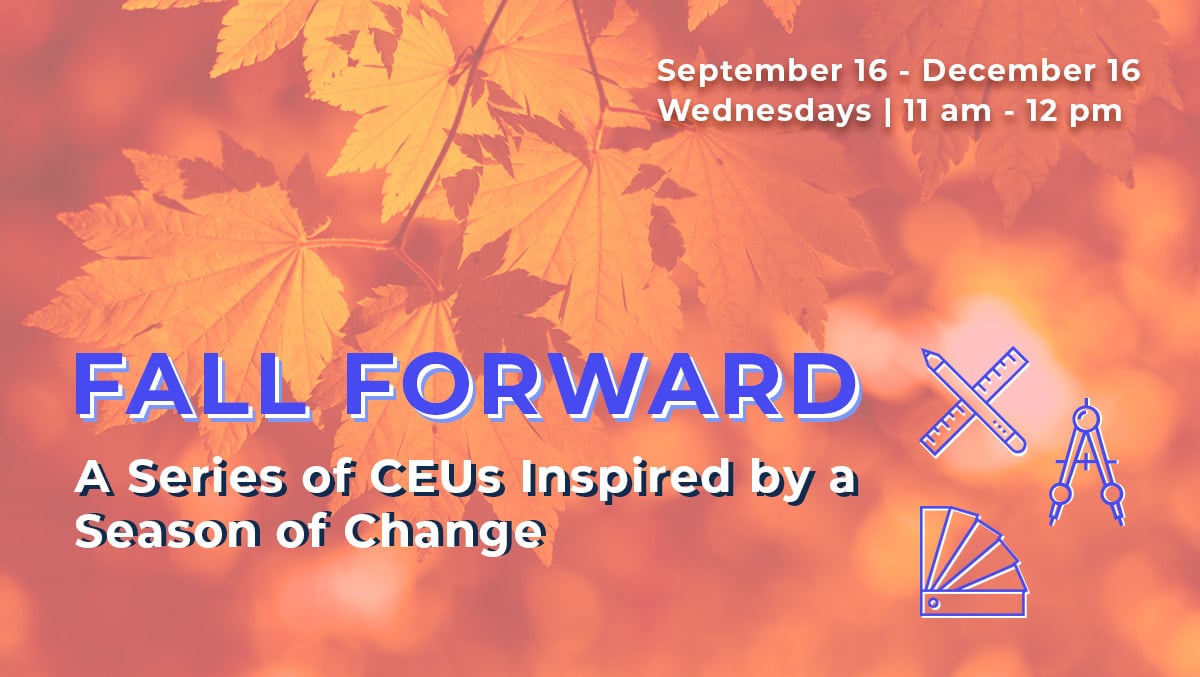 22 Dec

Fall Forward CEU Series

When the COVID-19 outbreak began in the spring, the architecture and design community was quick to adapt and find solutions for the challenges faced by the healthcare, education and hospitality industries. This desire sparked our idea for "Fall Forward: A Series of CEUs Inspired by a Season of Change," which focused on lessons learned and design's response to the pandemic. Divided into four themes, each month explored a new topic and key strategies used to create safe, healthy and holistic environments. We provided 11 complimentary virtual courses over three months and had a standout number of industry partners attend. Check out the following resources that we pulled together to continue the discussion.
Part 1: Accessing Fresh Air
Settings with access to fresh-air, near natural light and surrounded by nature will become increasingly popular since they offer employees a chance to recharge. More meetings, lunches and events will occur outside so a variety of seating options will be key. Meanwhile indoors, advanced air filtration systems, plants and biophilic design will also be highly beneficial to the health and well-being of those who experience a space.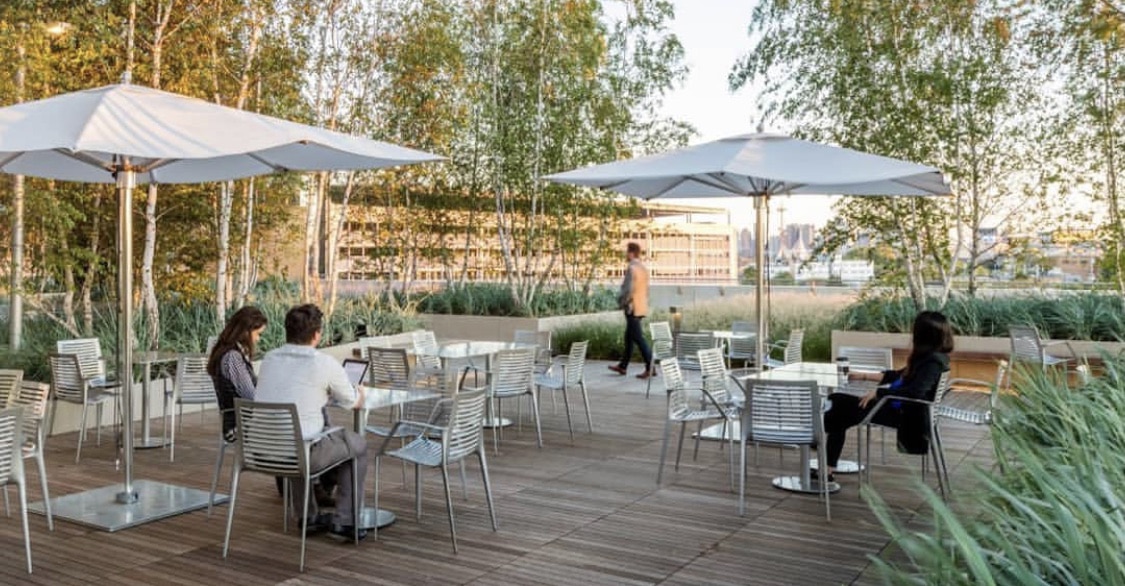 Designing the Outdoor Room
As employees return to offices, students to campuses, and the public to social venues, the need for safe and inspiring natural spaces is more important than ever. Enhance health and well-being by turning the outdoors into a destination for collaboration, connection, relaxation and healing.
Hear from architects, designers and community leaders in these video case studies, which were featured during the presentation.
Learn: Terry Clements and the Importance of Outdoor Space
Travel: Studio 431 and the Importance of Design in Public Transportation
Live: Welcome to Denver's Living Room, 16th Street Mall
Play: The 606 Bloomingdale Trail in Chicago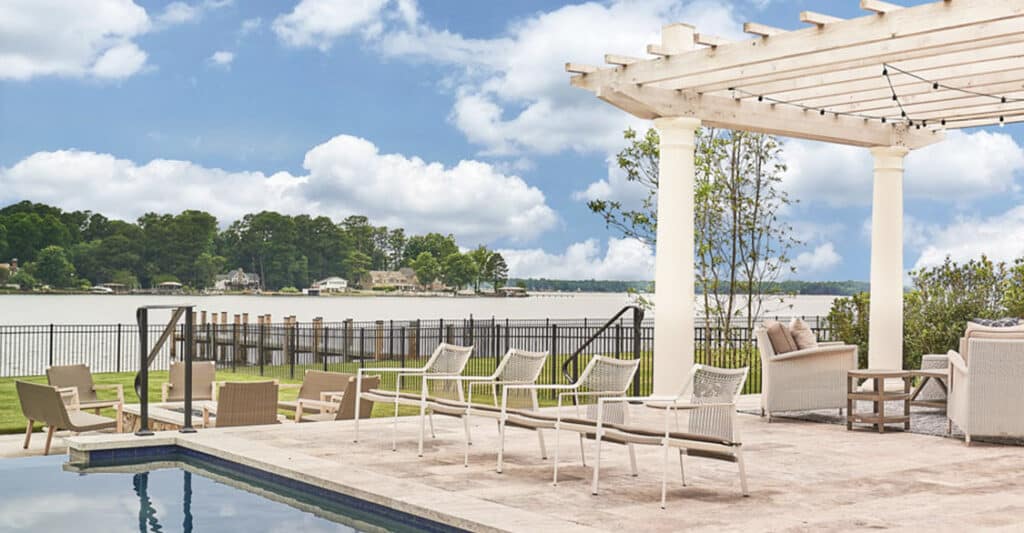 Outdoor Materials
Selecting furniture solutions that stand up to climate and are easy to maintain can help protect your investment. Encourage spending time in the outdoors with designs that are beautiful, functional and, of course, durable.
Create Dynamic Outdoor Spaces in a Flash with JANUS et Cie's In-Stock Furnishings
Outdoor space, once considered a bonus area of any residential or commercial environment, is more vital than ever. As we continue to adapt the way we live, work, and spend time together with social distancing top of mind, designers are increasingly tasked with transforming outdoor spaces into multi-use oases—and quickly. This means durable, weather-resistant furnishings are in demand, yet perusing a saturated market for just the right piece can be a time-consuming and intensive process marked by long inventory lead times.
JANUS et Cie Care & Maintenance Guide
Learn the best ways to care your JANUS et Cie products to ensure that they last.
This November JANUS et Cie opened their second Los Angeles flagship. Browse the virtual space or stop by our AOS Showroom to explore it in VR.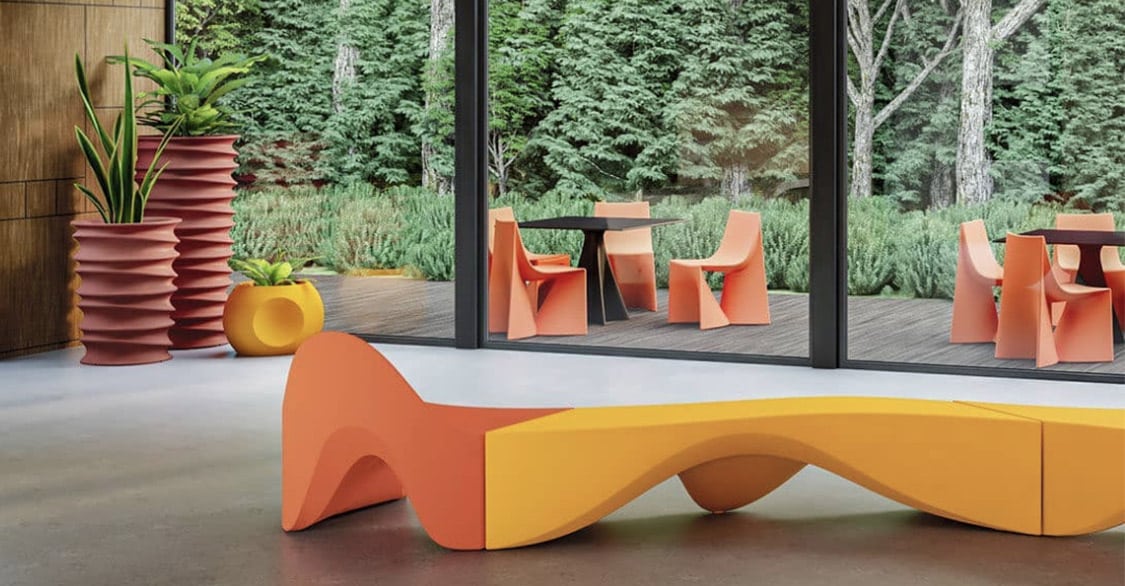 Why Out Is In
Presented by Tonik
From healthcare healing gardens to urban green spaces, exterior environments are key for human connection and restoration. Spending time outdoors boosts people's energy, creativity and immune system so it's important to create spaces that purposefully immerse them into nature.
5 Tips for Creating Your Outdoor Space
Outdoors spaces are known to help boost moods, calm spirits, and create atmospheres that bring fun and relaxation. There are a million ways to create your outdoor space, but following some simple guidelines can help guarantee you set the scene for a good time.
Sometimes it helps to take a closer look at Tonik products in their natural environments. They've compiled a number of product showcase videos to demonstrate what an installation could look like in your space.
Part 2: Reimaginging Spaces
As the lines between home, work and play have completely blurred so has the essential nature of the workplace. Now more than ever, employees need a holistic space that supports the whole person and a variety of nimble settings that can adapt to the different ways they work and move throughout the day.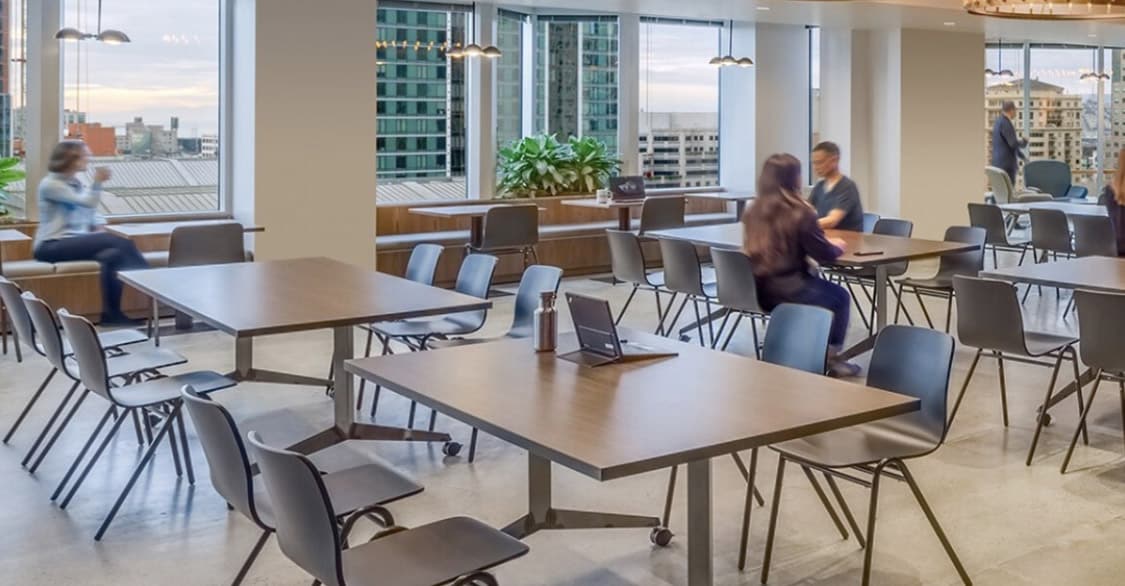 Liquid Times: How the Way We Work Transforms Space
Presented by Watson
From the 17th century to today, the office has consistently reinvented itself due to the evolution of technology, advances in manufacturing and shifting cultural ties. In our current democratic and digital age, there has been a revitalization of the importance of culture, collaboration, spontaneity and experience in the workplace. While people will continue to work from anywhere—the office, cafes, home, and airports—it's important that we continue to have fluid solutions that respond to the needs of individuals and teams and are comfortable and flexible.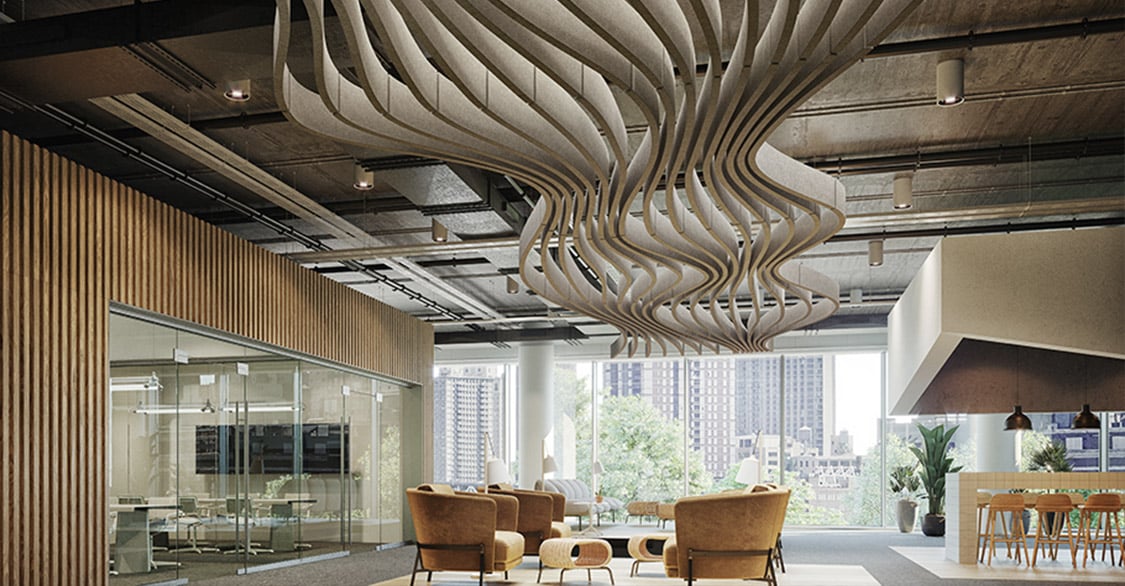 Sound Advice: Understanding the Value of Acoustics in Commercial Design
Presented by AOS
Noise is a reality of any environment, but under-performing acoustics negatively impact people's mental and physical health. By utilizing key strategies, such as absorb, block and cover, we can reduce noise to help improve focus, lower stress levels and enhance overall well-being.
In our new video series, Trip Russ and Alexis Miranne dive into in-depth research and explore ways you can incorporate acoustics into your project while meeting design intent for any budget. In our first video, they cover acoustic privacy and acoustic comfort.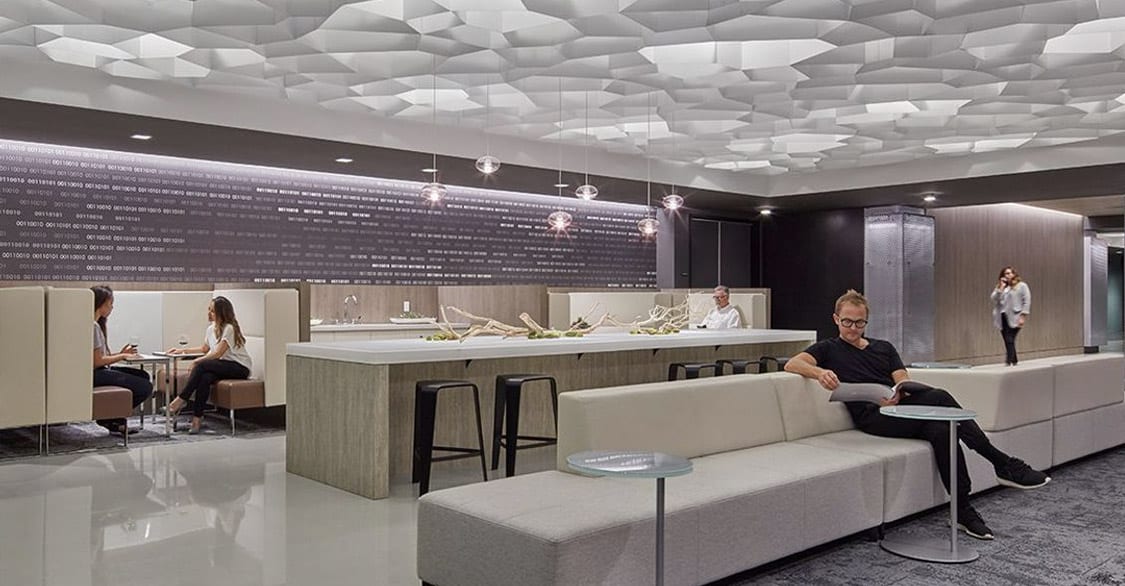 Capturing Light: An Introduction to Lighting Resin
Presented by 3form
As humans, we have an emotional connection to color and light, which can affect our mood and well-being. Incorporating light into design connects us with nature, brings color to life and presents an opportunity for wayfinding. Through various materials, diffusion, finishes, interlayers and applications, you can reflect your design goals and create a striking, bespoke look.
Light Design: RGB Capabilities
Learn the capabilities of 3form's expert lighting team.
The Full Circle Foundation connects 3form to artisans around the world through gorgeous handmade products that support communities and their traditions. From elementary education in Nepal to midwife training in Mali, Full Circle pursues social, environmental, and economic initiatives that impact artisan communities in Africa, Asia, and South America.
Gourmandise: An Acoustics Story
Hear how 3form solutions transformed the acoustics in this restaurant.
Part 3: Making Healthy Selections
Attention to the individual experience makes for better work and healthier lifestyles. Anti-microbial and easy-to-clean surfaces in addition to space delineation techniques will become more common to help mitigate risk of contamination. Healthy selections will be made not just for people but for the planet though. Designers will continue their commitment to sustainable design by creating environments that promote a better world.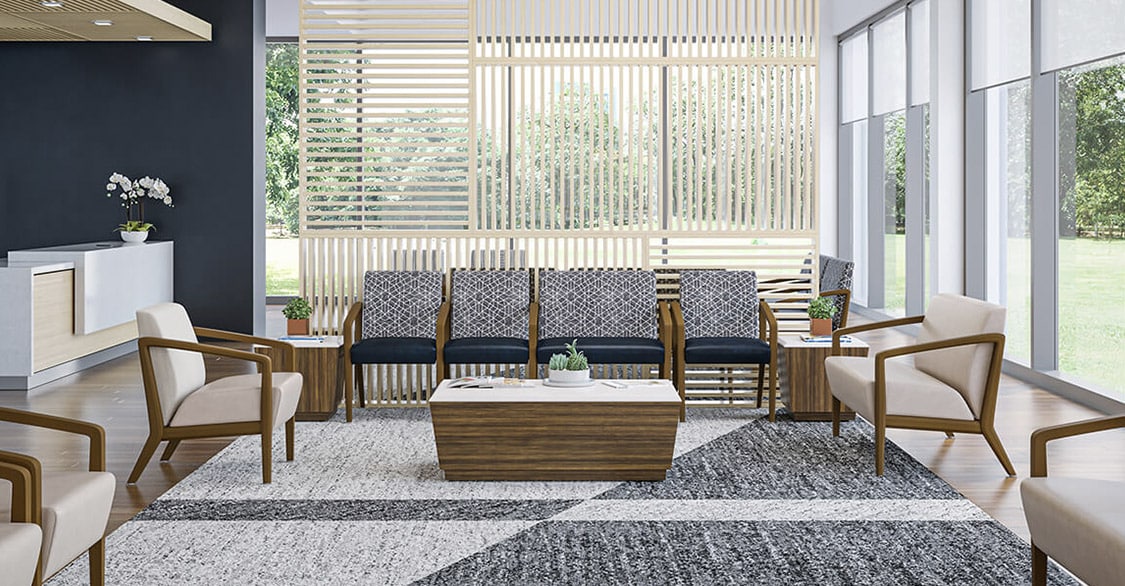 COVID-19 and Healthcare Surfaces
Presented by Kwalu
As antibiotic resistance rises, designers can play an integral role in creating healthy and safe interior environments. The material selection of solid surfaces, counter tops and cabinetry is incredibly important in interrupting the transmission of viruses. By incorporating surfaces that are truly cleanable, designers can balance infection prevention, sustainability and aesthetics.
Cleanability of High-Touch Surfaces
Kwalu discusses critical answers to maintain cleaner high-tough surfaces.
Kwalu Brings Innovative Furniture to Healthcare
The cleanability and durability of healthcare furniture is a very high priority, especially in a pandemic. Furniture that checks those boxes, holds up well to daily cleaning with products that contain bleach and continues to look like new is timely, innovative, and even revolutionary.
Trends in Senior Living Communities Now and Post COVID
As each month passes, senior living communities are finding ways to live with, fight COVID-19 and carry on. The Centers for Disease Control (CDC) says many who live in senior living communities are at higher risk for severe illness from COVID-19. As home to some of the hardest hit in this pandemic, senior living is taking a hard look at every detail of their communities to find a way to cope with COVID at a high level and is more determined than ever to regain the confidence of the communities they serve and reclaim their places of comfort and support for residents and staff.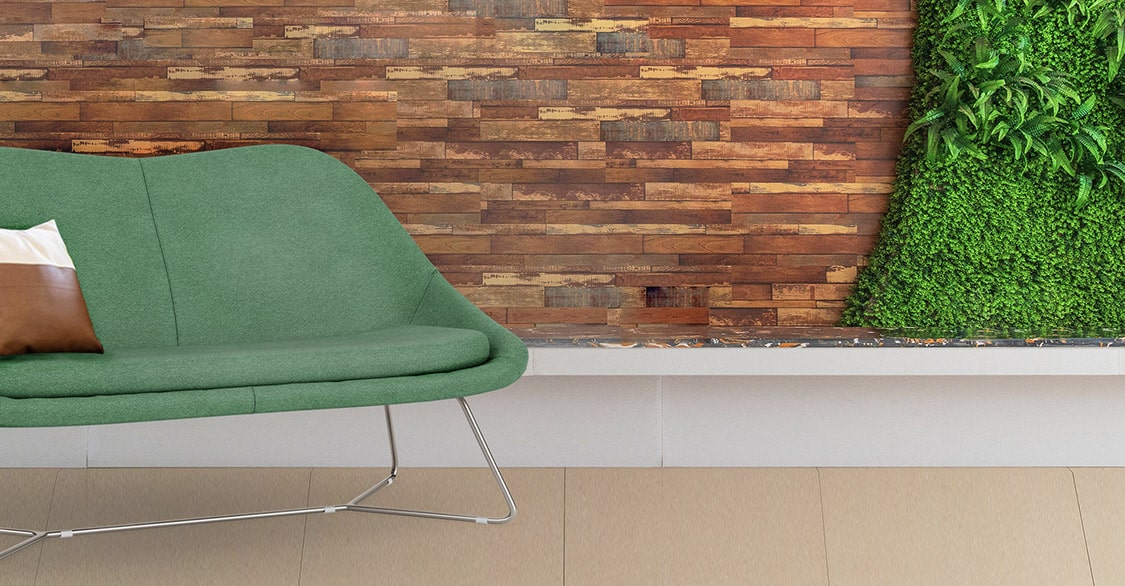 LEVEL Sustainability and Its Role in Furniture
Presented by Via
Now more than ever, end-users are asking for sustainable design and taking into consideration environmentally friendly materials, labor practices, life cycle analysis and more. LEVEL can help you source sustainable furniture that meets the demands of today's market and streamline the specification process while balancing people, planet and profit.
Learn about this evaluation and certification system for environmentally-preferable and socially-responsible office furniture.
Product selection is hard, especially when it comes to environmental considerations. But LEVEL makes it easier to make informed specifying decisions and recommend the right products to your clients.
Part 4: Future Proofing
Constructing a space for today shouldn't require predicting the future. Resilient spaces that are flexible, custom and easy to adapt will help your business be ready for whatever the future may bring. Environments can transform at a moment's notice and evolve with technology, employee needs and new company protocols.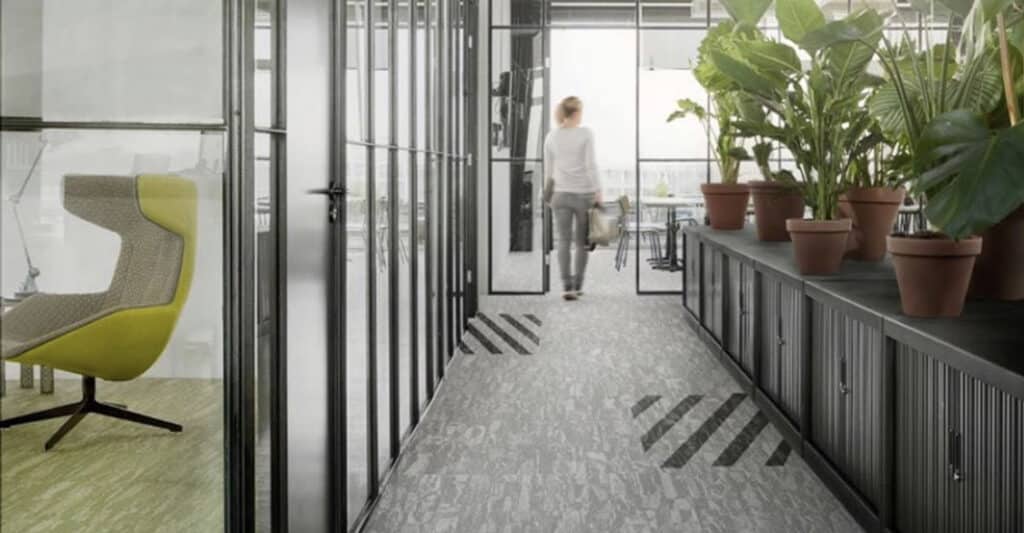 NEXT Generation Green Building
As the built environment continues to evolve, building standards are no longer just about materials and how they are produced but how design affects others. By assessing social, environmental and economic factors, industry professionals can utilize design and sustainability goals as a central piece to improving people, place and planet.
Better buildings equal better lives. Projects pursuing LEED certification earn points for various green building strategies across several categories based on the number of points achieved, a project earns one of four LEED rating levels: Certified, Silver, Gold or Platinum.
WELL is the leading tool for advancing health and well-being in buildings globally. Register your office, building or other space to leverage WELL's flexible framework for improving health and human experience through design.
LBC 4.0 focuses on the relationship between impact and effort. While LBC 4.0 continues the standard's mission of visionary, but attainable building goals, it also recognizes that not all projects face the same challenges or share in the same opportunities. Regenerative design should be attainable to everyone, everywhere. With 4.0, we are creating a streamlined approach focused on maximizing positive impacts specific to the place, community, and culture of the project.
Declare is like the nutrition label for products. The Living Building Institute, it is a transparency platform and product database that is changing the materials marketplace and will help you find products for your next project.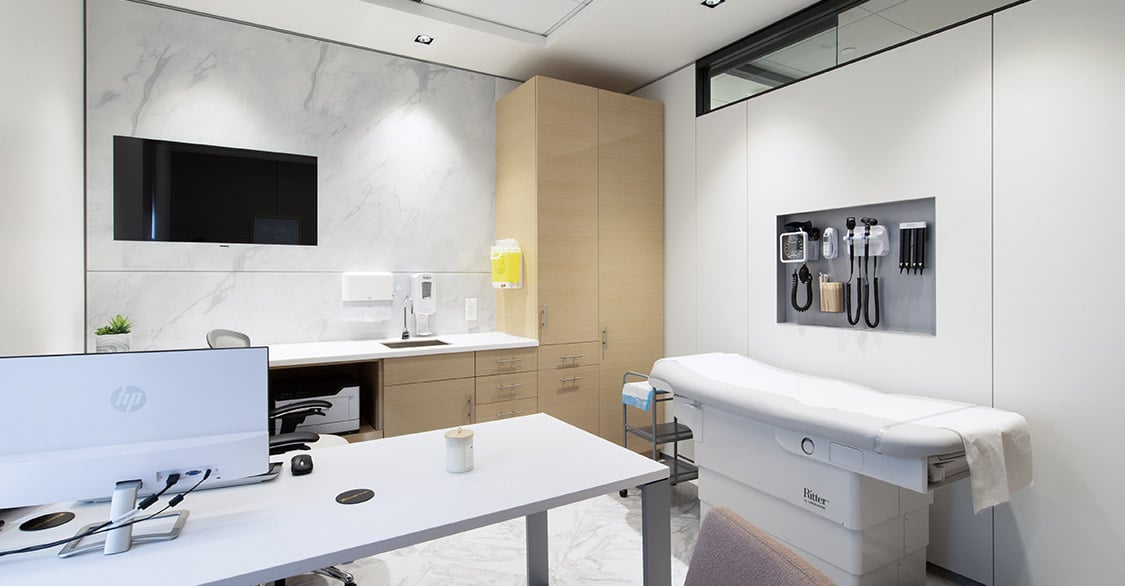 Building with Benefits: How to Harness Multi-Trade Offsite Construction for Healthcare
Presented by DIRTT
When it comes to future-proofing a space, manufactured interior construction presents a tremendous opportunity for client and patient-centered design, taking into consideration the needs of day-2 and beyond. Technology-driven construction provides a resilient response to interior spaces that is flexible and can quickly adapt with changing needs. As a design-assist partner, your manufactured interior construction team collaborates with the designers and contractors early in the process to deliver speed to market, cost control, life cycle impact and sustainability goals.
Explore how interior construction powered by technology can empower the design process and deliver long-term value and flexibility.
In this video, get inspired by DIRTT's custom solutions and explore what you can create with total design freedom.
Discover how your healthcare environment can support your goals in more ways than ever enfore.
Construction, design and real estate leaders discuss the future of office space and its impact on people.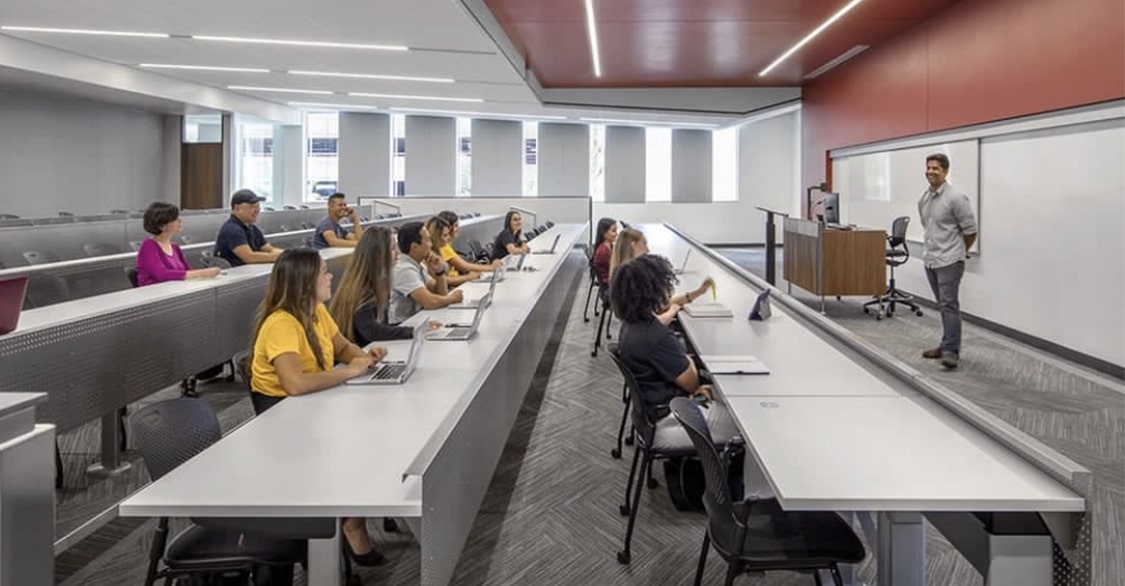 Learning That Lasts
Whether designing education or work environments, it's important to create spaces that inspire a lifelong love of learning. Flexibility and collaboration are key to forward-thinking campuses. By supporting individual needs and learning styles, the built environment can foster custom experiences and set up educators and students for future success.
Why It's Important to Have Proper Acoustics in a Lecture Hall
In this article, Sedia Systems discusses why it is crucial to have proper acoustics in a lecture hall, the problems that surface when there are no acoustics and how good acoustical treatment can help.
How to Select the Right Lecture Hall Solution for Your Space
Designing the right lecture hall takes time and strategic planning. Lecture hall design is dependent on many key variables that you should consider.
How Can Fixed Seating Be Collaborative in a Classroom Environment?
The idea of collaborative learning has gained more and more traction and importance in recent years. Not only in the education space, but in the workplace as well. According to Cornell University Center for Teaching Innovation, research shows that educational experiences that are active, social, contextual, engaging, and student-o