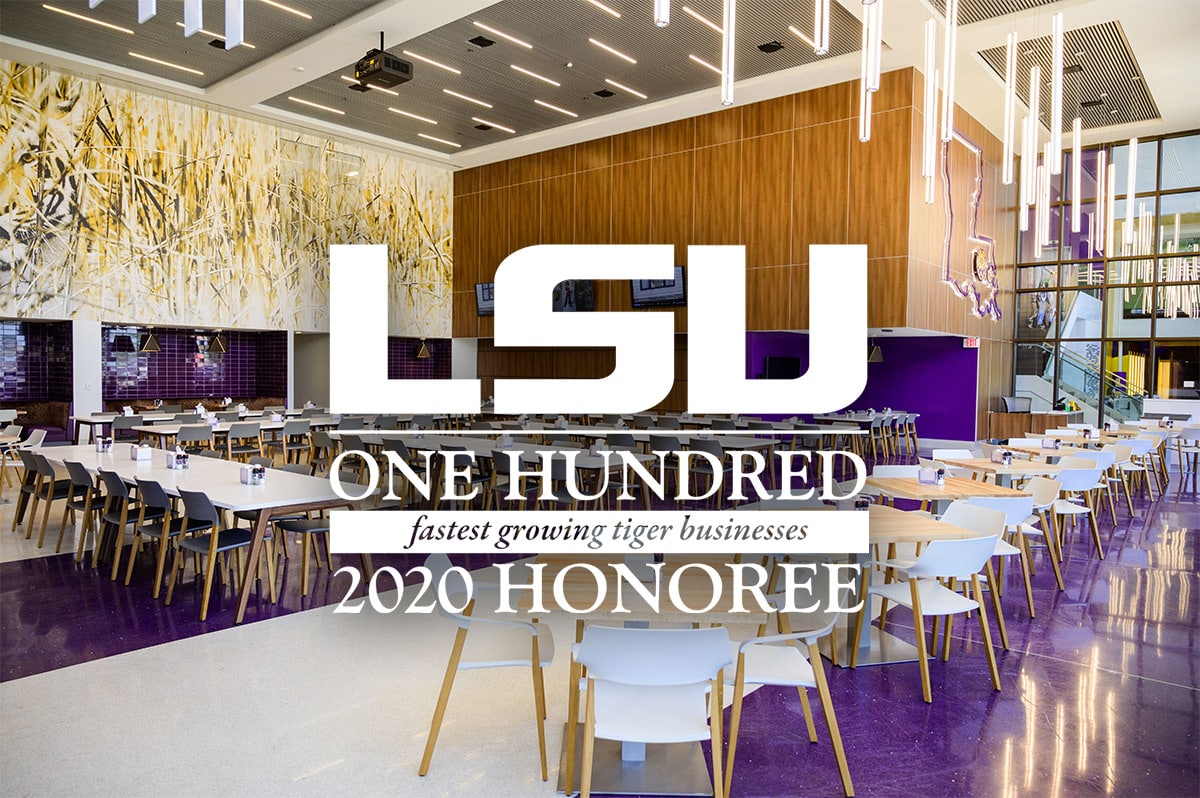 24 Nov

Fierce at 44 Years: AOS Selected to the 2020 LSU 100

AOS is honored to be a part of the 2020 LSU 100: Fastest Growing Tiger Businesses! This marks the third year that AOS has received this award. AOS was previously selected to the LSU 100 in 2017 and 2018. As a 44-year old company, we are excited to still be growing and are grateful to the vision, commitment to service and creative spirit on which we were founded.

Now in its 10th year, the LSU 100: Fastest Growing Tiger Businesses was developed to showcase the entrepreneurial success of former LSU students and provide a forum to pass lessons to the next generation of LSU entrepreneurs. Each year one hundred Tiger-owned or Tiger-led companies are selected to be recognized for their achievements and celebrate the hard work and perseverance put forth by these LSU alumni and former students who are making an impact on their communities from all parts of the world.

We're also thrilled to see so many of our partners and clients on this year's LSU 100 and LSU Roaring 10, including Greenleaf Lawson Architects, Danos, Netchex, Ritter Maher Architects, Duplantis Design Group, Red River Bank, Vivid Ink Graphics, and MAPP, LLC.

To be recognized for your dedication and diligent work is always rewarding, but it is extra special to receive acknowledgement from the alma mater of many of our team members. As any LSU fan that bleeds purple and gold will tell you, this university holds a soft spot in our hearts and we at AOS are thrilled to have so many fighting tigers on our team:
Aimee McSpaddin, '03 – Interior Design
Alexandra DeLee, '13 – Humanities & Social Sciences, Communication Studies
Angelle Verges,'82 – Interior Design
Bob McCarron, '93 – BA Economics and Political Science
Brenna Baumy, '13 – Interior Design
Dale Castro, '71 – Business
Hannah Hinson, '16 – Interior Design
Hillary Heidingsfelder, '18 – Interior Design
Jamie Langridge, '13 – Interior Design
Jessica Roy, '07 – Interior Design
Jim Harrell, '92 – BA History
Mark Abry, '11 – Architecture
Matthew Popiwchak, '11 – Sports Administration
Matthew Rome, '11 – Architecture
Rebecca Cooley, '07 – Interior Design
Rebecca Hays, '20 – BS Sociology
Rebecca Spustek, '91 – Journalism
Robert "Bud" Breaux, '78 – General Studies
Robert Breaux, Jr., '13 – Business Management
Sadie Hocke, '18 – Interior Design
Sean Chaney, '11 – Architecture
Shelby E. Russ, Jr. '80 – BS Marketing
Stephanie Ricord, '98 – Interior Design
Suzanne Dumez, '91 – BA Advertising
As a design-assist partner, AOS Interior Environments is always striving to deliver the best value to our clients by helping bring their vision to life, contributing unique and creative solutions from programming to day-2 and beyond and helping create beautiful and productive environments. Over the last few years, our work on LSU's campus has grown to include the LSU Football Operations Center, LSU Basketball Admin, LSU Gymnastics Training Center, Louisiana Emerging Technology Center, Patrick F. Taylor Hall, Pleasant Hall, Audubon Hall, Hodges Hall and Hill Memorial Library. Together our team looks forward to continuing to grow and developing our company, and we are proud do so with the support of our LSU Alum.