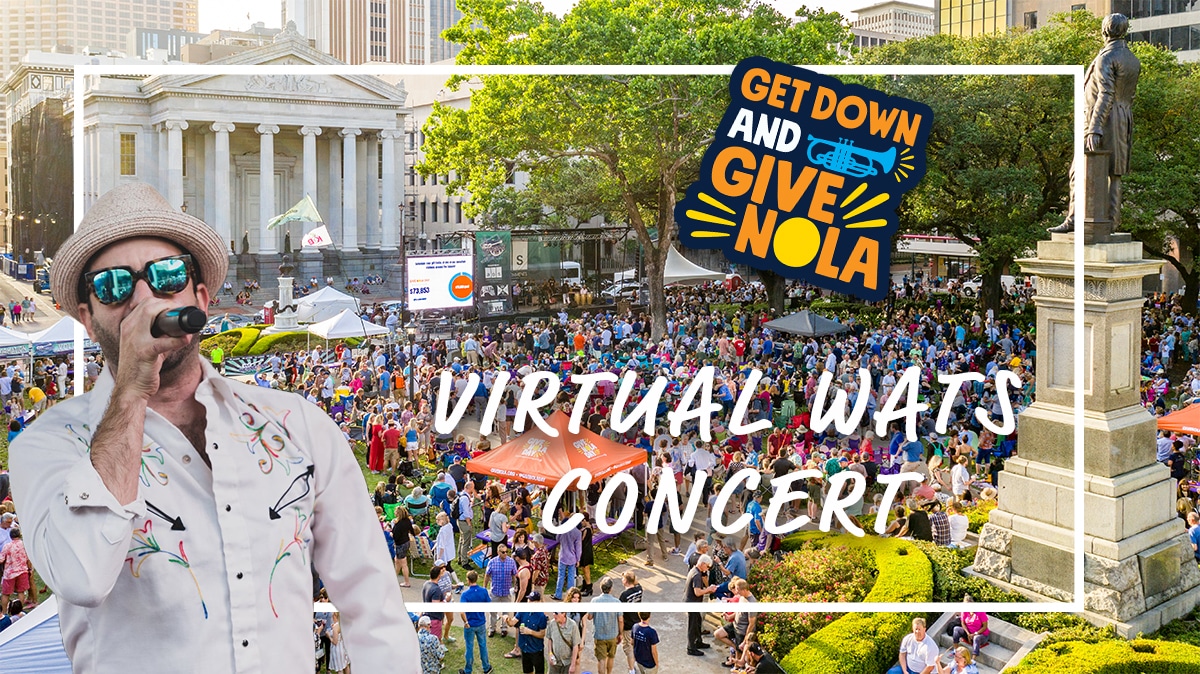 20 May

Get Down & Give NOLA: Virtual WATS Concert

We missed everyone at YLC Wednesday at the Square this season, but we're thrilled to share that YLC is presenting a virtual concert next week!

On May 27 at 5 PM, Young Leadership Council, in partnership with AOS and the Greater New Orleans Foundation, will host YLC Wednesday at the Square: Get Down and Give NOLA. This digital concert will harness the power of music to unite our community behind a common cause–multiplying our impact by giving together.

Tune into YLC's Facebook or YouTube page to watch online.
The Lineup
This virtual concert features several of the outstanding artists from the 2020 lineup as well as favorites from previous years:
Alexis & The Samurai | Amanda Shaw | Anders Osborne | Andrew Duhon | Big Sam's Funky Nation | Daria + The Hip Drops | Dave Jordan + Rurik Nunan | Erica Falls | Flow Tribe | Galactic | Kermit Ruffins | Little Freddie King | Lost Bayou Ramblers | Marc Broussard | Margie Perez | Marcia Ball | New Orleans Johnnys | N.O.B.A.B.E. | The Quickening | The Revivalists | Robin Barnes + The Fiya Birds | Shamarr Allen
Leave Your Mark
This season marked the 15th anniversary of YLC Wednesday at the Square. Unfortunately, canceling this year's concert series meant canceling YLC's primary fundraiser of the year. Through volunteer-led community service projects, YLC recruits and retains young professionals to New Orleans and helps create a positive impact on the quality of life in the region.
Last year, YLC contributed 11,000+ hours of community service to the New Orleans region. Whether it's helping students with their college applications, recycling on the parade routes or bringing free music to the community every spring, the influence of YLC can be felt far and wide.
Get Down + Give Back
Young Leadership Council and Greater New Orleans Foundation will co-host the second annual Get Down & GiveNOLA, in support of GiveNOLA Day on June 2nd. GiveNOLA Day is a 24-hour event hosted by the Greater New Orleans Foundation to inspire people to give generously to nonprofits making our region stronger, creating a thriving community for all. 
Here's how you can get down and give back:
Watch the Concert
Missed the virtual concert or want to re-watch your favorite performances? Watch the entire show below!