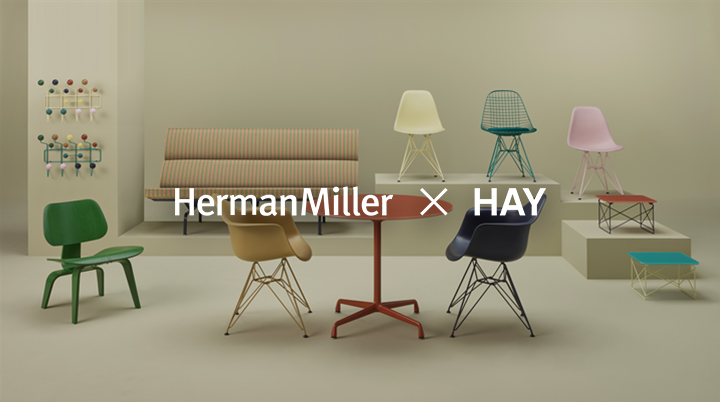 29 Sep

Herman Miller x HAY: Eames Classics Reimagined

Herman Miller is built on a legacy of creative collaboration. In a first-of-its-kind collection, the Danish design house HAY thoughtfully reimagines eight Eames classics—including the Molded Plastic Shell Chair, Wire Base Low Table and Hang-It-All—for a new generation of modern design enthusiasts. Featuring new, inspired color palettes and updated materials, this permanent collection is a powerful combination of original, timeless design with a contemporary point of view. It presents a unique vision of color, the evolution of conscious materials and a beautifully interconnected story of design partnership.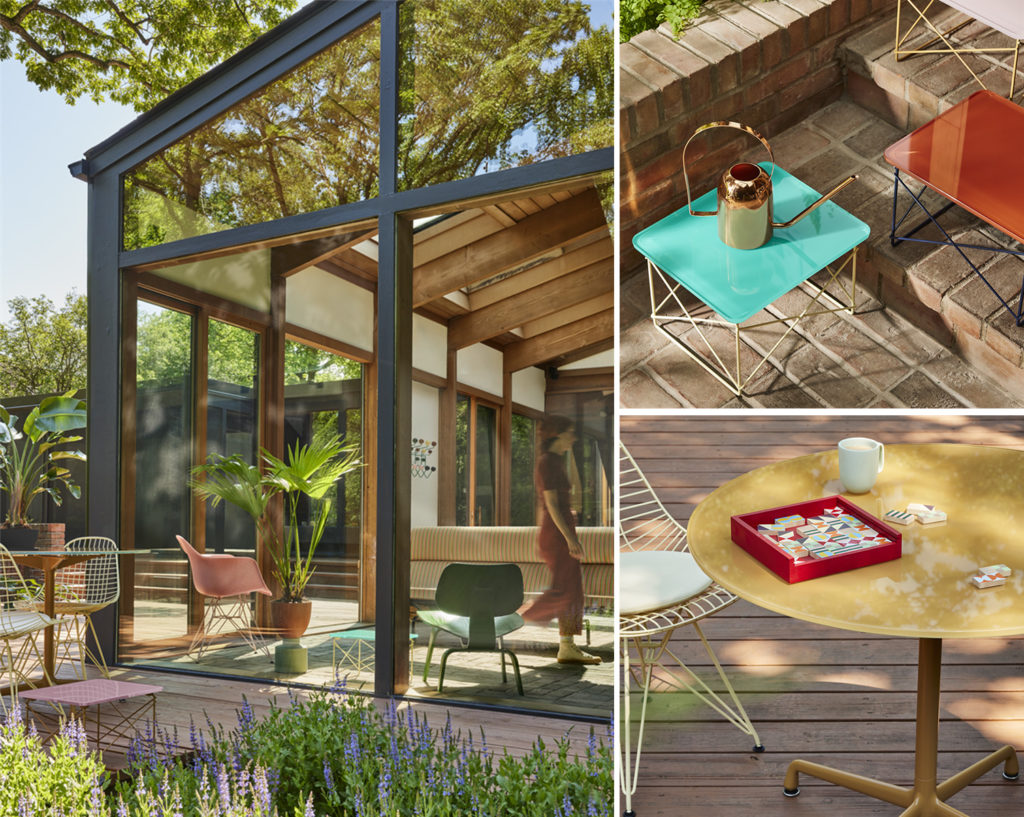 From California to Copenhagen
From Charles and Ray Eames to Metter and Rolf Hay, this collection presents a curious story of designers at play. For Rolf and Mette, Co-founders and Creative Directors of HAY, it serves as a full-circle moment as lifelong admirers of modern design, Herman Miller and the Eameses.  The couple states, "HAY has always believed that good design is everyone's right." Similar to Charles and Ray Eames, they aim to create high-quality products that are available to the masses.
As HAY celebrates its 20th anniversary, this collection with Herman Miller and reinterpretation of eight beloved Eames mid-century classics arrives at a significant time. In a video discussing the collection, Rolf Hay shares, "You cannot believe how honored I am to do this project with Herman Miller."
Both couples share a playful, colorful approach to design and living. In Herman Miller's WHY Magazine, step into the world of Mette and Rolf Hay and learn about what inspired the duo's collaboration with Eames classics here.
Color Play
Eames Office thrived on collaborations with clients and creative partners like textile master Alexander Girard. In this spirit, Rolf and Mette Hay pay homage to the Herman Miller design greats by using a reissued Jacob's Coat textile designed by Girard.
Girard originally introduced Jacobs Coat in 1959 as part of the "Textiles of the 20th Century" collection. He designed it during his tenure as founding director of the Herman Miller Textile Division (1952 – 1973). For the Herman Miller x HAY collection, Maharam faithfully re-issued the special archival color of Girard's classic wool stripe, which is exclusive to the collection for the Eames Sofa Compact. The textile celebrates the enduring relevance of Girard's color sensibility and lengthy collaboration with Charles and Ray Eames.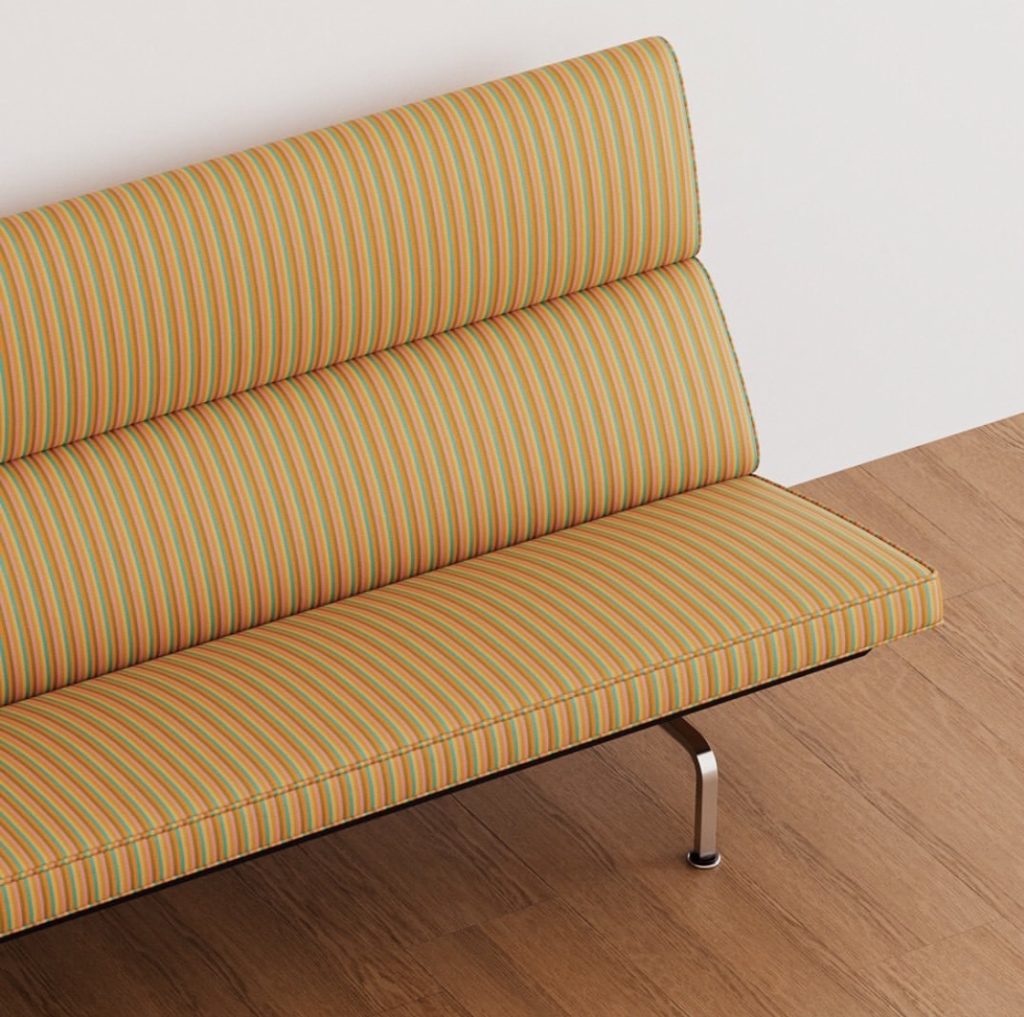 Mette Hay first saw Jacob's Coat at the Maharam design studio and then again in a museum collection on the Sofa Compact. Questioning why the design was no longer in production, she asked Maharam to re-issue the textile for their collection. The pair drew inspiration from this colorway, selecting tones that modernized the colors and mixing them with tones from the HAY palette.
For the collection, seven new spirited colorways were introduced for endless interplay and delight. Mette Hay explains, "When doing a color palette, it's very important for us at Hay that each of the objects stands on its own but also looks beautiful together no matter how you combine the colors."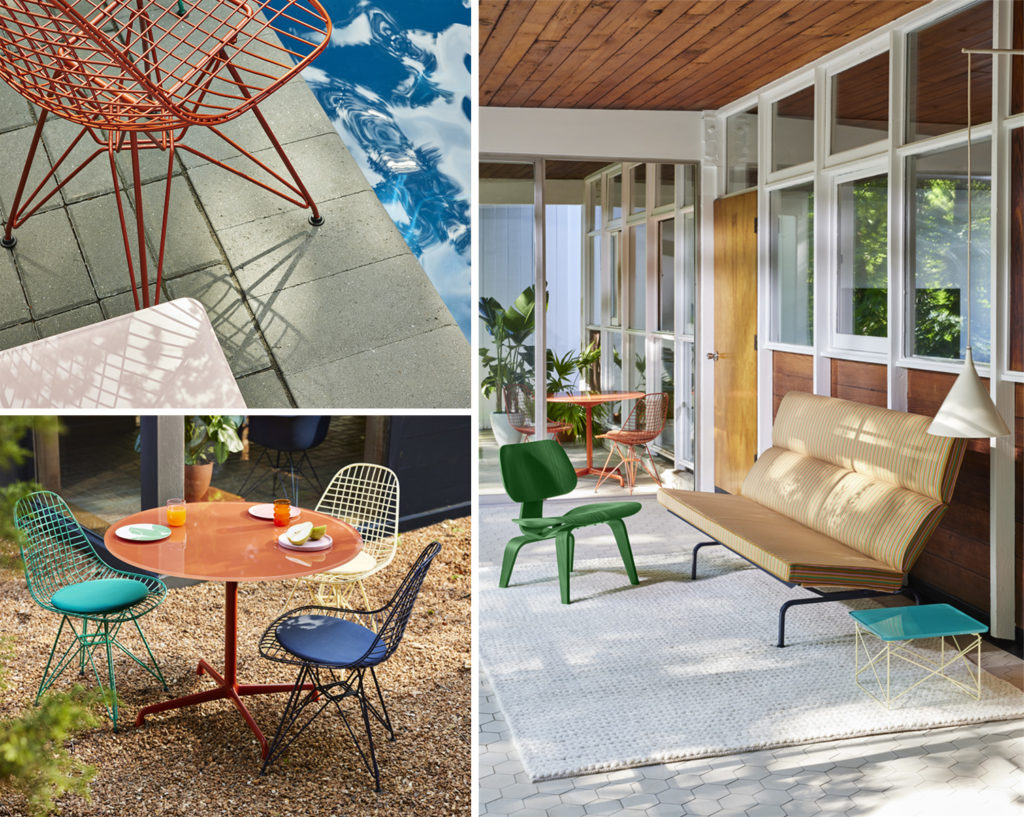 In a New Light
In addition to the special reissue of Jacob's Coat and the new expanded, vivid color palette, the exclusive collection also includes outdoor-safe materials and cast-glass, featuring Eames like never before with a clever play on color, tactility and light.
Mette Rolf explains, "Charles and Ray Eames have been our biggest inspiration, especially in the way they used colors and were very experimental with their process. And they were having fun! Many furniture companies in Denmark are talking about how many hours it took to craft a chair. At HAY we're about innovation."
Similarly, the Eames were also known for innovation, pioneering molded plywood and fiberglass to be used in their designs. The Herman Miller x HAY collection embodies their creative spirit and respect for experimentation as Rolf and Mette Hay also wanted to explore new materials.
Seeking a more sustainable shell, the Eames Molded Plastic Chairs now contain 100% post-industrial recycled plastic, part of a larger MillerKnoll imperative to reduce the environmental impact of its products. The collection also introduces colored cast-glass spheres and tabletops. The Eames Hang-It-All, for instance, sports cast-glass balls in place of the original painted wood while the Eames Wire Base Low Table and Universal Base Round Table feature cast-glass tops.
The collection's tables and wire chairs are also graded for outdoor use, durable and lightweight—perfect for the patio or sunroom. Optional tone-on-tone outdoor fabric seat pads for the Wire Chairs are also available.
Check out the finishes of the Herman Miller x HAY collection here.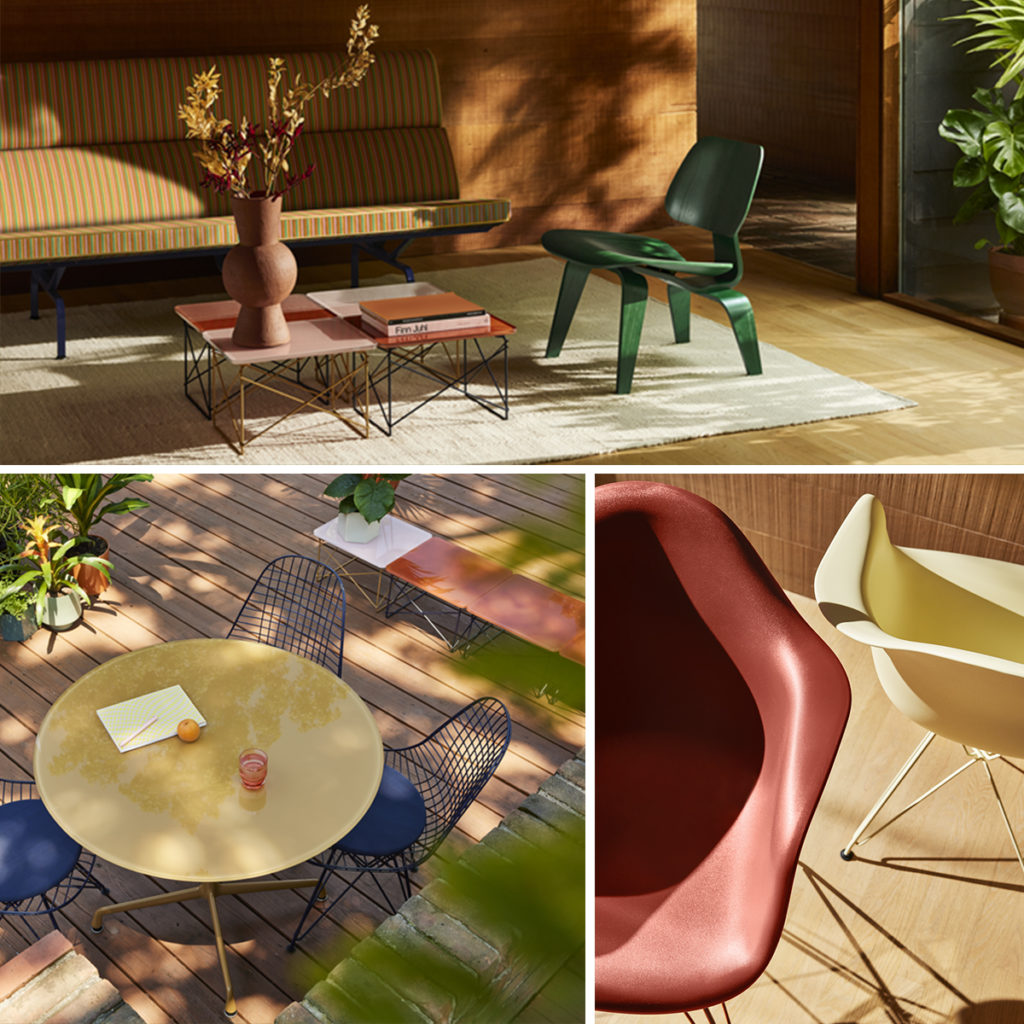 View the Collection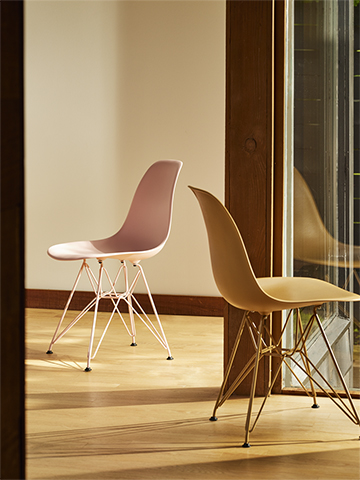 In the 1950s, the Eames molded shell changed everything about what a chair could be—sculptural, practical, mass-produced. Now made with post-industrial recycled plastic, this staple of modern living boasts a simple, beautiful, classic form that looks great in any setting. The Herman Miller x HAY collection introduces six new colorways with matching powder-coated steel bases.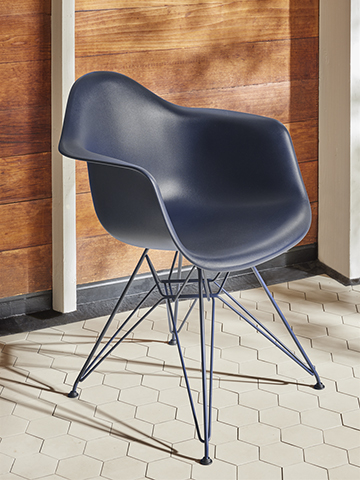 Charles and Ray Eames adapted molding techniques developed during World War II to produce their classic shell chair's simple, gracious form. In 2001, continuing the Eames' design ethos of continual, iterative advancements, Herman Miller reintroduced the original Eames Molded Shell Chair (1950) in a durable, 100 percent recyclable polypropylene. In 2022, Herman Miller enhanced it once more by crafting select recycled chairs with 100 percent post-industrial recycled plastic. The subtle matte texture of the re-engineered plastic shell maintains the soft tactility of the original design, available in your choice of six new colorways designed by HAY with matching powder-coated steel bases.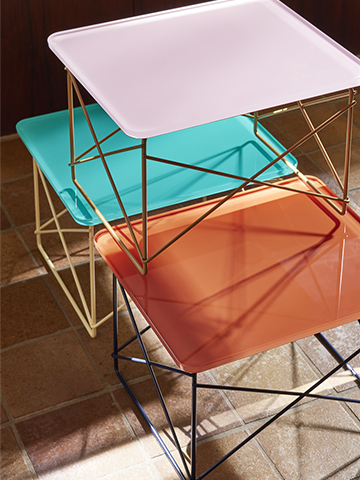 Reimagined in new colorways and a cast-glass top for the outdoors, Mette and Rolf Hay's take on the 1950 Eames Wire Base Low Table is a clever play on color, tactility and light. Just 10 inches high, the lightweight and versatile table provides a handy surface for books, bedside lamp, or a plant. Graded for indoor and outdoor use, you can bring this durable table wherever—like from the patio to the sunroom. Portable and lightweight, it can also be grouped to form a larger surface.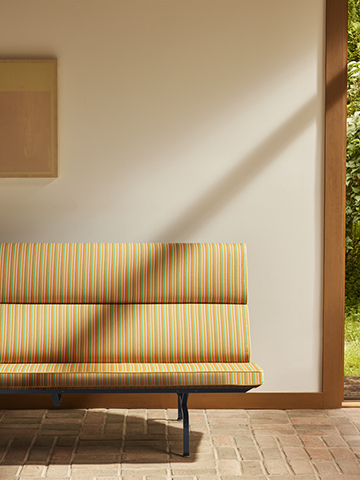 Inspired by a built-in that designers Charles and Ray Eames created for their home in Pacific Palisades, California, the Eames Sofa Compact (1954) sits on an airy pedestal of chromed-steel legs. For this special Herman Miller x HAY edition, textile brand Maharam faithfully reissued the previously discontinued colorway of Jacob's Coat by Alexander Girard at the behest of Mette Hay. The slim modern sofa fits easily in almost any space and has firm yet plush foam cushions.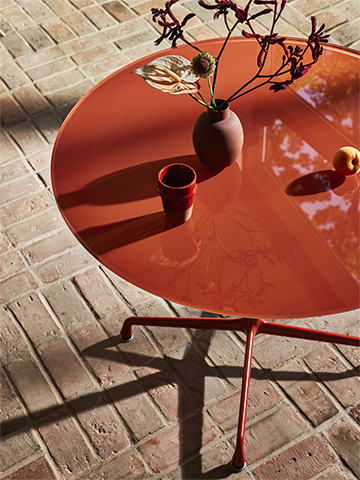 Available in two spirited new colorways with a cast-glass top for the outdoors, Mette and Rolf Hay's take on the 1954 Eames Round Table offers a durable, simple and sleek design for a variety of settings. Suitable for indoor and outdoor use, the Eames Dining Tables offers a fresh monochromatic look. Enjoy ample leg room with the sturdy yet streamlined pedestal base.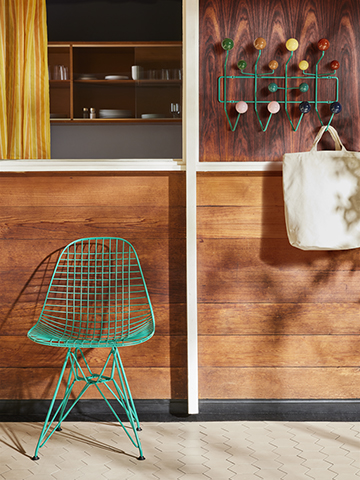 The Eames Hang-It-All, originally released in 1953, exemplifies the Eameses' belief in taking pleasure seriously. Originally crafted with painted solid-maple wood, this colorful rack is reimagined by Mette and Rolf Hay in cast-glass balls and two spirited new colorways. This multipurpose rack—designed to hold coats, hats, bags, and much more—is created using the same technique for simultaneously welding wires that Charles and Ray developed for their low tables and wire chairs. A fun and functional solution, the Eames Hang-It-All is perfect for bedrooms, offices, entryways and more.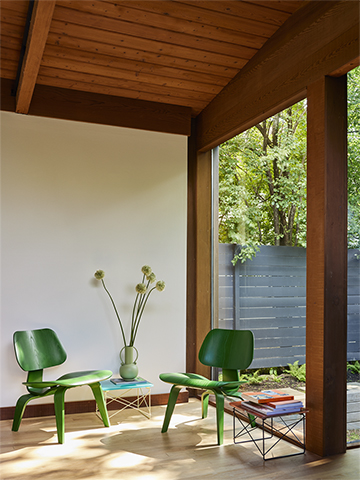 Honored by Time magazine as the Best Design of the 20th Century, the Eames Molded Plywood Lounge Chair began as an experiment, created via a machine that molded plywood with the help of heat and a bicycle pump. In 2022, Mette and Rolf Hay reimagined the classic form in a vibrant forest green. The emerald twist on the bent plywood chair is a personal favorite of the Hay's—in fact, one of the prototypes resides in their own living room in Denmark.
A unique iteration in Charles and Ray Eames's continuous evolution of their single-piece shell, the woven and welded wire seat adds an airy, sculptural quality to the body-friendly form. Wired for Comfort, the Eames Wire Chair, originally introduced in 1951, is streamlined and lightweight. The polished powder-coated steel wire seat is available in four colors and an optional outdoor-safe TEXSILK seat pad that is durable and water-repellent.
Still Curious? Here's More Stories about Herman Miller x HAY
Rolf and Mette Hay channel the creative force of Charles and Ray Eames on a vist to Los Angeles to immerse themselves into the Eames universe.
The design couple behind HAY celebrates their heroes, Charles and Ray Eames, with a few fun and practical revisions
This 8-piece collection brings new colors and materiality to the Eames catalog, marking the first Herman Miller and HAY collaboration.
Celebrating the Danish brand's influence on the world of interiors over the past 20 years
How an experiment in modernist architecture—and modern experiments in preservation—are ensuring the Eames House's legacy
A look inside the Danish design brand's partnership with Herman Miller