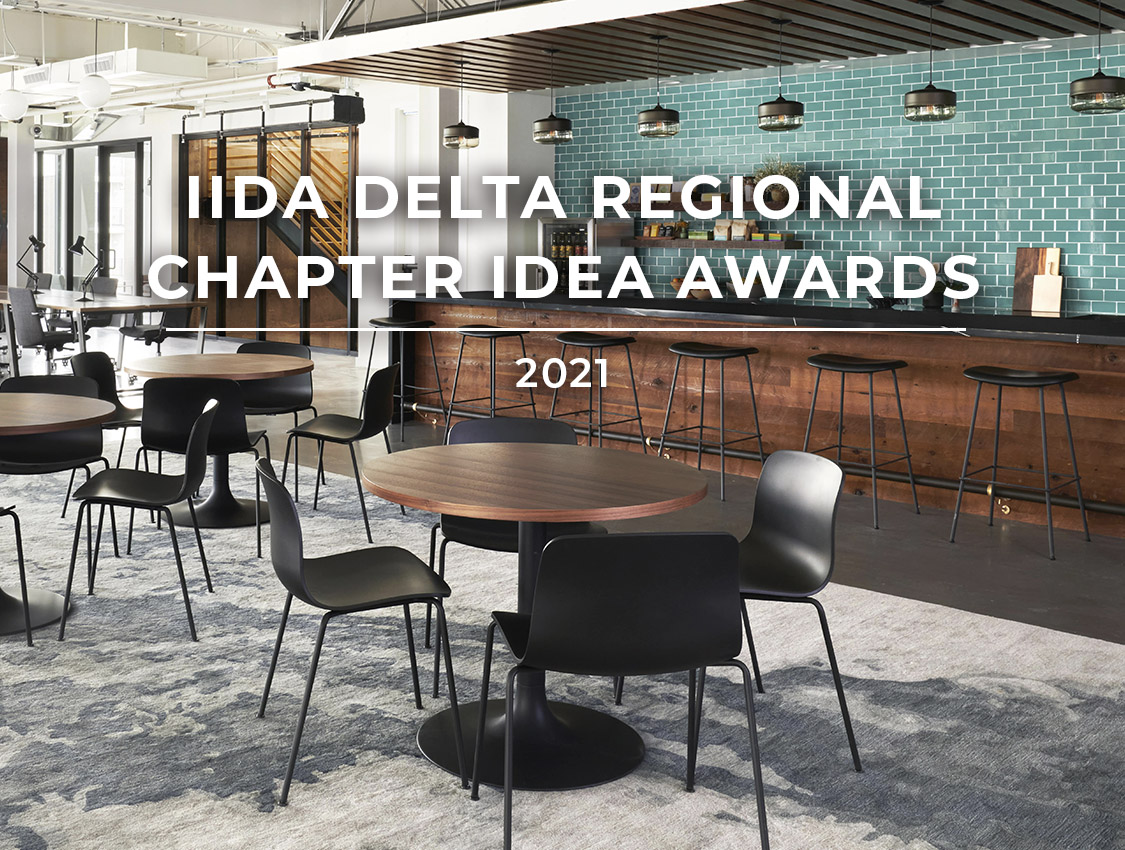 17 Nov

IIDA Delta Regional Chapter IDEA Awards 2021

On Thursday, November 11, 2021, the IIDA Delta Regional Chapter virtually held their annual Interior Design Excellence Awards (IDEA) with three local watch parties in New Orleans, Baton Rouge and Jackson. The IDEA Awards celebrate outstanding interior spaces across the region and promote design excellence, elevating the interior design profession. IIDA Delta Regional Chapter members are allowed to submit for the awards if they worked on the project and it completed no earlier than January 2019. Submitting firms must practice in the state of Arkansas, Louisiana or Mississippi. However, projects may be located outside the Delta regional area.

Congratulations to all of this year's winners! AOS was honored to have worked on the following projects.
The Julia at St. Charles
Award of Recognition – Residential
Located at the corner of Julia Street and St. Charles Avenue in downtown New Orleans, The Julia at St. Charles is a luxury apartment complex that models the intersection of live, work and play with its close proximity to the Central Business District, art galleries, museums and restaurants. While it matches the culture and energy of downtown living, The Julia also provides residents with a relaxed, resort-style retreat and the comforts of home.
Trapolin-Peer Architects transformed the site from a previous parking lot and warehouse facility into a 307,000-square foot mixed-use development that honors the historic neighborhood. The architecture and design pays special attention to an existing 19th century carriage house, which is now used for the leasing offices. The Julia now includes 198 resident units with retail and commercial space on the ground floor. While Trapolin-Peer Architects led the architecture, CDI Solutions was enlisted to design the interior amenity spaces and FF&E. The interiors team aimed to create a high-end apartment complex that balances openness and privacy, luxury and durability, and convenience and indulgence in the heart of the historic Warehouse District. Residents can enjoy a rooftop dog run, two elevated courtyards, a sun deck and pool house, an outdoor dining patio, entertainment lounge, fitness center, and two resident lounges. With many high traffic areas, CDI Solutions selected materials and finishes that are durable and sustainable yet maintain a residential atmosphere and classic designs that can stand the test of time. Amenity spaces are centrally located for residents to easily access and offer them refuge from the city. Together with the apartments and ample amenity areas, The Julia provides residents with a comfortable setting to live, relax and entertain.
Ascension Parish Courthouse
Award of Excellence – Government/Institutional
Designed by Grace Hebert Curtis Architects, the new Ascension Parish Courthouse in Gonzales is a state-of-the-art 103,000-square-foot facility that meets the growing needs of their community. Facing an increased volume of cases, the Ascension Parish Court and the 23rd Judicial District Court required modern, updated security and technology and a spacious building that could house all of their daily functions and requirements. Completed in April 2021, the stately facility features expansive glazing, soaring columns and an extensive overhang to create a welcoming entrance.
The interiors consist of eight courtrooms, a multi-purpose assembly room, judges' chambers and administrative spaces for the Clerk of Court and Ascension Parish Council staff members. The building's flexible design lends itself to a variety of needs. For instance, the multi-purpose assembly room can seat up to 200 people, creating ample space for a jury lounge, or it can open to the council chambers for official meetings. Classic, easy-to-clean finishes, such as calming neutrals, warm woods and blue accents, create an enduring palette. Refined, finely crafted furniture designs from Knoll, Muuto and Datesweiser are incorporated throughout the facility for open plan workstations, private offices, a break room, conference rooms, and guest seating. Storage rooms for files and records also keep information easily accessible and secure. In addition, improved circulation paths provide safety and separation between the public, detained individuals and judicial and law enforcement staff. Located in the center of Gonzales' governmental and parks corridor, the Ascension Parish Courthouse provides necessary improvements for the public's experience and increased safety and security.
Photos | Courtesy of Grace Hebert Curtis Architects
Award of Excellence – Corporate, Large
Designed in collaboration between EskewDumezRipple and Domain Companies, The Shop at The Exchange is the second co-working outpost of The Shop. Located in downtown Salt Lake City, the mixed-use development combines workplaces, residences and retailers in a central location, contributing the area's growth. Covering 30,000-square feet, The Shop consists of three floors of shared workspaces, multiple meeting rooms, common areas, open lounges, telephone booths, a kitchen and a rooftop patio. The alternative workspace supports choice, flexibility and experience so people can choose where and how they want to work. Inspired by the natural landscape and nearby railroads, The Shop comes together at the intersection of rustic, industrial and sophisticated design. Material variety weaves together a series of warm woods, grey and blue upholstery, soft leathers and steel, which bring the outside in. Inspiration lies at every turn as the building is also infused with a robust multimedia collection from local Utah artists.
With a prime location on the TRAX line and walking distance to local restaurants, shops and housing, The Shop provides access—access to other entrepreneurs, cultural cornerstones and volunteer opportunities—while helping members reduce their own carbon footprint and create a positive global impact. With its spacious floorplan and sweeping city views, The Shop is a well-oriented, convenient and comprehensive co-working space. As a hub of local entrepreneurship, small business development and community engagement, it supports a wide-range of up and coming business leaders and reflects the connections across the way people live, work and play.
See below for the complete list of winners:
Tiek + Co. | Eggie Salon Studio – Award of Recognition, Hospitality, Small
Dean and Dean/Associates Architects, P.A. and Rustic Nail and Co. | Log Still Distillery Tasting Room – Award of Excellence, Hospitality, Small
Campo Architecture & Interior Design | AC Hotel Little Rock Downtown – Award of Recognition, Hospitality, Large
Dale Partners Architects | Spa Reserve at Wind Creek Wetumpka – Award of Excellence, Hospitality, Large
CDI Solutions, LLC | The Julia at Saint Charles – Award of Recognition, Residential
CDI Solutions, LLC | Pelican State Credit Union Corporate Headquarters – Award of Recognition for Sustainability and USGBC Partner Award
Ritter Maher Architects | Studyville Academic Lounge – Award of Excellence, Retail, Small
Sizeler Thompson Brown Architect Healthcare Design Group | UMCNO Outpatient Surgical Department – Award of Excellence, Healthcare, Large
Campo Architecture & Interior Design | AC Hotel Little Rock Downtown – Award of Recognition, Renovation/Historic Preservation
Tiek & Co. | Terrace Residence – Award of Recognition, Residential
Barrett Design Studio, Westwick Multi-Family Apartments – Award of Excellence, Government/Institutional, Small
Sizeler Thompson Brown Architects | Kenner Discovery Health Sciences Academy Award of Recognition, Government/Institutional, Large
JBHM Architecture | Pascagoula High School Performing Arts Center – Award of Recognition, Government/Institutional, Large
EskewDumezRipple | Home Building at Thaden School – Award of Excellence, Government/Institutional, Large
GraceHebertCurtis Architects | Ascension Parish Courthouse – Award of Excellence, Government/Institutional, Large
Tiek & Co. | Guaranty Income Life Insurance Company – Award of Recognition, Corporate, Small
Greenleaf Lawson Architects, APAC | Ampirical – Award of Recognition, Corporate, Large
GraceHebertCurtis Architects | Bernhard Award of Recognition, Corporate, Large
EskewDumezRipple | The Shop Salt Lake City – Award of Excellence, Corporate, Large