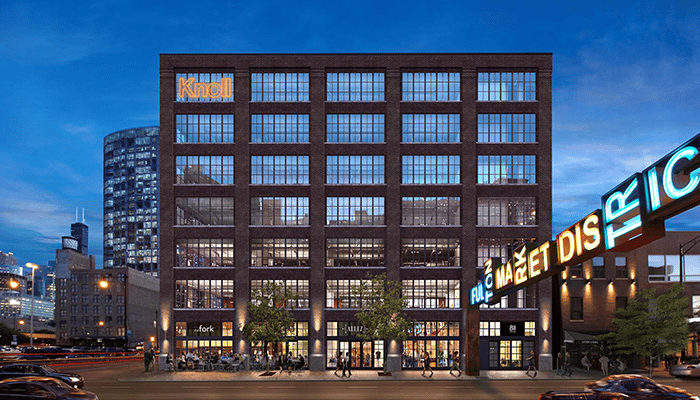 26 Jun

Knoll Design Days 2019

Welcome to Knoll at Fulton Market, a transformative space that echoes the vitality of this reimagined urban neighborhood and reflects our connections across the way we work and live.

From June 10-12 this year, Knoll debuted their new Fulton Market location in Chicago alongside Knoll Design Days, an immersive event where Knoll introduced new products, hosted engaging programs and inspired the design community and its clients with a new view of Chicago.

The brand also hosted the Florence Knoll Women in Design Dialogues, which honored Florence Knoll who passed away at 101 in January 2019 and explored her "total design" approach in the context of today's design, artistic and workplace environments.

Designed in collaboration with Gensler, the 24,000 square foot space over three floors offers a choice-based experience. Products from across Knoll's constellation of brands layer together to create inviting spaces, gathering places and adaptive areas with opportunities for focused and collaborative work.
A Total Design Perspective
Florence Knoll's pioneering "total design" perspective, which channeled the power of good design, blurring the lines between workplaces and homes, is more relevant than ever. As the workplace constantly reinvents itself, Knoll's ever-evolving design-driven brands unite legacy and innovation to create inspired modern interiors that foster rich interactions and impact what we do.
Ideas that inspired the space:
Individuals, Small Groups and Teams
The best planning optimizes for the needs of individuals and groups, small or large. Knoll's range of classic and contemporary products naturally work together to create adaptable integrated settings for one to many.
Natural Materiality
People want to spend time in places that make them feel good. Warm woods, soft felt and colorful textiles bring the outside in. Extensive finish options across the constellation of brands come together to establish a new material standard.
Architectural and Acoustic Harmony
In today's open office, we need moments of privacy and quiet. Made-to-measure KnollTextiles and Spinneybeck | FilzFelt architectural and acoustic solutions enable flexible space division within visual and acoustic separation.
Hospitality Experience
Inviting spaces energize us. Knoll's scope of plannable furniture elements, American Modern classics and Muuto's new perspectives on Scandinavian design create spaces with a welcoming ambience and positive social experience.
Engaging Technology
Technology is not only fundamental to the productivity of today's workforce, it's increasingly shaping the way we work and live. To this end, Knoll partners with technology visionaries to deliver best-in-class workplace solutions that adapt to unique organizational needs and spaces.
These technologies pair with Knoll products to facilitate greater connection, collaboration, and comfort at work. Together, they harness utilization insights to drive smarter decision making and efficient operations.Context is critical when identifying the right technology solution. There is not a "one size fits all" solution and clients are picking and choosing the technologies that best fit their specific needs.
A Perspective on Planning: The Choice is Yours
Their new Fulton Market space demonstrates that today's most successful workspaces offer people a choice-based experience. The environment illustrates how workspaces are no longer limited to either/or, but rather promote both/and, supporting a range of activities and experiences. An experience-based workplace offers people choice and mobility, allowing them to adapt a space to fit the needs for the task at hand.
Consider Evolving Your Planning Strategy From:
Open or Enclosed to Open and Enclosed…
Owned or Communal to Owned and Communal…
Individual or Team to Individual and Team…
Work or Social to Work and Social…
Focus or Collaboration to Focus and Collaboration…
Physical or Digital Solutions toPhysical and Digital Solutions.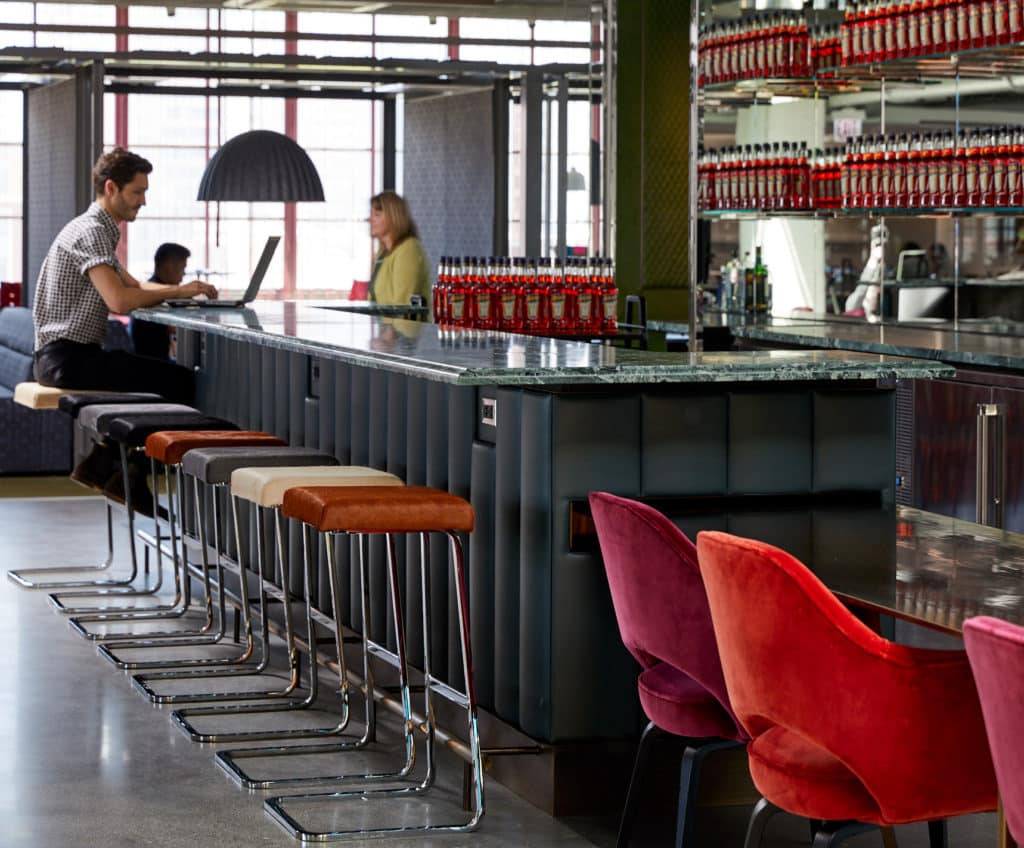 A Warm Welcome
Through an elegant entryway, and bathed in light, our welcome work bar explores exquisite materiality and new twists on classic pieces. Take a seat (or a stool) or stand at the height that works best for you.
Lounge and Connect
Chat or get down to work with Antenna Power Beam and the Florence Knoll Lounge Collection by KnollStudio in this multi-purpose space that can be adapted for everything from a casual meeting to a cocktail party or presentations.
Break Away
Creative Wall enclosures with FilzFelt baffles come together as booths for getting together – or getting away. These "diner" booths offer proximity to the work bar and feature an acoustical ceiling solution that dampens noise while still keeping you connected to the space.
Work Your Way
Gather for meetings and presentations or find a quiet moment in a Rockwell Unscripted amphitheater. Rockwell Unscripted Steps offer a place to perch for a fresh perspective.

Adaptable for Task and Team
A variety of planning ideas for individual workspaces—with adjacent storage to meet the team's needs—includes breakaway refuge and enclave rooms for privacy. Height-adjustable benching and tables form highly adaptive individual workstations.
A series of spaces – workstations, casual lounge, and meeting – are defined and connected by the Creative Wall enclosures that surround them. Adjacent tables and lounge pieces create secondary breakout spaces.
Get Colorful
New finishes, KnollTextiles, and FilzFelt create dynamic workspace with plenty of impact and add new twists on classic pieces for a distinguished work setting.
Meet Muuto
Much of Floor 5 serves as the North American flagship showroom of Scandinavian design brand Muuto, the latest addition to the Knoll's portfolio of brands. Muuto collaborates with the best of today's contemporary designers to bring new perspectives to Scandinavian design through forward-looking materials, techniques and bold creative thinking.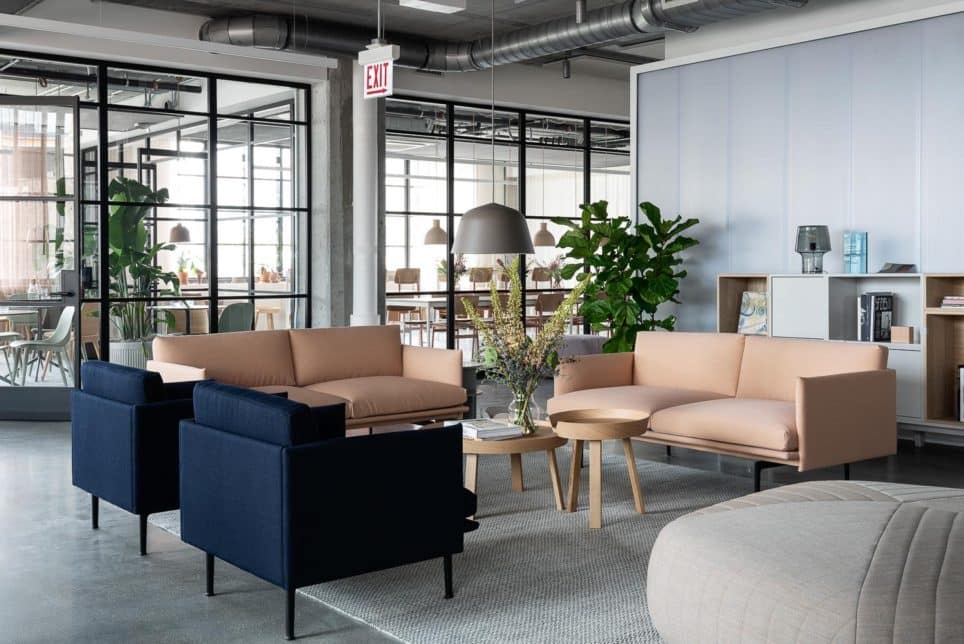 A Residential Aesthetic
Users expect some of the comforts of home in a workplace environment. Casual, comfortable seating, and homey touches such as freestanding lighting and floor coverings bring a relaxed, honest aesthetic to the office.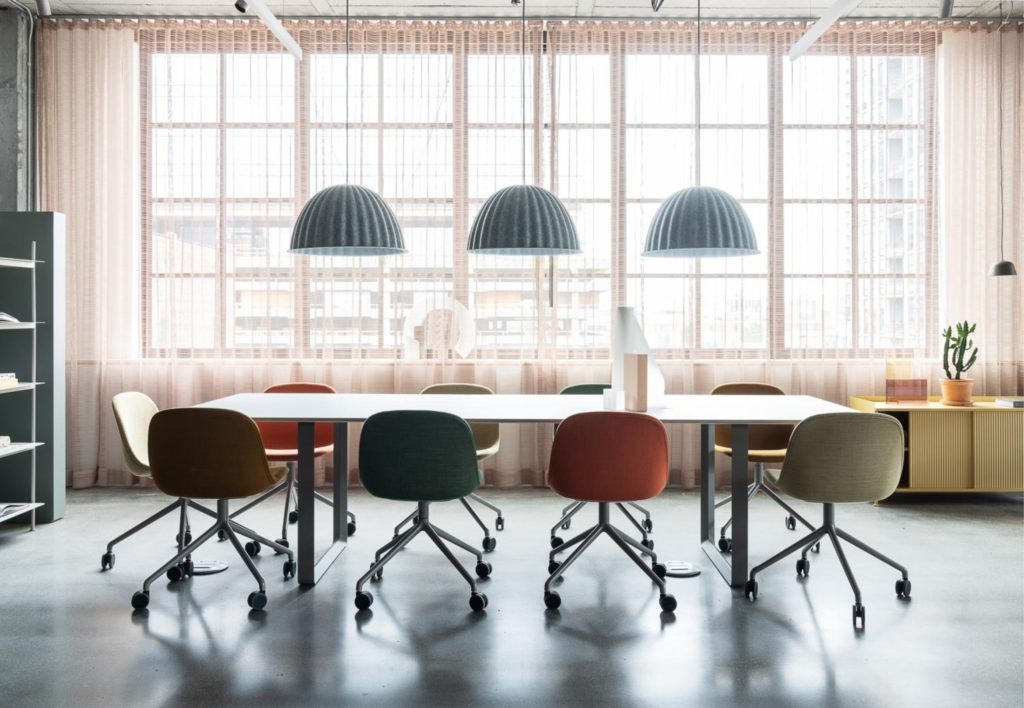 Places to Focus
Find spaces to get away in the open plan with furniture that allows for privacy.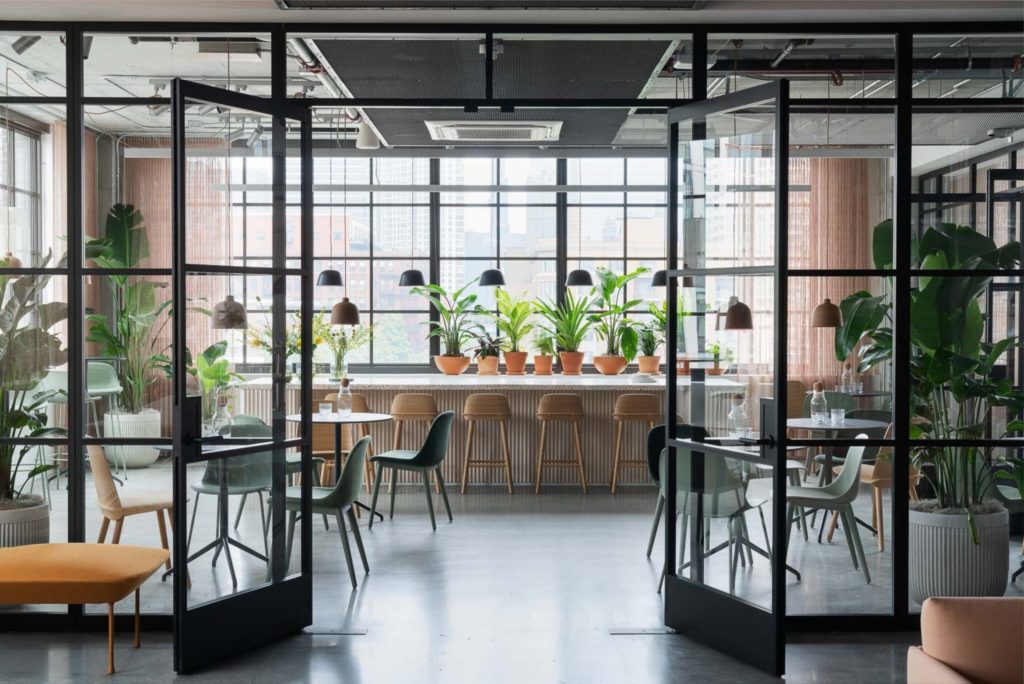 Vibrant Café
Grab a seat for a bite or get together with a team in this adaptable group space with open views where abundant plants and greenery bring the outside in.
Explore Knoll's new Fulton Market location here.
Sources
Knoll, "Knoll Design Days." https://www.knoll.com/story/design-plan/knoll-design-days
Knoll, "Knoll Design Days Resources." https://www.knoll.com/knoll-design-days-2019
Knoll, "Knoll Launches Fulton Market Showroom During First Ever Knoll Design Days, June 10-12." Published May 30, 2019. Accessed June 25, 2019. https://www.knoll.com/knollnewsdetail/knoll-launches-fulton-market-showroom-during-first-ever-knoll-design-days-june-10-12