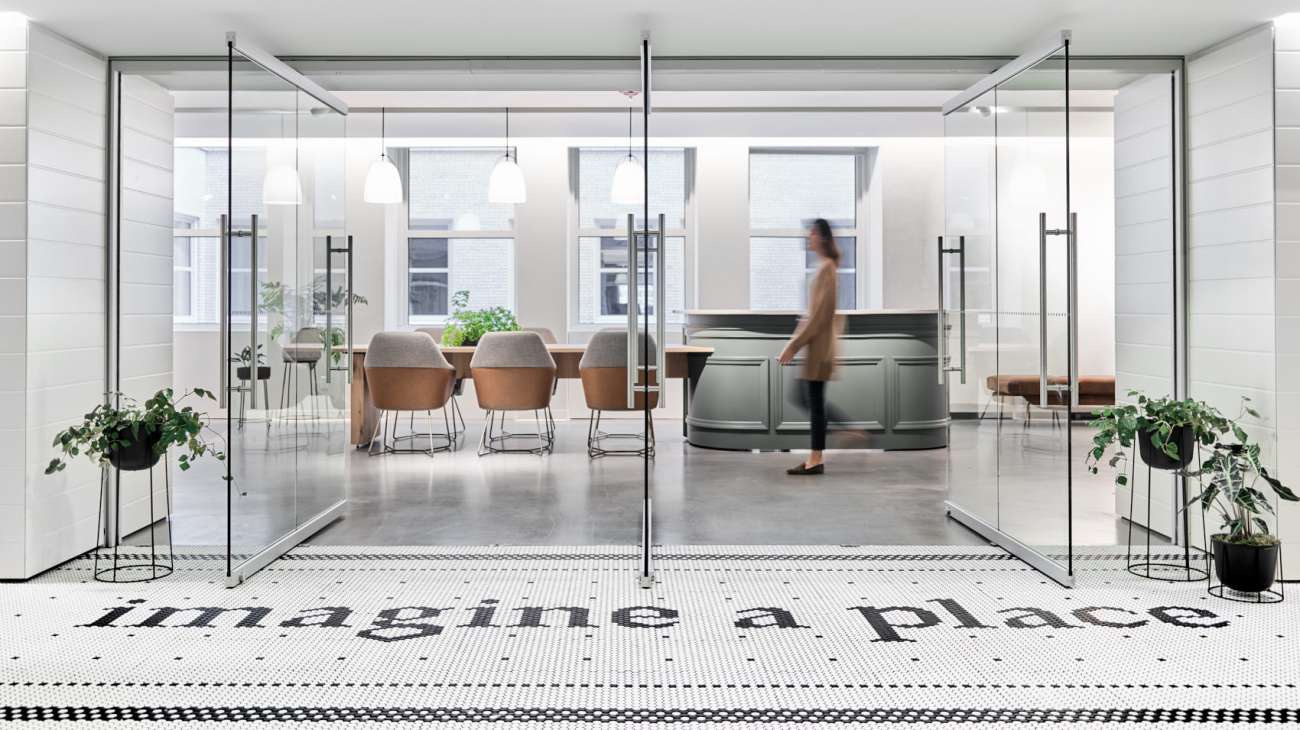 25 Jun

NeoCon 2019: OFS + Carolina "Imagine a Space"
Products Not Prototypes
OFS and Carolina have promised to their customers a "products not prototypes" commitment at NeoCon. Product introductions by the brands are ready-to-order and available for delivery in 8 weeks. This is the company's 6th NeoCon delivering on this promise. "It's not always easy, but we are committed to showing ready-to-order products. Design project timelines and decision making windows are getting tighter, so when you see something you like from OFS or Carolina in June at NeoCon, we want you to be able to have it in your space in August that same year," shared Nick Blessinger, VP Marketing, OFS
At NeoCon, OFS and Carolina wanted attendees to imagine a place that feels just right when you walk through the door. A place that welcomes you to have a productive, healthy and inspirational day. A place where you can bring your whole self. Imagine a place that understands you and allows you to put together a day where choices are yours to make.
As part of their "Products Not Prototypes" initiative, new OFS solutions unveiled at NeoCon 2019 include:
Designer: Thijs Smeets
In the midst of busy, high-intensity workdays, we often need a place to unwind and let our minds rest. With its slightly oversized frame structure, guests are given a little extra space to settle into and seek the restoration they need.
Designer: Webb Associates
Kasura offers an array of beauty and aesthetics. A beautiful veneer wrap graces the approach of the chair. The warmth of wood is elegant and natural and appeals to OFS' innate love for nature. The name Kasura has roots in comfort and console and you can feel this in the contours of the sit.
Designers: Chelsea Flickinger, Garrett Steinlage
Roo was created to add a beautiful design element to casual spaces within the workplace. Roo originated from a Kansas State University and OFS collaboration for 5th year Interior Architecture and Product Design students. Flickinger and Steinlage, have graduated but continue to design enhancements, including planters and a coat rack, leveraging the design language and components of the original occasional table series. A portion of sales from the Roo collection provides on-going support of the KSU IAPD program.
Designer: Brian Graham
Rowen designer, Brian Graham, took inspiration from architecture and landscapes to create graceful, inviting forms that serve utility as well as features choices for collaborative integration. He explains, "Based on my observation that ancillary spaces in open office landscapes need a sense of being anchored, credenzas and bookcases provide important territorial markers to establish and define spatial boundaries."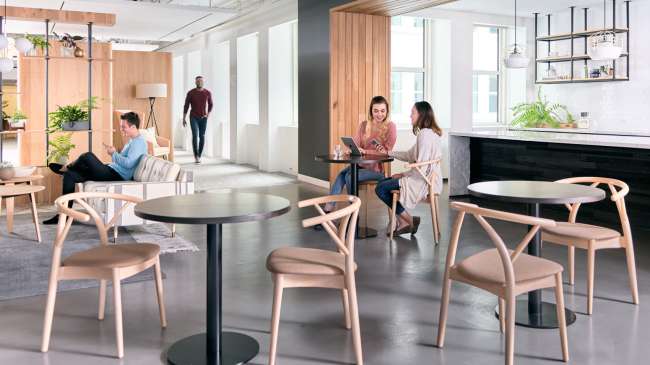 Chairs provide a unique opportunity to add functional design detail and personalization to any space. With slim wood forms and curved artistic shaping, Yelly presents touches that make a place feel like home.
Designer: Webb Associates
Through the richness of wood, Obeya's design was intended to simplify and define space. Spaces, designed with intent, communicate expectations without precisely prescribing them. Obeya is a framework that brings settings and people together accordingly, based on the human needs of privacy and belonging.
Designing with Intention in Healthcare
This year Carolina showcased innovative product solutions, which highlight some of the top trends in today's healthcare, including biophilia, activity-based waiting spaces and the integration of technology.
New Carolina solutions include: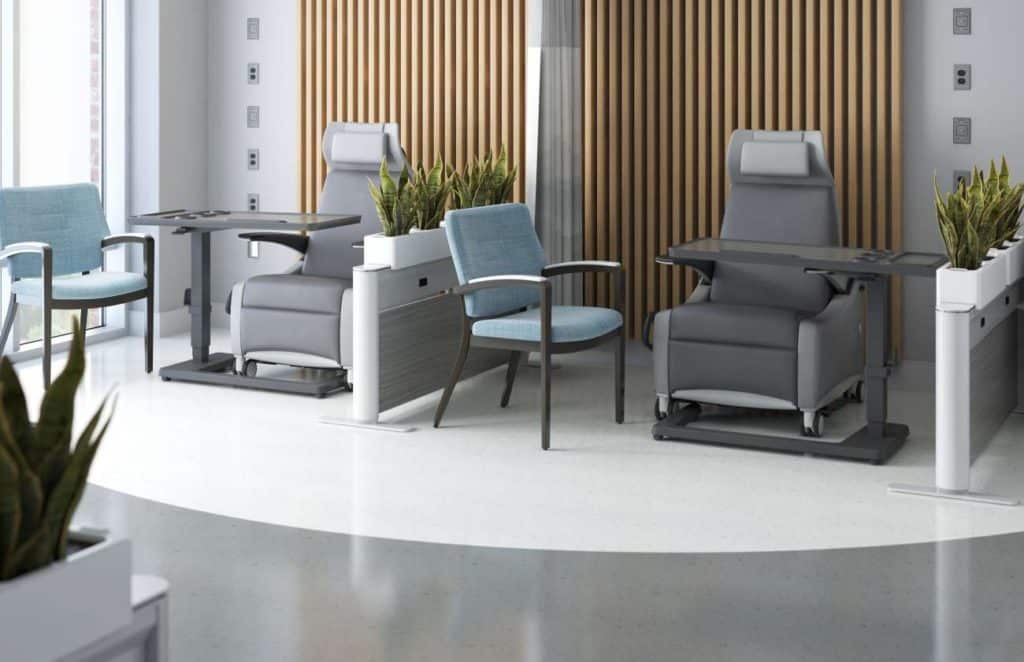 Designer: Mike Shields
Lasata's mission is to surround patients with a sense of calm and a place of peace while supporting caregivers during the delivery of care. Unlike many recliners on the market, Lasata offers more standard features and fewer optional upcharges. The benefit to that is greater functionality and higher usability for the patient and caregiver. Stan Gray, OFS' Director of Healthcare, explains "Lasata, designed by Mike Shields of Studio3, is our newest, most progressive and forward-thinking patient recliner. Lasata supports the relationship between patients and caregivers, allowing them each to focus on what's most important at critical moments."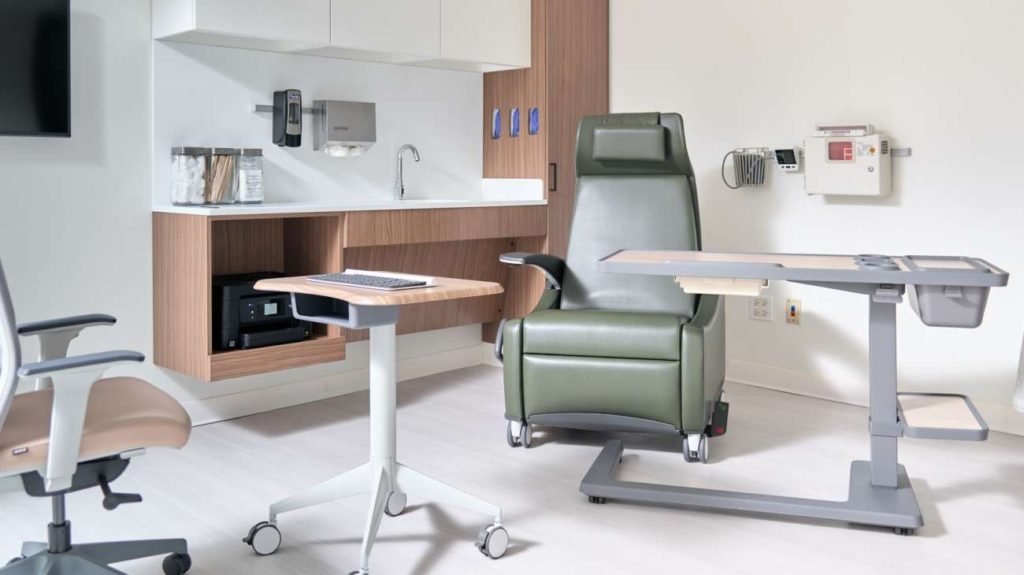 Designer: Achella Design
The Reservoir overbed table supports quality care delivery and consultative moments between caregivers, patients, and their families. It offers storage and convenience, provides patients and caregivers support, positive connections and faster recoveries.
Seek Shelter from the Norm
We all seek those places. The nooks and corners to escape, to collect our thoughts, and center ourselves. We're drawn to cozy settings for conversations – both with colleagues and friends. Welcome to LeanTo.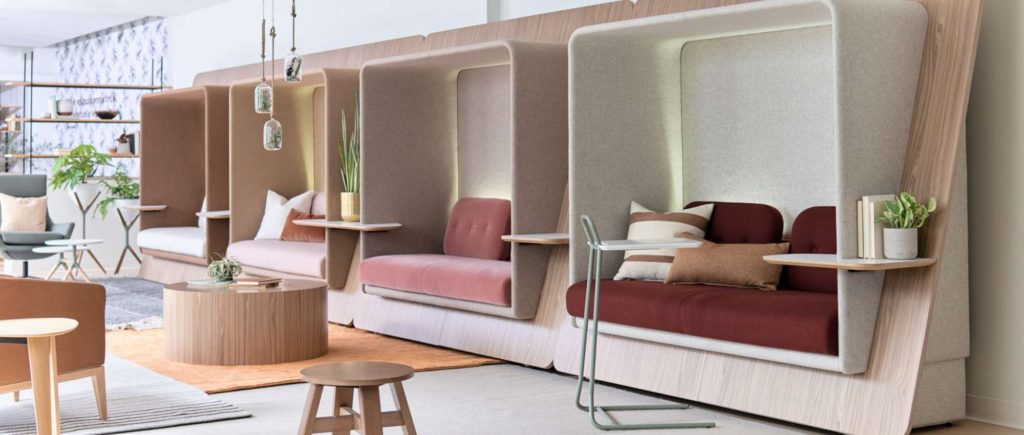 Designer: Webb Associates
OFS introduced LeanTo, an architectural lounge solution created to provide privacy destinations within interiors, especially in open environments. In the modern office, open floor plans have become standard; however, noise, distractions and the sense of less privacy can detract from the layouts' potential benefits. In the searching for more collaboration and productivity, LeanTo is innately welcoming.
OFS and Webb Associates created LeanTo to provide an escape from the distraction that people are drawn to. Nooks, alcoves, and corridors present an opportunity for rest, focus, connection, or discovery and that's exactly what LeanTo is designed to achieve. Outfitted to feel like it was built into your space, LeanTo solves the need to take back our own attention or give full attention to others.
LeanTo isn't reserved only for office settings. Its application is based on human needs, so it's similarly important to have options for people to escape to when needed in healthcare, education and public spaces. The inspiration for LeanTo came through observation in solving needs for people whilst subtly or boldly contributing to interior architecture and design.
Explore the full OFS + Carolina Showroom from NeoCon 2019 here.
Sources
OFS, "Inspired by the need for escape in open spaces: OFS presents LeanTo." Written by Aaron Estabrook. Accessed July 25, 2019. https://ofs.com/announcement/inspired-need-escape-open-places-ofs-presents-leanto
OFS, "LeanTo." Accessed July 25, 2019. https://ofs.com/leanto
OFS, "NeoCon 2019." 2019. Accessed July 25, 2019. https://ofs.com/resources/events/neocon-2019
OFS, "OFS and Caroline launch ready-to-order products at NeoCon 2019." Written by Aaron Estabrook. Accessed July 25, 2019. https://ofs.com/announcement/ofs-and-carolina-launch-ready-order-products-neocon-2019