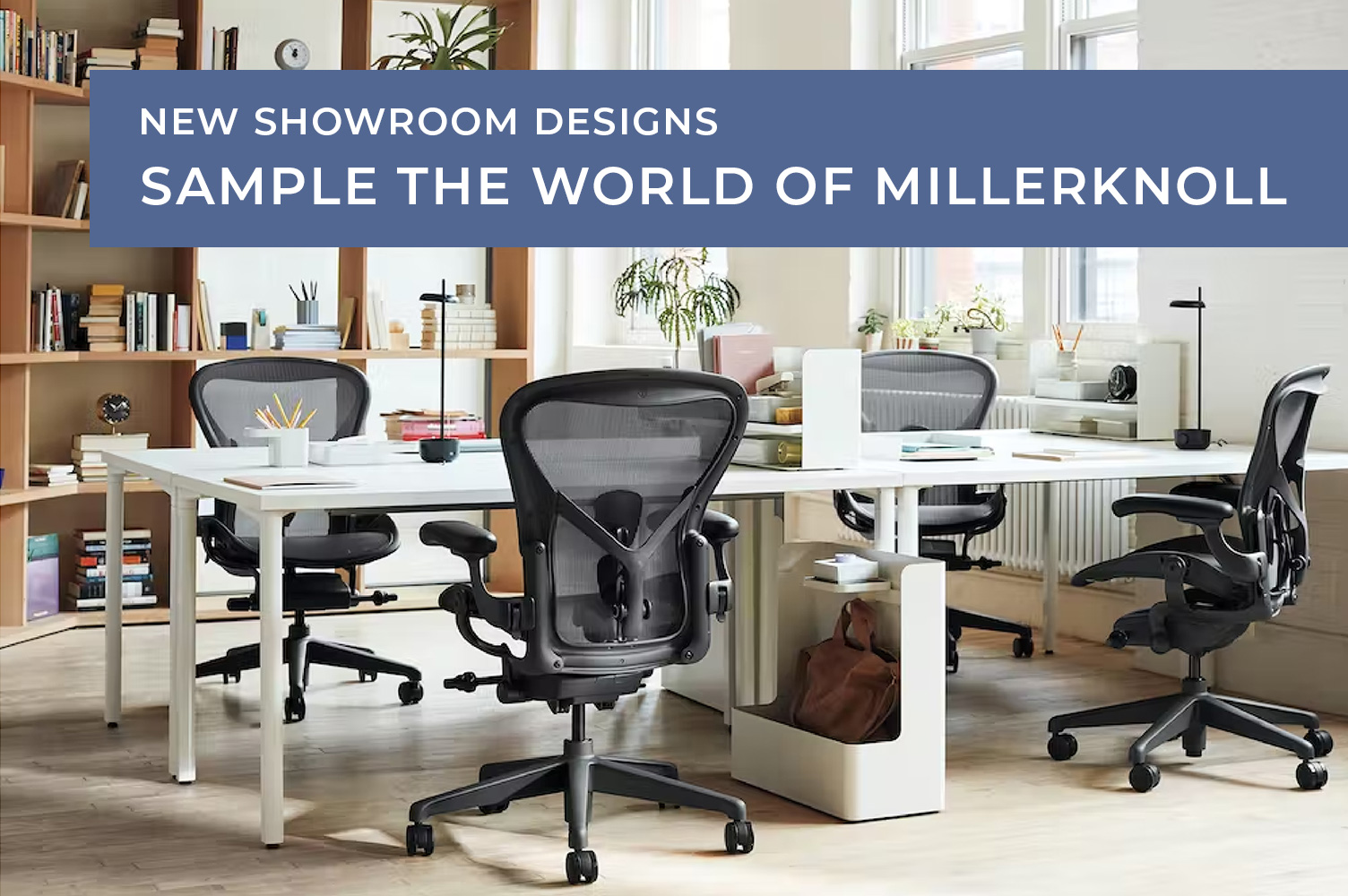 11 Oct

New Showroom Designs: Sample the World of MillerKnoll

When MillerKnoll launched this June, it combined some of the most influential designs of the century. Renowned architects, sculptors and artists—including Charles and Ray Eames, Florence Knoll, Eero Saarinen, Harry Bertoia, Alexander Girard and David Adjaye—have collaborated with their brands to create original pioneering furniture and textiles. As the global leader of design, MillerKnoll is a collective of dynamic brands that comes together to design the world we live in. With a robust portfolio, it is poised to meet the needs of every space, across all markets, and at every price point.

As your local design-assist partner, AOS is bringing MillerKnoll's solutions and insights directly to you. Our Showrooms are stocked with a rotating display of unique pieces and samples to help with the decision making process and feature a curated selection of over 20 new products—from icons of modern design to new introductions. Alongside each other, the designs from Herman Miller, Knoll, HAY, Muuto and Geiger create a harmonious environment, proving they're better together. Whether it's a tour, sit test, product showcase or drop-by visit, we invite to explore, create and get inspired—all in one space.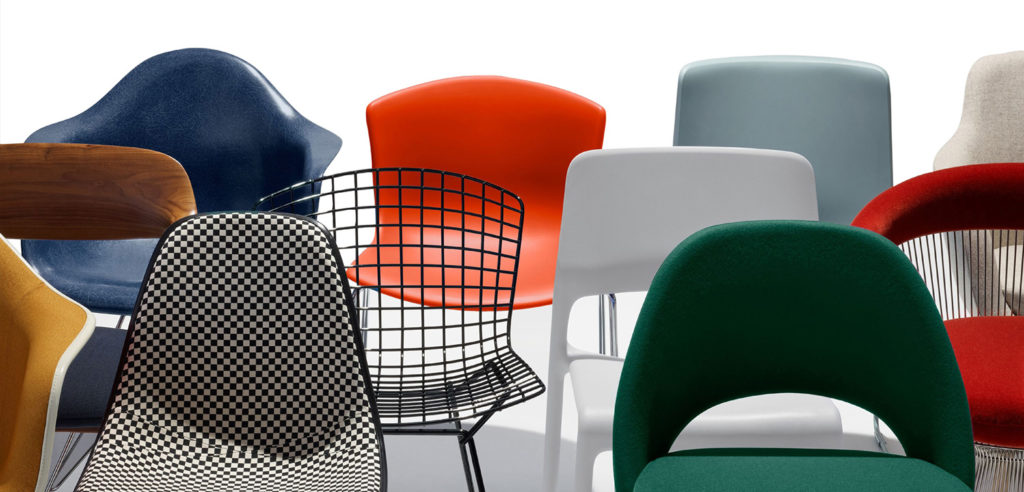 Lounge Areas: Make Yourself Comfortable
Chat, relax or get down to work in welcoming lounge areas. This multi-purpose space can be adapted for everything from a casual meeting to a cocktail party or presentations.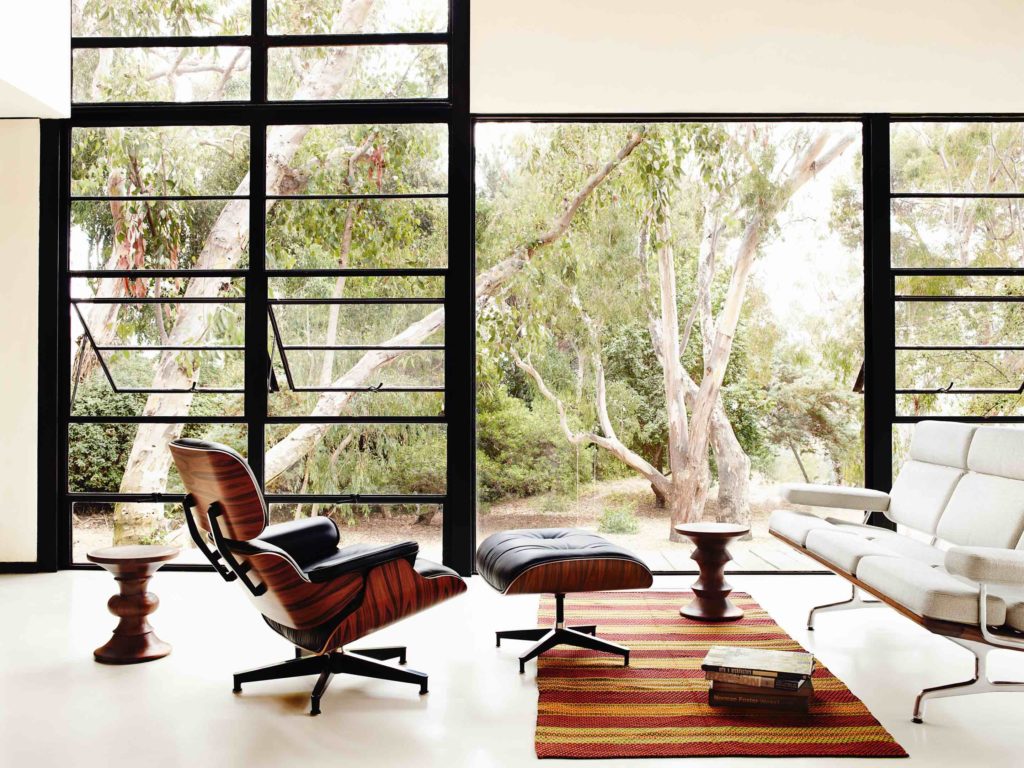 Designed by Charles and Ray Eames
When the set was introduced in 1956, there was nothing like it, and there is still nothing to equal it. The Eameses' modern take on a nineteenth century club chair has not only endured for more than 50 years, it has become one of the most significant furniture designs of the twentieth century—instantly recognizable and enduringly fresh.
Designed by EOOS
By using a minimum of common materials in a maximally inventive way, Crosshatch Chair creates a feeling of being enveloped in a protective nest. Its distinctive cording and graceful curved frame is the work of Austrian design firm EOOS.
Designed by Ray Wilkes
Designed by Ray Wilkes and first introduced in 1976, this playful, eye-catching lounge seating has made a lasting impression. Herman Miller updated the essential postmodern design with power and material options. Everything else they kept the same, from its injection-molded foam cushion construction to its integrated table option.
Designed by Isamu Noguchi
A perfect balance between art and furniture, the Noguchi Table marries sculptural form and everyday function. Sculptor Isamu Noguchi created his distinctive table by joining a curved, wood base with a freeform glass top. The ethereal design has made the Noguchi table an understated and beautiful element in homes and offices since its introduction in 1948.
Designed by BassamFellows
Tuxedo Classic Lounge Seating is all about comfort and elegance. With a base built on wood legs that sits closer to the floor than that of its cousin, Tuxedo Component Lounge Seating, Tuxedo Classic offers a more traditional, anchored aesthetic. Craftsmanship is evident in the upholstery details, with gently rounded and top-stitched arm panels and cushions that can be quilted for a handcrafted feel.
Side Chairs: Minimalist Forms, Maximum Impact
The collaborative office means casual meetings in impromptu places are increasingly the norm. Side seating—including multi-use, café, and stacking chairs—are a critical component to ensuring the right seat is nearby to transform any space into a workspace.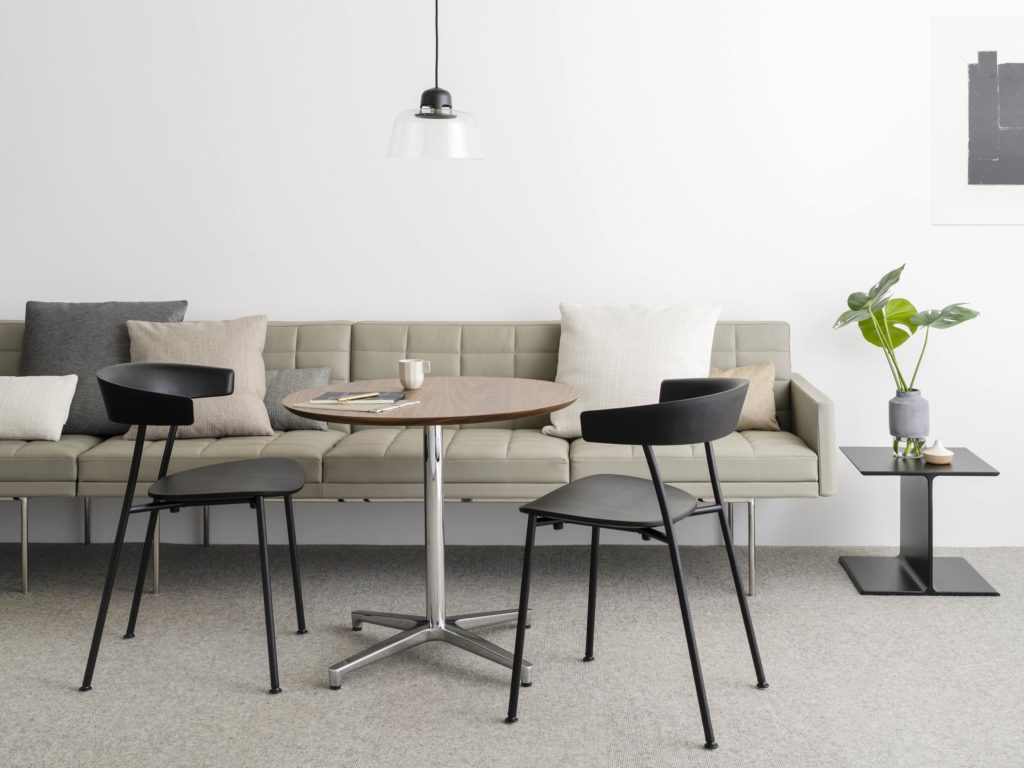 Designed by Hee Welling
About A Chair has a simple, intuitive form that can blend in or stand out in any environment. Upright and open, the shell balances a high degree of comfort with an inviting expression. The many possible combinations of frame, shell, and colors make About A Chair an ultra-flexible and versatile celebration of individuality.
Designed by Keiji Takeuchi
The Leeway Chair is designer Keiji Takeuchi's first furniture design for a US-based company. Takeuchi drew upon Geiger's strength in woodcraft to sculpt a crescent-shaped, cantilevered backrest. This approach opens up the side chair typology to better accommodate the side-to-side movements people make while socializing or collaborating.
Designed by Charles and Ray Eames
Charles and Ray Eames spent their entire careers exploring the chair as a single-shell form, yielding numerous expressions—beginning in 1950 with the Molded Fiberglass Chair. Most recently, the Molded Plastic Chair evolved to include 100 percent recycled plastic.
A new sweet spot of form and function, Pronta Stacking Chair combines sophisticated looks and high-stacking agility in one essential, versatile design. Designed as flexible seating for collaborative and learning spaces, Pronta Stacking Chair's sophisticated form and colors add function and finesse to a wide range of environments.
Task Chairs: Performance Meets Style
Herman Miller introduced the world's first ergonomic chair in 1976. Since then, they have continued to reach new levels of ergonomic support and unparalleled adjustability, comfort and movement to power your best posture for all-day comfort. Looking for a new task chair? Let us help you find your perfect fit.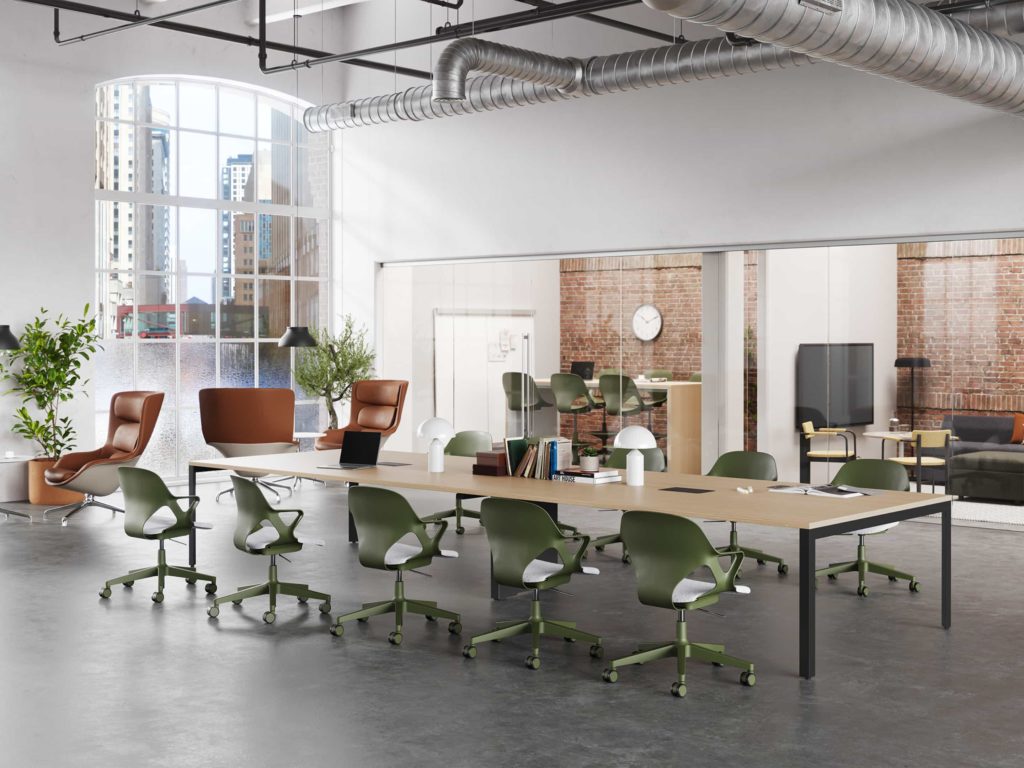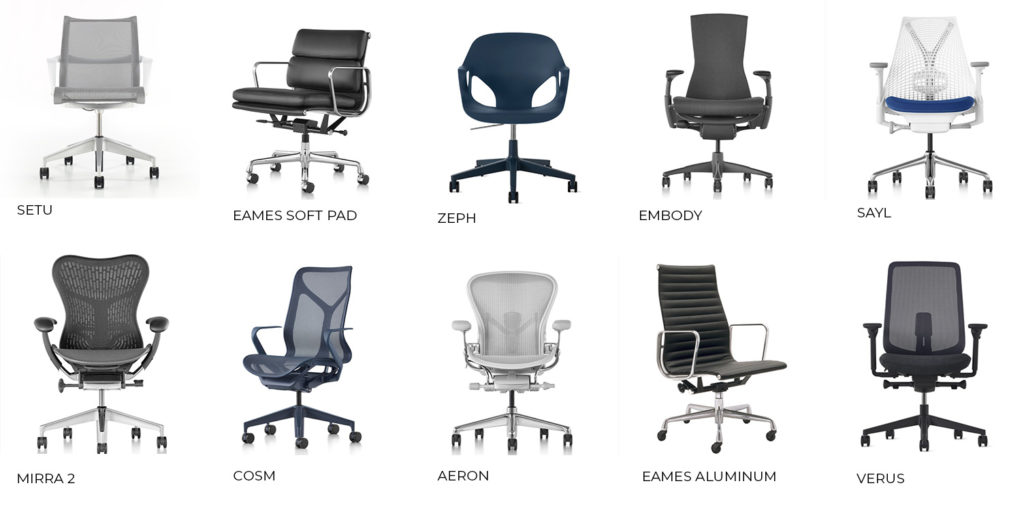 Designed by Bill Stumpf and Don Chadwick
Ergonomic to the core, Aeron was designed for a wide range of body types, thanks to the extensive research from designers Bill Stumpf and Don Chadwick nearly 30 years ago. Its launch was pioneering in the office furniture industry—and it still is, thanks to updated research and material innovation, including the addition of ocean-bound plastic to the body of the chair. We've always known Aeron is good for our bodies—now it's just as good for our environment too. 
Designed by Studio 7.5
With Zeph, Studio 7.5 aimed to bridge the gap between Herman Miller's iconic mid-century designs and the ergonomics of today's work chairs. The result is an entry-level design that doesn't compromise comfort or style.
Designed by Bill Stumpf and Jeff Weber
Every part of the chair was designed to serve a very specific, healthful purpose. The Embody Chair sets the benchmark for pressure distribution, natural alignment, and support for healthy movement.
Designed by Studio 7.5
Its sophisticated ergonomic design instantly responds to your body, movement, and posture to provide natural balance and total support. Cosm's Auto-Harmonic Tilt, Intercept suspension, and flexible frame work together to give you a feeling of weightlessness.
Verus redefines what an affordable work chair can be. Efficiently designed and engineered to assure ergonomic alignment and support, it gives people both short-term and long-term comfort at an equally comfortable price.
Designed by Studio 7.5
Lean, light, and as responsive as your own shadow, the Mirra 2 Chair balances comfort and personalized ergonomics in one sophisticated design. As work evolves, and we become more active, shifting from individual to collaborative work in an instant, we need tools designed to be as agile as our work style. To address this need, the designers of Studio 7.5 set out to create a high-performing chair that supports people who work in a constant state of motion.
Designed by Yves Béhar
Fewer parts, less material, and still everything a good chair should be. Sayl's unframed 3D Intelligent back lets you stretch and move, striking a healthy balance between support and freedom. The elastomer strands of the suspension back vary in thickness and tension to provide greater support in the transition areas along the spine and less everywhere else to encourage a full range of seated movement.
Designed by Studio 7.5
Material innovation gives Setu chairs their unique combination of flex and strength. The Kinematic Spine uses two types of polypropylene to control resistance and support your weight as you recline. It bends and flexes with every movement, responding to the natural ways your body moves.
Designed by Charles and Ray Eames
Known for their honest use of materials, the Eameses constructed their chairs with cast aluminum and a seat frame meant to support a stretched synthetic mesh. The seat-back suspension was a major technical achievement and represented a departure from the concept of the chair as a solid shell. Those chairs became the Aluminum Group, which Herman Miller began manufacturing in 1958. And while they have been in continuous demand, the line has changed and grown over the years.
Designed by Charles and Ray Eames
Never being ones to favor style over substance, Charles and Ray Eames gave their design an innovative suspension that creates a firm, flexible "sitting pocket" that conforms subtly to the body's shape. They created that suspension by stretching a continuous piece of seat-back upholstery tautly between lightweight aluminum side ribs. The foam cushions of Soft Pad chairs will not flatten or clump over time.