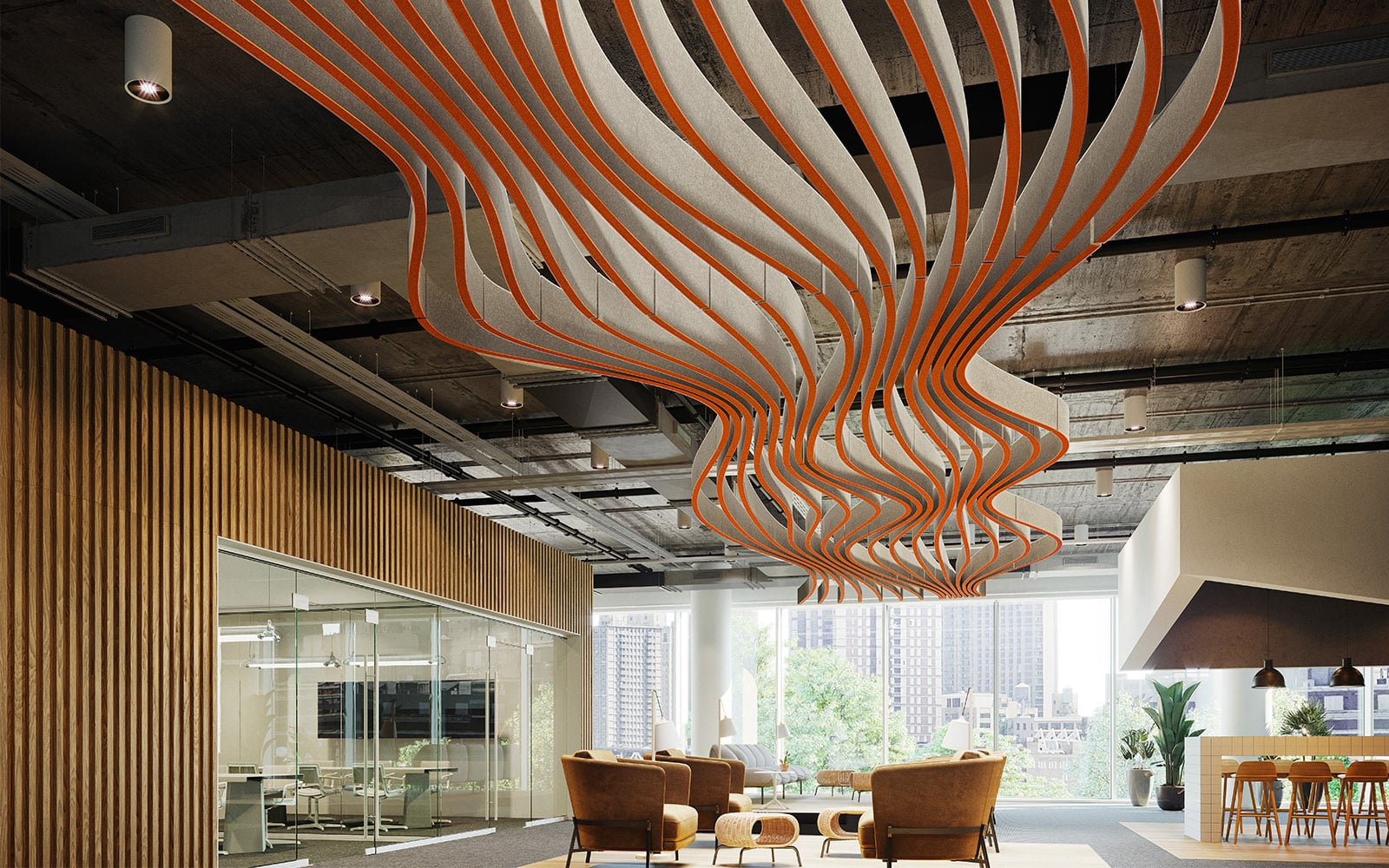 03 Jun

Quarantine Credits: A CEU Series

During COVID-19, AOS aimed to bring the same creativity and passion to meeting this challenge that we do in everything else we undertake. This desire sparked our idea for "Quarantine Credits," a virtual CEU series dedicated to design thinking. We provided 9 complimentary virtual CEUs over 12 weeks and had a standout number of industry partners attend. Check out the following resources that we pulled together after each course.
Turn Down the Noise + Turn Up the Impact with Acoustics
Presented by TURF + ThinkLab
Put a Lid on It: Acoustics from TURF Design
Christoph Trappe of interiors+sources and Buildings speaks with Zoe Post and Dustin Headley from TURF Design about their headquarters, products and how they help clients, "Put a lid on it."
6 Myths of Workplace Acoustics Debunked
Buildings discusses how improper acoustics affect workplace productivity. Sound annoyance in the office poses some of the most distracting problems and important areas for improvement in buildings.
Why It's Important to Consider Audio in a Space
When creating a space, it's important to consider audio as a design element. Sound inside an area can get a bad reputation when not properly managed. Control sound so it doesn't become distracting or unhealthy, while creating the desired atmosphere or actions.
Acoustics 101 for Architecture + Interiors
The world is louder and brighter than ever before. How do we adapt to this ever-growing age of electronics and its corresponding auditory overload? In this 12-part series on acoustics, interiors+sources discusses how to design for an increasingly louder world. We'll cover acoustic theory (traditional to quantum) and the latest in building science technologies.
Solving the Unwanted Noise Problems that Drive Property Managers Crazy
People want to work and live in quiet spaces, but that isn't always feasible in a busy building nestled in a noisy city. The desire to tune out unwanted sounds means that building managers face countless complaints and risk losing tenants.
Ergonomics: Designing Healthy Work Environments
Presented by Humanscale
Working from Home Ergonomics Support
The COVID-19 pandemic has resulted in an unprecedented, rapid shift to home-based working. With this shift, new health and wellness challenges have emerged requiring new strategies and innovations.
Your Ergonomics Questions Answered
Humanscale's resident Ergo Experts answer questions on employee wellness and office ergonomics. Check out these actionable tips you can use to improve your workspace today.
Ergonomics and the Modern Workspace
The office of the future is here. The problem is that most workspaces are stuck in the past. Learn how to tailor individual workspaces so that they support today's technology needs while also providing a healthy and comfortable user experience.
Healthy Workstation Guidelines for Sitting
Humanscale Consulting provides tips for the best way to sit ergonomically at your desk.
Healthy Workstation Guidelines for Standing
Switching between seated and standing postures throughout the day is not only good for energy and productivity, but for overall health. Check out these tips from Humanscale Consulting for how to arrange your workspace when standing.
Ergonomic Lighting for the Modern Workplace
No longer just a buzz word, ergonomics is essential to the modern workplace. While today's companies and employees have become more educated on well-being in the office, a key component of an ergonomic workstation often falls to the wayside – lighting.
5 Essentials for the "Perfect" Work from Home Office
There are a number of key factors to consider to ensure a workstation is functional and adaptable, as well as comfortable and healthy for the user.C Check out this checklist to create a better workstation, fit for the home.
Resource Recovery
Presented by Knoll
Energy Recovery from Combustion
Learn more about the mass burn process and combustion technologies.
Sustainability by Design
Humans are builders and creators—but how can we build thoughtfully, without waste? These TED talks explore sustainable design—both past and present—and its beautiful, inspiring results.
Energy to Waste Facilities
Discover the 12 largest facilities in the country.
Tax Deductions
Getting rid of excess or obsolete inventory can help you free up needed space, avoid hefty storage frees and focus on products that work best for your team. Learn more about charitable giving regarding used products.
Build Better for Education
Presented by DIRTT
Solving the Education Construction Challenge
Discover how rejuvenating an aging facility can bring new life into it.
Greater Atlanta Christian School Case Study
Learn how DIRTT upgraded these high school classrooms and built a stunning performing arts center.
A Better Report Card for Your Education Spaces
Check out more DIRTT education projects to inspire your next project.
A New Wave of Higher Ed Spaces to Support Today's Students
Learn how Gen Z is shaping the physical landscape of education.
A New Wave of Higher Ed Spaces to Support Today's Students
Learn how Gen Z is shaping the physical landscape of education.
Future Proof
DIRTT announces new partnership to address school construction in California.
Sustainability: The New Standard
Presented by National
BIFMA Launches Branded Conformance Program
Learn about BIFMA Compliant in Contract's interview with Tom Reardon, Executive Director of BIFMA.
What to Know Before You Specify Furniture
Interiors+Sources demystifies the furniture selection process with BIFMA.
Sustainable Furniture Specification Guide
Buildings discusses how there's more than one way to go green.
Metropolis Perspective on Sustainability
Metropolis examines the state of sustainability in the A&D industry and provides common ground to build upon as the community faces one of the greatest challenges of its time.
Sustainability by Design
Humans are builders and creators—but how can we build thoughtfully, without waste? These TED talks explore sustainable design—both past and present—and its beautiful, inspiring results.
The WELL Building Standard
Presented by OFS
Become a WELL AP
Earn a new mark of leadership as a certified WELL AP. Build your career, expand your network and grow your expertise with this credential centered on people within the built environment.
WELL Building Standard v1
Explore how design, operations and behaviors can be optimized to advance human health. WELL v1 offers a framework to help improve well-being for everyone that visits, works in or experiences your space.
WELL Resources
Check out WELL's articles on industry insights, WELL concepts, thought leadership, performance testing and more.
WELL Performance Verification
The WELL Performance Verification Guidebook offers a step-by-step guide to the performance verification process.
OFS Imagine a Place Journal
In OFS' Journal, discover the powerful role that place plays in our lives by gathering and sharing authentic voices, insightful perspectives, healthy recipes and visuals of places designed to inspire, support and connect people.
OFS well+being LinkedIn Group
This group provides a place for sharing tips for well-being that can improve the mental and physical health in our home and work lives. It's about putting people and communities first through goals, encouragement, healthy choices and simply being human with each other.
OFS Imagine a Place Podcast
Hosted by Doug Shapiro, OFS' podcast, which was launched this month, continues the conversation of the Imagine a Place Journal through interviews with industry leaders.
Healthy Materials
Presented by Humanscale
What's New in WELL v2: Materials
The brand new Materials concept in the WELL v2™ Pilot represents a proactive approach toward the mitigation of these public health threats by focusing on the key sources responsible for many harmful exposures.
Mindful Materials
Designed by stakeholders from across the building industry, the mindful MATERIALS Library is a practical product selection tool for design teams needing to incorporate product transparency information into their real-time decisions.
International Living Future Institute
The International Living Future Institute is a global network dedicated to creating a healthy future for all. Its programs and initiatives include the Declare Label, the Red List, the Living Building Challenge and the Living Product Challenge.
Healthy Materials Lab
Healthy Materials Lab, a design research lab at Parsons School of Design, is dedicated to a world in which people's health is placed at the center of all design decisions. They've put together an extensive collection of material resources, research and guides.
Six Classes
The Six Classes approach allows us to better understand harmful chemicals, their functions, where they are used and how they can be avoided.
GreenScreen for Safer Chemicals
GreenScreen for Safer Chemicals is a globally recognized tool that identifies hazardous chemicals and safer alternatives. Learn more about the method, its applications and its reach.
HPDC LEED Material Ingredients
HPDC and USGBC are partnering to create new and improved resources for project teams who are working towards LEED credits and improving the transparency of information and the material health of the built environment.
Build Better for Healthcare
Presented by AOS + DIRTT
Why DIRTT Healthcare
Explore how DIRTT's process impacts budgets and benefits stakeholders, architects and designers, and healthcare professionals and patients through rapid construction, cost certainty, easy maintenance and customization.
DIRTT Healthcare Features + Benefits
Learn the benefits of manufactured interior construction over conventional construction. Create patient-centered environments by using healthcare-grade finishes, easily-removable tiles, integrated technology and acoustics.
Infection Prevention and Control Guidelines
Infection prevention and control (IPC) is of paramount concern for healthcare facilities. Learn how DIRTT addresses these concerns through design, material selection and construction processes by using the FGI Guidelines.
Patient-Centered Healthcare
Check out DIRTT's healthcare portfolio to inspire your next project. From hospitals to urgent care facilities, DIRTT supports all healthcare space needs.
Infection Prevention and Control
With DIRTT, thoughtful design and the right solution can make healthcare spaces safer. IPC is a holistic, long-term process. Discover solutions that make cleaning easier while taking into account great healthcare design principles.
Distraction Imagery Takes the Pain Out of Medical Visits
In the world of healthcare, sometimes distraction is a good thing. Make doctor visits more welcoming and comfortable using a psychological technique known as distraction imagery.
Behavioral Health: Creating Spaces for Healing
Presented by Carolina
Behavioral Health Design Guide
Read the latest edition of the Behavioral Health Design Guide to learn more about a patient-centered approach. This edition marks the 23rd revision of this whitepaper that was originally posted in 2003.
Milieu: Creating Restorative Environments in Behavioral Health
Take a closer look at the collection of therapeutic settings known as milieu, which help foster social interactions and activity throughout the day.
6 Behavioral Health Design Trends
Learn about these 6 approaches that not only help reduce the stigma associated with mental health issues but also fully address the needs of patients' physical and mental well-being.
Carolina Healthcare Insights
Check out Carolina's regularly updated collection of links to articles, ideas and perspectives from around the web that inspire and inform.