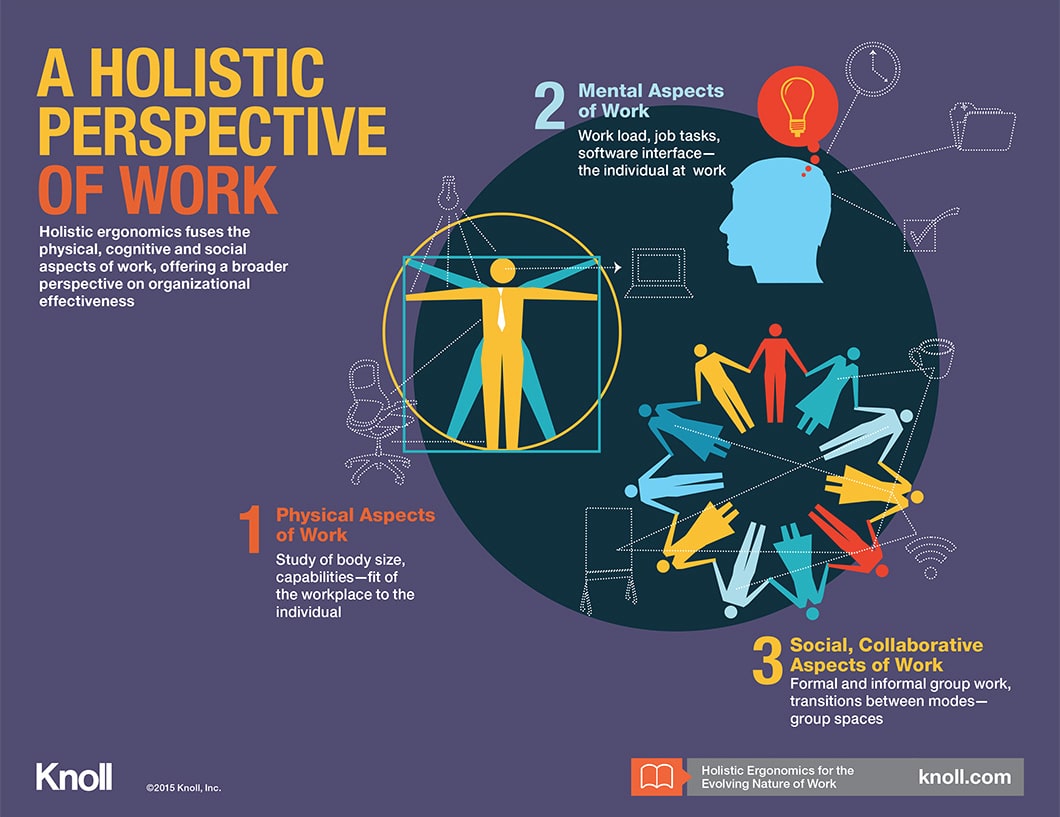 27 Mar

Research: A Holistic Perspective of Work

Working in an office requires interaction with more than just co-workers. Desks, chairs, tables, and computers play a huge part in the conversation of today's workplace. There is actually a science behind it all and it's called Ergonomics. The term is broadly defined as "improving the fit between the person and their immediate environment." Traditional office ergonomics is based in two different forms that influence today's ergonomic standard. Cognitive Ergonomics seeks to optimize the fit between technology, job design, and mental capabilities while Engineering Ergonomics focuses on body size and physical capabilities to improve the fit between people and the office workspace. These areas emerged directly from the engineering and psychology methods developed during World War II from a military database of soldiers' body dimensions.

Considering the ever-changing workplace that we now experience, it is important to give voice to the disconnect between the limited scope of issues that office ergonomics currently addresses and the broader direction in which office work is evolving. Focusing on only a fraction of the problem may lead to missed opportunities for enhancing well-being and performance amongst office workers. Embracing a holistic perspective is the direction we should be heading in to ensure happiness and productivity amongst individual and collaborative work.

Holistic Ergonomics has three areas of focus: the physical aspects of work which encompasses the fit of the workspace to the individual, the mental aspects of work which includes work load, job tasks and software interface, and finally the social/collaborative aspects of work involving transitions between formal, informal and group settings. The practical application of holistic ergonomics occurs at two levels: the macro scale and the micro scale. The macro workspace level is a process used to create the proper mix of work zones to support varying combinations of individual and collaborative work. The micro workspace level supports user control by providing features such as height adjustable tables, moveable keyboard trays, monitor arms, and full height adjustable seating to provide maximum flexibility throughout the user's work process.

It is our belief that good design is good business and ergonomics should be an integral part of that. Everyone can benefit from holistic ergonomics: it deeply supports the fluid and collaborative nature of each workplace and brings about inspiration for healthy and productive employees.