29 Jun

Show Stopping Design: AOS Corporate Headquarters Awarded 2018 AIA Honor Citation

AOS is proud to announce that Eskew+Dumez+Ripple and VergesRome Architects have received a 2018 AIA Honor Citation for the Gulf States Region for the design of our New Orleans Corporate Headquarters and Showroom!
ABOUT THE AWARD
Architects from across the United States gathered in New York City to celebrate the 2018 AIA Conference on Architecture and Honor Awards held from June 21st-23rd in New York City. Ronald B. Blitch, FAIA, FACHA with Blitch Knevel Architects in New Orleans was the Program Chair for the Gulf States Region ceremony, which celebrates extraordinary architecture across the four states of Alabama, Louisiana, Mississippi, and Tennessee. Blitch assembled an outstanding group of design professionals from New York who selected 14 projects from the 136 submitted. Works of distinction were recognized for their exceptional and bold choices in color, materials, planes, sustainability, dramatic transformations, restrained design moves, and overall design excellence.
Learn more about the jury members and recipients of the Merit Awards, Honor Citations and Honor Awards here.
ABOUT THE DESIGN
After 16 years of occupying 7,000 sq ft in a downtown New Orleans high rise, it came time to renovate and expand the AOS Corporate Headquarters. This unique combination showroom and office needed to accommodate our growing business, showcase our constantly evolving solutions, and inspire the design professionals that we work with. Award-winning firms Eskew+Dumez+Ripple (EDR) and VergesRome Architects (VRA) teamed to create a timeless space that appeals across multiple industries and encourages clients to engage with our solutions.
With the use of DIRTT, our manufactured interior construction partner, the renovation and expansion was completed in just six weeks, shaving off several months of the construction timeline! The rapid construction also minimized disruption to our team's workflow and noise to neighboring floors. Smart and sustainable, sixty-three percent of DIRTT's interior solutions that we feature, such as millwork, acoustics, doors, walls and ceilings, are made of recycled content. Since DIRTT is also built to exact measurements using ICE technology, we were able to prevent 7,786 lbs of drywall waste and 100 lbs of flooring waste from going into a landfill. Our showroom also achieves environmental friendly design with TURF acoustic ceiling baffles, which consist of 99% recycled polyester felt made from recycled water bottles.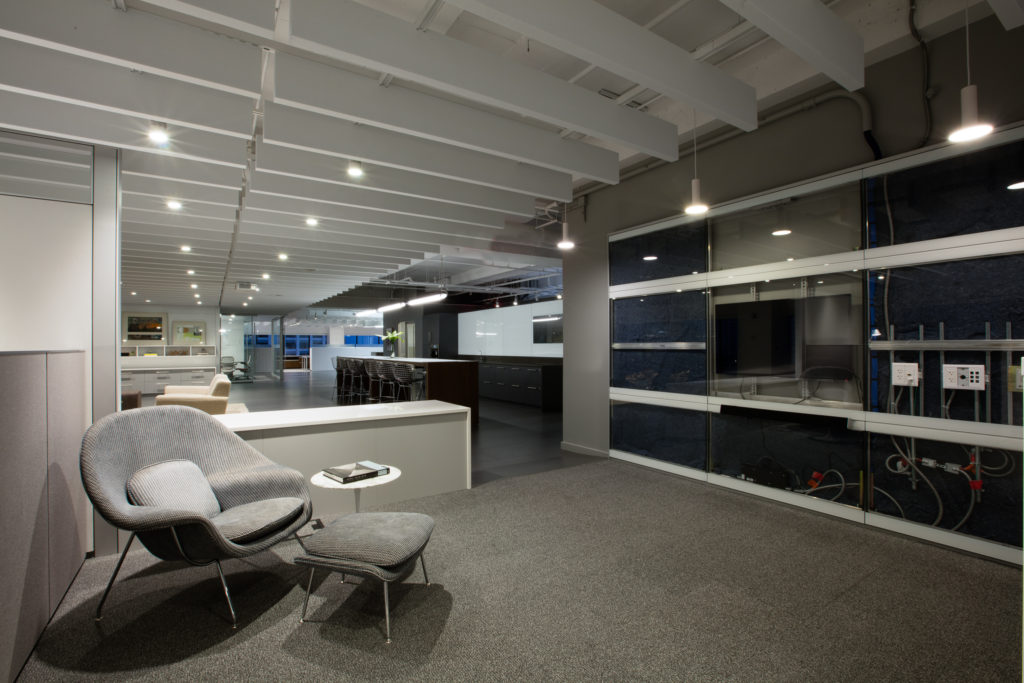 The jury awarded EDR and VRA an Honor Citation for its "simplicity and clarity in layout and use of materials" and "judicious use of color and planes." The design of the 10,280-sq ft open floorplan showcases a sleek, modern and functional space with clean lines. While the previous space was predominately red and black, the new renovation and expansion features a neutral palette of white, silver and grey hues with pops of color. Visual interest is also added through various textures and finishes, including marble, wood, metallic and glass. As a nod to our past, the layout of the workstations, large conference room, and CEO's office remain in the same locations, now with upgraded technology, function and finishes. During the programming phase, we surveyed our employees in order to create individual workstations tailored to meet their needs and help our team work better, incorporating ergonomics and storage, while still showcasing the products we provide. Through consistent finishes of bright white laminate, techwood veneer and pulls, we created a seamless transition from one pod to the next. Overall, the bright white space is balanced by grey tones and wood for warmth, encapsulating, as one juror noted, the "clear guiding ideas of materials/space/color."
Shelby Russ, AOS President and CEO, explains, "We wanted the design to reflect a beautiful, functional and comfortable space for our team and clients so our Showroom offers a variety of flexible meeting areas for people to choose how they want to work." The space includes three conference rooms, a design library, two phone booths, and touchdowns stations for all of our team members across our fives offices and operations, as well as our manufacturer reps and designers, to gather and collaborate.
The heart of the Showroom is our Java Bar and Lounge. Named for the software used in our visualization tools and also our coffee bar, the area features our virtual reality and ICE software station. Here, clients can envision their project before it is built and design while in the virtual space. Employees can also perch at the counter for a coffee break or casual meetings. This area epitomizes a shift in today's workplace towards hospitality, residential, wellness and flexibility. We frequently transform the space for activities, including product showcases, community events, weekly yoga, team development training and more. Of course, one of our Headquarters' most notable features is the panoramic skyline of New Orleans. Russ explained to Biz New Orleans, "It's almost as if we are suspended above the city and that openness reflects our very open and collaborative culture here." However, the floor to ceiling window in our Java Center and Lounge was a "happy accident" and serves as an example that design always continues throughout the entire process.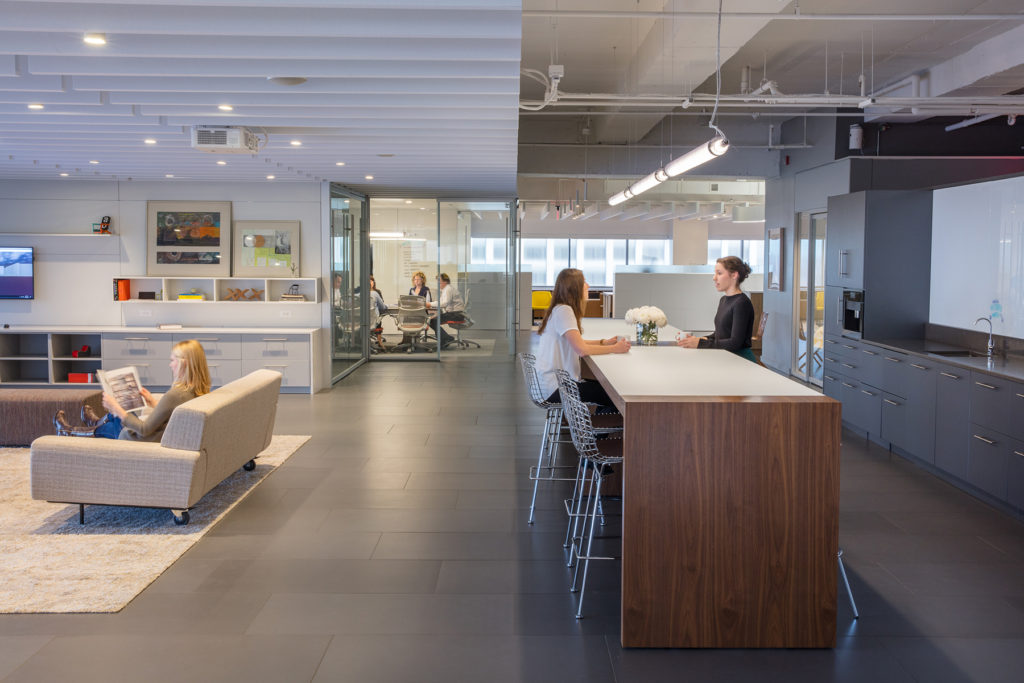 In a space that is created from nearly all manufactured solutions, it was important to personalize our Corporate Headquarters with our brand. Our design team from EDR and VRA worked with local architectural fabricator Construct to build custom woodwork and black-painted steel AOS panels to define our entry and bring New Orleans craftsmanship into the workplace.
We are truly honored to work every day in a space of such high caliber and extend tremendous gratitude to all of our local partners, including Eskew+Dumez+Ripple, VergesRome Architects, Kent Design+Build, AV Solutions, Construct, Davis Contract Draperies, Horizon Italian Tile, Stone Interiors and Sun Interiors, who played a part in bringing this design to life.
Go behind the scenes of our renovation and expansion with our time lapse series: Part 1, Part 2, Part 3, Part 4, Part 5, Part 6, Part 7.
Interesting in learning more about AOS and our solutions? Contact us for a tour.
SOURCES
AIA Louisiana. "AIA Gulf States Region Honors Design Excellence." Accessed. June 28, 2018. https://www.aiala.com/aia-gulf-states-region-honors-design-excellence/