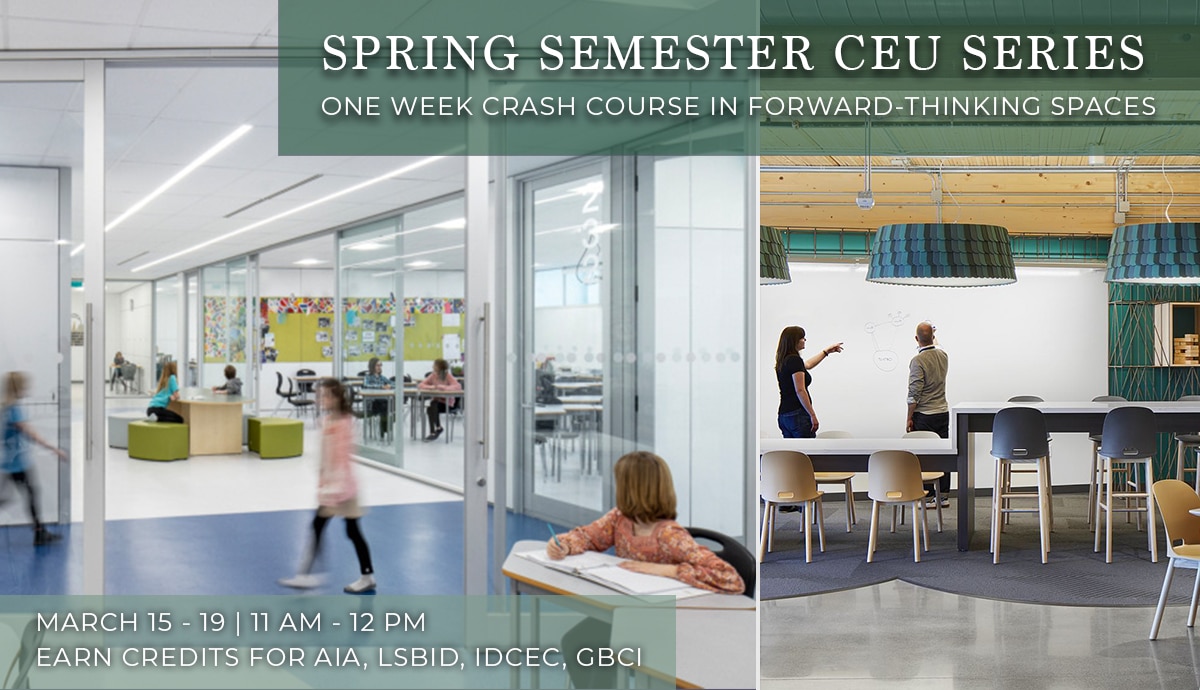 25 Mar

Spring Semester CEU Series

Building upon our "Fall Forward" CEU series, we hosted "Spring Semester: One Week Crash Course in Future-Minded Spaces" this March to engage in further share design-thinking and in-depth research and and give architects and interior designers additional opportunities for professional development. We provided five complimentary virtual CEUs, which explored the latest in education design and sustainability. Industry experts led an engaging dialogue about how the built environment should effectively respond to a variety of needs and best practices for creating spaces that are healthier for people and the planet.

Check out the following resources that we pulled together to continue the discussion.
The Third Teacher
Students are shaped by adults, by peers, and ultimately by places — the physical environments where students learn. Through agile furniture solutions and trailblazing design philosophies, together we can create an environment for learning that serves the whole child.
The Third Teacher is the result of a learning experience that began when three global design firms (Cannon Design, KI and Bruce Mau Design) joined forces on an unprecedented project: gathering the stories of education thought leaders and learning communities who sought to redesign the future of learning. The book is the resulting collection of ways to use to transform teaching and learning through the design of the learning environment – Loris Malaguzzi's "third teacher." The book shows that the design of a school is intrinsically linked to learning, and to even go a step further by demonstrating that design directly impacts teaching and learning. The book lives on, however, as a tool for participatory design that allows school stakeholders to enter into our design process. The "79 ideas" serve as a common language between learning communities and designers. Educators, students and parents can identify specific, tangible design techniques that support their visions.
As schools around the world struggled with the question of whether to reopen in the wake of the COVID-19 pandemic, one thing is certain: Classrooms will never be the same. School administrators will need to consider how to make their classrooms safe today, ready for tomorrow — and able to encourage healthy movement, which studies have shown promotes cognitive and motor skills development in children.
Taking care of students is at the heart of it all. We know that learning spaces have a long-term impact on students' physical, mental, and social well-being so it is critical to use agile furniture for K-12 schools, colleges, and libraries that engage and empower students and teachers. Create learning spaces that embody dynamic flexibility, healthy ergonomics, and compassion through a series of agile solutions.
Responding Resiliently
Presented by AOS + DIRTT
We hear a lot about resilience when it comes to business strategy, but resiliency also extends to the built environment. The pandemic propelled the need for respectful, relevant and resilient spaces that are intentionally designed to be flexible and readily responsive. With the tools to be proactive, we can improve the sustainability, experience, wellness and safety of spaces all of the time—not just during a crisis.
The Top 10 Conversations Every Business Needs to Have About Their Spaces
Learn the top ten topics that every business needs to have about their spaces, which affects their people and their bottom line.
Making Space for Active Learning
The COVID-19 crisis has caused immeasurable disruption to education, but it has also introduced the opportunity to accelerate change that was already in motion. It's a chance to look more carefully at the vulnerabilities, limitations and possibilities of institutional learning. Discover why adaptable environments are the future of post-secondary education.
Three Low-Risk Ways to Construct Spaces That Are Resilient by Design
Resilience is the ability to bounce back from change. You want to adapt, integrate and then return to a steady state. A resilient space is good for business because it reflects what people want, so they can bring the business what it needs. To create spaces that do this, businesses need to consider three fundamental outcomes.
Explore how manufactured interior construction powered by technology can empower the design process and deliver long-term value and flexibility.
6 Iconoclasts on the Future of Space and Its Impact on People
This November JANUS et Cie opened their second Los Angeles flagship. Browse the virtual space or stop by our AOS Showroom to explore it in VR.
The Connected Campus
Presented by Knoll
The current and future campus is an evolving hybrid of physical and digital instruction. While universities adapt, so too will the workplace. By bringing together digital and physical, enabling greater diversity and inclusion, and seeing flexible structures, staffing, and services as the norm, companies can be ready too. They can position their workplaces as the natural extension of tomorrow's connected campuses and help students thrive as they transition to the workforce and a future of lifelong learning.
Learning with Laurie: The Connected Campus
While COVID-19 has forced a reimagining of how and where we work, in the case of higher education, the pandemic accelerated trends that were already underway. In this episode of "Learning with Laurie," we discuss Knoll's latest research on how to create connected, flexible and resilient campuses.
The Connected Campus: Education Research Paper
Shifts in demographics, technology and economics continue to transform the higher education experience. Now is the time to reimagine facilities, technologies, student services, operations and organizational structures to create more connected campuses. This whitepaper, which brightspot created in collaboration with Knoll, explores about how colleges and universities can change what they offer, how they are organized, and how they operate to respond to these demographic, technological and cultural shifts. It then provides ways that each type of space on campus—along with the services and technologies within them— can adapt. Finally, the research identifies what the implications are for the future workplace and its occupants, who are today's students.
Tulane University Commons: Project Profile
Designed by Farouki Farouki, Tulane University's Commons project, a celebrated 77,000 square-foot space in the heart of the University's Uptown campus, required furniture that could seamlessly complement the building's architecture, while also providing unique design interest.
Sustainable Materials
Presented by Emeco
Reuse. Recycle. Re-imagine. By using salvaged materials, such as aluminum, PET, wood and cork, we can keep waste out of oceans and landfills and make more with less. Measuring what ingredients are used to furnish our spaces also promotes increased health and well-being for people and the planet.
Learn about this evaluation and certification system for environmentally-preferable and socially-responsible office furniture.
Find a Certified LEVEL Product
Product selection is hard, especially when it comes to environmental considerations. But LEVEL makes it easier to make informed specifying decisions and recommend the right products to your clients.
Declare is like the nutrition label for products. The Living Building Institute, it is a transparency platform and product database that is changing the materials marketplace and will help you find products for your next project.
Gregg Buchbinder on Recycled Aluminum
In this episode of the Material Matters with Grant Gibson podcast, he talks to Gregg Buchbinder, CEO of Emeco, about manufacturing during a pandemic; the making of the Navy chair; why it was made from recycled aluminum; working with the likes of Frank Gehry and Terence Conran; his relationship with his father, and more.
Gregg Buchbinder on Making Things That Stand the Test of Time
In this episode of the At a Distance podcast, Gregg Buchbinder, CEO of the American furniture maker Emeco, discusses the motivation behind the company's recently launched carbon footprint calculator, why planned obsolescence should be illegal, and how his team transformed plastic bottles into a series of recyclable chairs.
Trace It Back
Presented by 3form
Through three main pillars — people, product and planet — we can focus on human well-being alongside design methods and manufacturing processes that protect the planet. By exploring eco-conscious materials and using lifecycle analysis, we can get to the root of products' environmental impact and build towards a circular future.
Better buildings equal better lives. Projects pursuing LEED certification earn points for various green building strategies across several categories based on the number of points achieved, a project earns one of four LEED rating levels: Certified, Silver, Gold or Platinum.
WELL is the leading tool for advancing health and well-being in buildings globally. Register your office, building or other space to leverage WELL's flexible framework for improving health and human experience through design.
LBC 4.0 focuses on the relationship between impact and effort. While LBC 4.0 continues the standard's mission of visionary, but attainable building goals, it also recognizes that not all projects face the same challenges or share in the same opportunities. Regenerative design should be attainable to everyone, everywhere. With 4.0, we are creating a streamlined approach focused on maximizing positive impacts specific to the place, community, and culture of the project.
1on1 with Interior Design Magazine
Christian Darby, 3form VP of Design, and Mike Johnson, 3form Sustainability Director, join Cindy Allen, Editor in Chief of Interior Design for this 1on1 segment.
The Full Circle Foundation connects 3form to artisans around the world through gorgeous handmade products that support communities and their traditions. From elementary education in Nepal to midwife training in Mali, Full Circle pursues social, environmental, and economic initiatives that impact artisan communities in Africa, Asia, and South America.