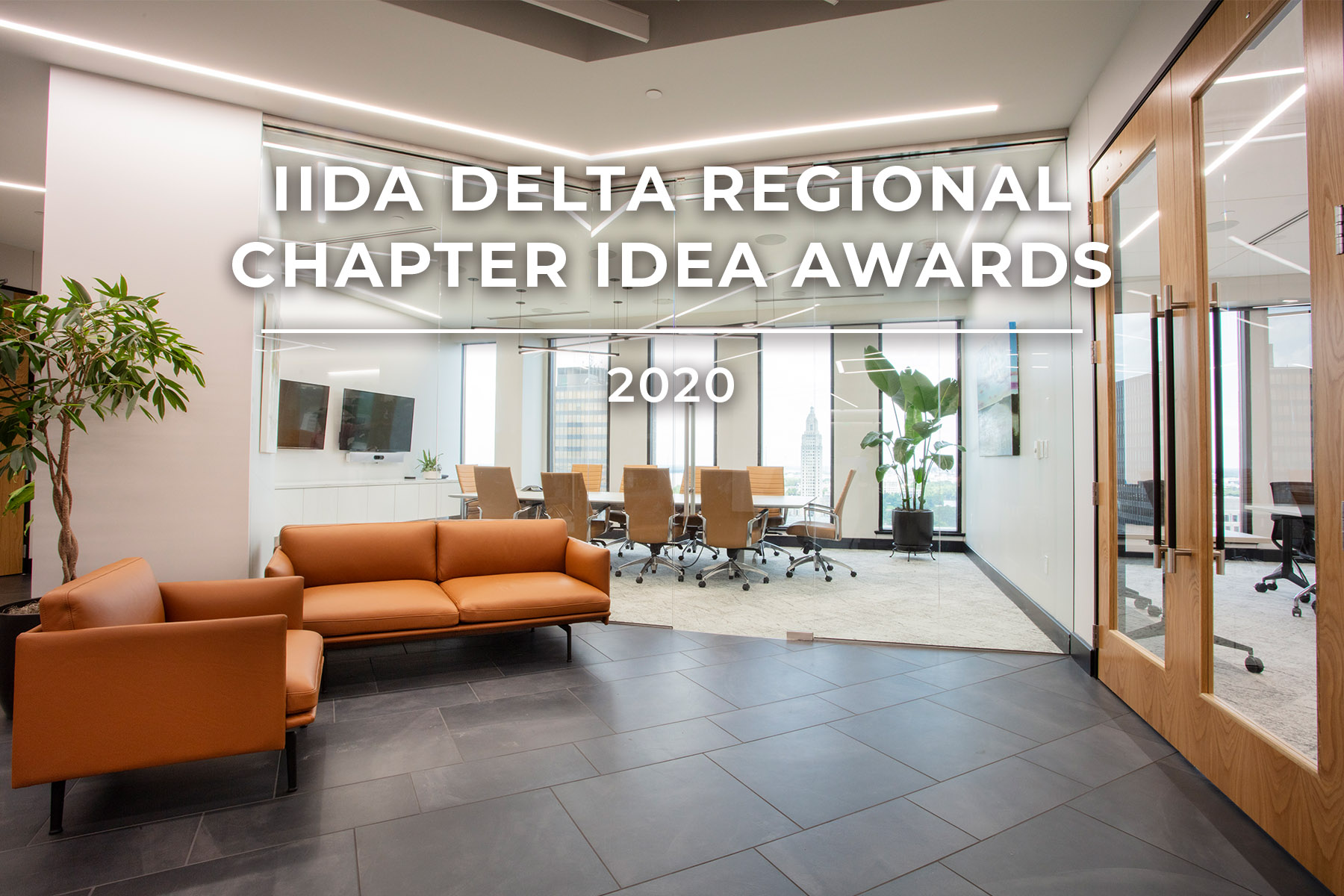 28 Aug

The Great Virtual Gala: IIDA Delta Regional Chapter IDEA Awards 2020

Congratulations to all the 2020 IDEA winners! Inspired by the 1920s and The Great Gatsby, this year's theme delighted viewers with its art deco style and special guest hosts, Cheryl Durst, IIDA CEO, and Donna Edwards, the Louisiana First Lady. We extend a huge thank you not only to the hard working chapter that put this event together but to the entire design community for their dedication to design excellence across the Delta region.

We'd especially like to recognize a few of clients, who we were honored to partner with on these our award-winning projects.
Shields Mott, LLP
Award of Recognition – Corporate Small
When designing the break room renovation of Shields Mott law firm, Steinmetz & Associates were inspired by a luxury car brand and integrated the owner's passion for Porsche automobiles while solving special challenges. The design provides a warm, sophisticated, and clean aesthetic and updated amenities for employees. AOS worked with Steinmetz & Associates to provide updated cabinetry and furniture solutions. DIRTT millwork enhances the firm's storage needs while open seating makes the space more inviting. Custom banquettes feature a geometric pattern and bold and deep accent colors while the graphic wall mural ties the material selections and color scheme together.
Award of Excellence – Corporate Large
As huge file rooms of paper are on their way out, collaborative spaces and flexibility are on their way in. Technological advancements have digitized entire file rooms, opening up room for more employee amenities. Coleman Partners Architects employed this shift in choice-based experiences for the interior renovation of Baker Donelson's Baton Rouge office. With its modern aesthetic and prestige location—an entire floor in a downtown Baton Rouge high-rise—the space makes a strong first impression. The design goes beyond traditional law environments, adopting progressive and efficient practices. Learn more about this project here.
Click here to watch the full 2020 awards ceremony!