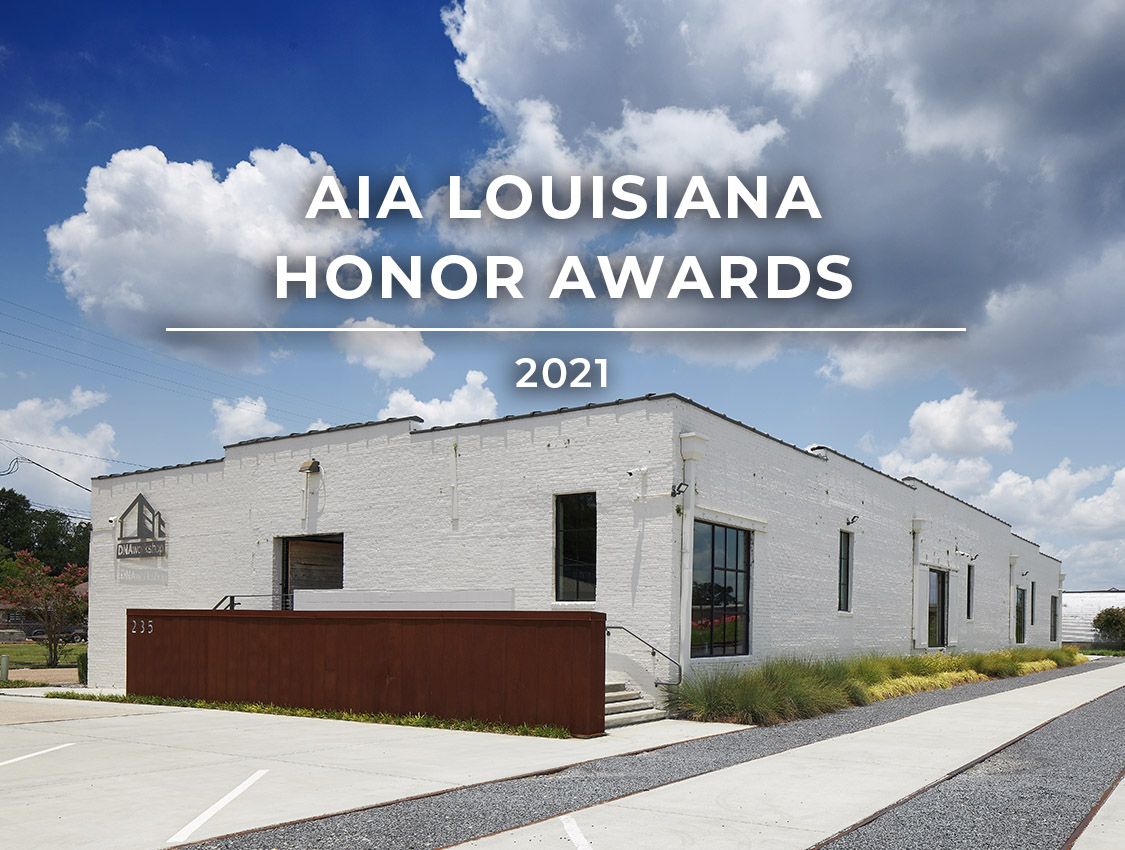 19 Oct

AIA Louisiana Honor Awards 2021

Congratulations to all the winners of this year's AIA Louisiana Honor Awards!
Members' Choice Award: Project 402, M2 Studio
Honor Award: Groundwork EarthLab, Colectivo
Honor Award: DNA Workshop, Dyke Nelson Architecture
Honor Award: Home Building at Thaden School, EskewDumezRipple
Award of Merit: Emerald St. Residence, studioWTA
Award of Merit: Sazerac House, Trapolin-Peer Architects
Award of Merit: Paris Park Salon & Spa, John C. Williams Architects
Award of Merit: Ochsner Center for Innovation, Trahan Architects
Award of Merit: Resilient Hampton: Newmarket Creek Water Plan & Pilot Projects, Waggonner & Ball Architecture/Environment
AIA Louisiana Medal of Honor: Jesse Cannon, FAIA
AIA Louisiana Emerging Professionals Award: Jessica Walker, workshopWDXL
AIA Presidential Citation Award: Lisa H. Nice
DNA Workshop
Honor Award
Award of Merit
After undergoing an extensive restoration, Sazerac House opened to the public and excited cocktail enthusiasts in October 2019. With historic preservation by Trapolin-Peer Architects and interior design by Chrestia Staub + Board, the 1860s building, which sat vacant for more than 30 years, pays homage to New Orleans' long-standing cocktail culture. With a twist on tradition, the museum includes interactive exhibits, virtual bartenders, tastings and an event space. Guests are invited to soak in the rich history, signature details and spirited displays, which are intricately woven throughout the design.
Located at the corner of Canal and Magazine Streets in downtown New Orleans, the six-story building allows Sazerac Company to put down roots and tell the storied history of its many brands. The first three floors provide an immersive visitor experience, including retail, interactive exhibits, a micro-distillery and tasting rooms. A large event space on the 4th floor will be used for community gatherings, seminars and other programming. While the building offers much for visitors to enjoy, it is also home to Sazerac Company's offices, which occupy the 5th and 6th floors, and provides private offices and conference space for the 60 employees on-site. Veneer finishes create a warm environment and compliment the substantial woodwork found throughout the design. After two years of construction, the project redevelops an important intersection on the edge of the French Quarter and provides a new way for locals and tourists alike to experience New Orleans' longstanding cocktail culture.