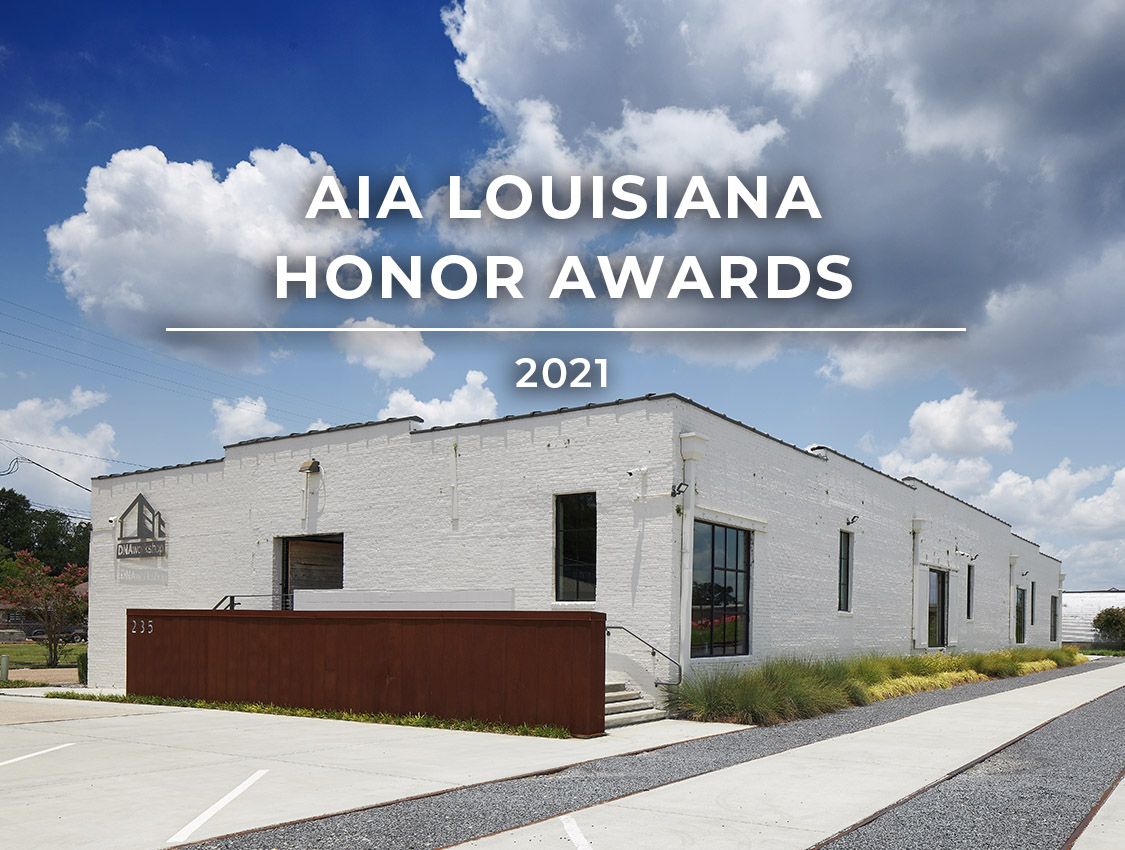 19 Oct

AIA Louisiana Honor Awards 2021

Congratulations to all the winners of this year's AIA Louisiana Honor Awards! Held on Friday, September 24, 2021 as part of the AIA Louisiana Conference on Architecture in Lafayette, the annual awards ceremony encourages excellence in architecture. With over 70 entries, the projects submitted cover a broad range of projects—both real and conceptual.

See below for the complete list of this year's winners.
Members' Choice Award: Project 402, M2 Studio
Honor Award: Groundwork EarthLab, Colectivo
Honor Award: DNA Workshop, Dyke Nelson Architecture
Honor Award: Home Building at Thaden School, EskewDumezRipple
Award of Merit: Emerald St. Residence, studioWTA
Award of Merit: Sazerac House, Trapolin-Peer Architects
Award of Merit: Paris Park Salon & Spa, John C. Williams Architects
Award of Merit: Ochsner Center for Innovation, Trahan Architects
Award of Merit: Resilient Hampton: Newmarket Creek Water Plan & Pilot Projects, Waggonner & Ball Architecture/Environment
AIA Louisiana Medal of Honor: Jesse Cannon, FAIA
AIA Louisiana Emerging Professionals Award: Jessica Walker, workshopWDXL
AIA Presidential Citation Award: Lisa H. Nice
AOS was honored to work on the following award-winning projects.
DNA Workshop
Honor Award
DNA Workshop transformed a previously abandoned warehouse into their contemporary, open plan office. While much of the structure remains in its original state, the design team removed nonstructural interior walls to create a new open floor plan. They also repurposed salvaged pieces from local buildings and the original structure to aid sustainability goals. Collaborative spaces near the workstations provide employees with additional breakout spaces to gather, take a break or work. It was important to not obstruct the views of the outdoors since a courtyard was created by removing part of the roof and landscape was added to address the lack of nearby greenery. The courtyard connects the interior and exterior architecture while giving employees access to natural elements, plenty of daylight and additional space. Together the greenery, natural light, warm wood finishes and hints of green and blues create a biophilic environment that promotes well-being and creativity.
Photos courtesy of Dyke Nelson Architecture
Award of Merit
After undergoing an extensive restoration, Sazerac House opened to the public and excited cocktail enthusiasts in October 2019. With historic preservation by Trapolin-Peer Architects and interior design by Chrestia Staub + Board, the 1860s building, which sat vacant for more than 30 years, pays homage to New Orleans' long-standing cocktail culture. With a twist on tradition, the museum includes interactive exhibits, virtual bartenders, tastings and an event space. Guests are invited to soak in the rich history, signature details and spirited displays, which are intricately woven throughout the design.
Located at the corner of Canal and Magazine Streets in downtown New Orleans, the six-story building allows Sazerac Company to put down roots and tell the storied history of its many brands. The first three floors provide an immersive visitor experience, including retail, interactive exhibits, a micro-distillery and tasting rooms. A large event space on the 4th floor will be used for community gatherings, seminars and other programming. While the building offers much for visitors to enjoy, it is also home to Sazerac Company's offices, which occupy the 5th and 6th floors, and provides private offices and conference space for the 60 employees on-site. Veneer finishes create a warm environment and compliment the substantial woodwork found throughout the design. After two years of construction, the project redevelops an important intersection on the edge of the French Quarter and provides a new way for locals and tourists alike to experience New Orleans' longstanding cocktail culture.