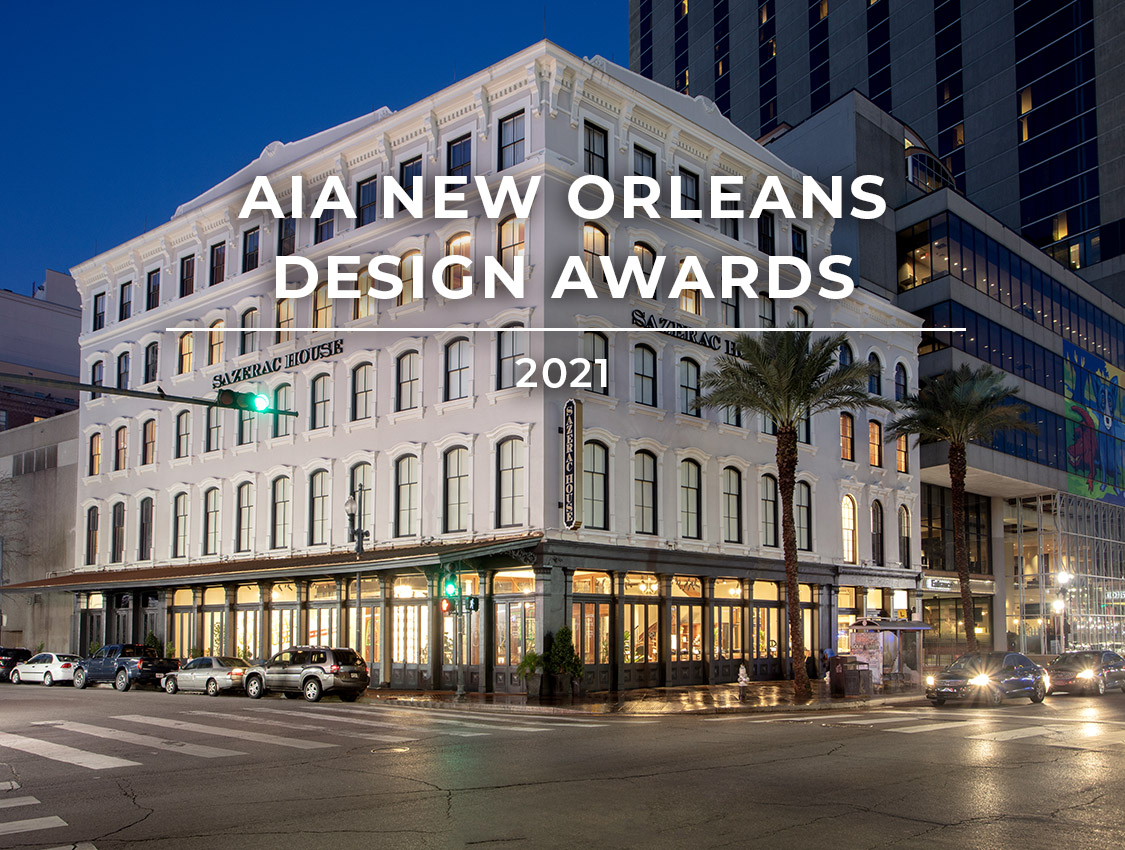 25 Jul

AIA New Orleans Design Awards 2021

Congratulations to all of the winners of the 2021 AIA New Orleans Design Awards, including Campo Architects, Bell Butler Design and Architecture, Studio BKA Architects, Spackman Mossop Michaels, Albert and Tina Small Center for Collaborative Design, CCWIV Architecture, EskewDumezRipple, Trahan Architects, John C. Williams Architects, Waggonner & Ball Architecture/Environment, M2 Studio, Trapolin-Peer Architects and Colectivo! While this year's ceremony once again took place virtually on Thursday, July 22, 2021, AOS was excited to return as the presenting sponsor and was glad that we could still recognize the amazing talent of New Orleans architects and designers.

Filmed at The Contemporary Arts Center, the ceremony featured comedic performances from this year's hosts, Grace Blakeman and Matt Owens. Viewers also enjoyed cocktail demonstrations by Andrew Liles, President Elect AIA New Orleans, and Jason Sorbet, Beverage Director at The Chloe, which were inspired by the guest jurors of Kansas City.

We'd like to extend a special thanks to this year's executive board and Amber Wallace Howell, AIA New Orleans' new Executive Director, and Brandon Myers, the new Coordinator of Content, Communications and Programs, for organizing this year's ceremony and to Fat Happy Media for filming it. AOS was honored to contribute to the following award-winning projects.

Honor Award for Historic Preservation, Restoration and Adaptive Use

After undergoing an extensive restoration, Sazerac House opened to the public and excited cocktail enthusiasts in October 2019. With historic preservation by Trapolin-Peer Architects and interior design by Chrestia Staub + Board, the 1860s building, which sat vacant for more than 30 years, pays homage to New Orleans' long-standing cocktail culture. With a twist on tradition, the museum includes interactive exhibits, virtual bartenders, tastings and an event space. Guests are invited to soak in the rich history, signature details and spirited displays, which are intricately woven throughout the design.

Located at the corner of Canal and Magazine Streets in downtown New Orleans, the six-story building allows Sazerac Company to put down roots and tell the storied history of its many brands. The first three floors provide an immersive visitor experience, including retail, interactive exhibits, a micro-distillery and tasting rooms. A large event space on the 4th floor will be used for community gatherings, seminars and other programming. While the building offers much for visitors to enjoy, it is also home to Sazerac Company's offices, which occupy the 5th and 6th floors, and provides private offices and conference space for the 60 employees on-site.

Learn more about the project here.
The Julia at St. Charles
Honorable Mention for Multi-Family Residential
Located at the corner of Julia Street and St. Charles Avenue in downtown New Orleans, The Julia at St. Charles is a luxury apartment complex that models the intersection of live, work and play with its close proximity to the Central Business District, art galleries, museums and restaurants. While it matches the culture and energy of downtown living, The Julia also provides residents with a relaxed, resort-style retreat and the comforts of home.
Trapolin-Peer Architects transformed the site from a previous parking lot and warehouse facility into a 307,000-square foot mixed-use development that honors the historic neighborhood. The architecture and design pays special attention to an existing 19th century carriage house, which is now used for the leasing offices. Formerly part of the Campbell Mansion, which was torn down in 1965, the carriage house was restored and strategically incorporated into the new building, tying the site's history to the modern era. The Julia now includes 198 resident units with retail and commercial space on the ground floor. While Trapolin-Peer Architects led the architecture, CDI Solutions was enlisted to design the interior amenity spaces and FF&E. Residents can enjoy a rooftop dog run, two elevated courtyards, a sun deck and pool house, an outdoor dining patio, entertainment lounge, fitness center, and two resident lounges. Together with the apartments and ample amenity areas, The Julia provides residents with a comfortable setting to live, relax and entertain.
See the complete list of winners and watch the full awards ceremony below:
Interior Architecture Award of Merit: AC Hotel Little Rock Downtown, Campo Architecture and Interior Design
Interior Architecture Award of Merit: Bower, Bell Butler Design and Architecture
Commercial, Large Scale, Honorable Mention: Framework, Spackman Mossop Michaels
Commercial, Small Scale, Award of Merit: Paris Parker Salon & Space, John C. Williams Architects, LLC
Commercial, Small Scale, Honor Award: The Beatnik, M2 Studio
Small Scale, Honor Award: Gander Point, Albert and Tina Small Center for Collaborative Design
Civic/Institutional Honor Award: Home Building at Thaden School, EskewDumezRipple
Historic Preservation, Restoration and Adaptive Reuse and U.S. Green Building Council Sustainability Award: Greenway Apartments, CCWIV Architecture
Historic Preservation, Restoration and Adaptive Reuse Honor Award: Sazerac House, Trapolin-Peer Architects
Landscape Architecture Industry Award: Framework, Bell Butler Design and Architecture
Master Planning and Urban Design Award of Merit: Miller Park, EskewDumezRipple
Master Planning and Urban Design Honor Award: Resilient Hampton: Newmarket Creek Water Plan & Pilot Projects, Waggonner & Ball Architecture/Environment
Unbuilt Architecture Award of Merit: Luther George Park, Trahan Architects
Unbuilt Architecture Award of Merit: The Ecotone, EskewDumezRipple
Multi-Family, Residential Honorable Mention: The Julia at St. Charles, Trapolin-Peer Architects and Woodward Design Group
Residential Single Family & Two Family Honorable Mention: Verret Street Residences, Colectivo
Residential Single Family & Two Family Residential, People's Choice: Fairgrounds Camelback, Studio BKA Architects
Emerging Professionals Young Architect Award: Jessica Walker
Emerging Professionals Associate Award: Kelsey Wotila