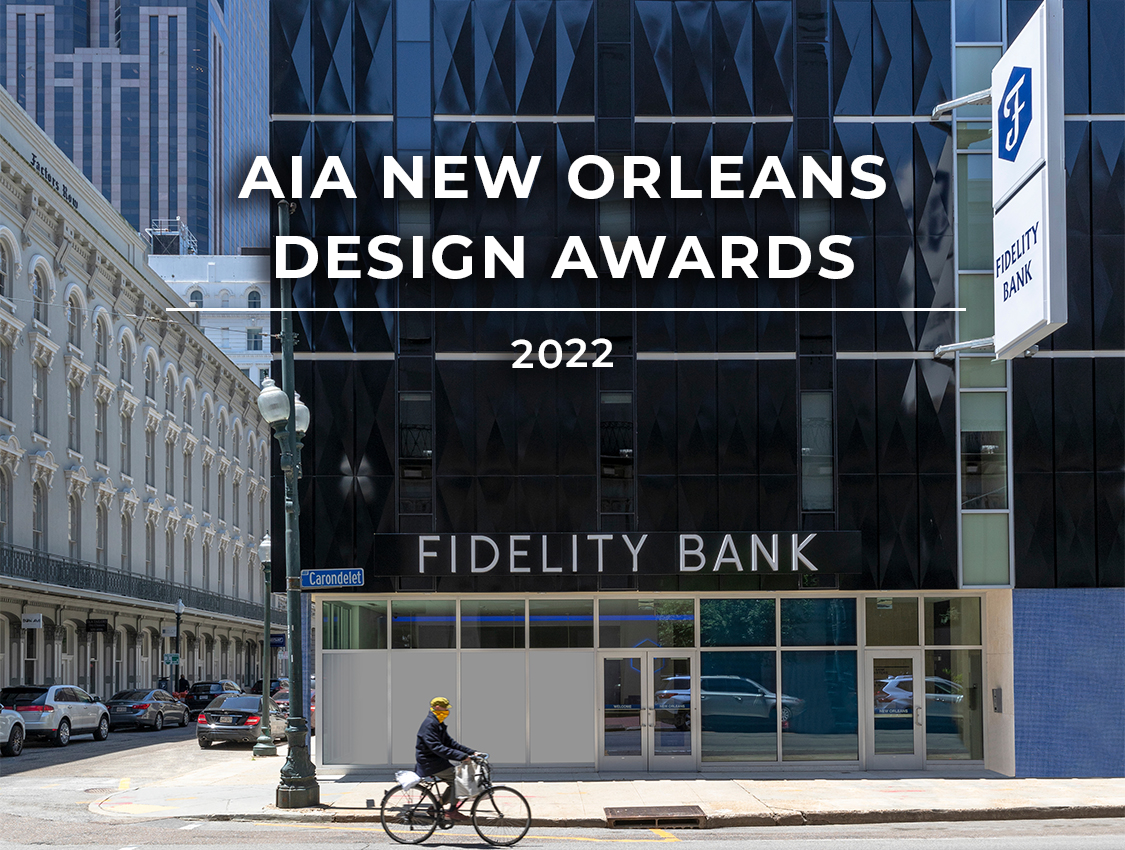 17 Jul

AIA New Orleans Design Awards 2022

On Thursday, July 14, 2022 , the local architecture community gathered for the return of the AIA New Orleans Design Awards in person at the Contemporary Arts Center. After the challenges of the last couple years, we were grateful to be able to gather together again and were excited to be the Title Sponsor for the annual ceremony, which celebrates the best of New Orleans architecture and design.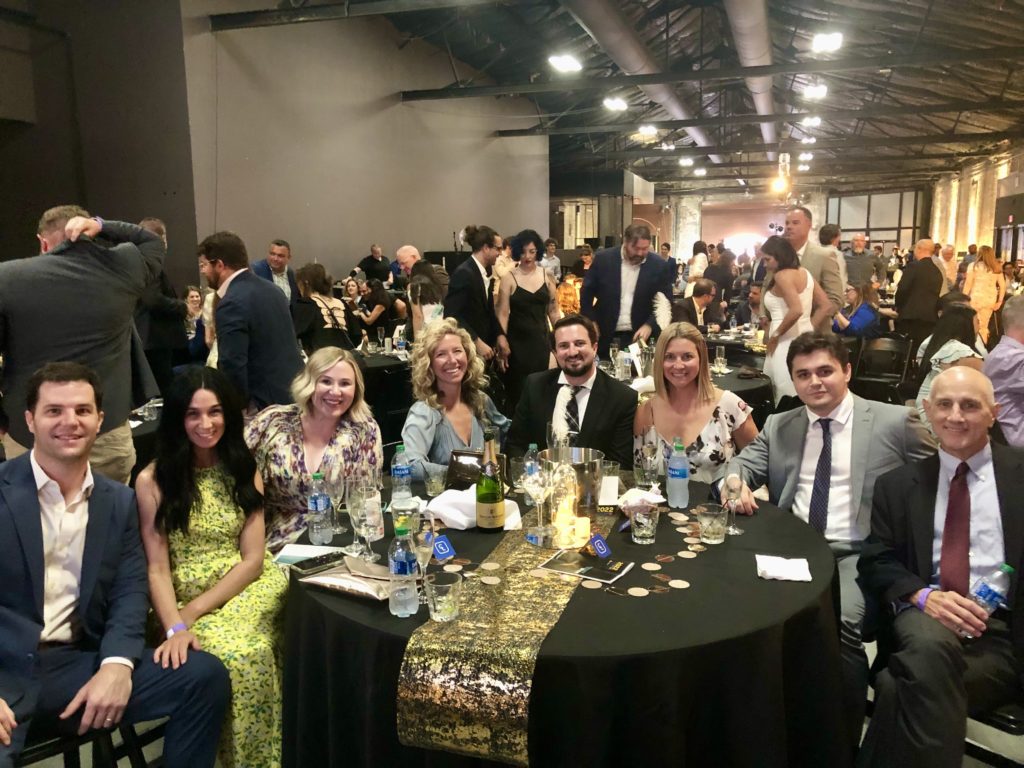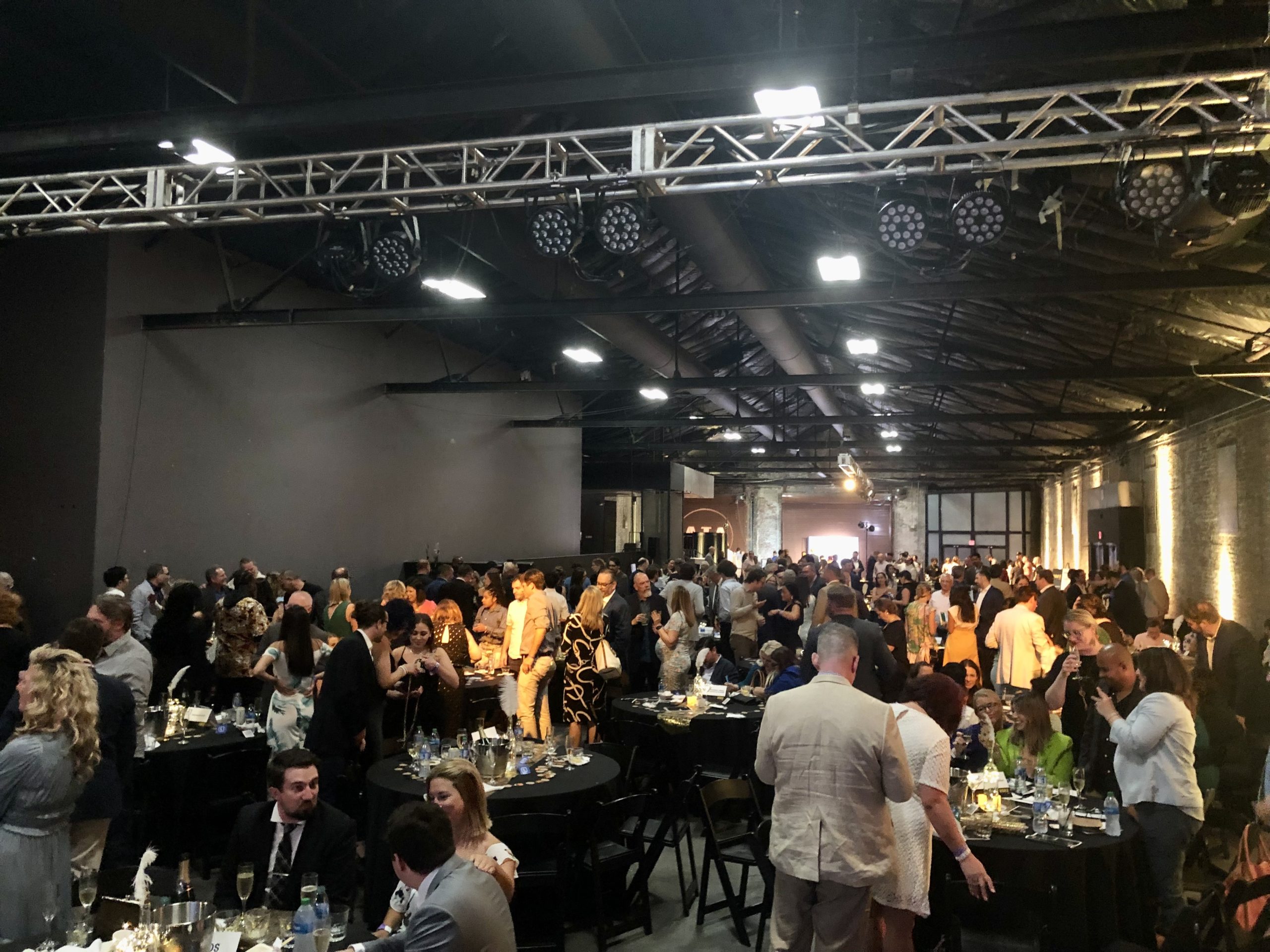 We extend a huge thank you to the AIA New Orleans team for their hard work putting this event together. Thank you to the entire design community for their dedication to excellence in architecture and design, and congratulations to all of the 2022 winners! We'd especially like to recognize a few of our clients, who we were honored to partner with on these award-winning projects.
Honor Award – Commercial Small Scale
Founded in 2005, AMCREF Community Capital is an impact-driven specialty finance firm committed to building a smarter world through smarter finance. AMCREF supports early-stage and high-growth companies with a range of financial products and services, specializing in investments that improve communities, create quality jobs, and serve the environment.
Designed by Chase Marshall Architects, its new uptown building features a unique semi-circular shape. The architecture firm utilized DIRTT timber to create an interior framework for the private offices, lounge and conference room as well as millwork for conference room storage. DIRTT walls provide privacy among the neighboring offices while glass sliding doors allow for an effective use of space and a sense of openness. In addition to manufactured interior construction, Chase Marshall Architects worked with AOS to provide furniture solutions for the new space.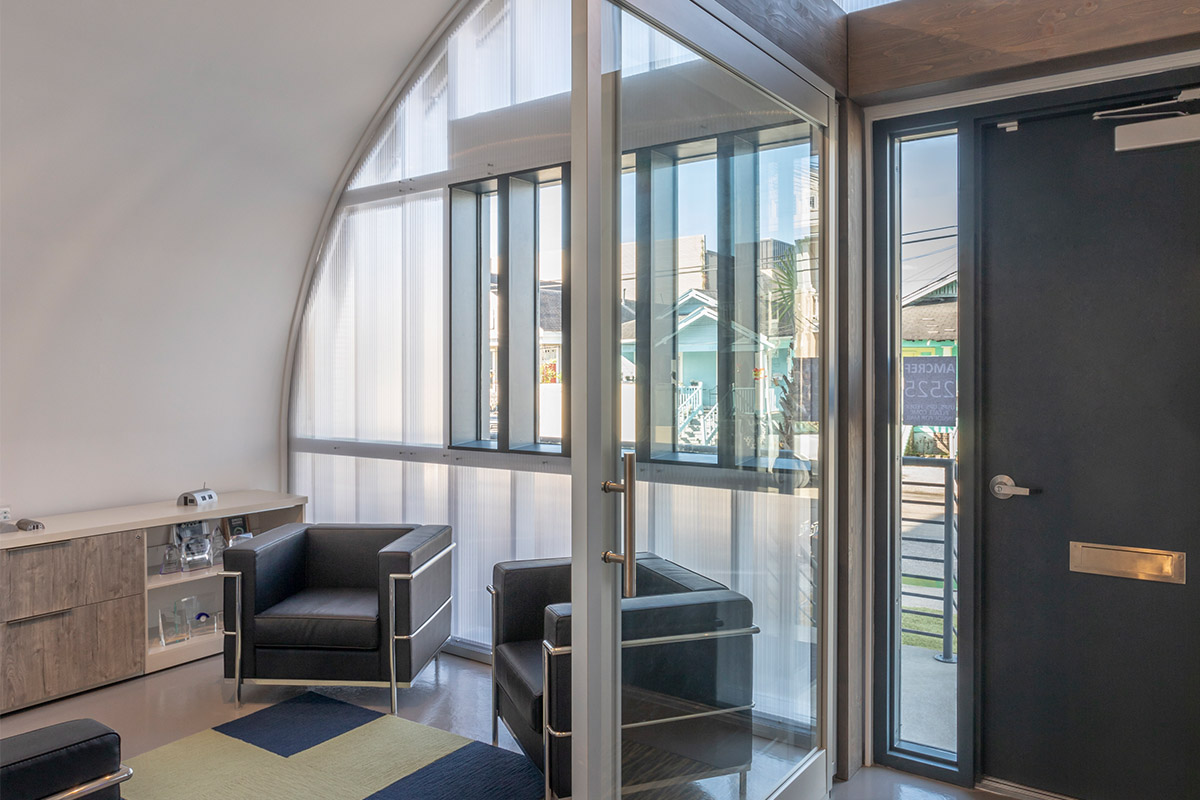 Award of Commendation – Interior Architecture
Designed by StudioWTA, Tulane University's Mussafer Hall is one of the latest projects on the historic uptown campus. Earning LEED Gold certification, the combined 23,000-square foot building includes the renovation of and an addition to a 1902 Dutch Renaissance-style brick structure. Home to academic advising, career services, and success coaching, the facility brings together these programs under one roof for the first time, centralizing services on the academic quad.
Mussafer Hall is a touchstone for Tulane students before they enroll, during their years at the university, and as they embark on their future careers. Programming of the building expressed a critical need for flexible, multipurpose furnishings that foster a connective environment and maximize the functionality of spaces for its various users. Over 20 manufacturer lines helped bring the design to life. Adaptable, durable furniture supports the task at hand and meets the needs of today and tomorrow. From casual to formal, impromptu to planned, open to enclosed, a variety of meeting areas support the staff and students, including open area lounges, a faculty break room, a conference room and an outdoor terrace on the second floor. A large flex room, located near the main entrance on the first floor, offers a multifunctional space for lectures, events, career fairs, registration and training.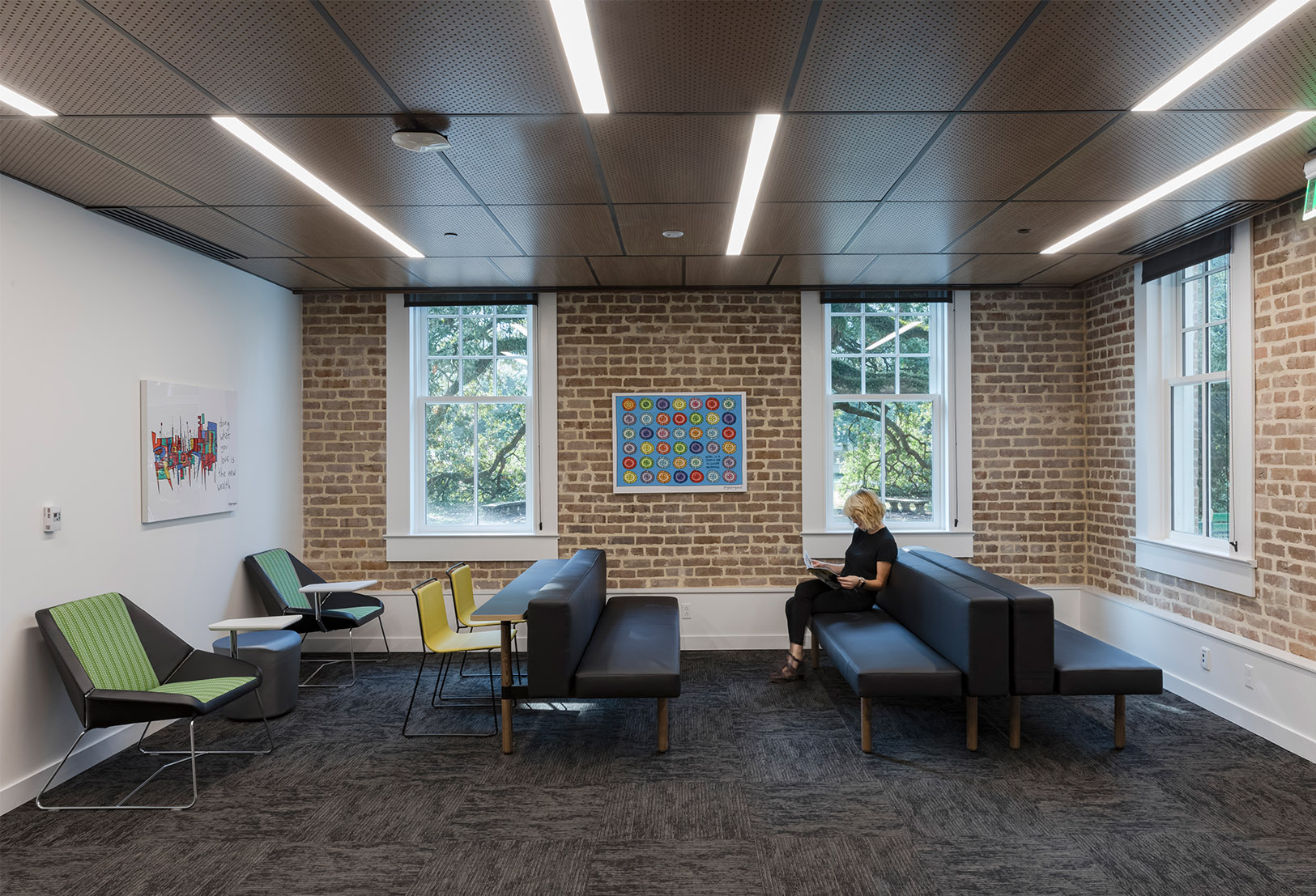 Award of Merit – Interior Architecture
As the largest workers' comp insurance in the state, Louisiana Workers' Compensation Corporation (LWCC) is a private, nonprofit mutual insurance company that works towards creating a safe, happy and healthy workforce. In 2018, EskewDumezRipple (EDR) began an extensive renovation consisting of six floors of LWCC's headquarters in Baton Rouge.
The design optimizes employees' health and wellness and shapes their daily experiences through choice and flexibility. A variety of meeting and breakout spaces, individual workstations, private offices, a café, and training room allow employees to choose how and where they want to work. EDR also conducted a study on daylighting and created a central staircase and atrium to allow natural light to fill the interior, encourage movement throughout the day and create more open views. While the office becomes a destination of choice, the holistic approach also empowers employees and drives engagement and culture, fostering a positive work environment and creating a sense of care and belonging. In February 2022, LWCC became LEED Silver certified by the U.S. Green Building Council.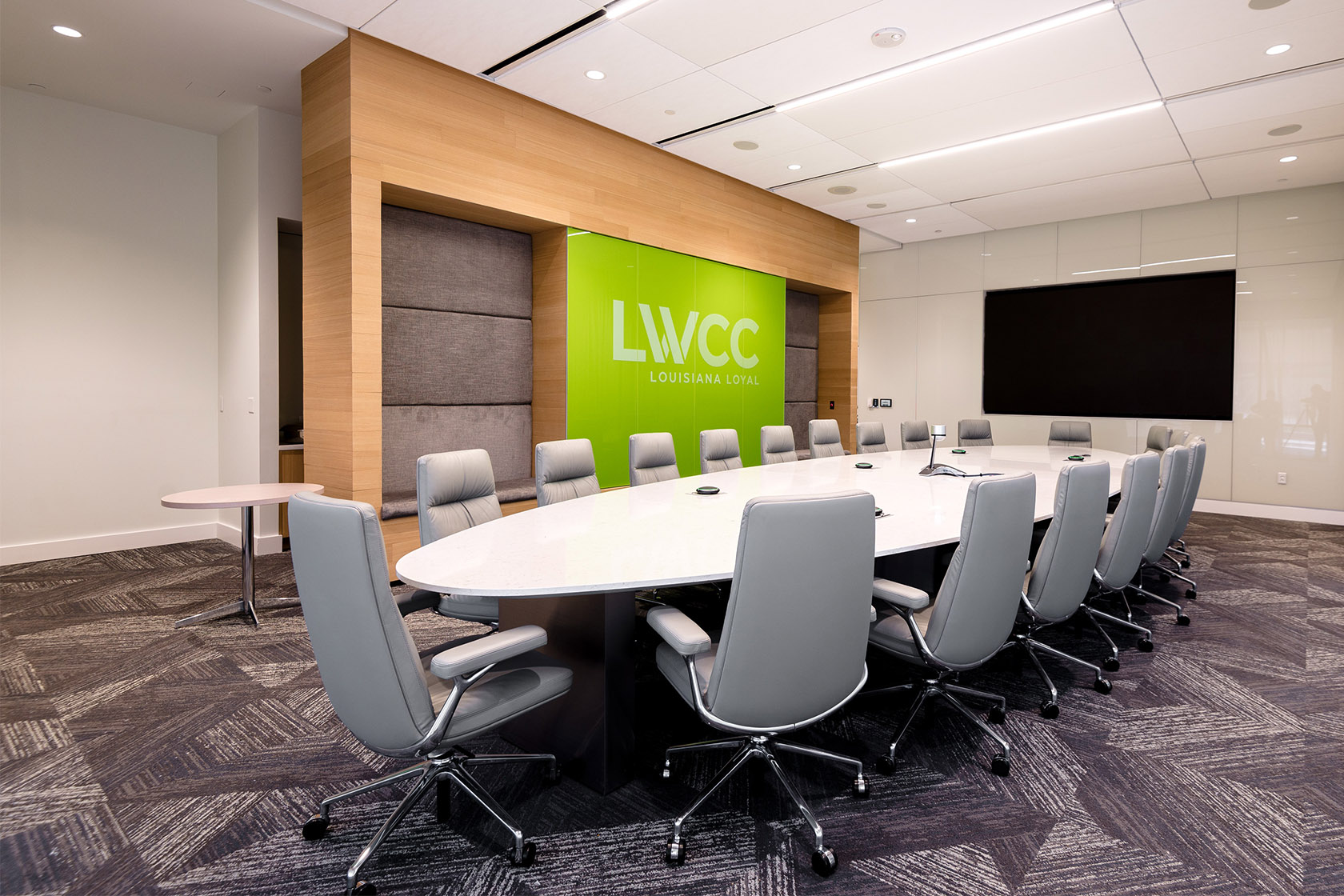 Mya
Award of Commendation – Interior Architecture
A new adventure in Salt Lake City living, Mya features thoughtfully designed, one-bedroom apartments with a vibrant community that includes The Shop shared workspace, an on-site fitness studio, and accessible downtown location. Designed in collaboration between EskewDumezRipple and Domain Companies, the mixed-use development covers 30,000-square feet and combines workplaces, residences and retailers in a central location, contributing the area's growth.
The overall goal of "affordability through design" got the jury's attention. With both a difficult site and program, the building joins disparate functions, and makes room on the site for outdoor space, while articulating distinct entries for each program. The unusual stepping strategy not only expresses the modular nature of the residential portion of the building but provides some natural shading from the setting summer sun.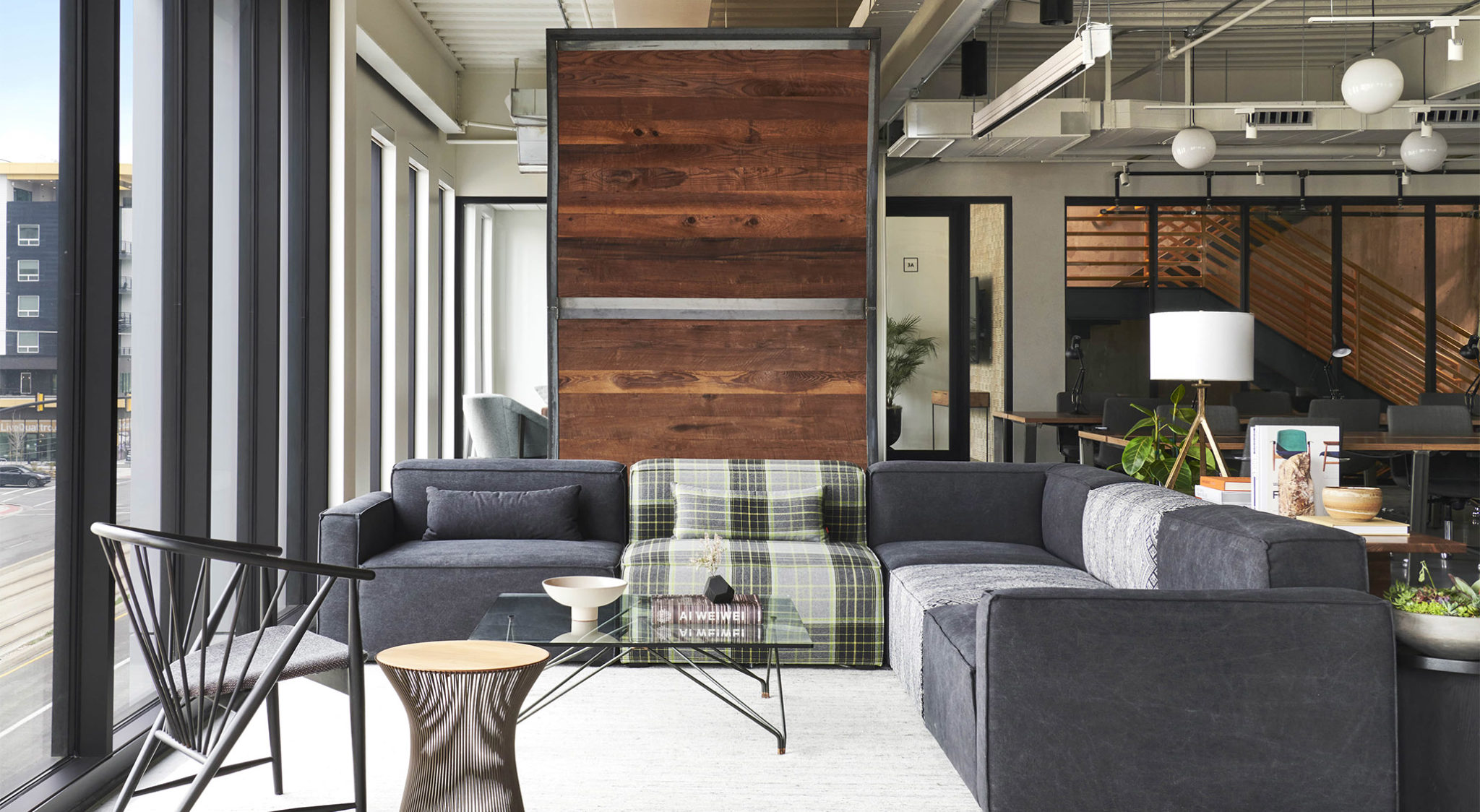 353 Carondelet
Award of Merit – Historic Preservation, Restoration & Adaptive Reuse
At the corner of Carondelet and Perdido streets, 353 Carondelet is home to Fidelity bank in New Orleans' Central Business District. Trapolin-Peer Architects led the historic rehabilitation of the circa-1850 commercial building, restoration of a Mid-Century modern façade slipcover and renovations to the interior. As part of a block of identical buildings known as "Union Row," the structure was placed on the national register after a 1958 renovation. They sought to brighten the windowless interior without dramatically changing the historic façade and create a cohesive mid-century modern-inspired design from the exterior to interior. The renovation features a number of mid-century modern design elements, such as restored original terrazzo flooring, warm woods, and iconic designs from Knoll, such as the Brno Chair, Barcelona Chair, Saarinen Executive Stool and Florence Knoll End Table. The first floor welcomes guests with a large open banking area and also includes private offices and central meeting areas while the second floor features the executive suite, breakout spaces, a board room and a break room.
This sensitive "rehabilitation" of a 19th century commercial building illustrates a highly successful preservation/restoration project. The jury was impressed with the clarity of intention, precisely articulating the work that was done, as well as the goals of the project team. The new porcelain panels that replace the metal "slipcover" bring the Mid-Century Modern façade back to life, and the drawings and photographs thoroughly explain the restoration process.
Photos | Courtesy of Trapolin-Peer Architects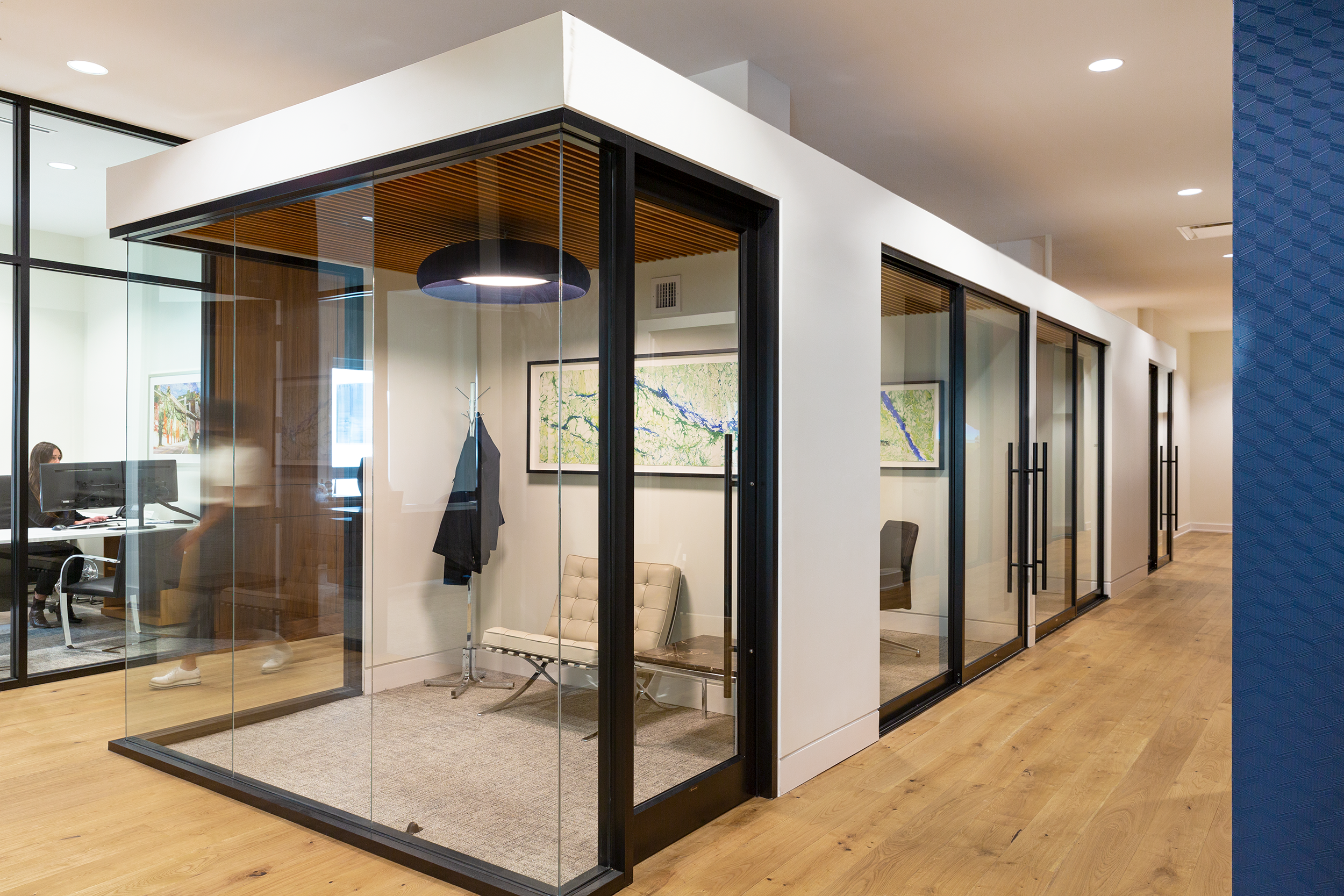 Industry Award
In 2018, Isidore Newman School completed a state-of-the-art, 30,000 sq ft Science and Technology Center, at their uptown New Orleans campus. The three-story building houses the Middle and Upper School science program with floors dedicated to the Life Sciences, Applied Chemistry, and Physics and Design. Known for their academic excellence, the new facility marks a major milestone in the school's long-term master plan to maintain high quality educational programming for its students.
Designed by Woodward Design+Build, the facility features nine classroom laboratories for biology, chemistry and physics and three signature labs. The school sought to incorporate student-led experimentation into learning environment and foster collaboration with a hands-on approach. AOS worked with Newman and Woodward to help enhance the physical environment by providing lab tables, desks, and seating for students and faculty. Together the furniture, advanced equipment and latest technology allow experiments to blend seamlessly into classroom instruction while addressing the needs of teachers and students.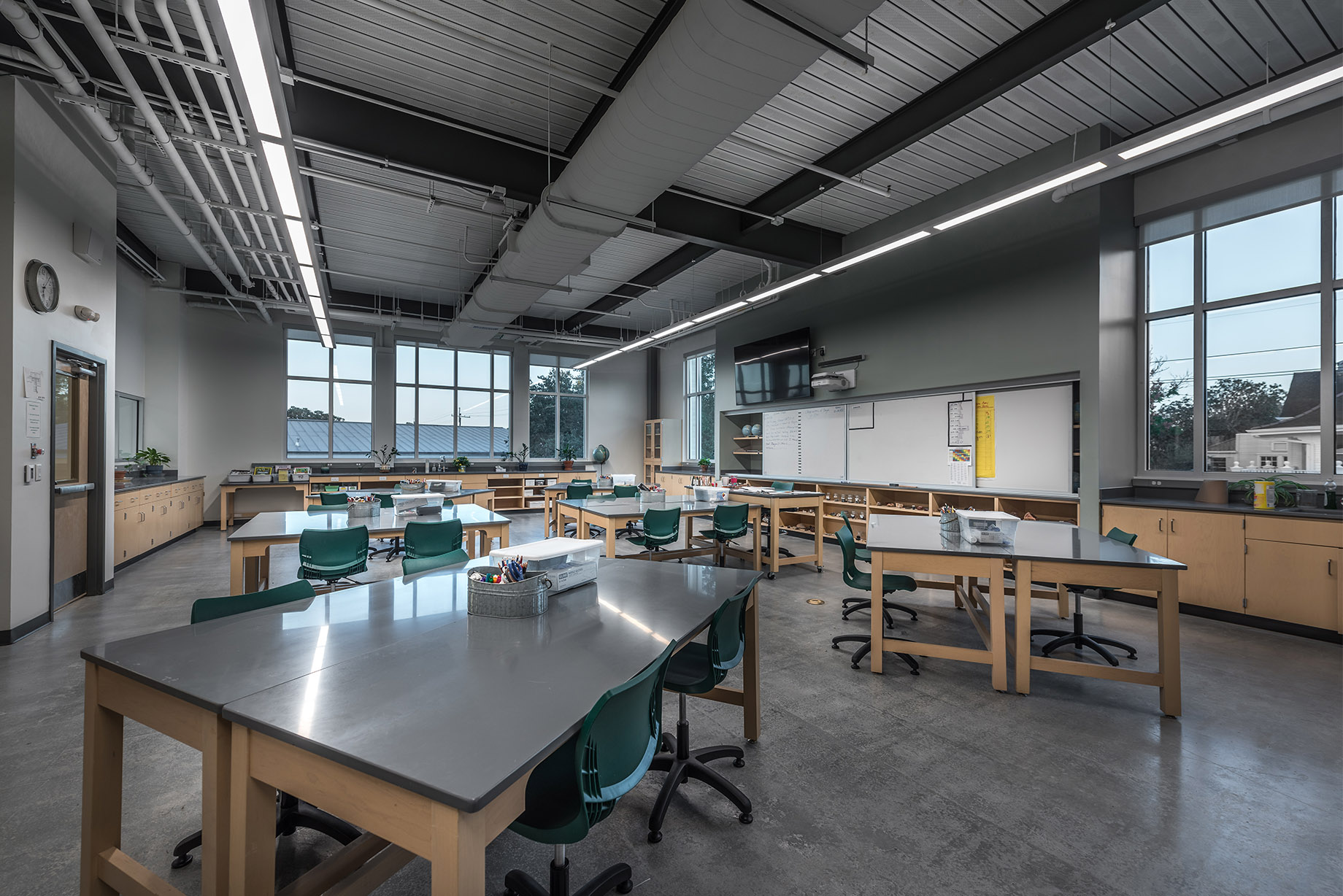 See below for the complete list of winners:
Adamick Architecture | Val's on Freret – Award of Merit, Commercial Small Scale
Chase Marshall Architects | AMCREF Community Capital – Honor Award, Commercial Small Scale
Mathes Brierre Architects | Virgin Hotel – Award of Commendation, Commercial Large Scale
Holly & Smith Architects, APAC | Delgado Community College: Advanced Technology Center – Award of Commendation, Civic/Institutional
studioWTA | Mussafer Hall – Award of Commendation, Interior Architecture
EskewDumezRipple | LWCC Corporate Renovation – Award of Merit, Interior Architecture
Chase Marshall Architects | Eastshore Playground – Award of Commendation, Small Scale
Trahan Architects | Betty & Edward Marcus Sculpture Park at Laguna Gloria – Award of Merit, Small Scale
The Albert and Tina Small Center for Collaborative Design | Sugar Roots Outdoor Kitchen – Honor Award, Small Scale
EskewDumezRipple | Mya – Award of Commendation, Multi-Family Residential
Bell Butler Design Architecture | Octavia Residence – Award of Commendation, Single Family/Two-Family Residential
colectivo | Pine Street Residence – Award of Merit, Single Family/Two-Family Residential
colectivo | Esplanade – Award of Commendation, Historic Preservation, Restoration & Adaptive Reuse
Trapolin-Peer Architects | 353 Carondelet – Award of Merit, Historic Preservation, Restoration & Adaptive Reuse
Waggoner & Ball Architects | Charleston City Plan: Land & Water Analysis – Award of Merit, Master Planning/Urban Design
EskewDumezRipple | USM Executive Education Center – Award of Merit, Unbuilt Architecture
NANO LLC | Shaping The City – Honor Award, Unbuilt Architecture
ALAO | POP! House – People's Choice Award
Woodward Design+Build | The Rupa and Tarun Jolly Science and Technology Building at Isidore Newman School – Industry Award
Learn more about these projects on AIA New Orleans.