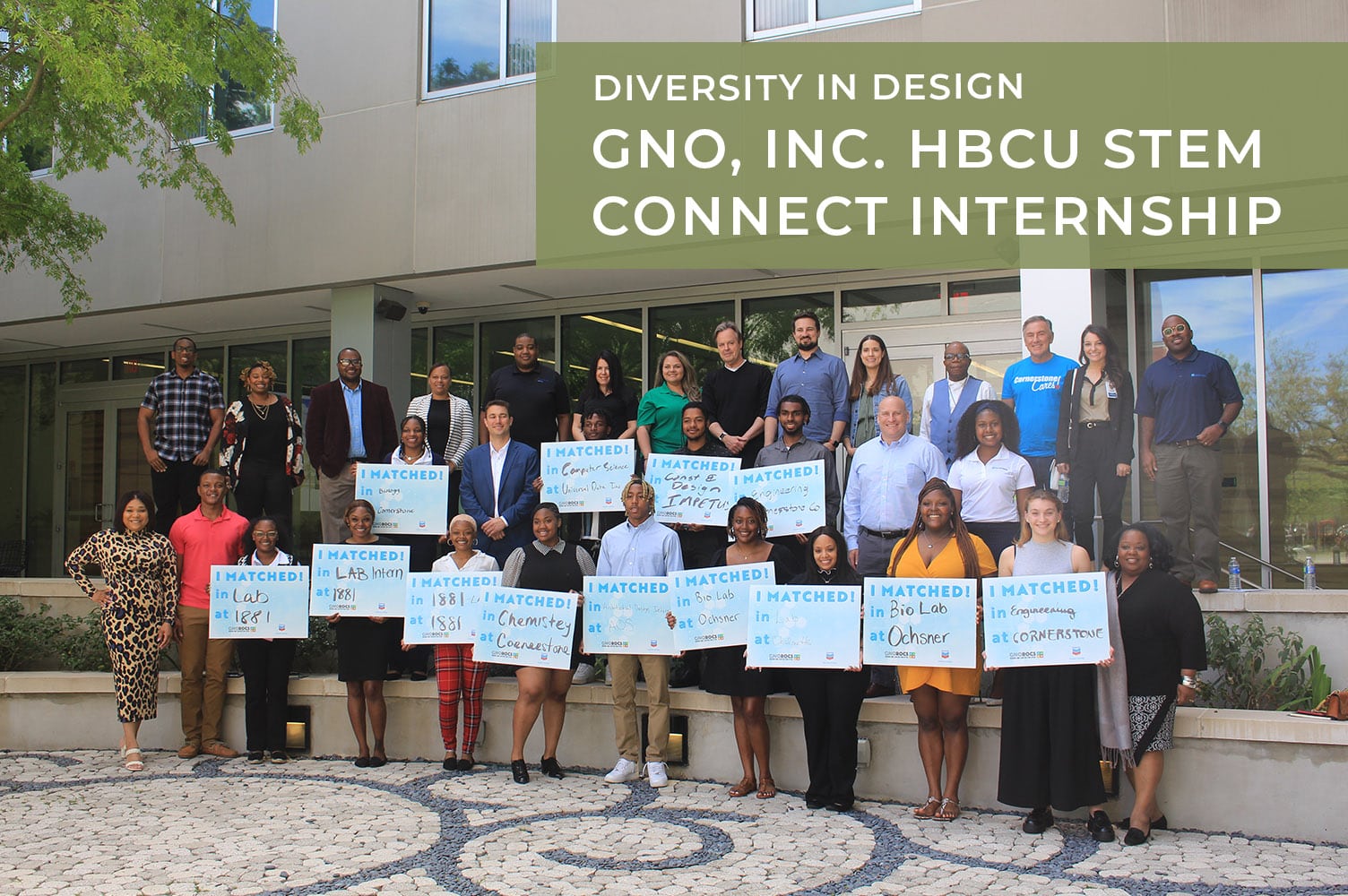 14 Apr

Diversity in Design: GNO, Inc. HBCU STEM Connect Internship

On Friday, April 1, 2022, Greater New Orleans, Inc. (GNO, Inc.) held their inaugural STEM Connect Internship Match Day at the New Orleans BioInnovation Center. This new initiative connects STEM businesses and industry leaders in the region with HBCU STEM undergraduates to increase diversity, equity and inclusion in these employment areas where there is traditionally a deficit in underrepresented minority and gender groups.

The program pairs students from partnering institutions, such as Xavier University of Louisiana, Dillard University, and Southern University at New Orleans, with local, STEM-related business who are seeking qualified, diverse talent. In the first cohort, participating companies include AOS, Chalmette Refining, Cornerstone Chemical Company, The 1881 Institute of Technology, Ochsner Health, Impetus, Universal Data, Inc., and Porchjam Distillation.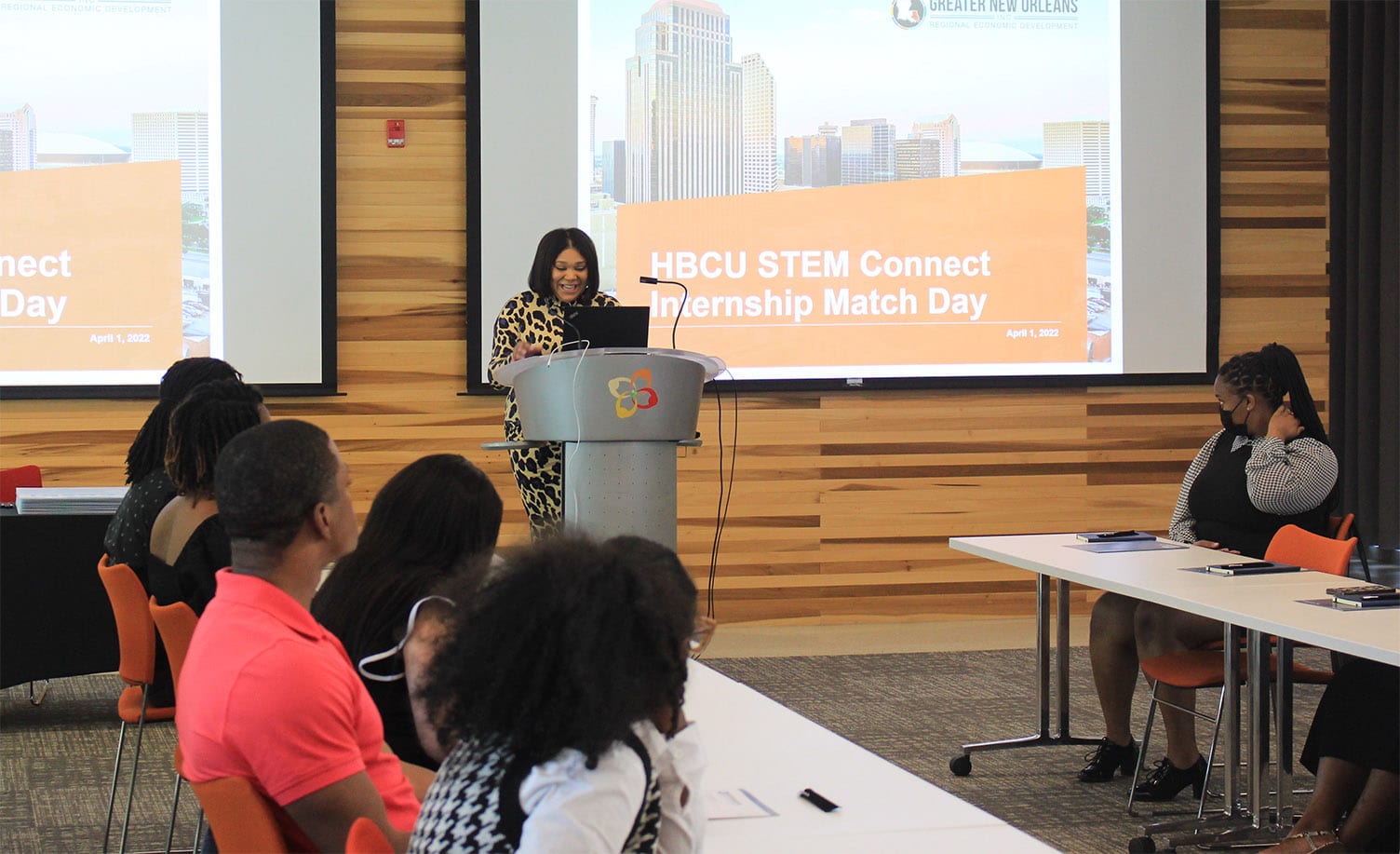 According to a 2021 study from the Pew Research Center, Black workers make up 9% of the STEM workforce. They comprise just 5% of those in engineering and architecture and 6% each in life and physical science jobs. In addition, Hispanic workers represent 8% of the STEM workforce.
To increase the number of underrepresented minority and gender groups in STEM, GNO, Inc. started the STEM Connect Internship program as part of GNOrocs. Internships provide a meaningful way for students to connect their learning with the real impact that their career can have on the world. The program aims to help these groups gain marketable, skilled training in their STEM pathway and also develop a graduation to employment pipeline for participating businesses. Through real life training in their field of study, students will receive professional mentorship, acquire industry contacts into the workforce, and gain resume-building experience.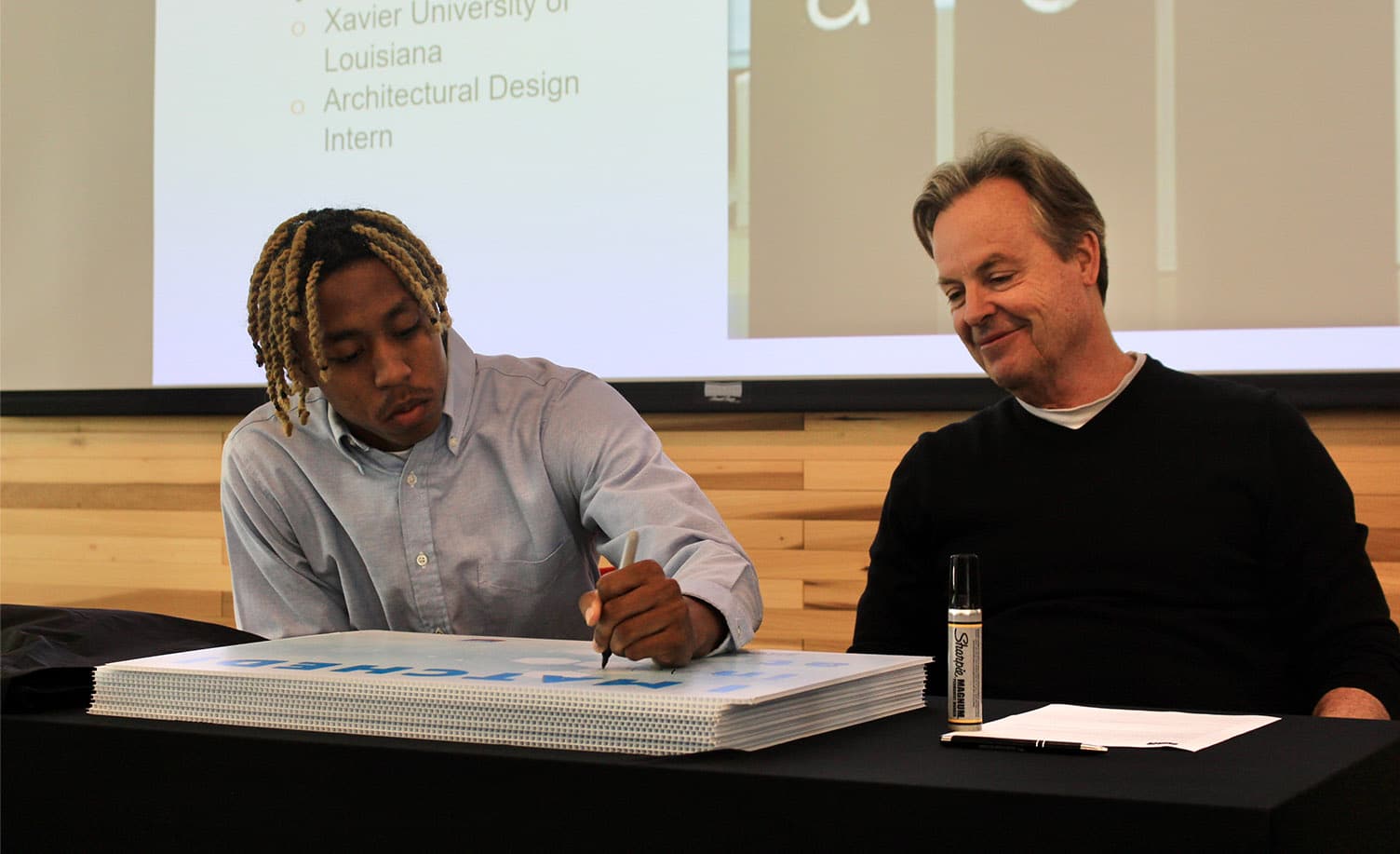 AOS is thrilled to welcome Tyrin Porter, an engineering student from Xavier University of Louisiana, as an intern on our Manufactured Interior Construction team. During his time here, he will shadow our project managers and installers, experience commercial design projects in the various phases from planning through installation, sit-in on client presentations and explore construction resources.
Interested in AOS' growing internship program? Click here to visit our Careers page.
Photos | Courtesy of GNO, Inc.
About GNOrocs
Greater New Orleans, Inc. (GNO, Inc.) has been designated as the Region 1 STEM Network Center by the Louisiana Board of Regents LaSTEM Advisory Council and will represent Southeast Louisiana in this capacity. It is one of nine regional STEM Network Centers, which operate as a system of STEM leadership entities strategically positioned across Louisiana to improve access to STEM education, participation, and advancement. This includes closing the opportunity gap for underserved and underrepresented populations to engage in Louisiana's STEM workforce.
Click here to learn about GNO Inc.'s STEM initiatives and opportunities to get involved and download GNO Inc.'s STEM Connect Internship flyer below.