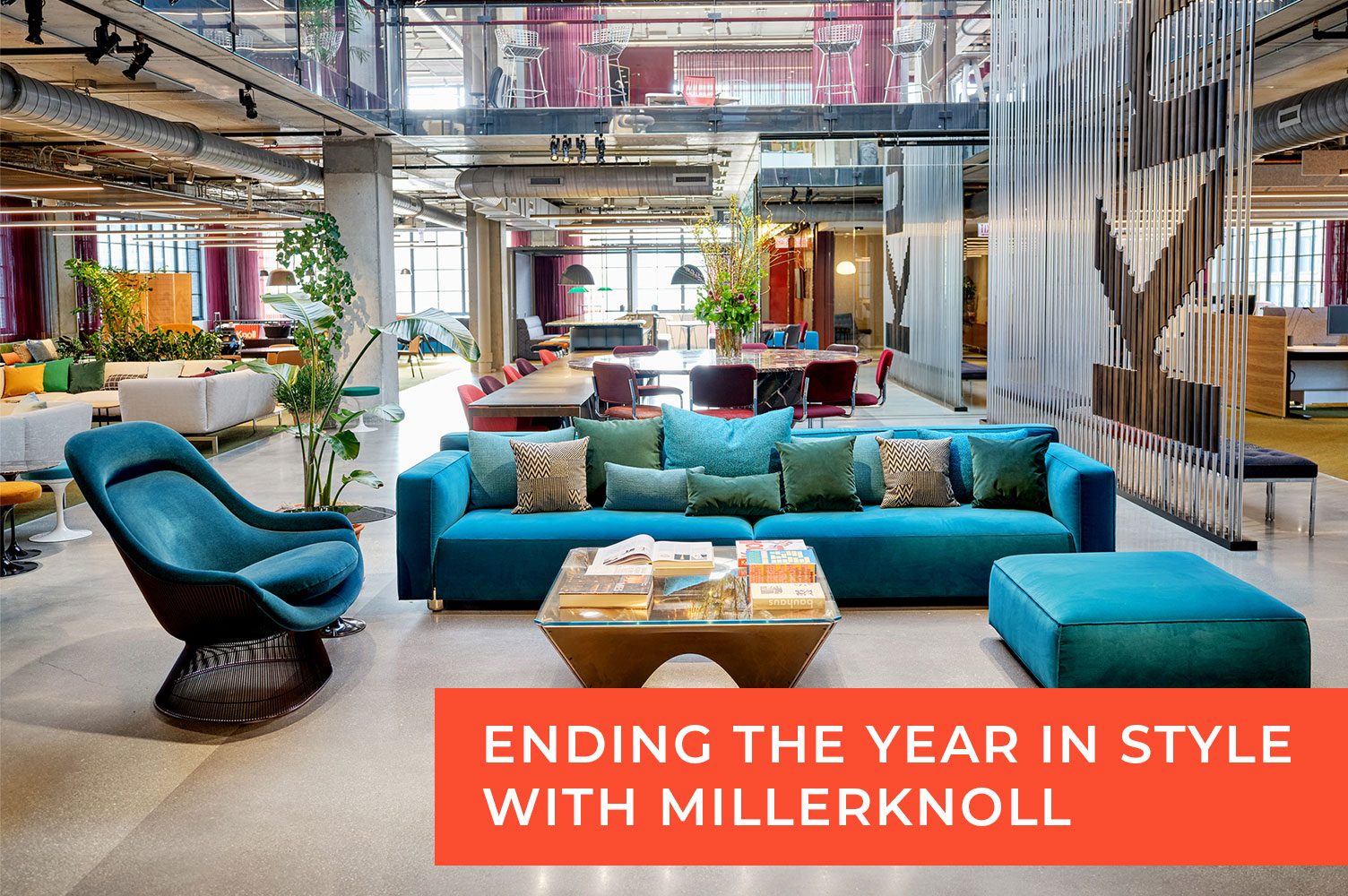 30 Dec

Ending the Year in Style with MillerKnoll

2022 was an exciting year with the launch of MillerKnoll! As a local design-assist partner, together AOS + MillerKnoll give you the best of both worlds: all of the exceptional service you know and trust with AOS—now with more options. MillerKnoll's collective of dynamic brands comes to design the world we live in, including Herman Miller, Knoll, Muuto, HAY, NaughtOne, Datesweiser, Geiger, Maharam and KnollTextiles. People are at the center of all we do. Design is the way we come together to imagine and shape a better future: both places that matter and a better world. We're redefining modern for the 21st century, making it more inclusive for people and kinder to the planet.

Revisit some of this year's highlights below.
Presenting MillerKnoll Design Days
MillerKnoll, a global leader in design, hosted the company's first Design Days with product launches, exhibits, and events across its brands from June 13-15, 2022 at the company's Fulton Market showrooms in Chicago, Illinois. As one of the early anchor tenants, MillerKnoll helped shape Fulton Market into a design destination. Today, the company's collective of brands comes together in 70,000 combined square feet of showroom and retail space across locations at 1100 and 811 West Fulton Market. Driven by complementary problem-solving philosophies, the research, insights, and products of MillerKnoll are on display to inspire solutions for the future of work.
Explore the Knoll Showroom here and the Herman Miller Showroom here.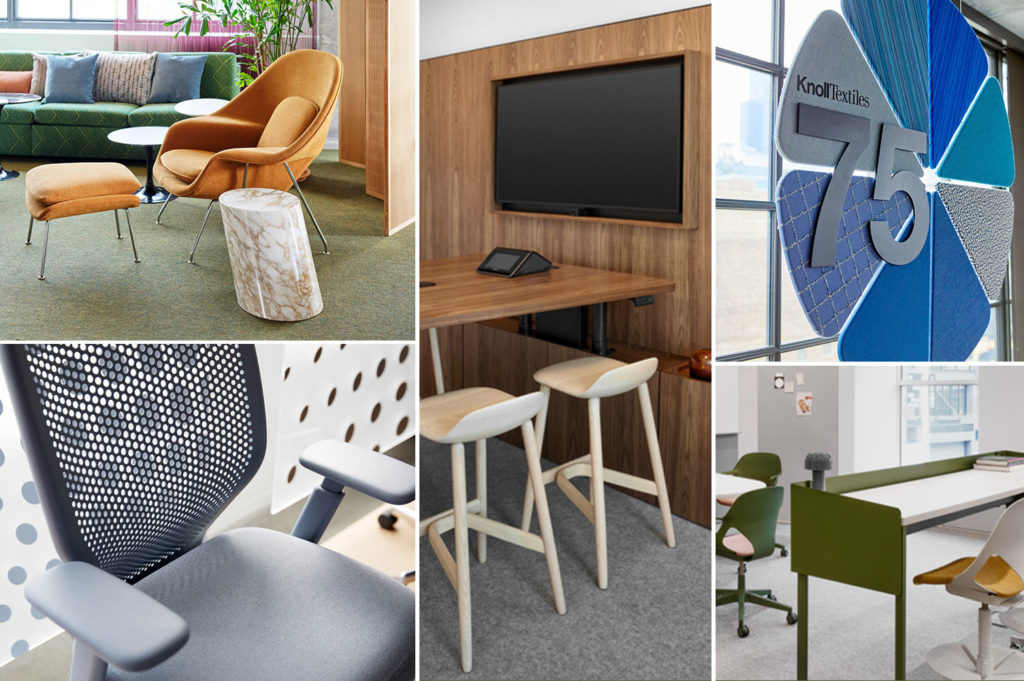 Newson Task Chair debuts in Chicago
Knoll previewed Marc Newson's new task chair at Design Days, drawing praise from Fast Company and Designboom. The Newson Task chair has a quiet confidence that creates an interesting duality: the ability to stand out as a statement piece or blend into its surroundings. The monochromatic scheme gives a sense of wholeness to the chair and creates visual continuity. With four hues to choose from, the Newson task can reflect your unique sense of style.
Introducing Zeph
Zeph created buzz as Herman Miller's new entry-level task chair—a classic silhouette made modern with research-backed ergonomics. Its advanced yet simple design offers more for less—more comfort, colors, and style—made with fewer components and at a price that makes it the perfect entrée into the world of Herman Miller performance seating.
Presenting the Heritage Collection
KnollTextiles celebrated 75 years this summer with its new archive-inspired Heritage Collection. The 75th anniversary provided the KnollTextiles design team an opportunity to mine its extensive archives for timeless products ripe for revision, whether that be an updated palette, design modifications, or fiber content changes to meet performance attributes appropriate for today's commercial standards.
Geiger elevates work
Geiger unveiled its new Leatherwrap Sit-to-Stand desk from BassamFellows and announced an expansion to the award-winning Geiger One Casegoods Collection. the Geiger Leatherwrap Sit-To-Stand Desk marries proven ergonomics with impeccable design and premium details. It is fitting for both the private office and home office. In addition, the Geiger One Casegoods collection now fully services three distinct office settings, including private offices, meeting and huddle rooms, and open office plans, utilizing many of the same components in different applications to create spaces that prioritize function and are brought to life through the beautiful, unmistakable craftmanship of the Geiger brand.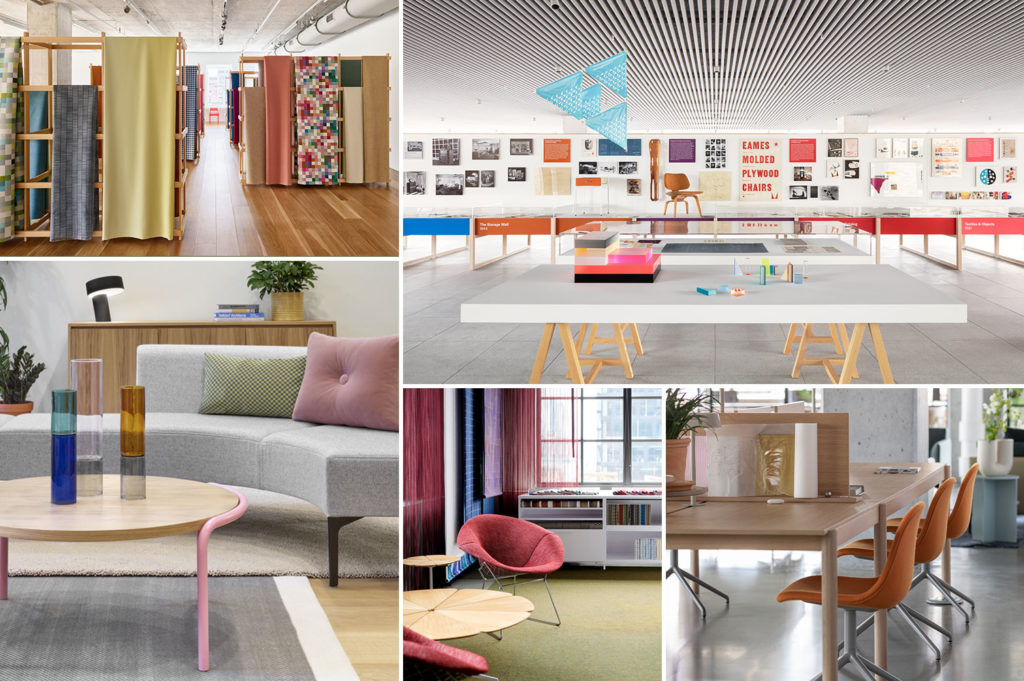 A space that feels just right
Scandinavian design company Muuto invited visitors to explore design's impact on mood with an interactive exhibit. The immersive space encourages people to ask themselves: What makes a space feel just right to me? Recognizing that there is more to design than meets the eye, Muuto is investigating what design can do to make us feel more at ease, focused and grounded in our surroundings. The exhibit reflected on five key elements that help make a space feel just right—light, color, tactility, nature and form.
Alongside the exhibition, Muuto introduced six new designs by Iskos & Berlin, Thomas Bentzen and Anderssen & Voll. With forward-looking materials, techniques, and bold creative thinking, Muuto showcased new perspectives on Scandinavian design and expansions to their collections, including the Linear System Series, the Linear Steel Chair, the Connect Soft Modular Sofa, the Oslo Lounge Chair, the Sketch Toolbox, and the Fiber Conference Armchair.
Upholding artistry and sustainability
NaughtOne added three new product collections featuring well-crafted design with a sustainable focus. The collections continue to uphold the brand's commitment to timelessly beautiful designs that strive to be environmentally responsible. The new collections, Penny, Sweep and Tier, are each capable of being easily disassembled using simple hand tools and designed to be free from adhesives, optimizing each component's ability to be recycled and reused after its initial end of life.
A new Perspective
Maharam introduced Perspective, the latest and twenty-third woven textile designed by Paul Smith in collaboration with the Maharam Design Studio. Perspective was developed in response to a series of paintings by Pezo von Ellrichshausen—the Chilean and Argentine architectural duo of Mauricio Pezo and Sofia von Ellrichshausen. This elemental architectural language spoke to Smith and Maharam who worked closely to develop a pattern that would extend its vocabulary to upholstery. The inquiry also presented the opportunity to reimagine classic geometric motifs—a focus of the studios' joint creative work for nearly two decades.
In addition, Maharam previewed over twenty new textiles at its Chicago showroom. The presentation featured upcoming offerings from the Maharam Design Studio, Scholten & Baijings, and Maharam's newest collaborator, the Dutch designer Bertjan Pot, whose first collection of woven rugs and textiles with Maharam launched in November.
An unparalleled glimpse into Herman Miller history
On its third printing after selling out its first two runs, Herman Miller: A Way of Living continues to captivate audiences with its unmatched collection of brand stories, historical artifacts, documents and photographs from one of the world's most influential design companies.
To celebrate the century-spanning storytelling accomplished by A Way of Living, Herman Miller offered visitors the rare opportunity to interact with the company's archives through a special exhibition housed at Herman Miller's Fulton Market location in Chicago. The book is brought to life through artifacts, ephemera, graphics, textiles, and rare furniture pieces that are typically unavailable to the public, such as as Irving Harper paper sculptures, a contemporary glass model by Phillip Low, pop-out sections dedicated to Nelson and Girard, and treasures from the Herman Miller vault, like Gilbert Rohde's early modernist designs.
Introducing Herman Miller x HAY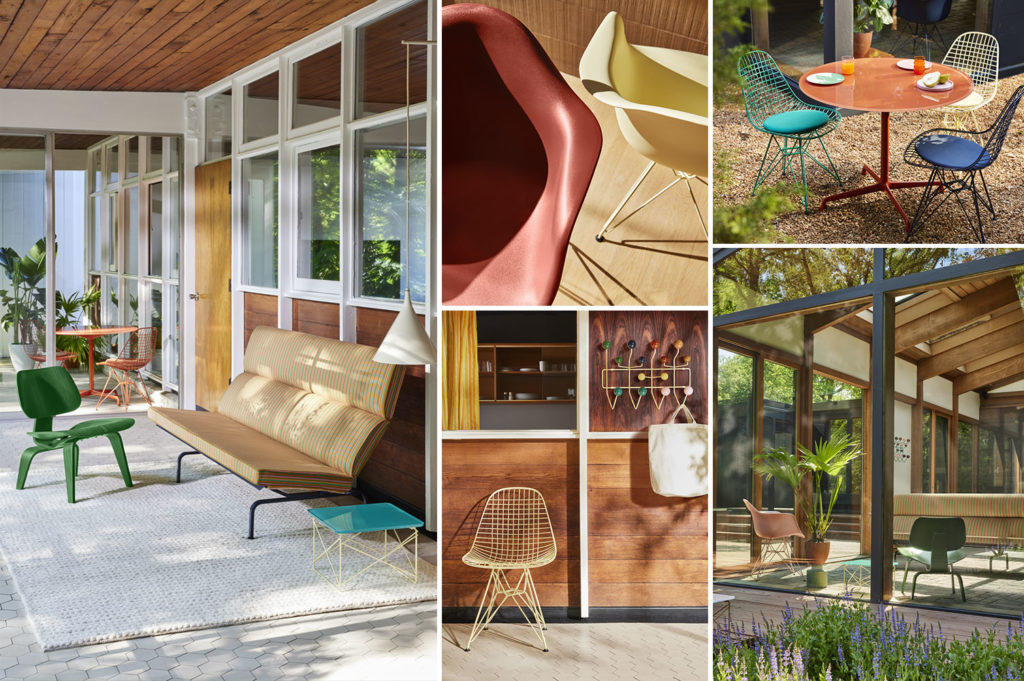 Herman Miller is built on a legacy of creative collaboration. In a first-of-its-kind collection, the Danish design house HAY thoughtfully reimagines eight Eames classics—including the Molded Plastic Shell Chair, Wire Base Low Table and Hang-It-All—for a new generation of modern design enthusiasts in the Herman Miller x HAY collection. Featuring new, inspired color palettes and updated materials, this permanent collection is a powerful combination of original, timeless design with a contemporary point of view. It presents a unique vision of color, the evolution of conscious materials and a beautifully interconnected story of design partnership.
KnollTextiles Celebrates Its 75th Anniversary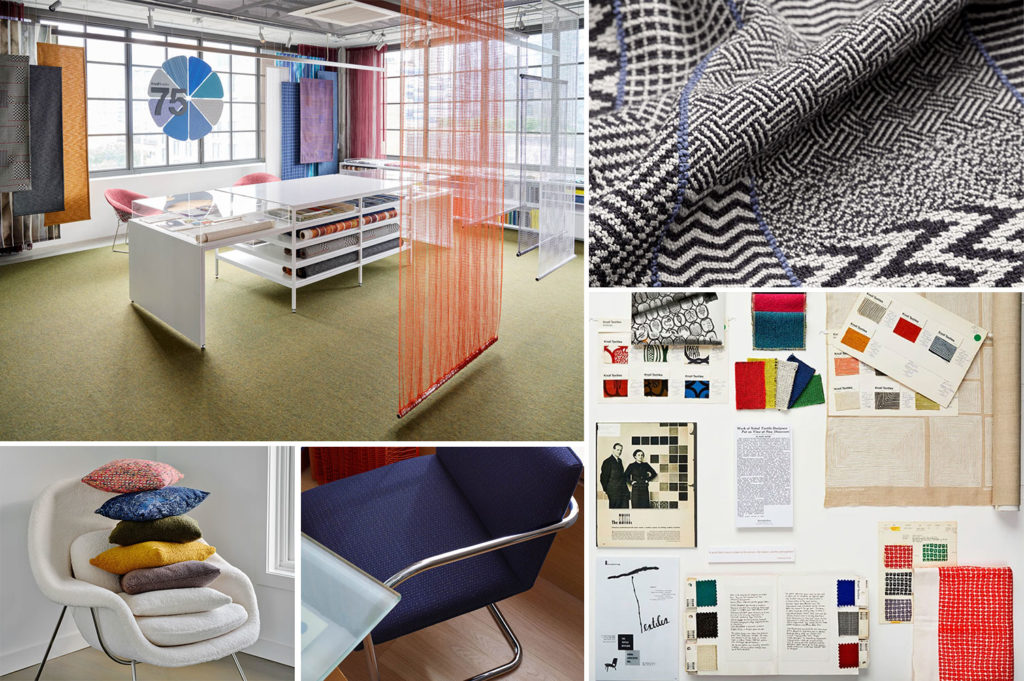 KnollTextiles, the textiles trailblazer renowned for infusing beauty with function, celebrates its 75th anniversary in July 2022 by introducing The Heritage Collection: eight archive-inspired textiles that continue to evolve the modernist tradition. The origin of Knoll's textile division lay in what Florence Knoll called "necessity," as her design vision was initially hampered by the lack of "suitable" fabrics available in the post-war period. Inspired by menswear, Florence modified wool from the garment industry, resulting in the first commercial upholstery. This unexpected adaptation of simple menswear fabric for furniture application signified the first step in Florence Knoll's enduring legacy of innovation and the founding of the KnollTextiles business in 1947.
Learn about KnollTextiles' legacy here.
Dive into the Design Library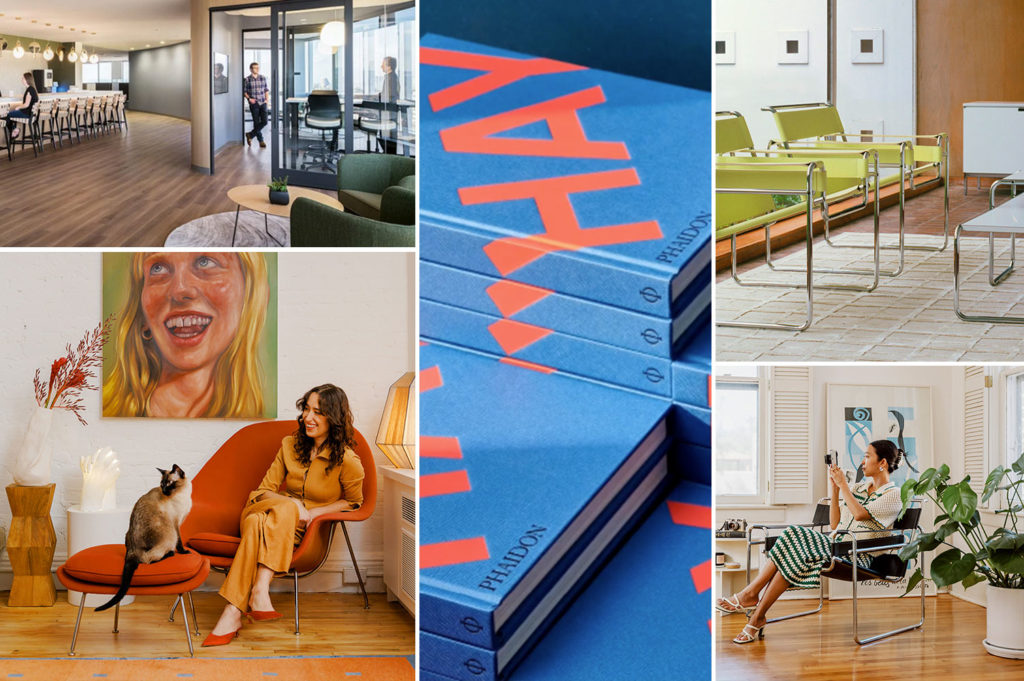 Knoll Works
The third volume of Knoll Works celebrated the power of partnerships and showcased how they help create places people love to be. In this issue, learn about designer Ini Archibong on the dual lens of connection, designer Marc Newson on his latest covetable object, six inspiring projects, and conversations with Anne Helen Petersen, John McCabe and Kevin Yi.
Read online here or pick up a copy in our Showroom.
HAY
This year HAY published its first book by Phaidon. HAY explores the brand's origins and astronomical trajectory, its collaborations with designers and brands, and the aesthetic alchemy that makes HAY's products and retail environments so distinct.
Shu
A trailblazer for Mid-century Modern design, Florence Schust Knoll, nicknamed Shu by her childhood friend Eero Saarinen, took her exquisite taste and showed the world how to design a life well-lived through the perennially chic "Knoll Look." At Knoll, their team looks to Shu in everything that they do—and that's why they've named their seasonal online magazine in her honor. Shu shares how others take a cue from her philosophy today. Because we can all learn from Shu.
In this year's digital issues, learn how the Wassily Chair changed it all, Sisilia Piring chooses essentials and designs for spaces of every size, and how Chloe Wise designs with an artist's approach.
Doing More for Our Planet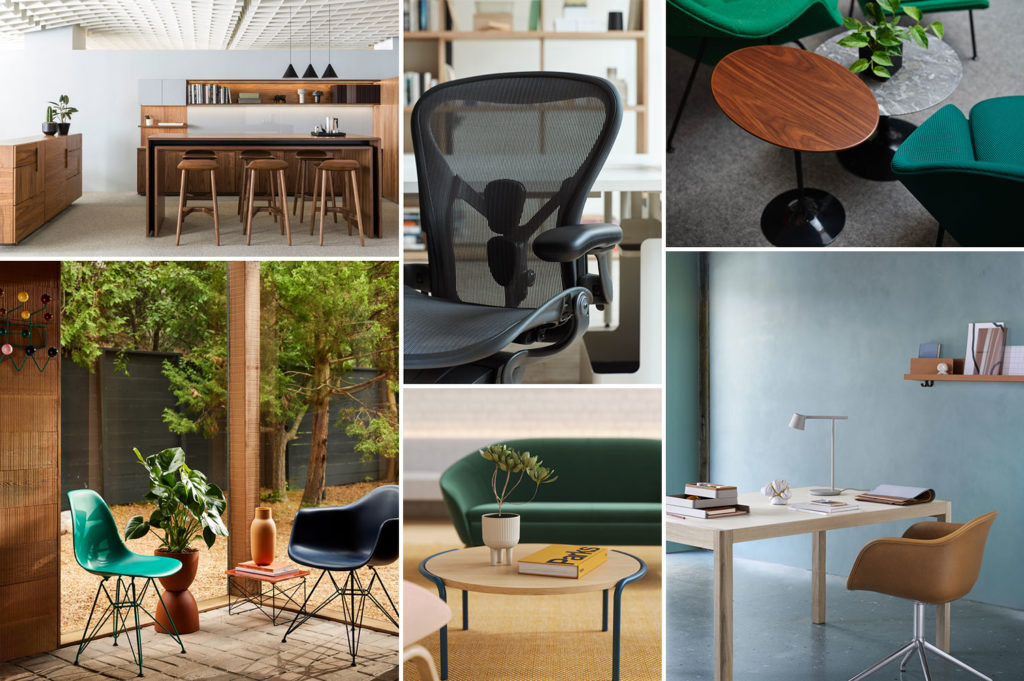 Herman Miller launches a more sustainable shell
From innovation to archetype, the Eames Shell Chairs began as an experiment in the enduring product lines and one of Eames' greatest gits. A midcentury classic, they're now made with 100% post-industrial recycled plastic.
MillerKnoll makes sustainable product sourcing easier
As part of MillerKnoll, Herman Miller and Knoll recently joined forces to make sustainable product sourcing simple through a combined online platform, ecomedes, where customers can now easily access environmental product information from the collective of brands.
This public resource helps customers buy or specify environmentally preferable products by supplying product-level data and automating product performance calculations that can help contribute to sustainability goals. Through ecomedes, designers, architects, and customers can swiftly sort by brand, category, or popular standards and certifications like LEED through the United States Green Building Council (USGBC) or WELL through the International WELL Building Institute. Users can also sort by ecolabels like BIFMA Level, Declare, or SCS Indoor Advantage, and access Environmental Product Disclosures (EPDs). In a single click, users can generate a full project evaluation based on products' contributions to environmental goals and third-party standards.
MillerKnoll announces 2030 Sustainability Goals
This year MillerKnoll announced new sustainability goals for 2030 to make a positive impact on the planet. Building on the progress and legacies of their collective of global brands, MillerKnoll will leverage these sustainability goals—from product design to building operations—for the next decade.
To help improve the health of our planet and global communities, the company plans to:
Reduce Carbon Footprint: Reduce the carbon footprint from its products and operations by 50% and aim to reduce the carbon footprint of its suppliers.
Design Out Waste: Stop using single-use plastics and substantially reduce all types of waste.
Source Better Materials: Use 50% or more recycled content and purchase materials that are responsibly and sustainably produced.
NaughtOne Presents: A Reintroduction
For NaughtOne, 2022 has represented continued growth, expansion and a complete refresh of the brand identity. The company launched a compelling rebrand, strengthening the brand's core message: Absolute Simplicity Leads to Infinite Possibility.
In binary code, only two numbers are needed to unlock the bounds of possibility – zero ("naught") and one. The foundation of the digital world hinges on the concept that the right pattern of zeros and ones can accomplish anything. "One of the earliest hallmarks of our brand was our presentation of British sensibility within the realm design— an openness to experiment, solving functional human needs with a creative twist," says Nadean McNaught, Managing Director at NaughtOne. "We loved seeing how our brand's playfulness, small beginnings, brightness and ingenuity resonated across the world. With our updated approach to the NaughtOne brand, we can both represent that original philosophy while better incorporating some of the exciting ways we've matured as a brand over the last several years of expansion and growth."
Quietly vibrant and simply familiar, NaughtOne products serve as a blank canvas for their clients' creativity to flourish. Regardless of how the furniture is customized to suit individual needs, the pieces are always thoughtful, considered, and desirable.
All images and videos ©MillerKnoll, Inc., ©Herman Miller, Inc., ©Knoll,Inc., ©NaughtOne, ©Maharam, ©Geiger