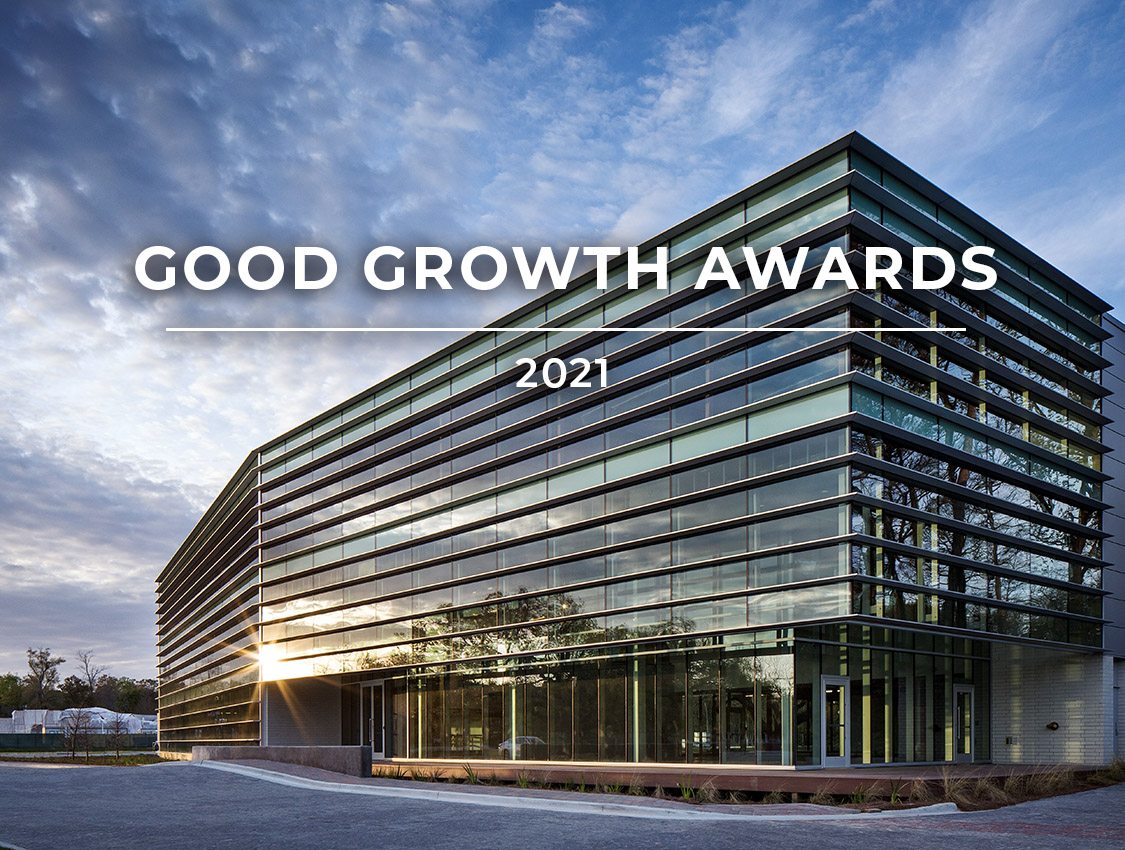 16 Nov

Good Growth Awards 2021

Held on Thursday, October 28, 2021 at the Renaissance Hotel in Baton Rouge, the Good Growth Awards Gala recognizes outstanding recent developments in the greater Baton Rouge area that improve their surrounding areas and are a catalyst for future growth. The Growth Coalition seeks to inform and equip its members and the community with best practices in development by highlighting projects that "raise the bar" in the Baton Rouge and surroundings areas. Developers play a vital role in the health of our economy. These awards offer a platform to promote well calculated risk and thoughtful practices while rewarding participants and encouraging all to be thoughtful and innovative.

AOS was honored to have worked on the following winning projects. Congratulations to our partners recognized for their outstanding work!

Developer/Owner: 365 Labs

Contractor: MAPP, LLC

Architect/Designer: Manning Architects | EskewDumezRipple

Landscape Architect; Joseph Furr Land Design

Designed by EskewDumezRipple and Manning, the @Highland development in Baton Rouge houses GI's new corporate headquarters. Located at the intersection of Highland Road and Bluebonnet Boulevard, the building is nestled near the Bluebonnet Swamp. It provides plenty of daylighting to give a sense of immersion into the surrounding nature and support a healthy work environment. A series of open plan workstations, including a unique "S" shaped configuration inspired by skunk works, encourage a collaborative culture. Various training rooms, conference rooms, huddle rooms and workstations are also aptly designed and named to spark innovation.

General Informatics is spearheading the @Highland campus and technology park, which will soon be home to more pioneering companies. It will ultimately include businesses, retail and restaurants to support Baton Rouge's growing market and serve the next generation of creative thinkers with its modern, mixed-use development that explores how design affects the way we live, work and play.
Ascension Parish Courthouse
Developer/Owner: Ascension Parish Government
Contractor: LEMOINE
Engineer: Quality Engineering & Surveying
Architect: Grace Hebert Curtis Architects
Landscape Architect: Quality Engineering & Surveying
Designed by Grace Hebert Curtis Architects, the new Ascension Parish Courthouse in Gonzales is a state-of-the-art 103,000-square-foot facility that meets the growing needs of their community. Facing an increased volume of cases, the Ascension Parish Court and the 23rd Judicial District Court required modern, updated security and technology and a spacious building that could house all of their daily functions and requirements. Completed in April 2021, the stately facility features expansive glazing, soaring columns and an extensive overhang to create a welcoming entrance.
The interiors consist of eight courtrooms, a multi-purpose assembly room, judges' chambers and administrative spaces for the Clerk of Court and Ascension Parish Council staff members. The building's flexible design lends itself to a variety of needs. For instance, the multi-purpose assembly room can seat up to 200 people, creating ample space for a jury lounge, or it can open to the council chambers for official meetings. Classic, easy-to-clean finishes, such as calming neutrals, warm woods and blue accents, create an enduring palette. Refined, finely crafted furniture designs from Knoll, Muuto and Datesweiser are incorporated throughout the facility for open plan workstations, private offices, a break room, conference rooms, and guest seating. Storage rooms for files and records also keep information easily accessible and secure. In addition, improved circulation paths provide safety and separation between the public, detained individuals and judicial and law enforcement staff. Located in the center of Gonzales' governmental and parks corridor, the Ascension Parish Courthouse provides necessary improvements for the public's experience and increased safety and security.
Photos | Courtesy of Grace Hebert Curtis Architects
Developer/Owner: Catholic High School
Contractor: Arkel Constructors
Engineering: CSRS, Inc.
Engineering: MEP Engineer (structural)
Architect/Designer: Ritter Maher Architects and Tipton Associates
Landscape Architect: Carbo Landscape Architecture
Designed by Tipton Associates and Ritter Maher Architects, the Brother Donnan Berry, S.C. Student Center is the first new building on Catholic High School's campus in over a decade and is the next phase in the CHS master plan. The 31,000 square foot facility provides students and faculty with a spacious commons area and outdoor pavilion for dining, learning, socializing and engagement. On the first floor, a new cafeteria expands the kitchen and food preparation area and offers a vast student dining room. Since the space can seat up to 650 people, it will also be used for school and community events.
The second floor provides additional classrooms, a seminar room, student gallery and outdoor terrace for leisure, studying and dining. Small collaboration and study rooms are available for student and faculty use in addition to a large conference room, which serves as additional space for meetings and seminar groups. The Faculty Work Center offers teachers a designated space for collaboration, lesson preparation and respite and features workstations, lockers for personal storage, a small kitchen, lounge space and another outdoor terrace. Additionally, the Campus Ministry Center is housed on the second floor and will be used for prayer, religious studies and community service coordination. As a result, the Student Center helps meet Catholic High School's strategic goals, including advancing their mission, creating effective learning spaces, conveying their brand and fostering interdisciplinary collaboration. As a dynamic learning environment, the facility expands the school's educational resources and furthers the tradition and school spirit of the Bears.
Take an in-depth and close-up view of Catholic's Brother Donnan Berry, S.C. Student Center with this fly-through by Red Stick Visual Solutions.
Jefferson Terrace Elementary School
Developer/Owner; EBR Schools
Contractor: Cangelosi Ward General Contractor
Engineering: Civil Solutions Consulting Group
Architect/Designer: Grace Hebert Curtis Architects
Landscape Architect: Dana Brown & Associates
Design Consultant; DLR Group
As part of the East Baton Rouge Parish School System, Jefferson Terrace Elementary is a place where students are celebrated. Their curriculum is designed to inspire, motivate and help students reach their highest potential. After securing a site for their new campus in 2008 just a few blocks away from their previous location, the school board, students and parents were eager for the public school's next chapter. The new campus presented Jefferson Terrace with an opportunity to better serve the community and accommodate a growing student population that can hold twice as many students. In August 2020, the school welcomed students to a state-of-the-art facility.
GraceHebertCurtis Architects in partnership with DLR Groups created a 21st century learning environment that is contemporary and vibrant and fosters a variety of educational experiences. At Jefferson Terrace, learning extends beyond the classroom. Students are not limited to traditional desks and are encouraged to utilize spacious learning commons, media hubs and discovery zones for collaboration, group activities or curling up with a book. Centrally located among the classrooms, the learning commons create mini neighborhoods for each grade and support a variety of learning needs. Each features light-weight, flexible furniture solutions that give students choices and keep them engaged, such as benches, lounge chairs, stools, floor cushions and more. Plus, the layout can be rearranged for the task at hand. With a student-centered design, Jefferson Terrace Elementary sets each pre-K through eighth grader up for success with a colorful, modern campus while supporting individual learning styles.
Photos | Courtesy of Grace Hebert Curtis Architects