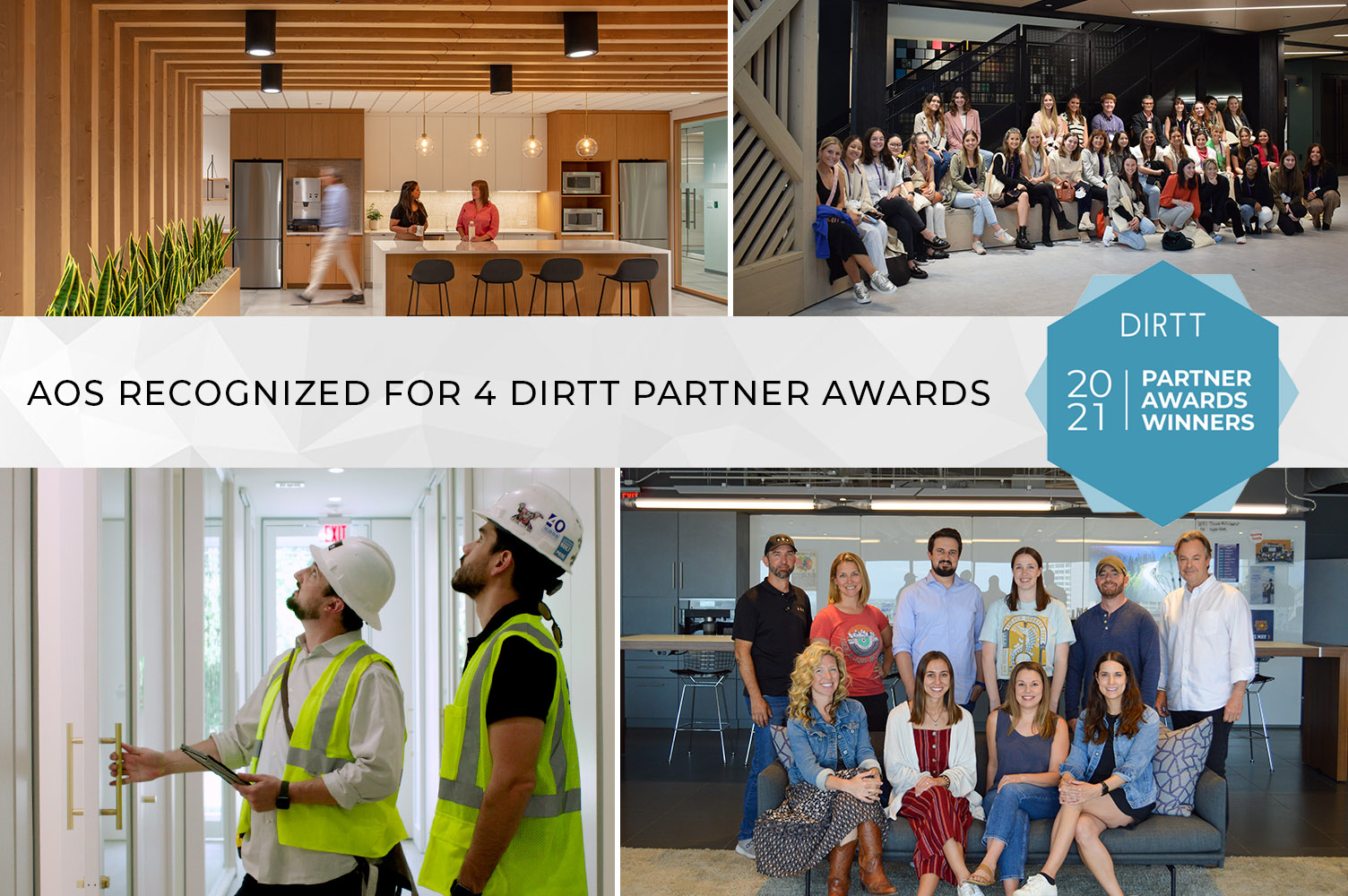 29 Apr

2021 DIRTT Partner Awards

AOS is thrilled to share that our Manufactured Interior Construction (MIC) team won two awards, including Outstanding Mentor Partner and Social Impact, and was recognized as two finalists for Project Manager of the Year and Complete Solution Innovation during the 2021 DIRTT Partner Awards. Held Monday, April 18, 2022, the awards ceremony recognizes DIRTT Partners across North America for their outstanding contributions to advancing interior construction.

While we extend a huge congratulations to all of the DIRTT Partners, we would like to recognize the following members of our MIC and Operations teams for their outstanding hard work and dedication:
Rebecca Cooley – VP Manufactured Interior Construction
Alexis Miranne – Business Development, Manufactured Interior Construction
Aimee McSpaddin – Project Manager/Designer
Matt Rome – Studio Lead + Project Manager/Architect
Sean Chaney – Project Manager/Architect
Sadie Hocke – Project Manager/Designer
Sarah Flottman – Project Manager/Designer
Josh Tokar – Field Services Specialist
Brian Dahms – Lead Installer
David Jaynes – Lead Installer
Robert Leggett – Lead Installer
Juan MonJaraz – Installer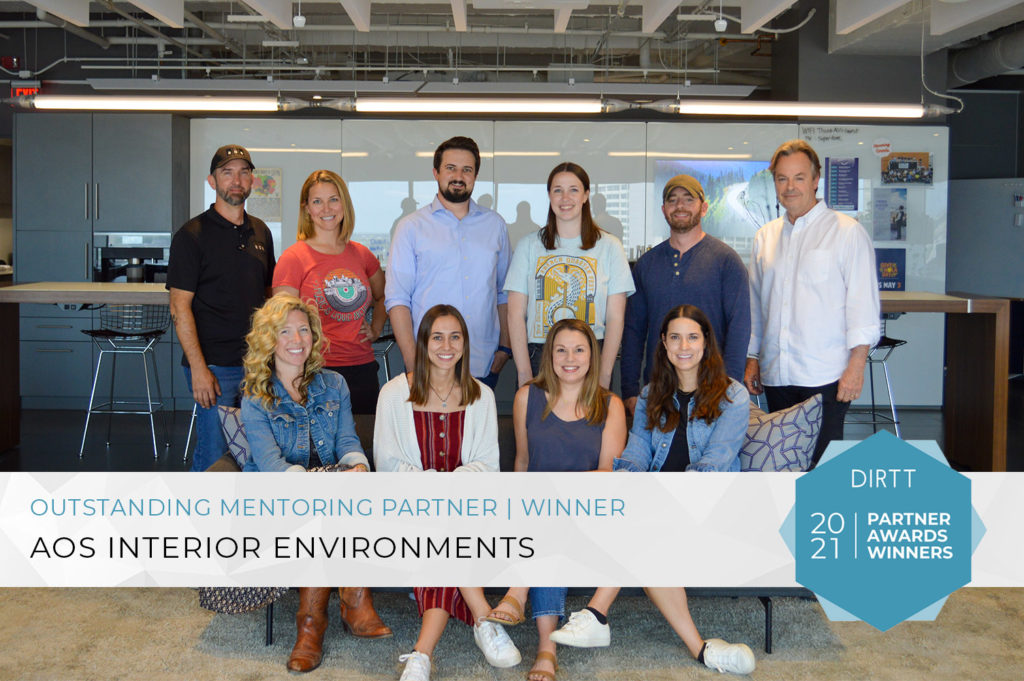 AOS won "Outstanding Mentor Partner" for the third year in a row! This award recognizes a DIRTT Partner who goes above and beyond in helping and encouraging other Partners reach their goals, create opportunities for ongoing development and setting examples of best practices.
Jennifer Warawa, DIRTT's Chief Commercial Officer, commends AOS' efforts: "There is never a time where your team turns down a chance to mentor another Partner, hear their struggles and offer real world solutions that assist Partner performance. Further, internal DIRTT team members often lean on your team for assistance with their projects and solutions. It's DIRTT's privilege to work alongside your team."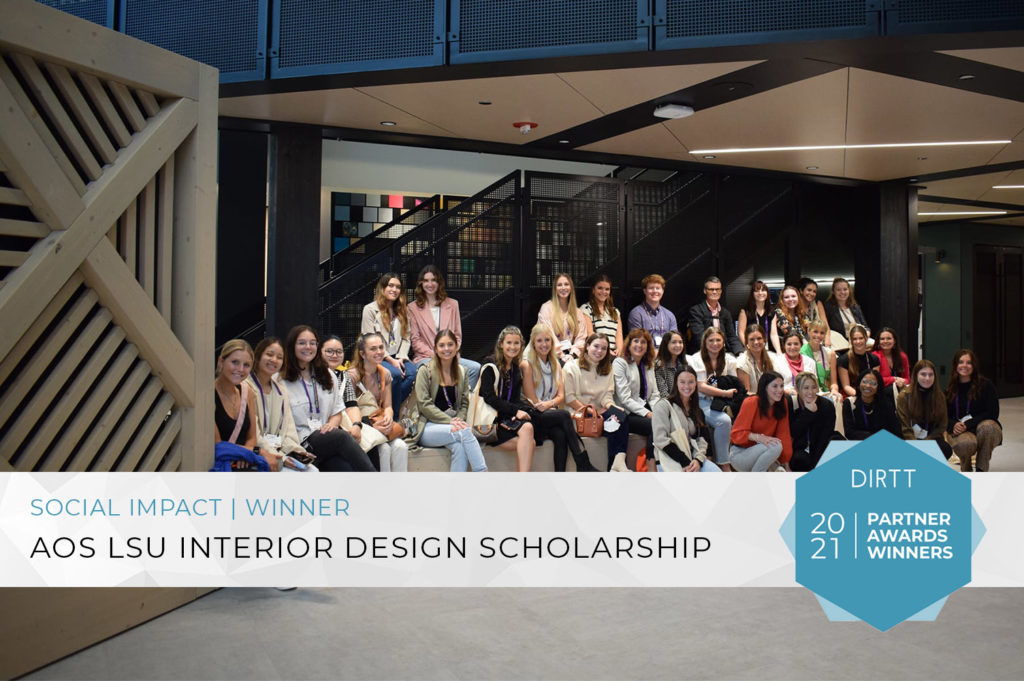 AOS also won an a DIRTT Partner Award for "Social Impact," which honors a Partner who has demonstrated exceptional social good by supporting their community, non-profit organizations or others in need.
To help foster more diversity within the Architecture and Interior Design Industry, AOS partnered with the LSU School of Interior Design to underwrite a $40,000 scholarship to encourage enrollment, increase retention and provide financial assistance to under-represented groups.
Learn more about the AOS Scholarship for the LSU School of Interior Design here.
Pictured above: LSU School of Interior Design students visit the DIRTT Experience Center in Chicago during a summer trip. Photo courtesy of the LSU School of Interior Design.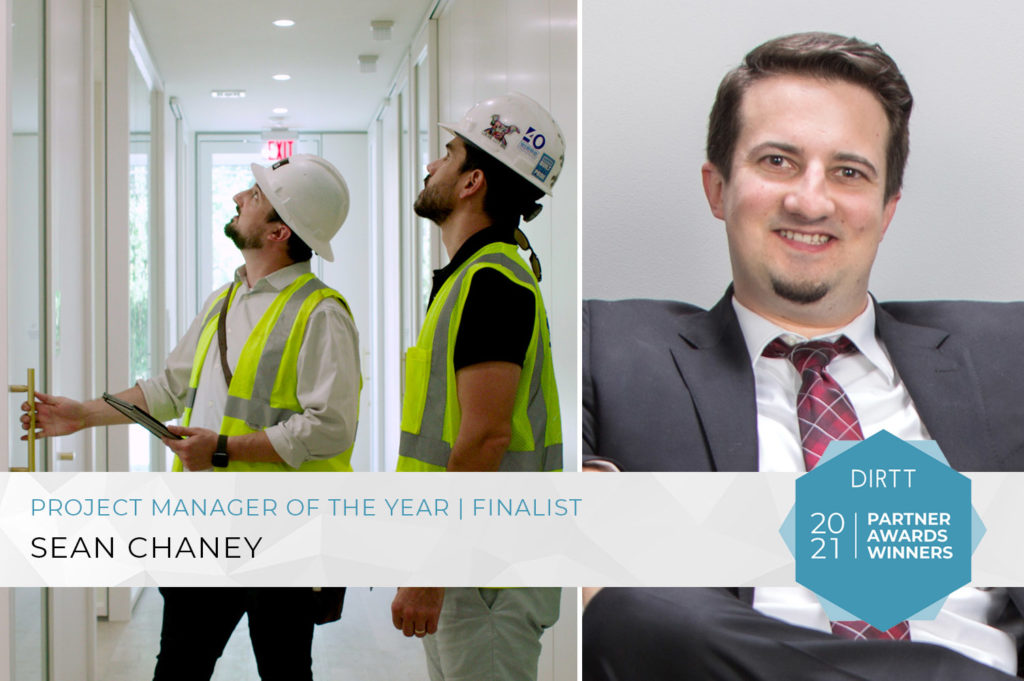 In addition, Sean Chaney was recognized as a finalist for "Project Manager of the Year" for delivering exceptional project execution, exceeding client expectations, collaborating with multiple project stakeholders and the DIRTT team.
With over 11 years of industry experience and three years dedicated to doing it right this time, Sean has managed over 150+ projects ranging in Corporate, Education, and Healthcare Environments. His most notable recent projects include the newly constructed Sadeghi Center for Plastic Surgery, LCMC Health's headquarters, an office build-out for IMTT, and extensive work and reconfigures for a regional power company.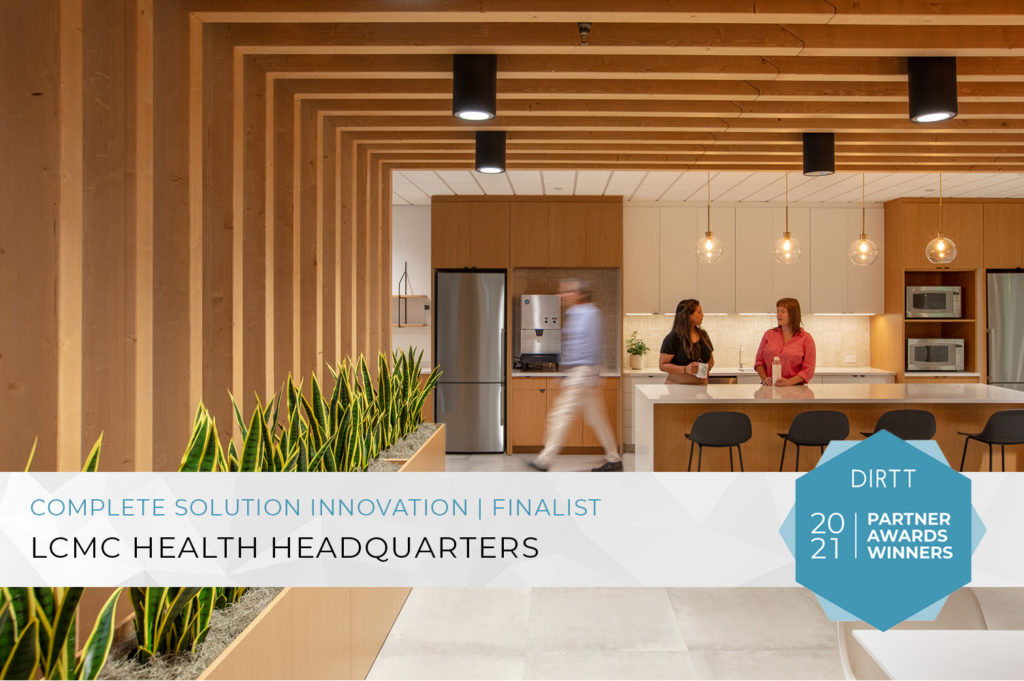 LCMC Health's headquarters were also recognized as a finalist for "Complete Solution Innovation" for the project teams' understanding of the client's vision, bringing it to life through out-of-the-box thinking, and utilizing DIRTT's comprehensive solutions.
Located on the 24th and 25th floors of the Energy Centre, LCMC Health's headquarters span 32,100 sq ft and offer extensive views of the CBD. However, moving downtown presented a few challenges. The building has a distinct angular floorplan, and LCMC Health needed to move-in within just 8 months. While the client and design team were new to DIRTT's construction method, AOS closely collaborated with them as a design-assist partner and guided them through process.
With DIRTT, we could deploy complete solution innovation to achieve their unique, unmatched aesthetic. LCMC Health was big on performance and wanted to use evidenced-based design to create an engaging, meaningful space that would have a positive impact. Their offices are infused with local art and branded graphics that celebrate the spirit of New Orleans and LCMC Health. DIRTT's consistent lead times also helped prevent supply pain issues while precision manufacturing enabled a quick installation to meet occupancy deadlines.
Designed with inherent flexibility, LCMC Health's headquarters are a high performing space that goes the extra mile. Since the project kicked off during the pandemic, LCMC Health understood the value of resilient design and wanted their offices to be able to respond to changing and future needs. Just two months after completion, they requested a reconfigure, and we converted a conference room into two private offices to make more space for employees.
Learn more about LCMC Health's headquarters' here.
Additional recent projects include Sadeghi Center for Plastic Surgery, First Guaranty Bank Center, and Tulane University Testing + Tutoring Center.