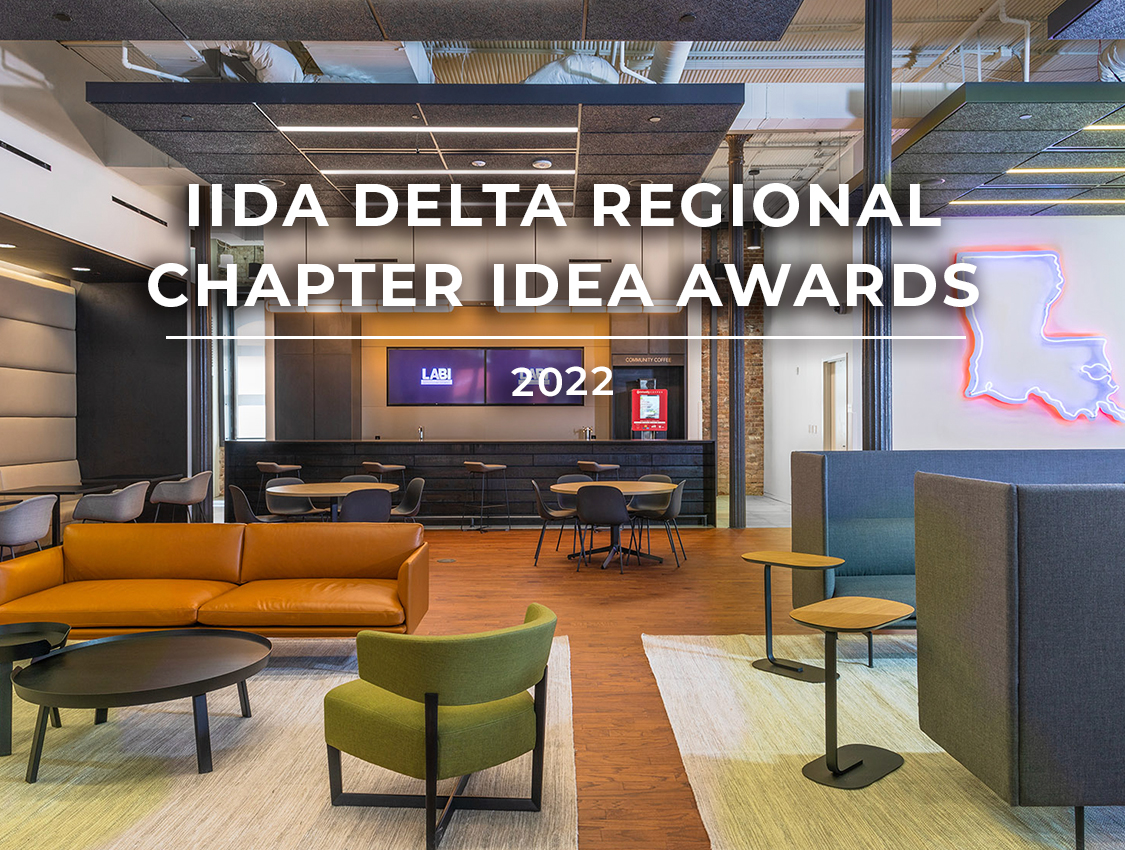 04 Oct

IIDA Delta Regional Chapter IDEA Gala 2022

On Saturday, October 1, 2022, the design community gathered for the IIDA Delta Regional Chapter IDEA Gala at The Estuary at the Water Campus in Baton Rouge. The annual event celebrates interior design excellence across Louisiana, Mississippi and Arkansas. For the event, AOS was excited to visit one of our projects, the Center for Coastal and Deltaic Solutions, which was designed by Perkins + Will and Coleman Partners Architects and completed in 2017. A hub for community events and research, the Center is a collaborative environment for those working in the areas of water resource management, deltaic living, coastal restoration, and flood protection that help coastal and deltaic communities around the world.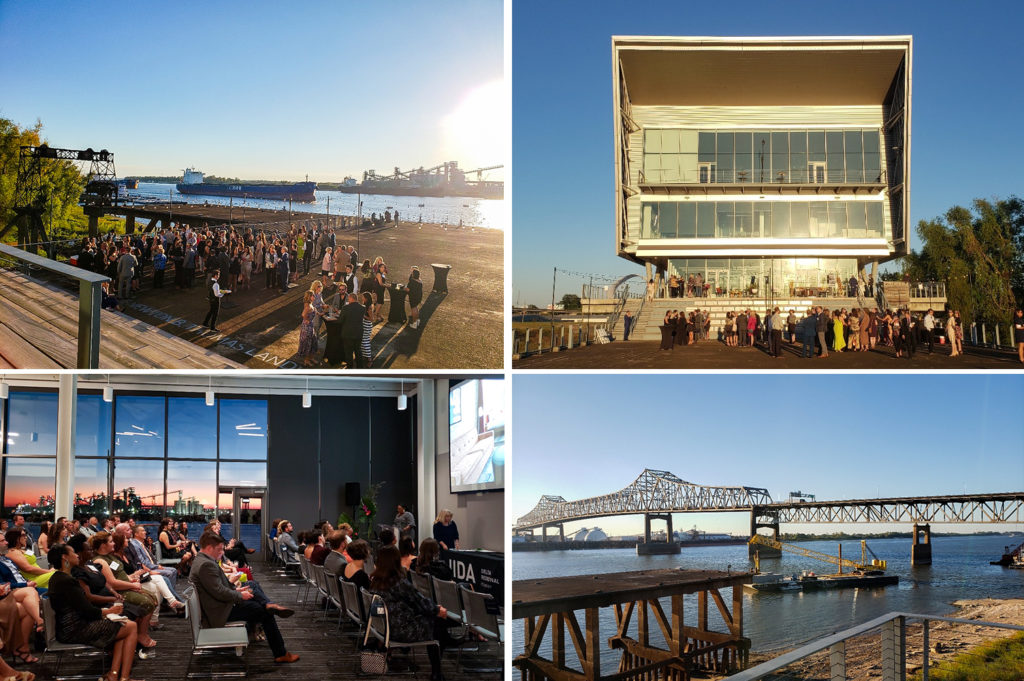 Attendees first gathered on the historic Baton Rouge City Dock, which overlooks the iconic Mississippi River, for passed hors d'oeuvres and cocktails. Beautiful, breezy fall weather and stunning views of the river laid the foundation for a scenic outdoor cocktail hour as guests mingled and took in the riverscape. AOS was also thrilled to be the Entertainer Sponsor for the evening. The event featured live music from the LSU Jazz Trio and a live painting by Francie Abell, Director of Interior Design at Studio Kiro. At the end of the night, the painting was raffled off, and proceeds benefited interior design advocacy efforts.

For the awards ceremony, guests moved to The Estuary, located on the third floor of the Center of Deltaic and Coastal Solutions. Floor to ceiling windows showcased a glowing sunset as the winning firms accepted their awards. The Delta Regional Chapter also welcomed two special guests from IIDA Headquarters, including Aleida Fuertes, Chapter Relations Manager, and Monae Redmond, Director of Member Services. Redmond was the emcee and guest speaker for the ceremony. After two years of virtual events due to the pandemic, everyone was excited to gather together in person for a lively evening celebrating interior design excellence.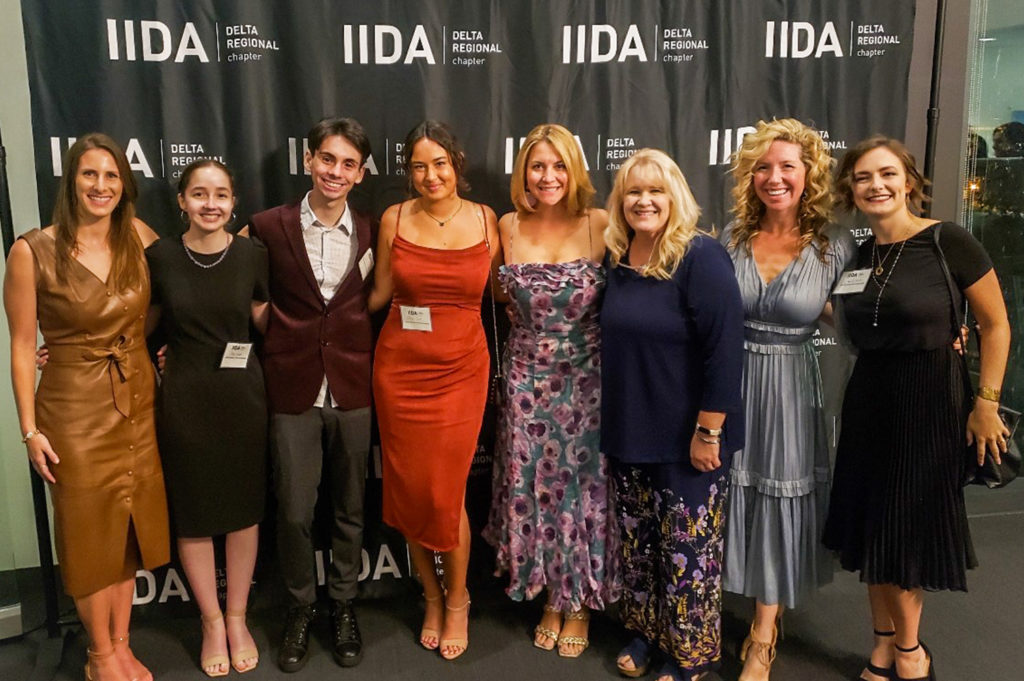 We extend a huge thank you to event chair Kristen Landry and the hard working team that put this event together: Heidi Meibaum, Fabie Derbigny, Gabrielle Landry, Anna Katherine Dazzio and Kris Lowry. Click here to see more photos from the event.
Thank you to the entire design community for their dedication to interior design excellence and congratulations to all the 2022 IDEA winners, including Brittany Walker (University of Southern Mississippi), Campo Architecture + Interior Design; Dean Architecture; EskewDumezRipple; Grace Hebert Curtis Architects, APAC; HCI Design, LLC; Ritter Maher Architects; Tiek & Co.; WBA Architecture and WHLC Architecture!
We'd especially like to recognize a few of our clients, who we were honored to partner with on these award-winning projects.
Award of Recognition – Renovation/Historic Preservation
Seventy-four years after their founding in Plaquemine, Citizens Bank and Trust purchased a savings and loan in 1990 in the building that now houses their Bocage Branch. As their first location in Baton Rouge, this branch paved the way for the company's growth in the region, but it was time for an upgrade. In 2019, Citizens Bank engaged Ritter Maher Architects to renovate the existing building and interiors on Jefferson Highway. The design team reimagined the branch as a warm, welcoming space that reflects the bank's brand and customer-centric values.
The renovation added a coffee bar, teller area, eight private offices, open workstations, a larger break room, conference and meeting rooms, and lounge areas. Attention to detail and unique finishes differentiate the branch from competitors. For instance, a coffee bar takes a cue from hospitality design, providing customers with a casual area where they perch before meetings. Warm woods and clean lines complement olive green accent walls and backsplash tiles, which reflect Citizens Bank's brand colors. In the private offices, matte gold legs and storage pulls create a sleek, contemporary aesthetic.
Click here to learn more.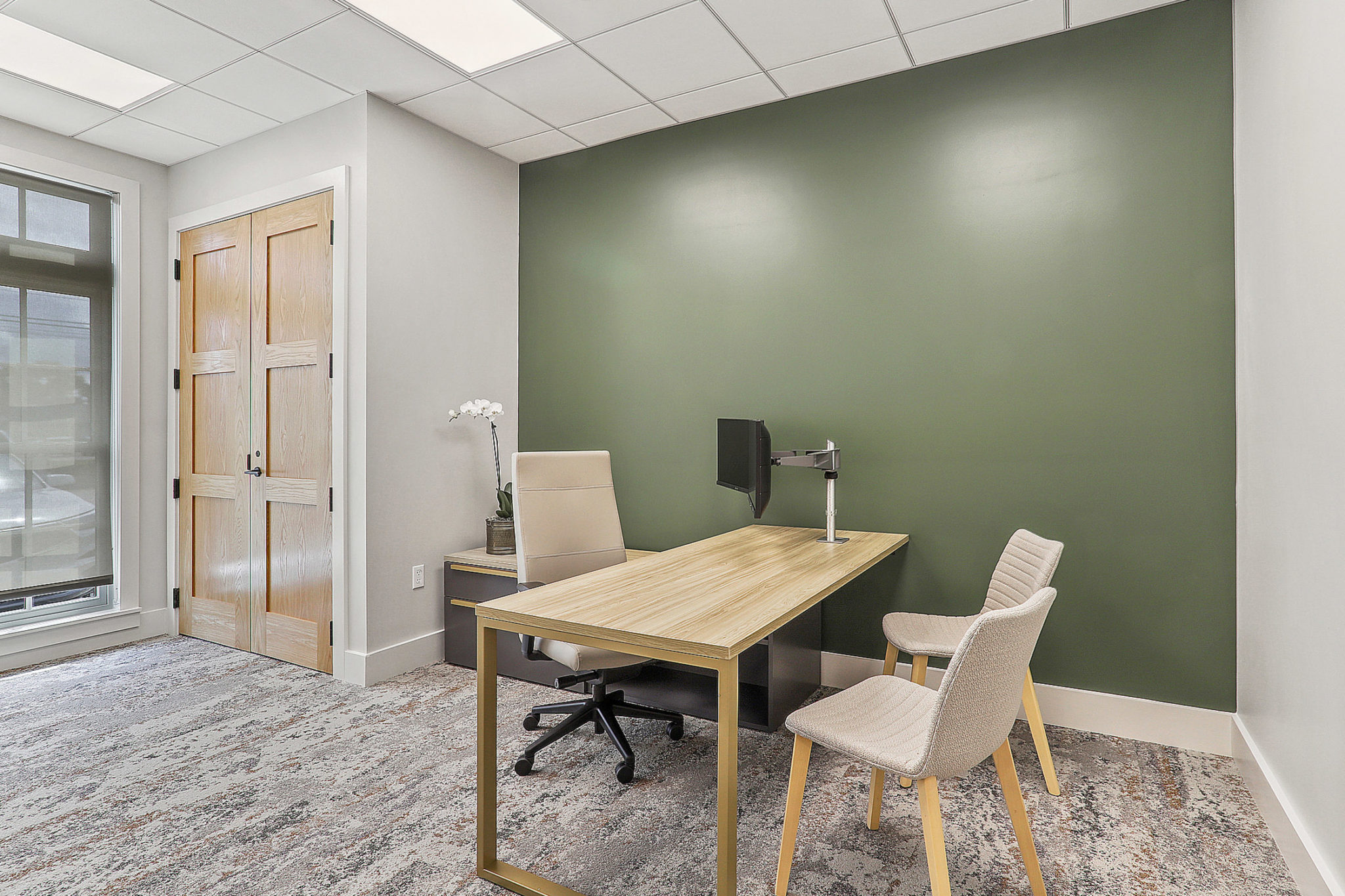 Award of Excellence – Corporate, Large
As the largest workers' comp insurance in the state, Louisiana Workers' Compensation Corporation (LWCC) is a private, nonprofit mutual insurance company that works towards creating a safe, happy and healthy workforce. In 2018, EskewDumezRipple (EDR) began an extensive renovation consisting of six floors of LWCC's headquarters in Baton Rouge.
The design optimizes employees' health and wellness and shapes their daily experiences through choice and flexibility. A variety of meeting and breakout spaces, individual workstations, private offices, a café, and training room allow employees to choose how and where they want to work. Individual workstations and private offices feature ergonomic solutions, height-adjustable desks and writeable surfaces, which further contribute to their team's well-being, engagement and productivity. In addition, a series of open and enclosed meeting areas, such as breakout lounges, conference rooms, huddle rooms and phone booths, also support the needs of individuals and groups, creating space for focused work and collaboration. In February 2022, LWCC became LEED Silver certified by the U.S. Green Building Council.
Click here to learn more.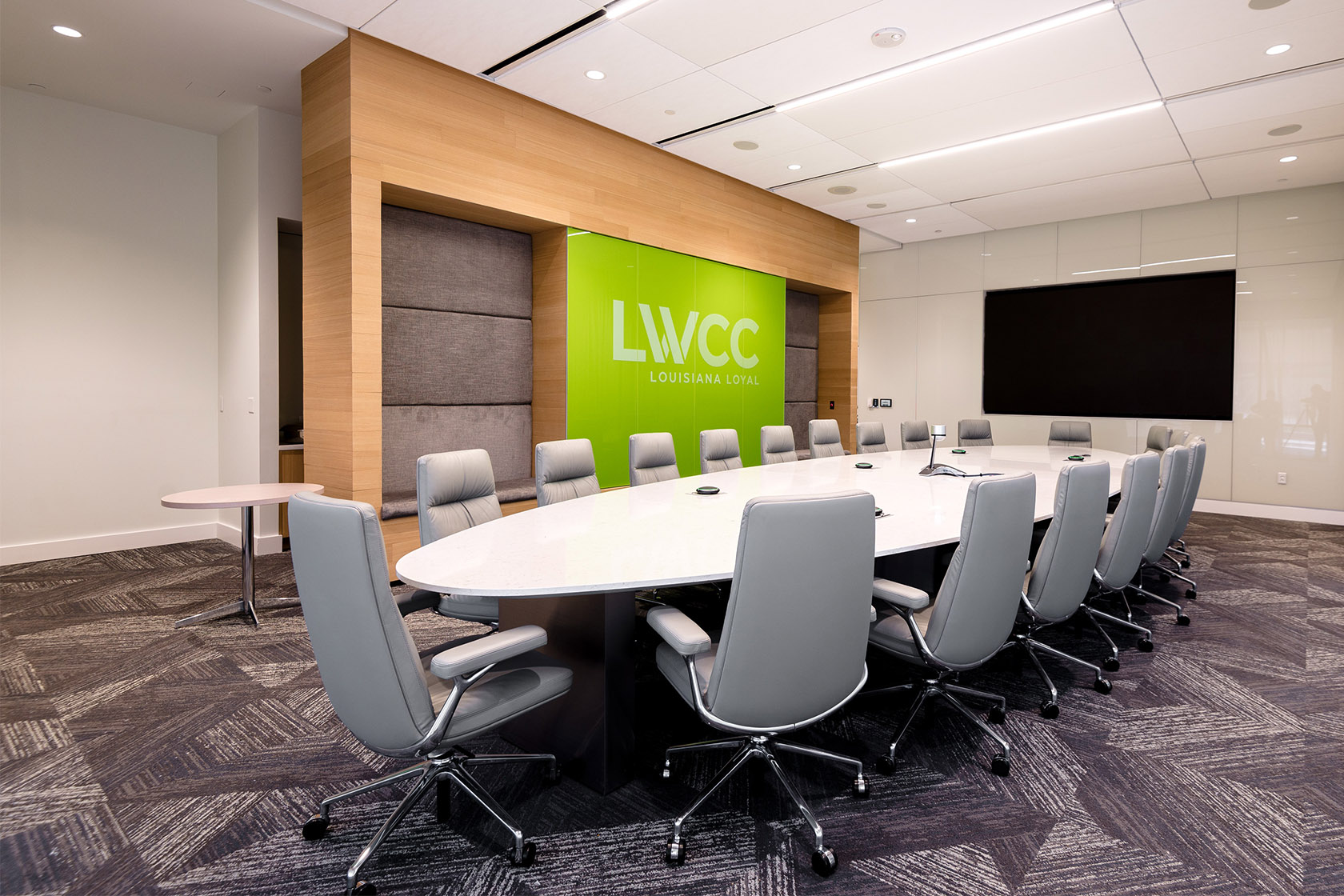 Award of Excellence – Government/Institutional, Large
The New Orleans Museum of Art (NOMA) recently renovated the Lapis Center for the Arts, a cultural space that allows the Museum to expand its offerings of the visual and performing arts, including film screenings, lectures, theater and dance performances and more. Designed by EskewDumezRipple, the Lapis Center features a permanent exhibit of Enrique Alférez's massive plaster relief mural, Symbols of Communication, which line the walls of the room. Completed in 1967, the mural was originally located in the lobby of the New Orleans Times-Picayune Building and reconstructed and restored with striking precision and attention to detail to fit its new home. AOS worked with EskewDumezRipple to provide flexible, modern seating that can accommodate up to 360 people and be arranged specific to the event.
Adjacent to the Lapis Center, the Tommy and Dathel Coleman Courtyard and Café NOMA, which is operated by the Ralph Brennan Restaurant Group. Crisp white chairs and an open lounge area balance the black seating in the Lapis Center and provide guests with a comfortable place to dine. As a nexus for the arts in New Orleans, the Lapis Center provides the museum with a new platform for interdisciplinary arts, expands its opportunities for community partnerships, and creates a gathering place where the arts can be explored and experienced fully.
Click here to learn more.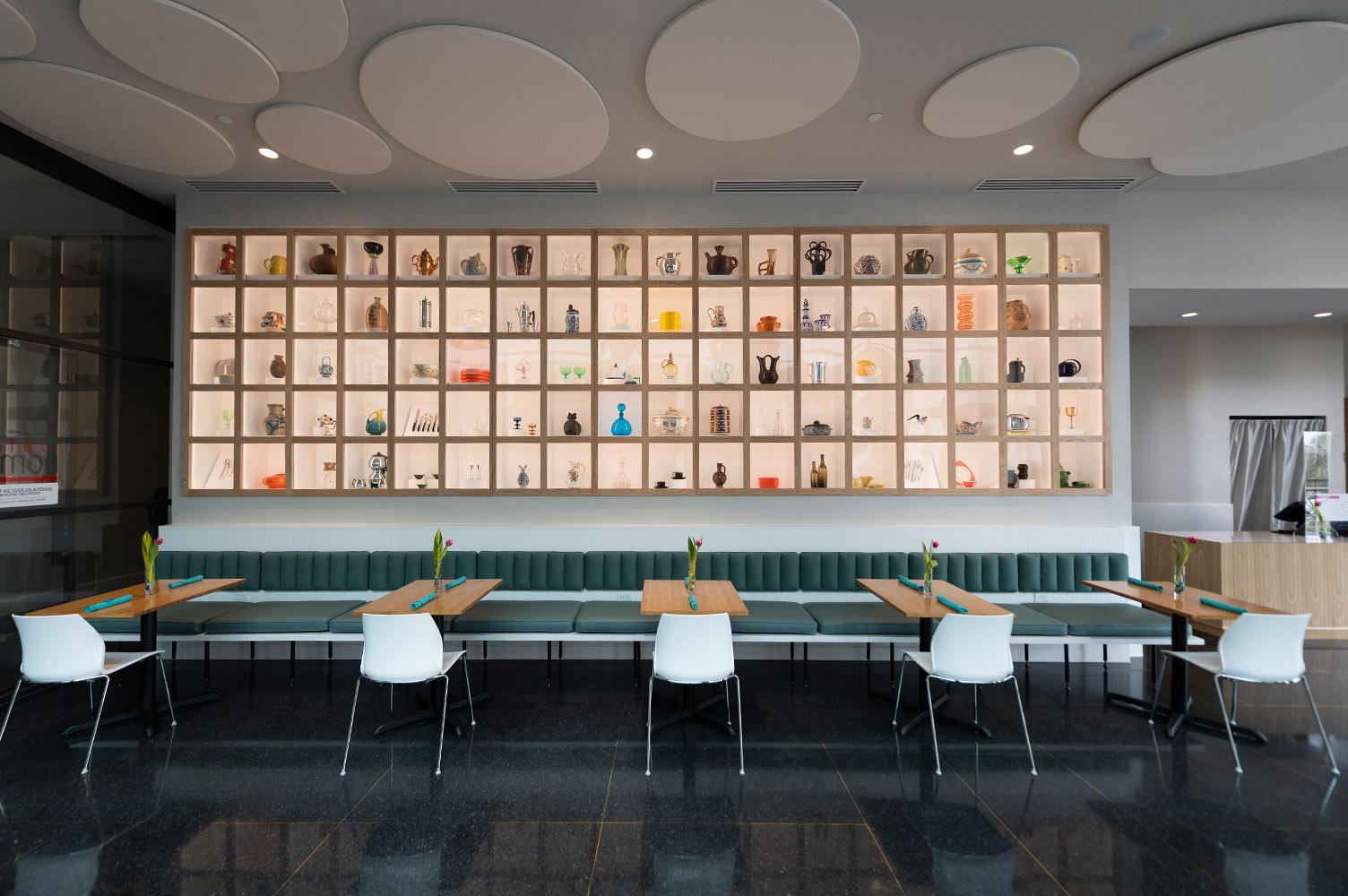 Award of Excellence – Corporate, Large
In 2018, the Louisiana Association of Business and Industry (LABI) sought to reinvigorate their brand and physical space in order to appeal to a more diverse and an increasingly younger membership. Designed by EskewDumezRipple in partnership with Colleen Waguespack Interiors, the LABI Center for Free Enterprise is a 15,000-sq ft collaboration hub for business, policy makers and community leaders from around the state. Located in a restored 1880s warehouse on 5th and Main Street in downtown Baton Rouge, the Center is just a short walk from the State Capitol, giving members better access to government decision makers.
The interiors were inspired by the cultural and natural landscape of southern Louisiana. Since the organization represents over 2,000 companies, the Conference Center is a key aspect of the design. Located on the first floor, the flexible, multi-use space can seat up to 150 people and easily transforms from a coffee lounge to a training room to the perfect viewing spot for game days. In addition to a comfortable living space, the Center includes a professional kitchen, an outdoor entertaining space, and a recording studio. The second floor includes private offices, open plan workstations and additional lounge spaces for LABI employees and members to work, meet and conduct business while in town.
Click here to learn more.