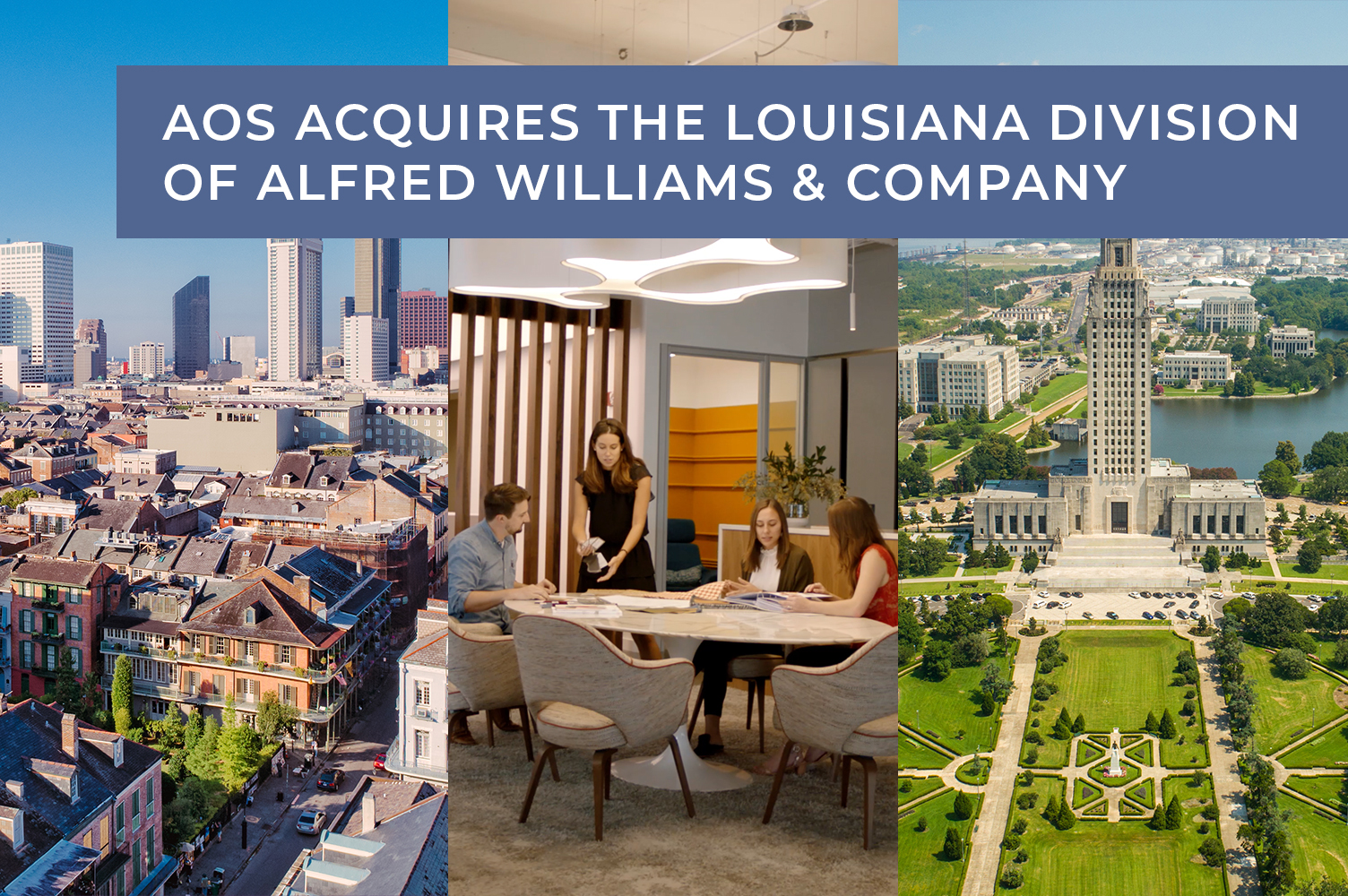 18 Apr

AOS Acquires the Louisiana Division of Alfred Williams & Company

On April 18, 2023, New Orleans-headquartered AOS Interior Environments announces the acquisition of the Louisiana division of Alfred Williams & Company (AWC). The deal makes AOS the exclusive MillerKnoll dealer in Baton Rouge and New Orleans and cements AOS as the largest locally owned and operated furnishings, fixtures, & equipment (FF&E) contractor in the region.  AWC will retain their divisions in Texas, Tennessee, North and South Carolina.

The combined companies install over $50 million dollars of FF&E in Louisiana annually and employ over 90 employees across the state. Partnering with the region's leading architecture and design firms, they have serviced clients across the commercial sector with recent notable projects, such as the LCMC Health Headquarters, LWCC Headquarters, Son of a Saint Headquarters, Hancock Whitney Center, and the Superdome.
"AOS has been a trusted and reliable partner for organizations — both inside and outside our industry — for over 47 years, and we want to continue to be a source that they can depend on. As the commercial design industry continues to evolve, it is increasingly important to have truly local execution and support to navigate the increasing complexities of construction schedules. This added scale and bandwidth means that we have more agility and expertise to adapt to our clients' needs," said Shelby Russ, Jr., President and CEO of AOS Interior Environments. "Ultimately, combining our resources will give us an unparalleled platform for building a more sustainable, caring, equitable, and beautiful region. As our company continues to grow, the more we can give back to our local community in a meaningful and profound way."
Since 1976, AOS has served Louisiana as a design-assist partner, working with the architecture and design industry. The company became a Knoll dealer in 1992. Then in the summer of 2021, Herman Miller announced that it purchased Knoll, Inc. in a monumental $1.8 billion deal. The new company, known as MillerKnoll, became one of the largest design companies in the world with a presence across more than 100 countries. As a MillerKnoll dealer, AOS is now able to provide clients with unrivaled choice and access to the world's most diverse furniture portfolio, including iconic Herman Miller and Knoll brands, as well as its subsidiaries, such as Hay, Maharam, Muuto and Design Within Reach.
For AOS, the acquisition of AWC's Louisiana division was a natural next step. The move means that instead of two competing resources, clients will now have streamlined representation of MillerKnoll in the marketplace, expanded bandwidth for project execution, and more competitive pricing and leverage with increased scale. AOS plans to retain all AWC Louisiana employees and showrooms in both Baton Rouge and New Orleans.
Bud Breaux, Vice President of Contract Furniture at AOS Interior Environments, will continue to lead the AOS Furniture Division. Breaux shared his excitement for the addition of five new team members: "This move feels like a natural evolution of these two businesses in our region. We have known AWC's Louisiana employees for a long time and have an immense amount of respect and admiration for them. We look forward to welcoming these smart, creative individuals and their clients into the AOS family."
MillerKnoll supports the deal whole-heartedly. R.J. Stelter, Vice President of Distribution Channels and Dealer Development, remarks, "MillerKnoll is thrilled to see two of our outstanding partners in AOS and Alfred Williams Louisiana coming together to build something greater than either could create on their own.  This combination brings the best of both companies together, providing more talent, expertise and geographic coverage to best serve our clients throughout Louisiana.  Congratulations to these amazing partners!"
Laurie Martin, Market Development Executive at MillerKnoll, affirmed Stelter's enthusiasm: "These two dealers coming together as a super resource will significantly enhance the way we service the region. This is truly the best of both worlds. Our clients will have access to the region's leading design, project management, installation, warehousing, and service resources all under one cohesive roof. I have no doubt the combined talent of these two teams, backed by a deeply ingrained commitment to design, innovation, operational excellence, sustainability, and social good will only continue to elevate the FF&E experience at all levels."
A nationally recognized leader in workplace strategy, Alfred Williams & Company has grown to be one of the largest MillerKnoll dealers in North America. They will continue to service Raleigh, Charlotte, and the Triad region in North Carolina; Charleston, Columbia and Greenville, South Carolina; Nashville, Tennessee; and Austin and San Antonio, Texas.
John McKinney, President of AWC, shares, "Louisiana is an incredibly unique region, and in our time here, we have found the people and businesses inspiring. There is a powerful sense of community.  Since working together to close the deal, we have found that AWC and AOS are kindred in both our commitment to the regions we serve and approach to the market. We have very similar values, dedication to excellence and collaborative workplace cultures. We are confident that this move would be best for all stakeholders involved and trust that AOS will be an outstanding place for both the AWC team members and their clients."
Russ echoed McKinney's sentiments, "Throughout this process, our companies have become very close. We have admired the way AWC came to the table and sincerely look forward to sharing best practices from our varying regions and finding new, innovative ways to improve the commercial furniture industry. You know you have a good deal in Louisiana when there is that much lagniappe involved."
ABOUT AOS INTERIOR ENVIRONMENTS
AOS is a full-service provider of manufactured interior construction, contract furniture, storage solutions and installation and service. With over 90 team members, it is the largest FF&E (furniture, fixtures, and equipment) contractor in Louisiana and Mississippi and has locations in New Orleans, Baton Rouge, and the Northshore. Its turnkey approach includes a dedicated Distribution Center and over 65,000-square feet of warehousing in Jefferson. AOS has been partnering with its clients and the architectural community to create beautiful, functional, and sustainable spaces for over 47 years. Its collaborative approach to workplace design results in precise solutions carefully attuned to each client's purpose.